Features
22 brilliant things we learnt visiting the Pixar Studios
On a visit to Disney's Pixar Studios in California, we picked up one or two fun things to share with you…
Walking around the Pixar Studios in Emeryville, California isn't unlike being in the away team in one of those Star Trek episodes when the crew visits a civilisation evolved far beyond their own. You know the ones; the first officer and co. are shown around a planet of meticulously raked Zen gardens full of toga-wearing types playing chess, and toddlers composing symphonies.
'What a place,' you think, 'how motivated and fulfilled everyone seems. No litter on the ground, no huddle of furtive smokers around the doorway, no whiff of resentment and counting-down-the-days until the weekend hanging in the air… How did they achieve this?'
In those Star Trek episodes, the answer usually involves a ghoulish bargain with a demonic computer/bucket of sentient silly putty hidden in a secret room. The people get their idyll, but at the cost of having a percentage of their young absorbed into the matrix/pulsating space squelch.
Now, I'm hardly suggesting that Disney Pixar has built this utopian workplace on a devil's pact predicated on child sacrifice. That would be mental. No, the Pixar Studios are clearly the product of some extremely clever people head over heels in love with their work. No space squelch, and no evil computers, not in the land of Buzz and Woody.
Saying that, the place does have a secret room…
1. Drive underneath the famous Pixar sign and you reach the security booth. Inside that booth is a security guard, and on that security guard's chest is a shiny brass badge. On that badge? Monster horns of course. (We weren't able to verify whether the badge-shape changes depending on the current release, but like to think it does). You are now entering Pixar.
2. A walk down a leafy campus path leads you to the doors of the glossy Steve Jobs building. Outside is an enormous angle-poise lamp staring at a yellow ball with a blue stripe and a red star (gimmick-free Steve Jobs apparently wouldn't have been a fan). Once inside, you sign in the visitors book and are presented with a sticky name label adorned with a Toy Story alien and the legend "A stranger from the outside!".
3. Dotted around the doorway to the vast atrium are pieces of Pixar history. There are models of an enormous Sulley and Mike, a Lego Buzz and Woody, Luigi and Guido from the Cars series… Less imposing but much more coveted are the contents of the glass trophy cabinet behind a sofa: six Oscars, as many Golden Globes, a Bafta, Visual Effects Society gongs… the list goes on.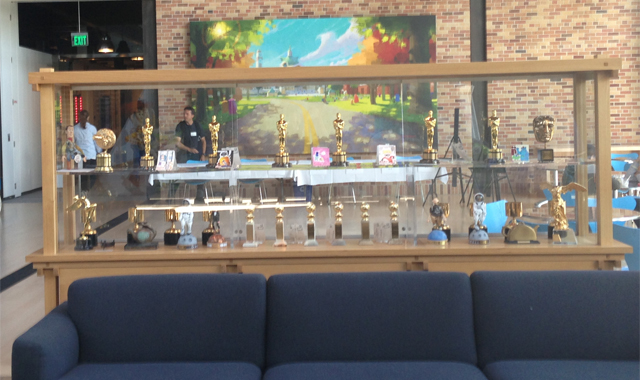 4. Their pre-screening security is tighter than US immigration, though much friendlier. We were asked to spread 'em for a body scan, stripped of electronic devices and phones, and everything in my bag, from sunglasses to hairbrush, was inspected for hidden recording equipment. Not that you can blame them.
5. Once the lights dim in the screening theatre at the end of the atrium, the ceiling is illuminated by constellations of stars – some of which shoot across the 'sky' – before the film plays.
6. One wall of the atrium is covered with lines and lines of staff photographs (some in fancy dress), arranged by order of arrival (longest serving employees at the top, newbies at the bottom). When an employee has clocked up ten years' service, John Lasseter (all the cool cats call him JL) presents them with a golden Buzz award at a posh do. Make it to twenty years, and you've earned yourself a golden Woody.
7. Steve Jobs, who designed the main building that was named for him after his death in 2011, chose everything from the brick pattern on the walls to the door handles. The brick is now an established pattern you can request called, straight-forwardly enough, Pixar brick.
8. When you use the loo in the main Pixar atrium, there's no stern M and F or wacky 'Chicas and Chicos' telling you where to go, but signs starring Toy Story's Woody for the gents, and Little Bo Peep for the ladies.
9. Those toilets were deliberately placed in the communal central atrium to force dedicated creatives out to mingle with others in the social area, instead of staying cooped up in their offices. The atrium area was conceived as somewhere impromptu chats and meetings could take place to encourage collaboration. Employees tell us it's not at all unusual to run into John Lasseter, Ed Catmull, or other big-name Pixar directors in the café and grounds.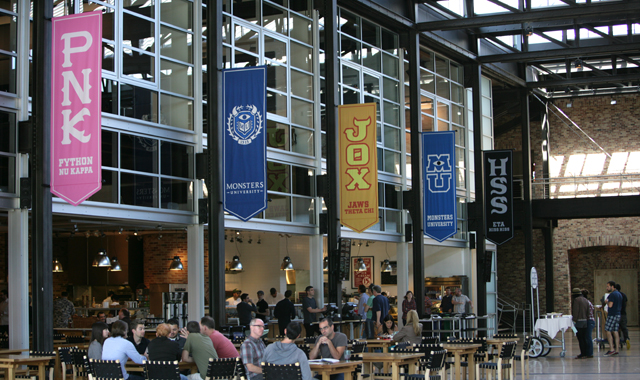 10. A tie-in opportunity has been missed, as despite the title of this year's Pixar short being The Blue Umbrella, the stash of brollies by the door of the Steve Jobs building for staff use are Toy Story-alien green.
11. There really is a free cereal bar for the employees. It's on your right as you enter the building, near the mail room and Pixar shop, and features a row of clear plastic dispensers of cereal brands. Being a proper investigative journalist, I ascertained that the large refrigerator to the right of the cereal was home to a great deal of milk.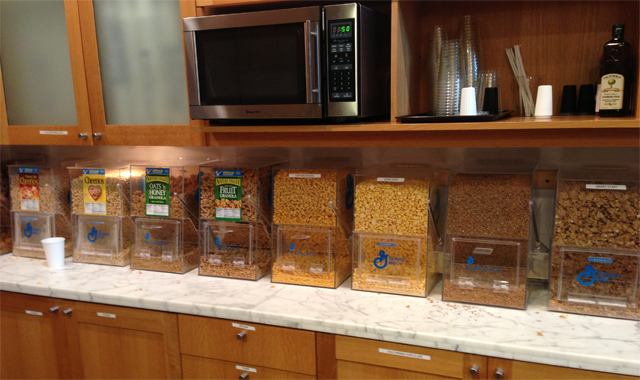 12. People really do push themselves around the campus on little black scooters, and do you know what? They look awesome.
13. Pixar employees are treated to extra-curricular activities at the Pixar University. During our visit, the schedule featured "Improv courses for shy people", guest speakers from the Once Upon A Time writers, a musical performance from Sarah Jaffe (who performs the main theme in short The Blue Umbrella), a screening of Star Trek Into Darkness, and foam roller sessions in the Breathing Room. (After some enquiry, it turns out foam roller sessions involve rolling bits of yourself against a large foam sausage on the floor. I've yet to determine the full nature of a Breathing Room.)
14. On average, the Luxo Jr. Café has four specials (our lunch was ravioli, quinoa and asparagus spears followed by chocolate-dipped fruit and cookies) and serves coffee from San Francisco-natives Peets. Don't say we never bring you the hard-hitting scoops.
15. The campus is New York-themed, with parts named after Brooklyn, Soho, the West Village, and so on. It features a swimming pool, football pitch, sand volleyball court and playing fields.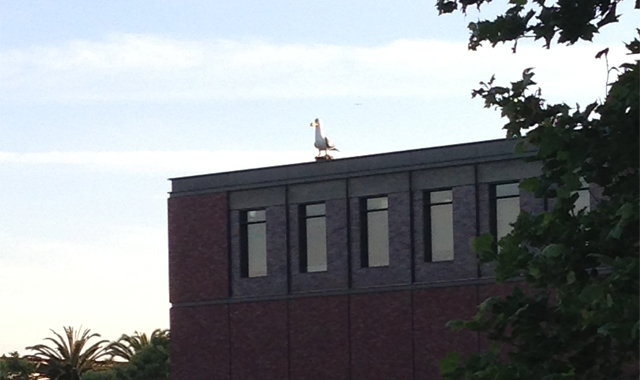 16. Atop the new Brooklyn building, which is home to pre-production, sits a model of a Finding Nemo "Mine! Mine! Mine" seagull. Even Pixar's campus has Easter Eggs.
17. Speaking of Easter Eggs, down a roped-off corridor we were strictly forbidden from entering, I spotted the unmistakeable silhouette of a model diplodocus from heavily under-wraps 2014 film The Good Dinosaur. It was genuinely one of the most exciting outlines I've ever seen. The research field trip for The Good Dinosaur was to the Natural History Museum to study dioramas, which are going to be an influence in its look, which uses painterly backgrounds and more photo-realistic foregrounds.
18. The gallery on the first floor displays concept art from the studio's current feature. It's packed with framed images and cases of clay models and digitally printed characters, drawings of all shapes and colours, concept, ideas, gag session sheets, colour scripts, and emotion charts charting the beats of the story. The sitting room of the Oozma Kappa fraternity house from Monsters University has been recreated up there, down to the upholstery and custom-designed monster eyeball wallpaper.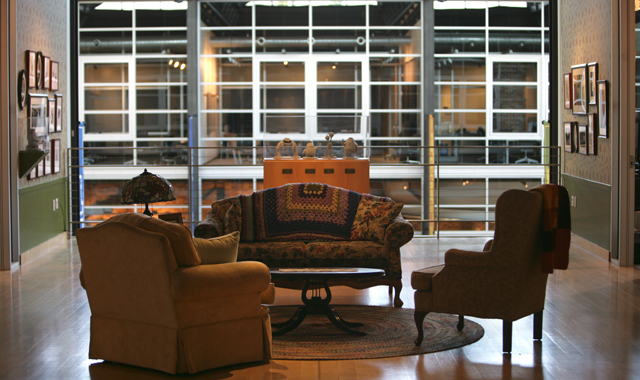 19. If you want a job on the twelve hundred-strong team here, you send in a show reel (one of tens of thousands they receive) and if they like it, you're invited for an interview that one employee affectionately refers to as the Spanish Inquisition. Pixar workers are brought in to meet the potential candidate two at a time on a rolling schedule that lasts around eight hours. Think because you've made it that far, it's all just a formality? Think again. Plenty of people are sent back home after that ordeal having not quite made the cut.
20. "Nobody leaves". That's what one Pixar employee tells us, and looking around, why would they? After that exhuastive recruitment process, does anybody get fired? "Yes" is the answer. How? Diplomatically put, "By not loving their work".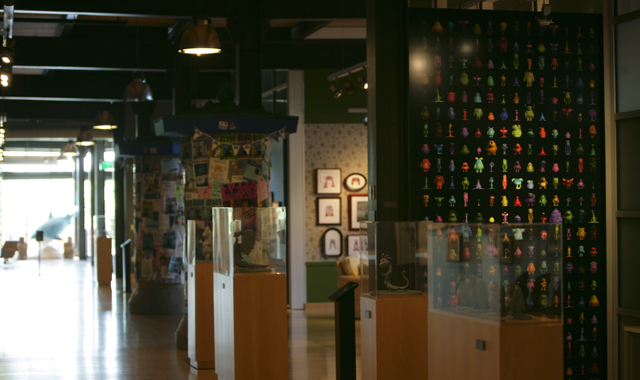 21. Other of the perks of being a Pixar employee are the fancy dress Halloween parties held on campus, at which John Lasseter hands out prizes for best costume. Creativity is a way of life, as proved by the employees' customisable work spaces, some of which are themed and done up like miniature houses or Wild West saloons.
22. There's not only one, but two secret rooms, one a fully tricked-out speakeasy bar, the other, a "Thinking Room". Between that and the Breathing Room, Pixar has all the bases covered.
Monsters University is released in the UK on Friday the 12th of July.
Please, if you can, buy our charity horror stories ebook, Den Of Eek!, raising money for Geeks Vs Cancer. Details here.