News
21 Bridges: Release Date, Trailer, Cast, News, and Details
Action-thriller 21 Bridges stars Black Panther's Chadwick Boseman and has Avengers: Endgame directors the Russos as producers.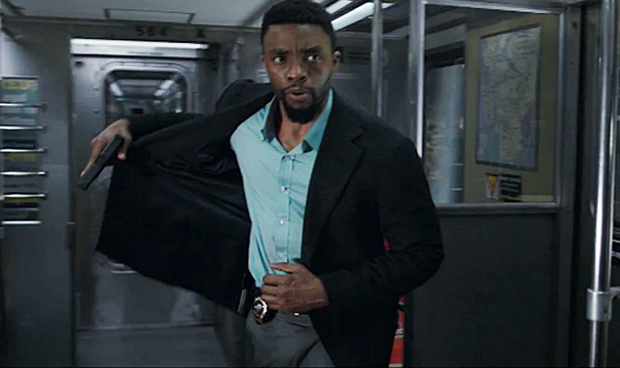 Black Panther star Chadwick Boseman took a break from the majesty of Wakanda to head over to the Big Apple as the star and producer for STXfilms' action-thriller 21 Bridges. Boseman will be joined by familiar Marvel Cinematic Universe personnel in the creative department.
21 Bridges stars Boseman as a disgraced NYPD detective. When his character is thrust into a citywide manhunt for a cop killer, he is given a chance at redemption. Additionally, Boseman's writing and producing partner, Logan Coles, and, notably, Avengers: Endgame directors Joe and Anthony Russo will serve as producers on the film. He is joined by a cast consisting of names like Sienna Miller, Taylor Kitsch and J.K. Simmons (who was recently MCU-christened in Spider-Man: Far From Home).
21 Bridges Trailer
The final trailer for 21 Bridges is here!
The trailer immediately below premiered at SDCC 2019!
And here's the first trailer.
21 Bridges Release Date
21 Bridges is scheduled to hit theaters on November 22.
21 Bridges Cast
Chadwick Boseman returns here for the Russos, who played a key role in his career by directing his debut as Black Panther in 2016's Captain America: Civil War, and his subsequent role reprisal in 2018's Avengers: Infinity War and (plot development notwithstanding) Avengers: Endgame.
He will be joined by the following main cast players:
J.K. Simmons, the 2015 Best Supporting Actor Oscar winner for Whiplash, is onboard. Simmons, the veteran American actor, who set an extremely high bar for future onscreen versions of Spider-Man's J. Jonah Jameson, has been headlining the Starz sci-fi thriller, Counterpart, and appears on IFC's Brockmire.
Sienna Milller also co-stars. The British actress, who recently appeared in the drama, American Woman, is known for her roles in The Lost City of Z, American Sniper and played signature toy line villainess the Baroness in G.I. Joe: The Rise of Cobra.
Taylor Kitsch rounds out the main trio. Kitsch, a Canadian actor, broke big on TV's Friday Night Lights only to fall on his proverbial sword as the headliner of big-budgeted box office bombs like John Carter and Battleship, and also played popular Marvel mutant Gambit in X-Men Origins: Wolverine. He recently starred as Branch Davidian cult leader David Koresh in Paramount Network miniseries Waco and co-starred in the second season of HBO's True Detective.
The cast also consists of names such as Keith David, Gary Carr, Dale Pavinski and Stephen James.
21 Bridges Story
Here is the official synopsis for the film.
21 BRIDGES follows an embattled NYPD detective (Chadwick Boseman), who is thrust into a citywide manhunt for a pair of cop killers after uncovering a massive and unexpected conspiracy. As the night unfolds, lines become blurred on who he is pursuing, and who is in pursuit of him. When the search intensifies, extreme measures are taken to prevent the killers from escaping Manhattan as the authorities close all 21 BRIDGES to prevent any entry or exit from the iconic island.
21 Bridges Production
21 Bridges first entered the developmental pipeline under the title, 17 Bridges. How it earned those four extra bridges is a mystery for now.
Brian Kirk (Luther, Game of Thrones) transitions from television to serve as a director on the film, working from a script written by Adam Mervis (The Philly Kid). Star Chadwick Boseman also serves as a producer, joined in that capacity by Mike Larocca, Gigi Pritzker and Logan Coles.
"Chadwick Boseman's razor-sharp instincts and undeniable charisma captivated millions of people around the world in Black Panther, and Joe and Anthony Russo have breathed a new energy into the action genre with films like Avengers: Infinity War," said STXfilms chairman Adam Fogelson in a statement.
Fogelson continued: "Their unique and intelligent approach to filmmaking is anything but formulaic, and with Brian Kirk at the helm directing, this film promises to go beyond the typical popcorn fare."
Boseman and Coles have another high-profile project on the docket in the form of Expatriate, a 1970s-set thriller. They're teaming up with Moonlight director Barry Jenkins and producer Marc Platt. Coles and Boseman wrote the screenplay for Expatriate.
Joseph Baxter is a contributor for Den of Geek and Syfy Wire. You can find his work here. Follow him on Twitter @josbaxter.