News
2019 Grateful Dead Meet-Up At The Movies Goes Global This Summer
The Grateful Dead had a special affinity to film, and celluloid liked the Dead. Mystery show will be announced when tix are on sale.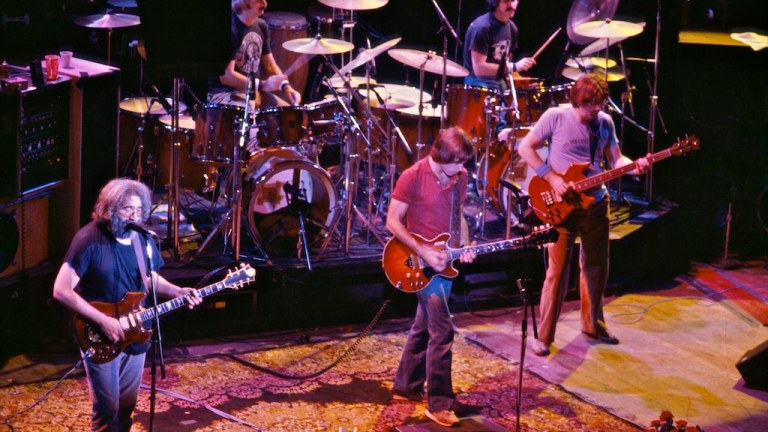 The Grateful Dead were always up front about their love for movies. Before he died, Jerry Garcia went on Turner Movie Classics to rhapsodize about about Abbott and Costello Meet Frankenstein, and continued the discussion in the recent documentary on the band. Their best-known concert film, The Grateful Dead Movie, caught the band at Winterland in San Francisco on October 16-20, 1974, can still be found as a midnight cult movie, where followers can get together and enjoy the shared experience. Now they want to get together globally. The 2019 edition of "Grateful Dead Meet-Up At The Movies" is going worldwide, according to Variety.
The 2019 "Meet-Up At The Movies" is a one-night event happening on Garcia's birthday, August 1st. The event will uphold its nine year tradition of playing a specially selected Grateful Dead concert in movie theaters, independent theaters and art-house theaters throughout North America, Europe, and Australia. But we won't know which concert film will be featured in the 2019 edition until tickets go on sale on June 13. The movie will also be shown at independent theaters and art-house theaters.
further reading: Beatles vs. Stones and Two Unmade Stanley Kubrick Movies
The decision is made collectively between Grateful Dead archivist David Lemieux and Rhino Entertainment. Last year they chose the Grateful Dead's 1989 performance at RFK Stadium in Washington.  Looking around at the online speculation points to the band's show at Giants Stadium in East Rutherford, N.J., which they played June 16 and 17 in 1991, right on the heels of their show at RFK Stadium in Washington D.C. which featured Bruce Hornsby and Vince Welnick.
further reading: Pink Floyd Members Reunite: Roger Waters Joins Nick Mason on Stage in NYC
The event is being put together by Rhino and Trafalgar, which just dropped K-pop band BTS's concert film Burn the Stage, Coldplay: A Head Full of Dreams, and will be distributing the Roger Waters film Us + Them and The Cure – Anniversary 1978-2018 Live in Hyde Park London.
further reading: The Occult Influences of Sympathy for the Devil
"It's been incredibly exciting to watch the 'Grateful Dead Meet-Up at the Movies' evolve over the last eight years, with the audiences growing larger and more eclectic with each installment," Rhino Entertainment president Mark Pinkus said in a statement. "Partnering with Trafalgar Releasing will now take us to the next step in this evolution, with even more diverse cinema offerings and worldwide distribution."
further reading: The Doctor Strange and Pink Floyd Connection
Grateful Dead Meet-Up at the Movies began in 2011. It run by Fathom Events and showed The Grateful Dead Movie in American theaters. The 2012 showed the Grateful Dead's performance of July 18, 1989 at the Alpine Valley Music Theatre near East Troy, Wisconsin. In 2013 they showed the documentary Sunshine Daydream,. Which caught the band's August 27, 1972 performance at the Old Renaissance Faire Grounds in Veneta, Oregon. In 2014 they projected the Grateful Dead's performance of April 21, 1972 at the Beat Club television studio in Bremen, West Germany onto screens. Other screenings included the July 2, 1989 concert at Sullivan Stadium in Foxborough, Massachusetts, July 12, 1989 show at RFK Stadium in Washington, and the July 7, 1989 show at John F. Kennedy Stadium in Philadelphia.
Dead & Company began their 2019 spring/summer tour in California over the weekend.
Culture Editor Tony Sokol cut his teeth on the wire services and also wrote and produced New York City's Vampyr Theatre and the rock opera AssassiNation: We Killed JFK. Read more of his work here or find him on Twitter @tsokol.