News
2001: A Space Odyssey Will Return to Theaters in 70mm
Sci-fi fans will be able to watch 2001: A Space Odyssey in its original 70mm glory in May!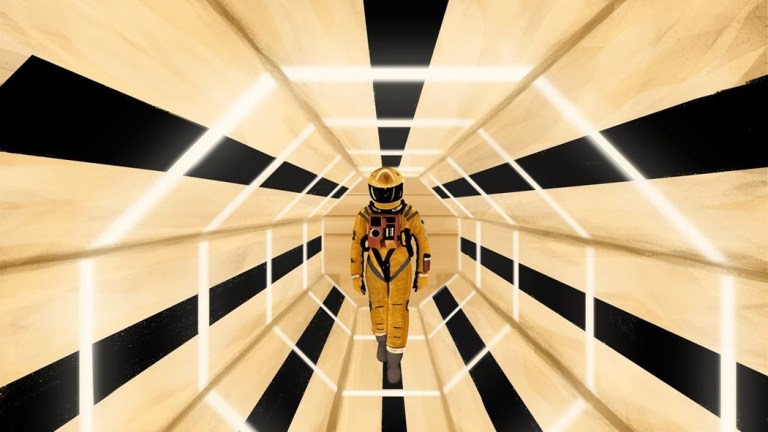 Stanley Kubrick's sci-fi masterpiece, 2001: A Space Odyssey, is making a return to theaters in its original 70mm format to celebrate the seminal film's 50th anniversary on April 3. The movie will begin screening in select theaters on May 18. 
"For the first time since the original release, this 70mm print was struck from new printing elements made from the original camera negative," Warner Bros. said in a press release. "This is a true photochemical film recreation. There are no digital tricks, remastered effects, or revisionist edits."
No info as of yet as to when fans can pre-order tickets for 2001's new theatrical run. 
Director Christopher Nolan (Dunkirk) is also set to present the film at the Cannes Classics section of the Cannes Film Festival on May 12. 
"One of my earliest memories of cinema is seeing Stanley Kubrick's 2001: A Space Odyssey, in 70mm, at the Leicester Square Theatre in London with my father," said Nolan in a statement. "The opportunity to be involved in recreating that experience for a new generation, and of introducing our new unrestored 70mm print of Kubrick's masterpiece in all its analog glory at the Cannes Film Festival is an honor and a privilege."
Members of Kubrick's family will be in attendance at the Cannes screening.
"I'm delighted that 2001: A Space Odyssey will be reissued in 70mm, and that Cannes has chosen to honor it," said Christiane Kubrick, the director's wife. "If Stanley were alive today, we know he would be in admiration of the films of Christopher Nolan. And so, on behalf of Stanley's family, I would personally like to thank Christopher for supporting his film."
More on this – and where to get your tickets – as we learn it!