Features
20 interesting films from one-time movie megastars
We look at 20 former A-list actors, and the interesting film choices they've made...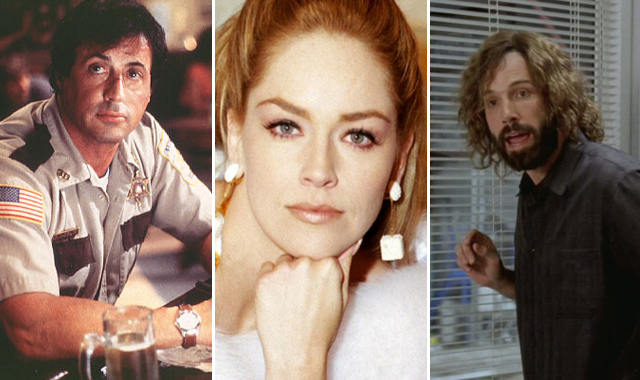 There comes a time in every A-list actor's life when they gather their thoughts and take a step back into smaller budget or more leftfield fare – and for a variety of reasons. They may want to work with a certain director or an emerging directing talent. They might be taken by a fantastic script. They might fancy a new artistic direction. They may even have a spiritual epiphany and decide to eschew Hollywood and all its decadent trappings, or they may simply just not have a choice, since the big roles have long since dried up for them.
The reason for this list then, is to look at some of those shining lights, the household names, and at the films they took up as proof of their artistic integrity. Or, once Hollywood no longer came-a-calling, the post-Hollywood hangover, so to speak (in some cases sparking a return to the Hollywood hights).
Some of the choices worked and careers have been revived, but others – not so much…
20. Michael Keaton: Jackie Brown (1997)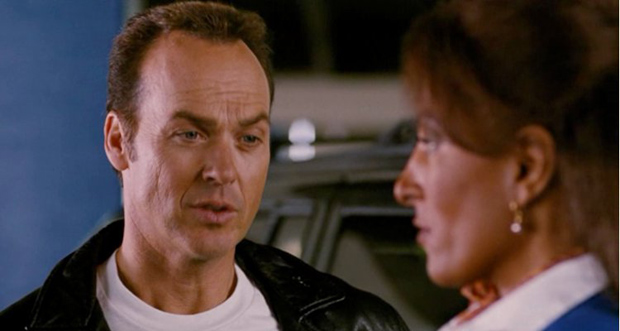 Keaton's career was slipping away from him come the mid-90s following a quick ascent to the top after portraying the Batman in Tim Burton's 1989 imagining of the caped crusader. His choices then became inconsistent; he generally worked with respected directors, but didn't always choose their better projects.
After starring in John Schlesinger's underrated Pacific Heights and also appearing in Kenneth Branagh's Much Ado About Nothing, the descent came quickly, with a string of box office underperformers including Ron Howard's The Paper and Harold Ramis' Multiplicity, which incidentally has arguably the worst poster of all time.
Cue Quentin Tarantino and his passion for reinvigorating careers, this time with the Elmore Leonard adaptation, Jackie Brown. Keaton stars as federal agent Ray Nicolette, and shows how humorous he can be while playing it straight(ish), and laps up his perfectly suited dialogue by stealing every scene he's in.
Did Keaton use this a career shot in the arm? The short answer is no. Desperate Measures wasn't a bad follow-up, but he seems to have chosen to mainly stay away from the camera, at one stage making his directorial debut with The Merry Gentleman. He recently resurfaced in Toy Story 3, but the big live-action roles are relatively few and far between. Keaton was great value, though, in 2010's The Other Guys, and he does have a prominent role in next year's RoboCop remake.
19. Pierce Brosnan: Seraphim Falls (2006)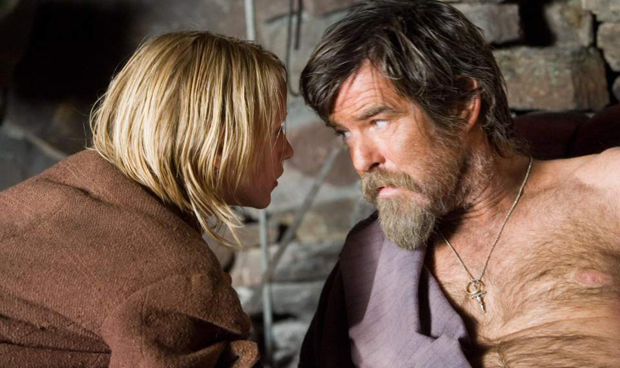 Brosnan is generally typecast into romantic leading roles when it comes to his Hollywood output, but he's not afraid of stepping out of the limelight and taking on other, more challenging roles.
In 2006, he starred opposite Liam Neeson (himself going through a successful redesign these days) in the Western chase-thriller, Seraphim Falls, with Brosnan being hunted by his co-star through the snowy Ruby mountains. Cue some horrific traps and some rather grisly deaths.
This choice showed that Brosnan isn't afraid to get his hands dirty and that he doesn't care for having a specific image bestowed upon him by his mainstream audience. In other words, he's a man's man and proud of it.
These days, he seems happy with his rom-com lot, very infrequently stepping the genre for projects such as Roman Polanksi's 2010 thriller, The Ghost.
18. Ben Affleck: Extract (2009)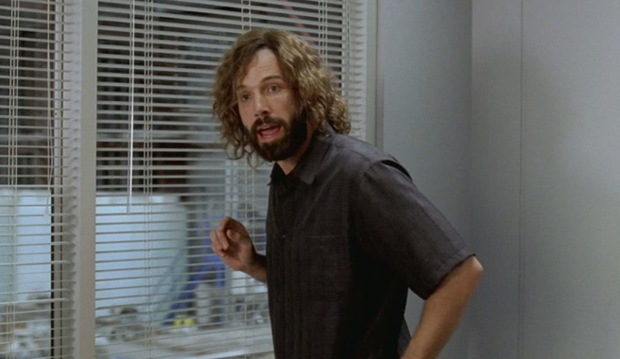 Ben Affleck has had a funny career so far, at least when compared to his close chum and alumni, Matt Damon. After hitting the big time with his aforementioned cohort, he decided to take the more populist route and became a huge Hollywood star. Then came a string of critical or financial misfires, starting with Daredevil and followed by Gigli and Paycheck.
He embarked on his new directing direction in 2007 with Gone Baby Gone, but before he carried on, Affleck starred in the 2009 comedy, Extract. To be honest, working with Mike Judge, there's no way he could've failed, and he has a whale of a time as Jason Bateman's hippy best friend. Whether it's delivering questionable relationship advice or selling Bateman a dodgy pill, Affleck revels in a comic role and proves that he can do more than just phone in a performance.
Since Gone Baby Gone, Affleck's new career as a director has really hit the big time, culminating in his Academy win for Argo. As well as working on his next directorial project, Live By Night, he'll also be cleaning up Gotham in the 2015 Batman Vs Superman movie – oh, and he's also starring in David Fincher's next film, Gone Girl.
17. Patrick Swayze: Donnie Darko (2001)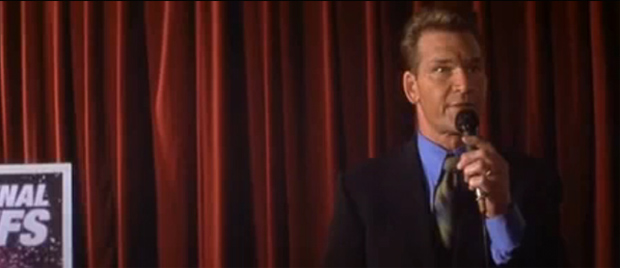 Fondly remembered for his leftfield romantic leads in Ghost and Dirty Dancing, Swayze tried to buck the trend in 1991 with his hippy baddie role in Point Break, but promptly sank to a decade-long run of mainly straight-to-DVD movies.
Ten years after Point Break, Swayze was given a chance of career redemption in a Tarantino-esque move by young director Richard Kelly with his indie time travel melodrama, Donnie Darko. It's rightly considered a cult favourite, and one that gets better with age. But hidden within the cryptic messages is a scene-stealing turn from Swayze as a motivational speaker who is outed by the protagonist as a paedophile.
Swayze is all manufactured confidence and glinting eyes as he tries to improve Darko's behaviour with his condescending speeches, but this, instead, turns the youth deeper to rebellion. It would've been fitting had Hollywood been able to find a new place for Swayze to fit, but it wasn't to be, and he sadly passed away in 2009.
16. Hugh Jackman: The Prestige (2006)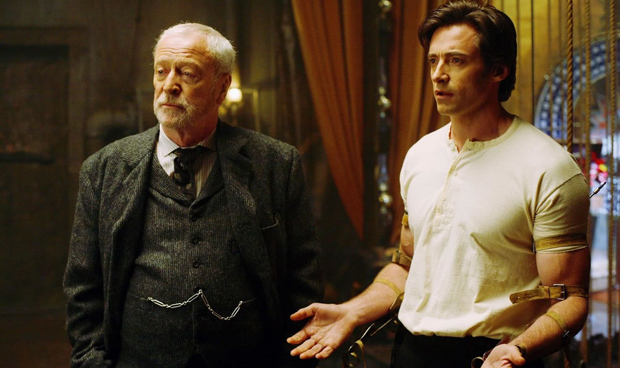 As a young man, Hugh Jackman spent time growing up in Norwich, where he would cheer on his favourite football team, Norwich City, at Carrow Road. These days, you're more likely to find him tearing up box offices with those adamantium claws he's now so famous for.
This one is cheating a bit, as Christopher Nolan's The Prestige was studio backed, but it's far removed from the blockbusters he was making before like X-Men, Swordfish and Van Helsing.
Only a year earlier, Jackman had worked with Darren Aronofsky on the fantasy epic, The Fountain, and these two choices showed how good an actor he can be, especially when working under intelligent tutelage.
15. Robert Duvall: The Road (2009)
Cormac McCarthy likes to strip humanity down to its bare bones to expose the essence of what makes people tick; generally, there's a survival instinct, a heavy dose of violence and in most cases, empathy.
The Road's central duo are an amalgamation of all three with a heavy emphasis on the latter, negotiating and compromising with each other using the Man's logic and the Boy's purity to remain on the right side of the line and "keep carrying the fire". This was brought to the fore predominantly when they encounter Robert Duvall's character and let him eat with them.
Who better to play a word-weary and cynical old man than an actor who's enjoyed such a varied life and career? Duvall's early work was full of genuine quality: M*A*S*H, The Godfather, Network and Apocalypse Now are all stand out titles. But in the late 90s, he appeared in Deep Impact in a move that suggested that his retirement might be imminent.
Fortunately, films like Secondhand Lions and Thank You For Smoking kept him going through a spell of Godfather videogame voiceover work, and The Road was a perfect platform to show off Duvall's talent.
14. Elijah Wood: Maniac (2012)
Before Lord Of The Rings, Elijah Wood was getting parts in big Hollywood films like Forever Young, North, Deep Impact, the excellent The Ice Storm and The Faculty, which had him teetering just over the A line, but then along came Peter Jackson and swiftly pulled that rug from under the fledgling Wood's feet.
Maniac is an effective psychological horror that allows Wood to demonstrate what he can offer when allowed to dig deeper into his range. It's filmed from a first person perspective, and it works because his performance adds a creeping suspense – he genuinely keeps you guessing as to what he'll do next.
Wood has since gone on to TV work, starring in Wilfred and the brilliantly named Peter Panzerfaust, plus he has a couple of films in the pipeline.
13. Jim Carrey: Eternal Sunshine Of The Spotless Mind (2004)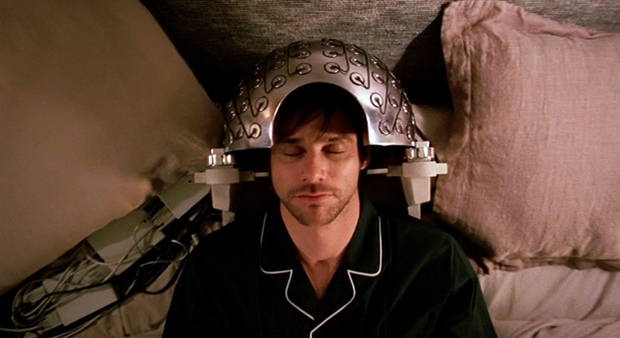 Ace Ventura: Pet Detective sent Jim Carrey's career into overdrive. It began a string of hit after hit throughout the 90s, with him even trying out more serious fare at the end of the decade with The Truman Show and Man On The Moon.
I do have a soft spot for Jim Carrey, both as a silly crackpot and as a serious actor, and Eternal Sunshine was proof that he can do more than just shout funny lines. It was unfortunate, then, that Hollywood producers disagree, and would rather cast him as a bumbling buffoon in gratingly awful genre fare like Mr Popper's Penguins and Fun With Dick And Jane.
He's in the upcoming Anchorman 2 (not to mention Dumb And Dumber To), so maybe we could see a return to the comedy form of Carrey's 90s heyday.
12. Robin Williams: One Hour Photo (2002)
One Hour Photo was an incredibly bold move by Williams, but one he wasn't scared of taking to showcase his mature range. He isn't a stranger to serious roles and has played it straight before, as seen in Awakenings in the early 90s, but Williams' turn in One Hour Photo was a truly dark departure.
Mark Romanek directs with a cold passion, and keeps the camera tight and brilliantly lit around Williams so that he's almost suffocating us with his eerie glow and creepy stare. The film doesn't always work, but Williams' performance is front and centre, gently massaged by Romanek's confident direction.
2002 was a purple year for Williams as he quickly followed this up with another serious turn in Insomnia, and the infinitely quotable Death To Smoochy was also released. From there, he's maintained a varied career, from the mainstream (Night At The Museum and its sequel) to the brilliantly off-beat (2009's blackly comic World's Greatest Dad).
11. Richard Gere: Arbitrage (2012)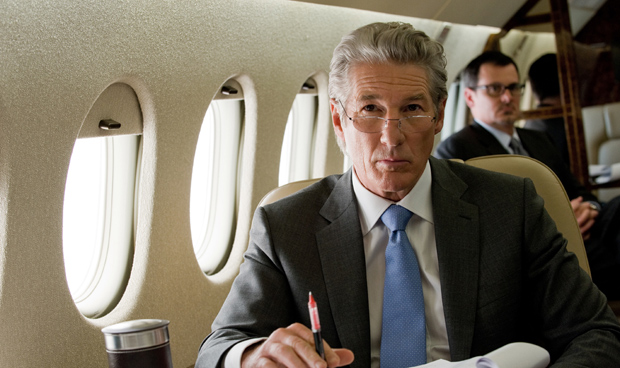 Richard Gere is at his best as a high-powered suit, either making executive board room decisions or strutting around a court room with a jury eating out of his hand, and Arbitrage was the comeback for this Gere – the Gere we know and love. Arbitrage sees Gere as a hard-nosed deal breaker, a loving family man and a sly philanderer, wooing impressionable young women.
He had a brief revival in 2002 with the Oscar winning musical, Chicago, but couldn't quite sustain a consistent return to his earlier run of form which, incidentally, is peppered with forgotten versatility, ranging from Days Of Heaven to The Cotton Club to Primal Fear.
Flawed as it is, what Arbitrage does best is push aside the Julia Roberts rom-coms and remembers the vast range Gere has tucked away behind that smoldering grin by giving him a character bulging with everyman stresses and secrets but oozing a charisma that only Gere can contain.
10. Michael Douglas: Wonder Boys (2000)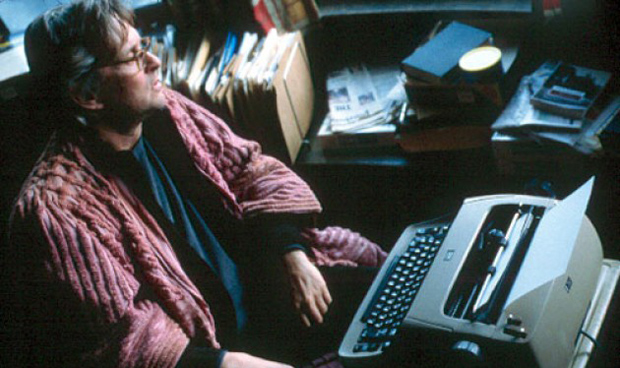 Co-financed by the BBC and director Curtis Hanson, Wonder Boys is an intellectual look at campus life that unfairly bombed at the box office and again on an attempted re-release due to a muddled ad campaign.
Michael Douglas is a huge star, and he can walk onto any set in Hollywood, but he has professional pride – that much was evident in this year's Behind The Candelabra. In Wonder Boys, he plays a college professor of creative writing, but finds himself in a creative funk, so ponders life with students Katie Holmes and Tobey Maguire, his editor Robert Downey Jr, and his romantic interest Frances McDormand. It's an intelligent look at faculty life, not unlike Roger Avary's Rules Of Attraction, but far less brazen.
Michael Douglas' career has been long and varied, as has director Curtis Hanson's. In the latter's back catalogue, you'll find titles like Bad Influence, The Hand That Rocks The Cradle, and, of course, L.A. Confidential.
9. Sylvester Stallone: Copland (1997)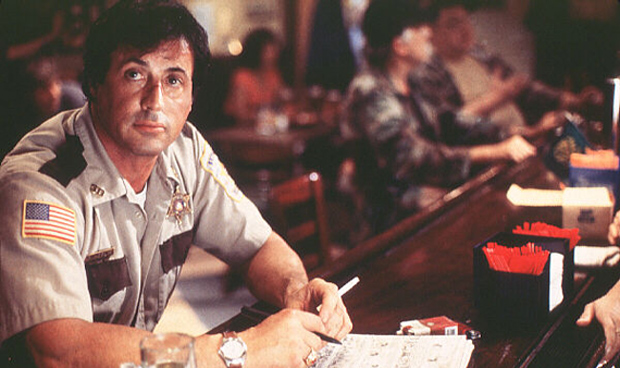 Stallone is synonymous with his standard mumblecore routine of holding weaponry, flexing muscles and muttering glib one-liners. Copland, however, came straight out of leftfield compared to the rest of Sly's canon. Stallone plays the simple sheriff of a small town in America, who soon discovers there's corruption wafting around the tantalising ensemble cast including Harvey Keitel, Ray Liotta, Robert Patrick and Robert De Niro. Stallone fulfils his duty and gets to work as a sheriff should.
Copland is a fantastic film, filled with brutal and sinister moments, good acting and strong dialogue, but the biggest surprise was Stallone's performance.
It seems that this was a one off, as more genre fare followed. Stallone has enjoyed another resurgence the last few years, the pick of the bunch being 2008's impossibly violent Rambo.
8. Robert Downey Jr/Val Kilmer: Kiss Kiss Bang Bang (2005)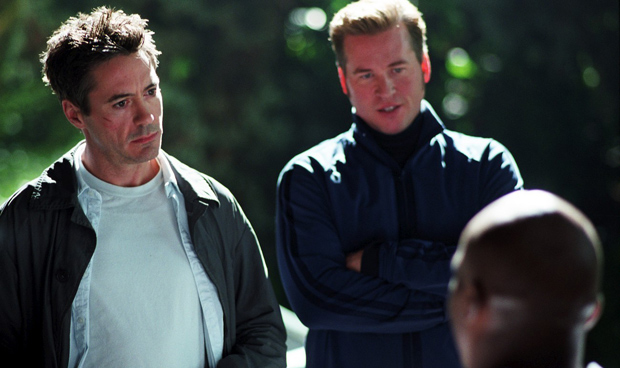 A double header next here (triple if you count Shane Black), with the film that provided the launchpad for Robert Downey Jr to go forth and conquer Hollywood.
Kiss Kiss Bang Bang was Shane Black's answer to his own critics following his forced sabbatical from screenwriting, and it was his razor sharp, hip dialogue that forged a new career path for Downey Jr as Hollywood's wise-cracking, new leading man.
Kilmer, on the other hand, perhaps still living under the cloud of his 90s reputation for on-set misbehaviour, didn't quite enjoy the uplift that Downey Jr did. These days you can find him in straight to DVD movies, but also in a forthcoming, as-yet-untitled Terrence Malick film.
7. Alec Baldwin: Glengarry Glen Ross (1992)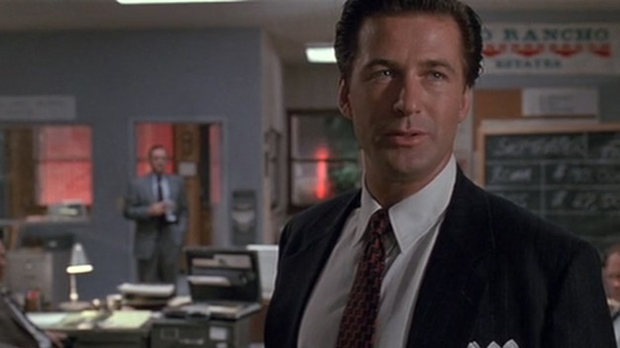 After failing to scare Winona Ryder as a ghost in Beetlejuice, but before he was failing to scare John Lone as Lamont Cranston in The Shadow, Alec Baldwin took a small but important role in James Foley's adaptation of the David Mamet play, Glengarry Glen Ross.
Baldwin played a sales guru tasked to motivate the impeccable cast of Alan Arkin, Al Pacino, Jack Lemmon, Ed Harris and Kevin Spacey, and gives the least motivational motivational speech recorded on film with lines like, "Good father? Fuck you, go home and play with your kids" and "Fuck you, that's my name".
Glengarry failed to make its budget back on its American theatrical release, which proves that it isn't just modern audiences that don't go to watch good films at the cinema. Even so, it's since developed a good following and rightly so – in fact, if you haven't seen Glengarry Glen Ross, then stop reading this list and go watch it now.
6. Nicole Kidman: Dogville (2003)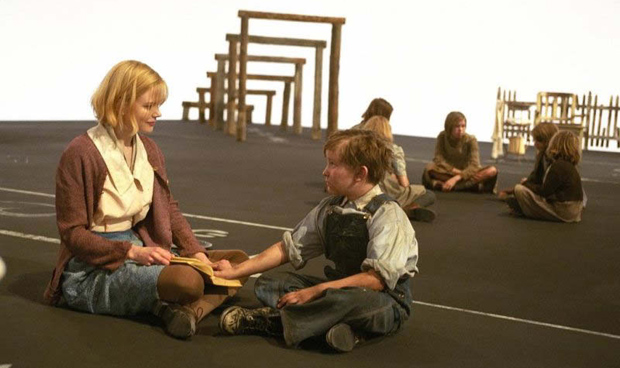 Kidman is that perfect blend of A-list superstar and genuinely fine actor, and she isn't scared to work with interesting and challenging directors away from the usual cosy confines of Tinseltown.
Most notably, Kidman and her then husband Tom Cruise collaborated with Stanley Kubrick on his final feature Eyes Wide Shut in 1999, and she was more than interested when experimental Danish director Lars von Trier hired her for Dogville.
Dogville is the first in von Trier's USA: Land of Opportunities trilogy, and sees Kidman as a woman on the run who needs to earn the acceptance of the townsfolk where she's hiding. The interesting thing about the film is its minimal use of sets – so minimal, in fact, that it's essentially chalk lines and bare walls. What this means is that the viewer's focus is fully on the actors, and with Kidman being central to the plot, it's her film.
Fortunately for us, Kidman has the grace, humility and good taste to step seamlessly between the lines of A-list and independent.
5. Bill Murray: The Royal Tenenbaums (2001), Lost In Translation (2003)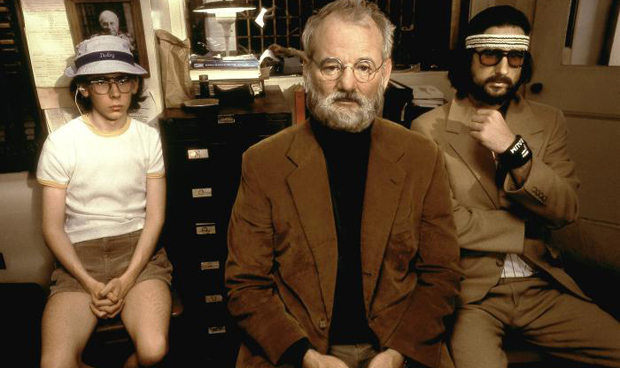 Here's a classic case of an actor running out of steam and taking steps towards a complete career rejuvenation, and it paying off, big time.
Murray already had a fantastic career as the zany goofball in Stripes, Ghostbusters, Caddyshack, Kingpin and Little Shop Of Horrors to name but a few. He then took the chance to do a more serious brand of comedy when Wes Anderson came calling, and this partnership really added new layers to Murray as an actor and as a funnyman – Bottle Rocket and Rushmore being two excellent, early examples.
Sofia Coppola was the next of the arthouse directors to spot Murray's talent. Lost In Translation really defined his new, sardonic direction. It seems Murray has since preferred to work with more artistic directors (especially Anderson) as he's seldom gone back, albeit with the odd exception like Get Smart or the much-maligned Garfield.
4. Sharon Stone: Casino (1995)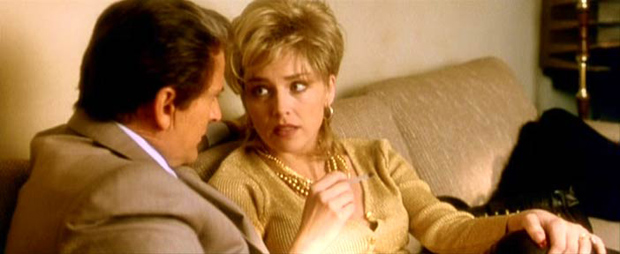 Stone came out on top in Martin Scorsese's violent drama, even among a cast containing De Niro, Joe Pesci and James Woods. Scorsese coaxes a refined performance from Stone, full of purpose and dignity, only to pull the rug and reveal tragic undertones of infidelity and addiction. She wasn't altogether too bad in another film of 1995, Sam Raimi's lively but uneven western, The Quick And the Dead.
It comes as a surprise, then, that she all but disappeared following her mid 90s heyday, and after making audiences and filmmakers finally take her seriously, she took the wrong turn and ended up in ill-advised films like Basic Instinct 2 and Catwoman.
3. Kevin Costner: Mr Brooks (2007)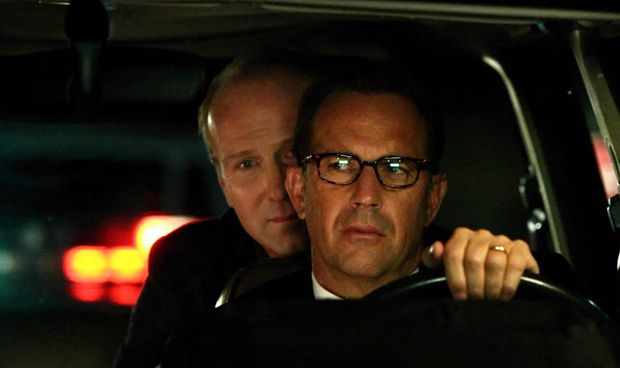 Throughout the late 80s and the 90s, Kevin Costner was one of the biggest film stars in the world. However, a couple of big budget projects towards the end of the 90s (Waterworld, which just about hit, and The Postman, which didn't) and his refusal to turn down baseball movies (Raimi's For Love Of The Game) set the Costner dimmer switch to low, with it being all but switched off early on in the 2000s after 3000 Miles To Graceland and Dragonfly (although his directorial effort, Open Range, is excellent).
Then, in 2007, Costner teamed up with writer-director Bruce A Evans to star in Mr Brooks, the story of a high-powered businessman who just happens to have a secret serial-killer persona in the guise of William Hurt. It's not a quick, tight, fast-paced thriller by any means, as the 120 minute runtime allows for a secondary storyline involving Demi Moore's personal life which develops the overarching plot into more of a slow-burner until all the points eventually meet.
Mr Brooks is definitely worth a look, though; John Lindley's cinematography is bright and vibrant, which helps hold attention when Evans' direction starts to wander, and the performances from Costner and Hurt are a standout – Costner in particular hasn't been this good in quite some time. This seems to have kickstarted a career shift for Costner, where he's now carving himself a niche in Hollywood as the paternal overseer, as we've seen recently in Man Of Steel and also the forthcoming Jack Ryan: Shadow Recruit.
2. Mickey Rourke: The Wrestler (2008)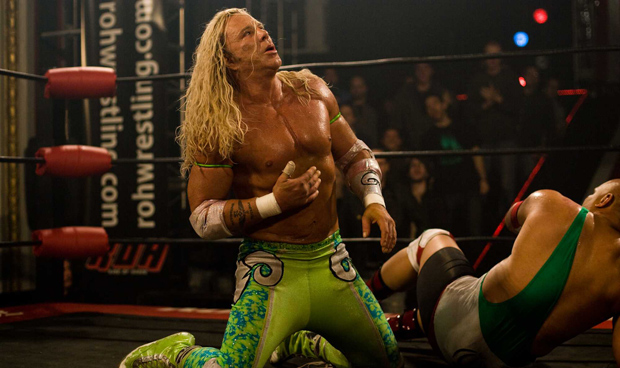 The Wrestler earned Rourke a Golden Globe, a BAFTA and an Oscar nomination. Not only was he playing an aging legend of his craft making an against-all-odds comeback, but he was doing this for real too.
Rourke dropped out of acting in the early 90s to resume his boxing career, but this soon drew to an end and he was back, taking small bit parts and gradually working his way back up the silver screen ladder. It wasn't until the early 2000s that he appeared in Robert Rodriguez's Once Upon A Time In Mexico, and following this, he was later cast in a leading role in the director's next film, Sin City.
Darren Aronofsky saw Rourke as the perfect fit for his Randy 'the ram' Robinson, but at first, Rourke didn't agree, as he didn't believe in the character. A quick Aronofsky-approved rewrite of Robinson's dialogue later from Rourke himself, and production was soon in full swing.
We have a lot to thank for the director's persistence and flexibility, as Rourke's weathered but purposeful performance here is up there with earlier work like Rumblefish, Barfly and Angel Heart.
1. Matthew McConaughey: Killer Joe (2011)
The 90s oh-so-nearly worked out for McConaughey. He tried his best by appearing in a mixture of cross-genre, interesting titles like A Time To Kill, Amistad and Contact, but for each one of those there was also films like Larger Than Life and The Newton Boys.
As the decade finished and a new one began, he found himself getting sucked into a spiralling vortex of romantic comedies, and quickly established himself as the leading man in the genre, even going as far as inventing the 'poster lean'. Fast forward to the end of the 2000s, and McConaughey was offered a route out of his career purgatory by the then 82-year-old William Friedkin to star as the eponymous anti-hero in the adaptation of Tracey Letts' play, Killer Joe.
Killer Joe boasts a fantastic ensemble, but they're all held together by McConaughey's magnetic performance at the centre of the film, acting as a binding agent between cast and script and forcing the rest of the actors to up their game in the process.
Now McConaughey has proved he's more than just a pretty leaning man, 'proper' roles have come flooding in, and he's gone on to appear in Mud, Magic Mike, Dallas Buyers Club, The Wolf Of Wall Street and… well, you get the picture, the future looks a lot brighter, artistically, for Mr McConaughey.
Follow our Twitter feed for faster news and bad jokes right here. And be our Facebook chum here.