Features
16 hidden treats found waiting for you in movie credits
Some films keep entertaining us even as the final credits roll. Here are some hidden treats at the end of 16 movies...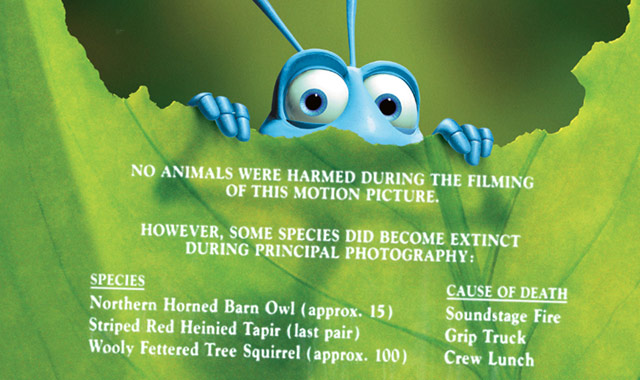 We've talked in the past about the current trend for stings at the end of movie credits – we once put together a list of 50 of our favourites. But that's not what this article is about. Instead, inspired by a quite wonderful scene midway through the credits of The Boxtrolls, we've been hunting around for extra goodies that you may have missed in other films. Some of these are just lines of text, others are far more substantial. But also, none of them are new or extended scenes – at least in the strictest sense.
There are inevitable spoilers for one or two things ahead, but we've tried to keep the headers as spoiler-free as possible so you can skip to the next entry if you want to. Let's start with The Boxtrolls, as that's what's inspired this particular piece…
A GUIDE TO HOW STOP MOTION ANIMATION WORKS
The Boxtrolls
The third stop motion animated film from Laika seems, at first glance, to illustrate its credits with the concept artwork and early designs that led to the sets that were ultimately built. However, keep waiting, because soon, what at first glance looks like a fresh scene between Mr Trout and Mr Pickles begins. However, this one's different, as we get a glimpse at the physical animation work involved. We see, sped up, one of Laika's animators (it looks like Travis Knight, who also happens to co-run the firm), and the camera gradually pulls back (no easy thing in stop motion) to reveal the scale of the set the two characters are stood on. It's a glorious slight pull back of the curtain, with some sparky dialogue to get across just what's happening. A real treat.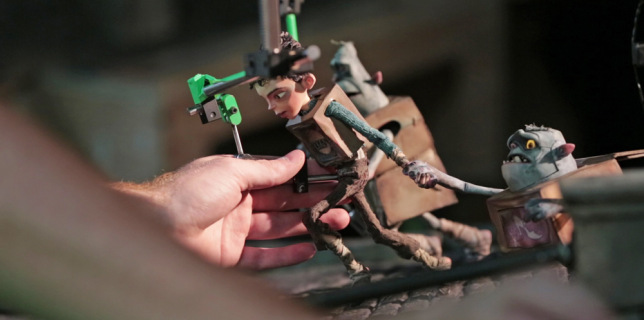 A FULL PULLING APART OF THE FUTURE OF A FRANCHISE
22 Jump Street
This stretches the rules of what we're trying to do here, but the end credits of 22 Jump Street are amongst the finest we've ever seen. Director Joe Dante once said that he'd made Gremlins 2 with the intention of making sure there'd never be a Gremlins 3, and he positions his film accordingly.
Across the end credits of 22 Jump Street? Co-directors Chris Miller and Phil Lord practically set fire to any immediate plans for 23 Jump Street by basically playing out the franchise, many instalments into the future. Incredibly funny, and just a little biting too.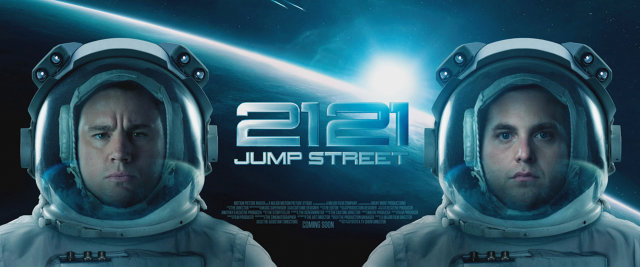 PROOF OF HOW GOOD EMMA THOMPSON'S ACTING IS
Saving Mr Banks
If you want proof as to just how close Emma Thompson got to the sound and mannerisms of P L Travers, then the end credits of John Lee Hancock's Saving Mr Banks provides it. Sit still once the film ends, and you're treated to real life recordings of the Mary Poppins author, as she berates the Disney team and its ideas as they try to bring her most famous book to the screen.
For a film that faced some accusations of playing quite liberally with the truth, it does too provide proof of at least some part of its story that's made of concrete. It's also a fascinating insight into a fascinating woman.
RANDOM JOKE TO SEE IF YOU'RE WATCHING
Carry On Abroad
It's not the kind of joke you can imagine being slipped into the opening credits of a modern day movie, but the Carry On team did insert a fake name into the opening of Carry On Aboard. See if you can spot it in the screengrab below…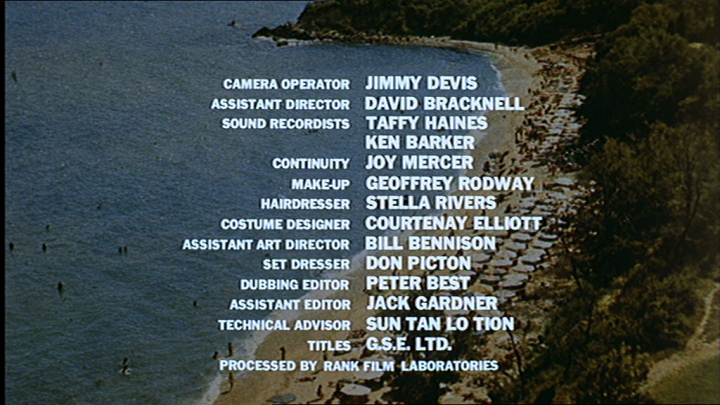 CONFIRMATION THAT NOT ALL MEN EAT THEIR BOGIES  
Frozen
A nice disclaimer this, even if the word 'bogies' has become 'boogers'. Contrary to what's stated in the world-conquering movie, not all mean eat their own greenery. Certainly the team behind the film want to make that clear. 
RECIPE FOR SOME NOBBY BUNS
Hot Shots!
Airplane! was one of the first films that had a post-credits sting to top and tail a gag in the film. One of its team, Jim Abrahams, would go on to make the Hot Shots! pair of films, and he thoughtfully presented a recipe in the end credits for the first movie. Don't believe us? Put this to the test…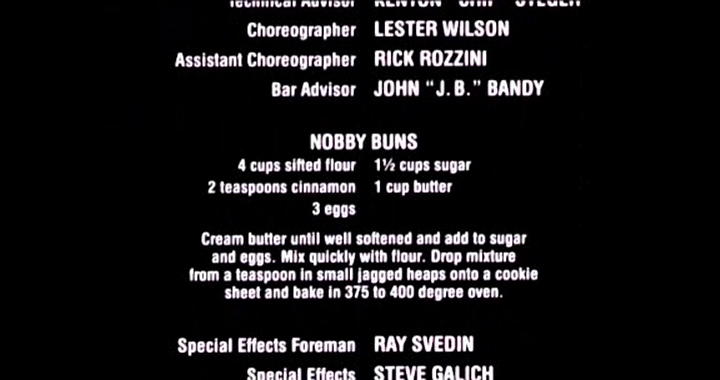 FUN FACTS AND CRYING GAME SPOILERS
Hot Shots! Part Deux
Continuing the template laid down by Hot Shots!, the sequel doesn't have recipes this time, but it does sneak in a massive plot spoiler for The Crying Game, and it also has an array of fairly useful factoids as well. Remember: this was from a time when Nick Fury didn't pop up at the end of movies, so it was the real hardcore who got to enjoy these when the film first came around.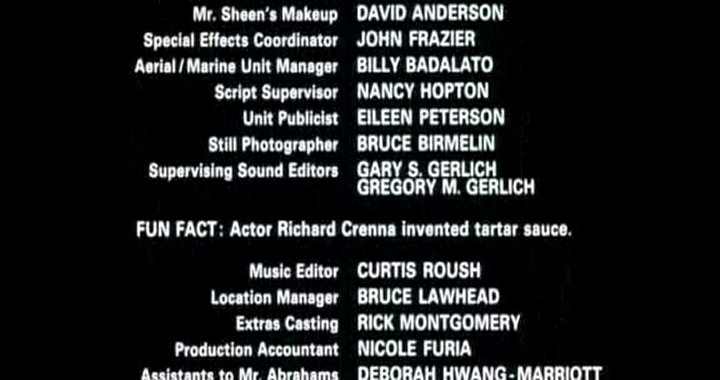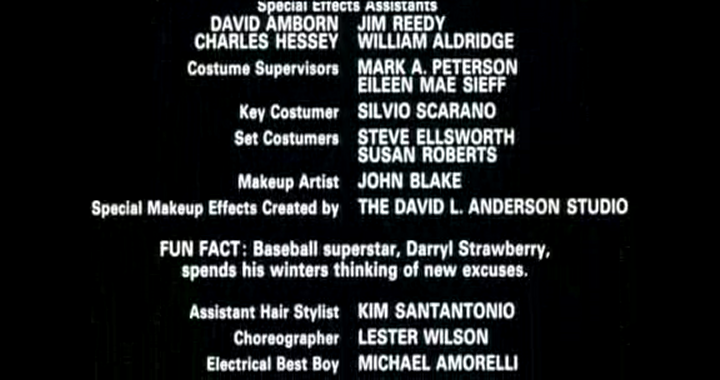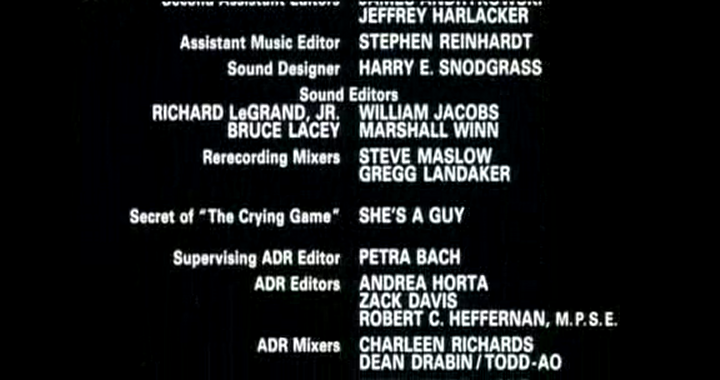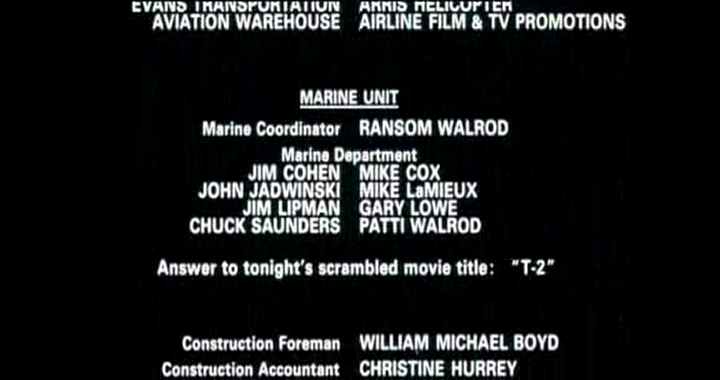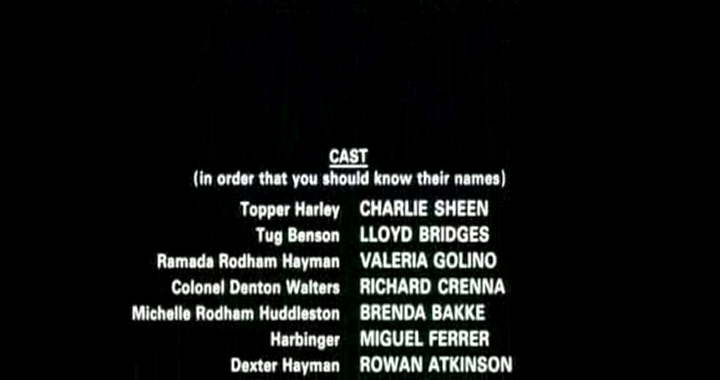 THE REAL LIFE FACES BEHIND THE MOVIE
Flags Of Our Fathers
I can't say I'm a huge fan of Clint Eastwood's Flags Of Our Fathers (companion film Letters From Iwo Jima, as most of the world has pointed out, is much better). But I do like that he takes the time, as a few films based on true stories have done, to bring you the real faces behind the characters we've seen in the movie. As such, over the credits, when the relevant actor's name appears, we get a picture of the real person they played. Archive photography accompanies the entire credits crawl too. A gentle, classy touch.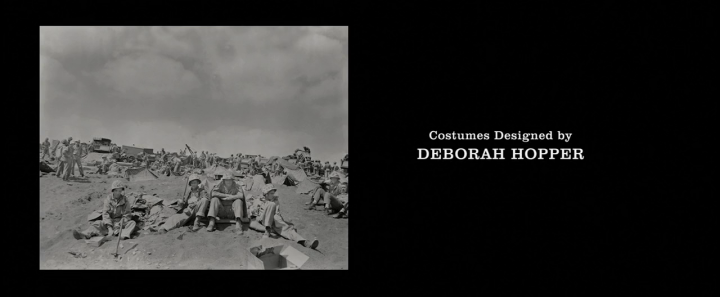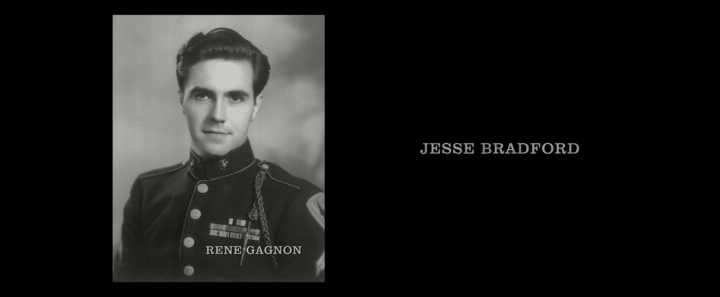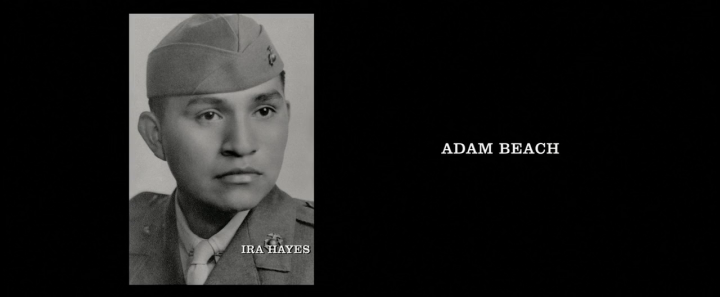 AN 80s VIDEOGAME WITH JASON STATHAM IN IT
Crank
A lovely find, this. If you've not had your head scrambled by the majesty of Crank – which we talked about at length in our countdown of the finest Jason Statham movies – then there's an extra treat right at the end. For there's a brief, manic, 8-bit videogame version of the Stathamfest to enjoy. Now if only we could play this for real…
HARRY POTTER
Go through the end credits of the Harry Potter movies, and there are some lovely little touches to be found. At the end of Goblet Of Fire, for instance, is the declaration that "no dragons were harmed in the making of this movie". But for a simple, effective little touch, how about the footprints that you find in the end credits of Harry Potter & The Prisoner Of Azkaban. Keep watching them, because when it moves to the creature team, those footprints change to pawprints. There's lot of stuff like that throughout the series.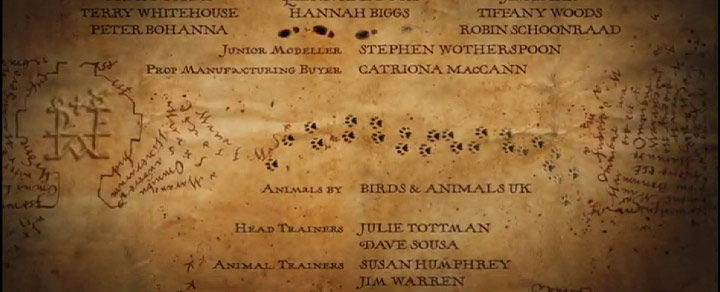 CONFIRMATION THAT HITLER IS BAD, TEASE FOR UNMADE MOVIE
Airplane II
The underappreciated Airplane II – which boasts one hell of a sight gag featuring William Shatner – also has a few asides and gags awaiting those who sit through the end credits. Basically, whoever set the end credits doesn't understand what a Gaffer is on a film set, and manages to sneak Hitler's name in there too.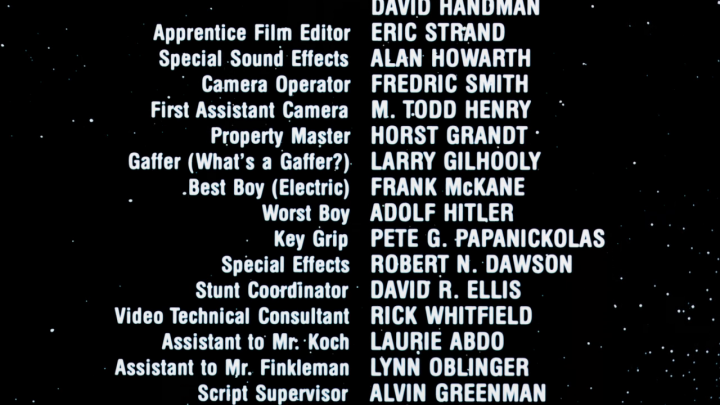 Oh, and at the very end of the Airplane II credits? This…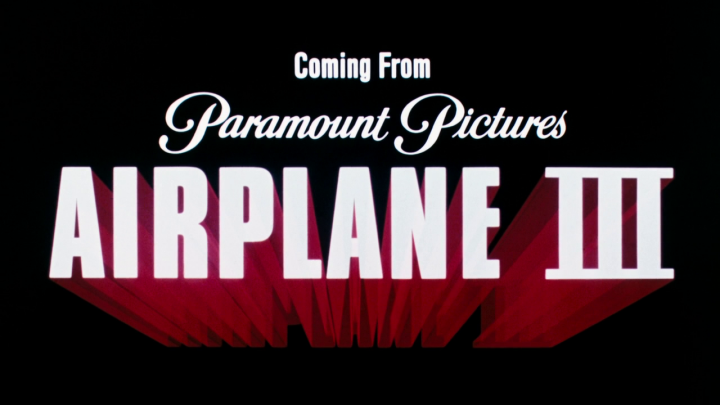 A NOD TO A PAIR OF PEOPLE CUT FROM THE MOVIE (PLUS A DIVORCE ATTORNEY), TORNADO ADVICE
The Naked Gun! From The Files Of Police Squad
As we're doing all the spoof films at the moment, let's move on to the three Naked Gun films, each of which has a few bits and bobs tucked into their credits. Here are but a few of the examples from the first film…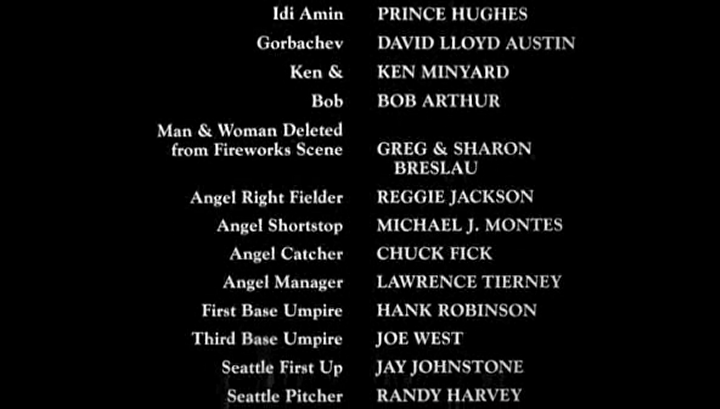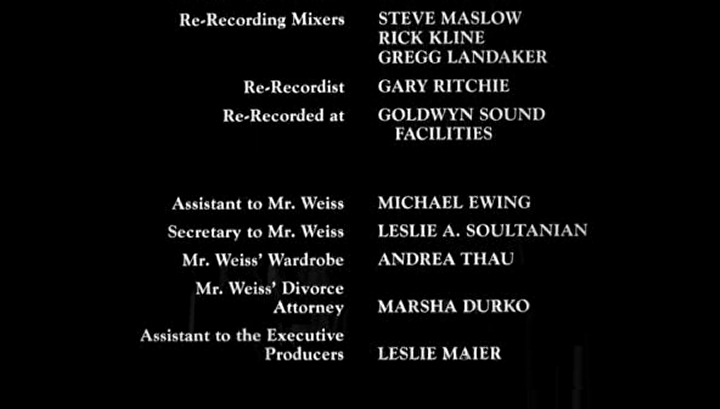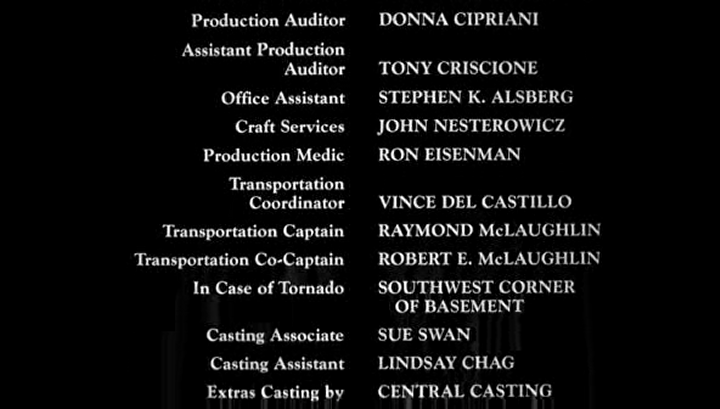 HEARING AIDS, CROSSDRESSERS, GRIP EXPLANATION, CREDITS FOR NON-SPEAKING PARTS
Naked Gun 2 1/2: The Smell Of Fear
This lot are from the second Naked Gun…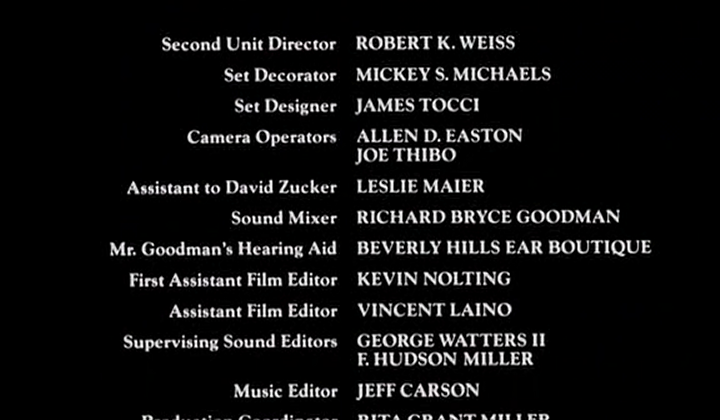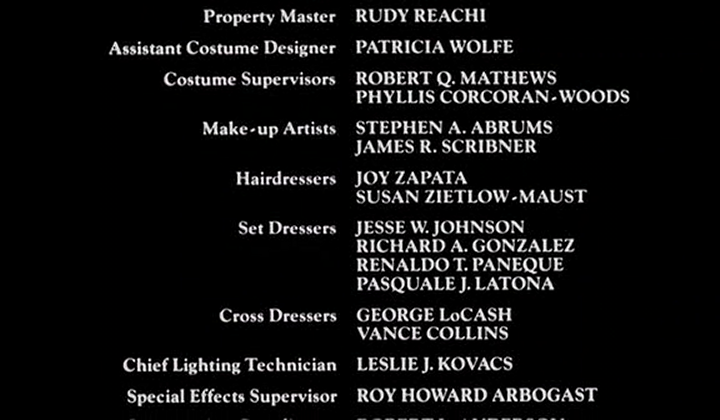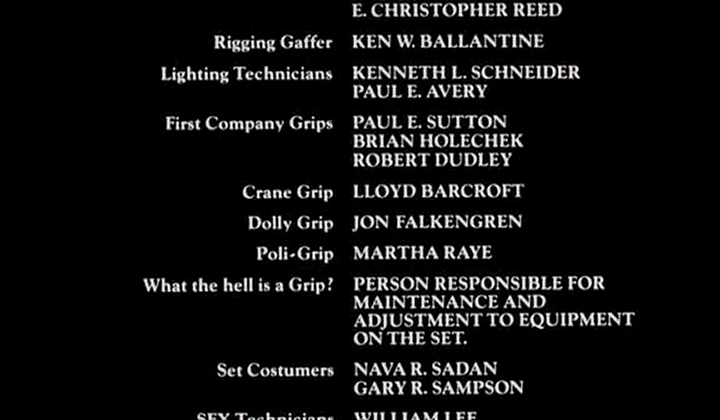 BISEXUAL JOKE, HONDA ACCORD DRIVER MESSAGE, FURTHER READING ADVICE, DEAD ANIMALS LIST
Naked Gun 33 1/3: The Final Insult
And here's a selection from the third…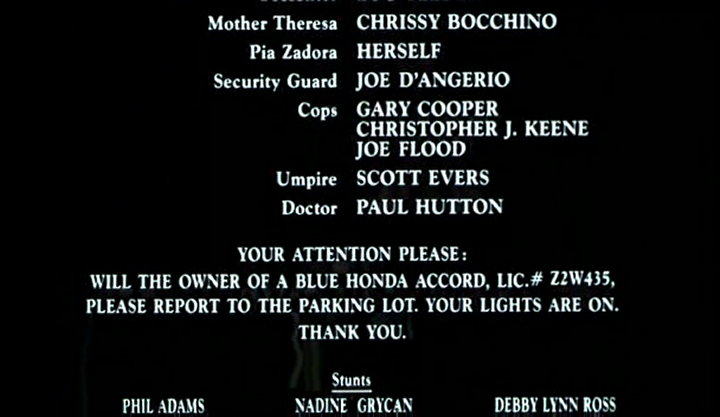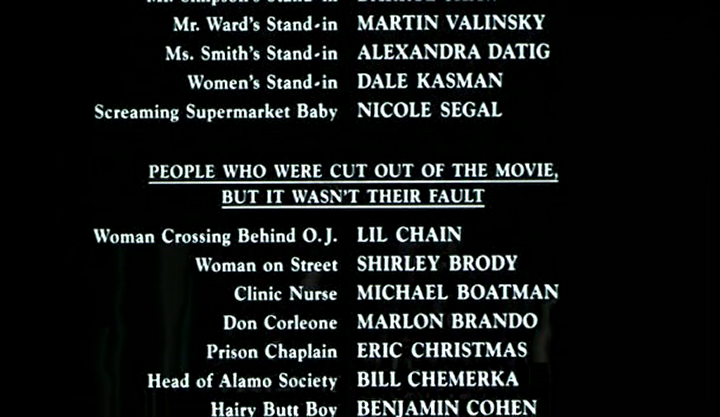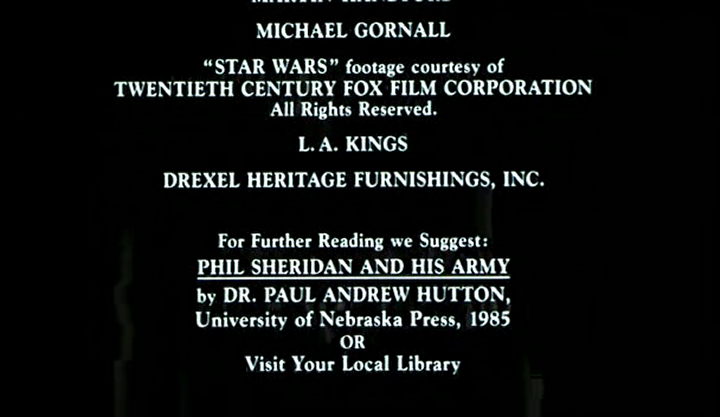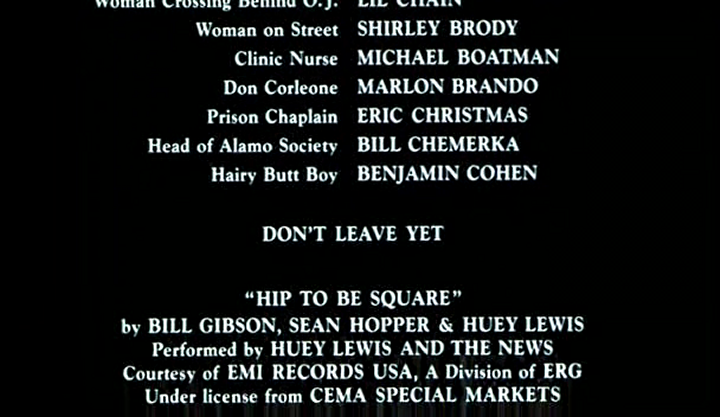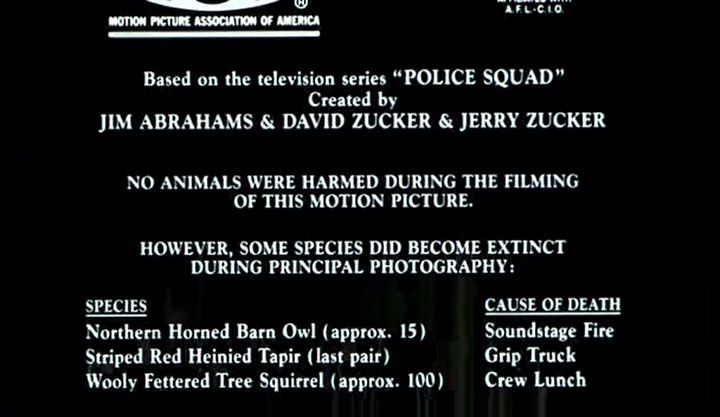 THREAT OF DEATH IF YOU PIRATE THE MOVIE
RoboCop
Not every hidden message you find in the end credits is quite as friendly as some of the stuff you find in the Naked Gun trilogy, for example. Take this little message. We doubt you have long to comply… 
ANIMATED OUTTAKES
Pixar movies
Across A Bug's Life, Monsters Inc and Toy Story 2, Pixar produced fake outtakes for the end of their movies. They eventually retired the idea, but they were enormous fun while they lasted. Pixar does still tend to have a little fun with its end credits, but for our money, nothing's beaten what it used to do here. Here's the collection of outtakes that adorned A Bug's Life…
Follow our Twitter feed for faster news and bad jokes right here. And be our Facebook chum here.