News
13 Oscar Contenders for 2013
We count down 13 possible Oscar hopefuls and where they may stand as the first whiff of awards season floats across the silver screen.
Summer finishes for good and all within the next week. Even the most ardent amateur scientist will acquiesce to what Hollywood has been saying since Labor Day: It's over! Find a new form of entertainment.
The swooshing and soaring superheroes that have come to define the summer season like seaside alcohol and barbecues in the yard are giving way for the more thoughtful, cooler months where many of the same actors are trading in spandex for period piece wear. Much of this is to do with art and finding something a little more nuanced to grapple with beyond roasting inside the depths of a giant Sloar. Still, for the more studio produced (or at least post-festival distributed) projects, there is a publicly unspoken rule in the air. Awards. For surely as winter follows autumn, so too do the accolades and recognition for these more ambitious productions.
Ergo, we at Den of Geek thought the timing could not be better to look forward at what the fall and holiday seasons will bring for your consideration. Thirteen of the most likely Academy Award hopefuls for 2013!
***SPECIAL NOTE: This list primarily seeks contenders for a Best Picture nomination, which can have up to 10 slots (though it likely will be less). So, the lower numbered selections are also ranked on viability in acting, writing and/or directing categories, as well as being dark horse contenders for Best Picture.***
13) Fruitvale Station
Heart of Gold: Michael B. Jordan
The best place to start, ironically, may be with one of the most respected summer releases. Fruitvale Station depicts director Ryan Coogler's unsettling and harrowing take on Oscar Grant III, an African-American Californian resident who was detained by police in Oakland at the BART Fruitvale Station stop during the wee hours of New Year's Day 2009. He was 22-years-old and unarmed when he was shot in the back and killed by a police officer.
Coogler does not attempt to paint Oscar Grant as a saint, but he unflinchingly turns his death—for which Officer Johannes Mehserle received a two-year prison sentence for involuntary manslaughter—into a broader, uncomfortable question about race in modern America. Despite what some pundits may say on a particular "news" network, the insidious shade of bigotry is still prevalent in the 21st century and cannot be ignored…though it is possible much of Fruitvale Station's amazing craft will be. With two other potential Best Picture contenders dealing with race this year, Fruitvale Station's more frank and unapologetic assessment could be overlooked in the Best Picture and Best Director categories, just as Do The Right Thing was displaced by timid Academy voters in 1989 in favor of more status-quo affirming fare like Driving Miss Daisy and Glory. However, it increasingly seems harder to ignore Michael B. Jordan's star-making turn. As Grant, the actor is a revelation for those who only knew him as the guy from Chronicle. It is captivating work, which also just so happens to be distributed by the Weinstein Company. I'm not sure if this is a saying in Hollywood, but it should be: A quality performance and Harvey Weinstein will get you farther than a quality performance.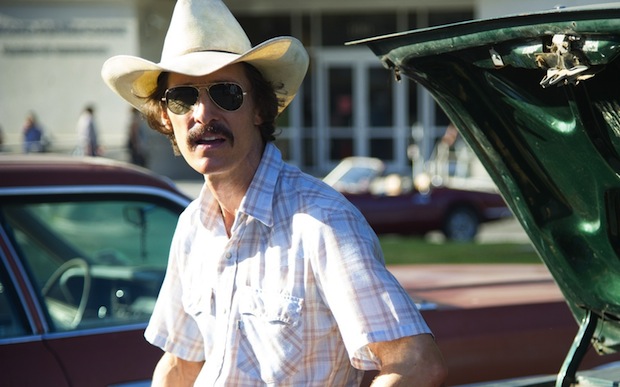 12) Dallas Buyers Club
Heart of Gold: Matthew McConaughey
Another politically charged contender with a purportedly great lead performance is Dallas Buyers Club. However this film, directed by Jean-Marc Vallée, is the slightly more palpable flavor of a homophobe learning the error of his ways when he confronts his own mortality and sexuality. Also based on a true story, the film is a liberal retelling of the life of Ron Woodroof, a rodeo cowboy who was diagnosed with AIDS in 1986. At just the genesis of the AIDS panic, Woodroof immediately comes under the stigma and glare of his friends and family for having the "Gay Disease." Further, medical drugs are an eternity off from being approved by the FDA, and Woodroof supposedly only has 30 days to live, according to his doctors. Hence his partnership with an HIV-positive transgender cross-dresser named Rayon to smuggle AZT across the Mexican border for all those wealthy enough to pay.
The project deals with an issue that the Academy and the mainstream press would not touch with a ten-foot poll in the 1980s, but has become acceptably admirable today. While the politics are still somewhat controversial, as is its depiction of an antagonistic U.S. government, McConaughey is not. After spending the 2000s as a shirtless punchline for late night comedians, McConaughey is at the peak of his reinvention as the serious actor Richard Linklater once discovered. Ever since The Lincoln Lawyer, McConaughey has been swinging for his comeback. Plus, after this summer's remarkable turn in the too-small-for-consideration Mud, he is again a critical darling while next fall's Christopher Nolan sci-fi opus, Interstellar, guarantees he'll once more be a box office A-lister. Forget politically charged biopics! Hollywood loves a comeback where the actor gets older but the box office returns stay the same age. Alright.
11) Nebraska
Heart of Gold: Alexander Payne
Normally a black-and-white road trip movie starring Bruce Dern and Will Forte would not be on a list like this. Forte on any Academy-related list?!
But that is the magic of Alexander Payne. The story is simple enough: A father and son reconnect on a quest for suspicious prize money that finds them trekking from Montana to Nebraska. They meet old friends along the way before eventually meeting each other. However, Payne has proven himself to be one of the greatest observers of human nature and the common man's life experience this side of Billy Wilder. His last four films—Election, About Schmidt, Sideways, The Descendants—were all nominated for various Oscars, including two wins for the most recent pictures' screenplays.
It is for that reason actors and screenwriters who may have previously gone unnoticed by the Academy will be given extra scrutiny in this low budget indie, which was already nominated for the Palme d'Or at Cannes. If nothing else, scribe Bob Nelson seems a shoe-in for a Best Original Screenplay nomination. The script was so good that Payne has apparently been sitting on it since About Schmidt, choosing not to make two road trip films in a row (the other being Sideways). Would the Academy pay attention to it if he had not just directed George Clooney to a nomination and himself, as well as Nat Faxon, and Jim Rash, to a win for Best Adapted Screenplay? Who knows, but they are certainly watching now.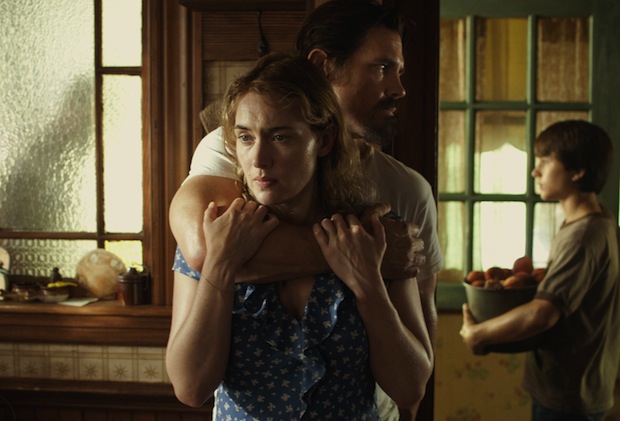 10) Labor Day
Heart of Gold: Kate Winslet and Jason Reitman
Another 1980s-set film is the decidedly more dramatic and to-the-point Labor Day. A deceivingly simple story about three major characters, it opens during the holiday weekend of 1987 when a divorced mother (Kate Winslet) and son (Gattlin Griffith) give a beastly man named Frank Chambers (Josh Brolin) a ride. However, they soon discover that he is an escaped convict, drastically changing their prospects—but not Kate's heart.
Well-received at the Toronto International Film Festival, Labor Day appears to be another critical and awards magnet from the hands of Jason Reitman. The director of Juno and Up in the Air, Reitman has a history of getting award recognition for his cast and crew, if only as nominations. Juno picked up an Oscar for Diablo Cody's screenplay, as well as nominations for his own direction, Ellen Page's lead performance, and the film as a Best Picture candidate. Despite what backlash in recent years state, it successfully turned Page and her onscreen alter-ego into pop culture icons overnight. Similarly, Up in the Air picked up acting nominations for all three major performances (George Clooney, Vera Farmiga and Anna Kendrick), while also nabbing Reitman nominations for his direction, screenplay and Best Picture.
His 2011 effort, Young Adult, may have proven a little too bleak and cynical to make the Academy laugh, but this more dramatic and earnest turn could prove enticing once more to a voting base who likes their despair overbearing and teary-eyed. And who better to headline that than Kate Winslet? The actress who once mocked the Academy on a Ricky Gervais show for only giving awards to Holocaust films finally got her own golden statuette in 2008…when she played an SS officer in The Reader. However, the role was her sixth nomination, and none of the previously recognized work has been for playing a desperate mother who witlessly falls in love with a wanted fugitive. Say hello Nomination #7.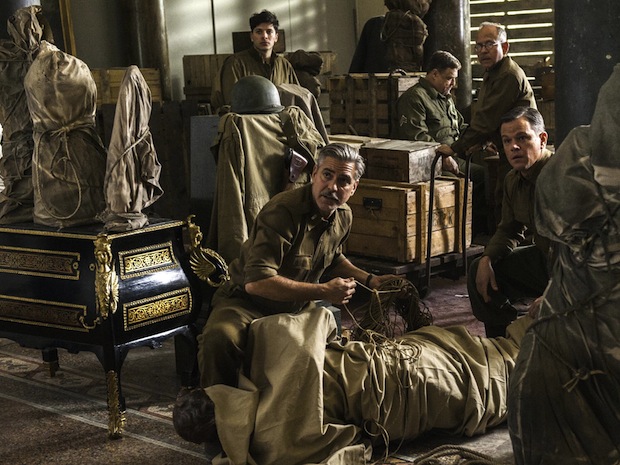 9) The Monuments Men
Heart of Gold: George Clooney and World War II
Speaking of George Clooney from earlier, the ambassador of Hollywood has his own film coming out this December, which seems to be a bit of a wild card. There is no arguing that the Academy loves the World War II canvas. The only thing that could imaginably be better is a World War II-set film about British royalty. Imagine how that would clean up…
Yet, for Clooney's fifth feature length directorial effort, he appears to be tackling the issue from an idiosyncratic angle. His unconventional approach, an adaptation of The Monuments Men: Allied Heroes, Nazi Thieves and the Greatest Treasure Hunt in History by Robert M. Edsel, is a Kelly's Heroes for the academic set. With a cast that includes Matt Damon, Bill Murray, John Goodman and Cate Blanchett, Clooney is perhaps producing the film Quentin Tarantino would have made if he were more interested in art history and classicalism instead of Spaghetti Westerns and pulp.
A half dozen art historians are thrown behind enemy lines in WWII to rescue prized works that were confiscated and risk being destroyed by the Nazis. The preservation of our culture in a time when people would rather look at the newest iPhone App is a unique approach to a war picture, one that may prove too "small" for the Academy's tastes, such as when they only nominated The Ides of March for a token screenplay Oscar and shut out the masterfully fantastic Good Night, And Good Luck, despite earning six Oscar nominations (including for Clooney's direction and screenplay). Still, unless his projects fall completely flat (Shhh, no one look at Leatherheads), they earn nominations. Some would hedge their bets and call this too offbeat. But if the movie is merely good, its setting, near-Christmas release date, and writer/producer/director/star guarantees a Best Picture nomination in my book.
8) Gravity
Heart of Gold: Alfonso Cuarón and Stunning Concept
It has been said that in space, no one can hear you scream. After experiencing Gravity, you may wish it had been kept that way. This is one of the boldest, outside-the-box "science fiction" films in years. One even hesitates to say science fiction, as this vision will feel uncomfortably real.
After a freak accident damages her space shuttle, astronaut Dr. Ryan Stone (Sandra Bullock) is left floating adrift in the black void of space with only hours left to live if Matt Kowalsky (George Clooney) cannot find her in time. Quite literally a space odyssey in the span of 90 minutes, this starlight castaway tale has been long in the making, but well worth the wait if the unanimous praise it has gathered since its world premiere at the Venice Film Festival is to be believed. It is too early to say if it is the year's best, but it certainly will be on nearly every Top 10 list by the end of it, even the Academy's. It may be "genre," but so was Cuarón's last directorial effort, Children of Men, which at least earned a Best Adapted Screenplay Academy Award nomination. Comparatively, this one stars two Oscar winners with a premise too blinding to ignore, especially if sci-fi fare like Avatar can now get Best Picture recognition.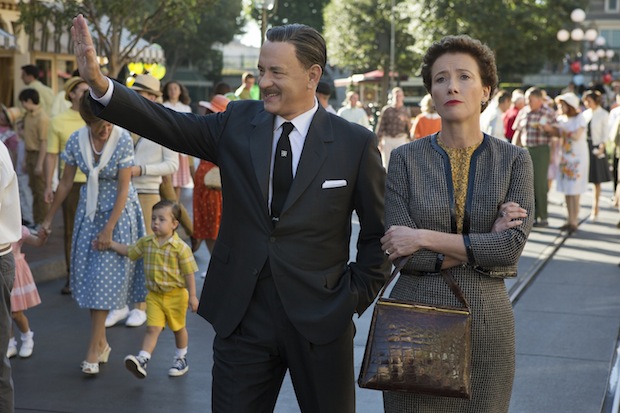 7) Saving Mr. Banks
Heart of Gold: Walt Disney
Beyond the 1940s subject mentioned earlier, there is nothing the Academy loves more than a feel-good self-congratulatory film about their wonderful industry. And if that film also happens to be a crowd pleaser? We could be looking at a possible last-minute frontrunner. Saving Mr. Banks is a "biopic" about Walt Disney (Tom Hanks) convincing author P.L. Travers (Emma Thompson) into letting him adapt Mary Poppins as a musical. Along the way, their squabbling leads to a cinematic masterpiece.
Undoubtedly, some eyebrows will be raised the closer we approach this film's December 13 release, as it is a project produced and shepherded by the Walt Disney Company. How historically accurate can the film's depiction of Disney courting Travers be when the studio still makes millions in licensing the Mary Poppins name? Never mind fairly representing the founder of their company, whose name is on nearly every building in Orlando. And yet, does accuracy or authenticity matter to the Academy or box office paying audiences? Last year, Ben Affleck's Argo won Best Picture largely thanks to a near-total fictionalization of the third act's turn of events, which featured Affleck himself playing a man of Mexican and Italian ancestry. If Mr. Banks works, audiences will come to see the actor with the reputation for being the nicest guy in America play yesteryear's nicest guy in the world. Even if the film doesn't work, its doubtlessly life-affirming subject matter and tone will win out. See John Lee Hancock's last directorial effort, The Blind Side, which despite being a whitewashed family film still picked up a Best Picture nomination and Best Actress Oscar win for Sandra Bullock that went along nicely with its $300 million box office.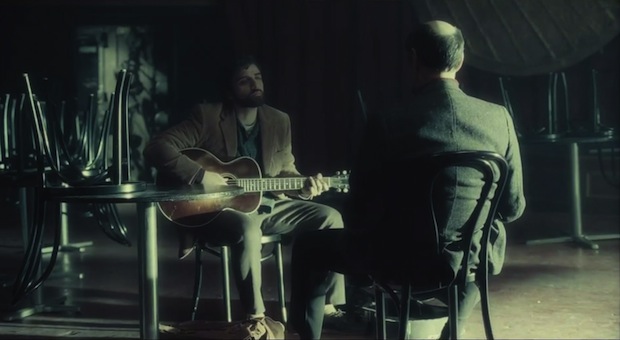 6) Inside Llewyn Davis
Heart of Gold: Joel and Ethan Coen
It is a funny thing how the filmmakers behind Raising Arizona and The Big Lebowski have somehow become Academy darlings in the last five years. Following their grisly semi-western No Country For Old Men (2007), the Coen Brothers have become respected and anticipated directors for an Academy that tends to appreciate their marriage of the cerebral with the homespun charm of basic Americana. And that crossroad of cultures may have never been more visceral than when the folk music scene ruled The Village from MacDougal Street to the other end of Washington Square Park.
Named after a fictitious musician (Oscar Davis), Inside Llewyn Davis follows a very starving artist trying to make his way in 1960s New York while refusing to take responsibility for his band, pregnant girlfriend (Carey Mulligan) or any need to succeed in his chosen profession. Also, unlike the oft-lampooned musical biographies set during the era, this one has no need to promise a happy ending or predictable outcomes. Instead, it is about a time and place that is near-and-dear to any one-time Bohemian, no matter how successful today. Plus, a supporting cast that includes F. Murray Abraham, John Goodman, Garret Hedlund and Justin Timberlake doesn't hurt either.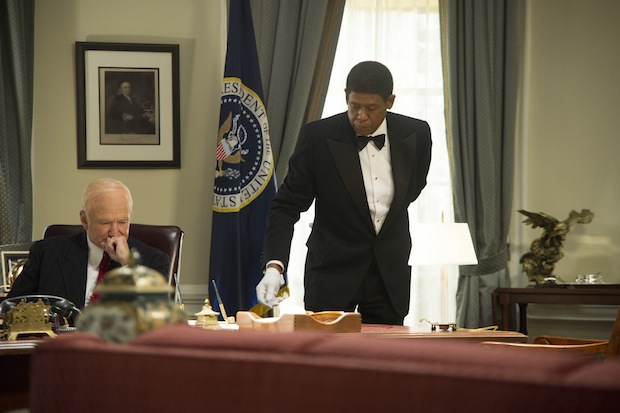 5) Lee Daniels' The Butler
Heart of Gold: Feel Good Tone and Box Office
When juxtaposed next to Fruitvale Station and 12 Years A Slave, some critics, including one of our own at Den of Geek, have been dismissive of this film's rose-tinted glasses. All I can say is that they are clearly not Academy voters, because they'd otherwise realize those glasses are GOLD tinted. Did they forget The Help?!
Lee Daniels, who already has a Best Picture and Director nomination thanks to Lee Daniels' Precious: Based on The Novel "Push" By Sapphire, found another cultural sweet spot with his producer/leading lady Oprah Winfrey. In this remarkable story of Eugene Allen, a butler who served for decades in the White House, celebrities get to come and go for 10-minute cameos as famous presidents and first ladies, including Robin Williams as Dwight D. Eisenhower, James Marsden and Minka Kelly as John F. and Jackie Kennedy, John Cusack as Lyndon B. Johnson, John Cusack as Richard Nixon, and Alan Rickman and Jane Fonda as Ronald and Nancy Reagan.
The feel good Americana of it was almost as reassuring as its $100 million the U.S. box office alone, which allowed it to be the #1 Movie in America (in terms of ticket sales) for four weeks in a row. Throw in a genuinely strong performance from Forest Whitaker as Cecil Gaines and this WILL BE nominated for Best Picture. It could even rise up to be a frontrunner if The Weinstein Company plays its New Year endgame well. I'm not even sure why I just wrote "if."
4. Captain Phillips
Heart of Gold: Powerful, International True Story and Paul Greengrass
In 2006, the idea of doing a movie about 9/11 less than five years after the real event seemed tasteless and impossible to achieve. Yet, director Paul Greengrass earned an Academy Award nomination for Best Director on the project. A film about only a segment of the tragedy of 9/11 was a well-received box office hit in 2006? It would seem doubtless his odds would improve in 2013 about a story that didn't end in abject tragedy (at least from an American point of view).
Based on the real 2009 kidnapping of Captain Phillips by Somali pirates, the film seeks to offer the gritty shaky-cam visceral experience of United 93 and the Bourne sequels with a narrative where Americans triumph at the end. And as Argo showed, everyone loves letting a winner win.
3. The Wolf of Wall Street
Heart of Gold: Martin Scorsese
Martin Scorsese's critics never give the bushy eyebrow auteur enough credit for leaving his comfort zone. While it is true there likely will never be a filmmaker better at capturing the lives of wiseguys and gangsters, he has enjoyed branching out from a 19th century romantic period piece (The Age of Innocence) to the life and times of the 14th Dali Lama during the Communist revolution (Kundun). Most recently, he worked on his first family film at the age of 68 with Hugo and would seemingly be expanding into high times in finance with this fall's The Wolf of Wall Street.
But look again: Everything about the style of this upcoming film is watermarked with the eccentric fluidity and deadly superficiality of his mob movies. A smug, narrating motor-mouth like the Henry Hills and Sam Rothsteins of the world seduces the audience into a lifestyle where murder is okay; only now, it's done on a global scale. In Jonah Hill, we may even have the plucky short fuse of Joe Pesci's Tommy DeVito. If this really is a return to form for Marty where he explores the social and moral decay of the most corrupt individuals imaginable, it could surely be amazing—which to continue the trend would mean a slew of nominations by the Academy followed by the inevitable shutout on awards night. Then again, maybe they have all made amends when Scorsese finally won his Oscar for The Departed?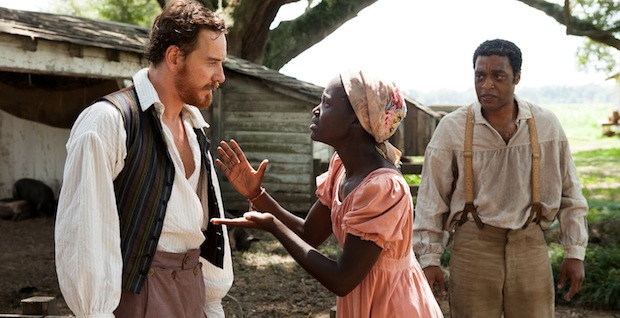 2. 12 Years A Slave
Heart of Gold: Steve McQueen Chiwetel Ejiofor
The last major Oscar contender to be released this year to directly deal with race also seems the most gripping and searing. Directed by Steve McQueen (Shame), 12 Years a Slave is the stunning story of Solomon Northup, a black freeman who was kidnapped in 1841 Washington D.C. and sold into slavery. The nightmarish scenario is brought into focus with devastating detail and features a cast that also boasts Michael Fassbender, Benedict Cumberbatch, Paul Dano, Paul Giamatti, Brad Pitt, and Sarah Paulson.
Unlike The Butler, McQueen tends to approach race relations from a more confrontational and unsentimental way, but does so in the juxtaposition of a time and place unlike our own. Also surprisingly, there have been few theatrically released films to straight fowardly deal with the subject of race from an African-American's point-of-view, much less directed by a black filmmaker. Politically, it all points to the stars aligning for this picture to be the one the Academy could coalesce around, especially with the inside track on the film's previewing at festivals (it officially premieres at the New York Film Festival next month), where it has already won the TIFF Audience Award (Toronto's highest honor).  Word is that it's superb, including Ejiofor who is getting his long overdue recognition as a leading talent. And with another deep bench of supporting, famous white actors who are not playing American Presidents Halloween, this may be the more acceptable film for the Academy.
1. American Hustle
Heart of Gold: David O. Russell and Company
Yet at this still inconceivably early moment, I am compelled to venture that American Hustle has so much going for it in these mad horseracing winds that it could be the one to beat. Granted, this would be a much more comfortable pick if David O. Russell were still working with The Weinstein Company, the studio partners on his last two films, The Fighter and Silver Linings Playbook, which picked up a combined 15 Oscar nominations and three acting wins. But even as an Annapurna and Sony Pictures production, the momentum from those previous Weinstein campaigns is definitely still rocketing this once-troubled filmmaker.
Russell, a director who supposedly once physically attacked Christopher Nolan over the right to cast Jude Law, and who most definitely had a meltdown (or two) on the set of I Heart Huckabees (2004), is now the toast of Hollywood after mellowing and participating in a series of mea culpa campaigns. Of course, it also helps a great deal when those campaigns are attached to two fantastic films, which SAG and the acting branch of the Academy adores. The Fighter's Christian Bale and Melissa Leo, both marvelous in the film, swept through the awards season, most especially in the Academy and singular actors' guild. Similarly, Jennifer Lawrence became as much Hollywood's sweetheart as America's with Silver Linings Playbook, a movie that made nearly the exact same box office amount as also audience-friendly Argo. And then there is the vocal minority that feels Bradley Cooper's coming out party as a serious actor should have won over the instantly classic performance of Daniel Day-Lewis as Abraham Lincoln, if only because it marked Day-Lewis' THIRD Best Actor Oscar (though he was surely robbed in 2002 for Gangs of New York…).
All these factors would seem to create the perfect storm of hype and media for Russell's next picture, American Hustle. Assuming the film is good—and judging by the trailer and insider buzz, it might be fantastic—we could be staring at an instant frontrunner.
Russell has wisely assembled his own Avengers like team of company players who almost participate as a group Pavlov Dog for awards voters. Bale and Lawrence, who won Oscars under his watch, have returned in roles that look universes apart from their franchise alter-egos. Also reappearing are Cooper and Amy Adams, the latter of whom was likewise nominated for Best Supporting Actress for The Fighter before losing to co-star Leo. Adams and Cooper have become consistently revelatory talents that the Academy may feel are "due" because of previous losses.
But that applies doubly so for Russell who, unlike other directors that successfully manage to please both critics and box office paying audiences, has remained an Academy favorite over the years. Having lost twice already for films that were adored with prestigious acting Oscar wins, it is clear the Academy is merely waiting for the "right" vehicle to hand over the gold statuette. And a period piece about political corruption and scandal? Russell may have had them at period piece.
Like last year's Best Picture winner, Argo, American Hustle is set in the 1970s around a true-ish story. In actuality, the Russell film is even more of a departure from the facts where it changes all the names and incidents of the ABSCAM affair in favor of a Hollywood narrative. But Argo just recently proved that smudging the facts is tolerable in service to a great, crowd-pleasing film. Indeed, coming off an exhaustive 2012 election, Americans wanted to believe in hope and exceptionalism again (as seen with the vast favoritism of Argo over Zero Dark Thirty). In contrast, this year will follow failed legislation on gun control, NSA wiretapping scandals, and Syria. A more cynical look behind the velvet curtain of power might be welcomed. Barring the film turning out to be a rare miss for Russell, American Hustle could be doing the electric slide all the way to the Dolby Theatre stage by the end of the night.
That's our early rough draft list before the Awards Season officially gets under way. Agree? Disagree? Want a list that includes The Secret Life of Walter Mitty, Blue Jasmine, Her or Out of the Furnace? Leave us a comment with your guesses, picks and expectations for the fall season below!
Like us on
Facebook
and follow us on
Twitter
for all news updates related to the world of geek. And
Google+
, if that's your thing.