News
12 Strong Trailer: Chris Hemsworth Stars in War Drama
Based on the book Horse Soldiers, Chris Hemsworth and Michael Shannon star in this Afghanistan war drama.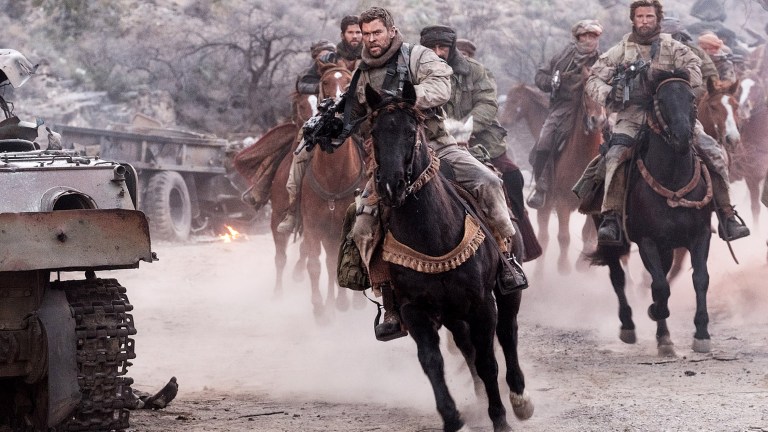 Warner Bros. just dropped the trailer for 12 Strong, a new Chris Hemsworth film based on author Doug Stanton's fact-based Afghanistan war book, Horse Soldiers.
The film will tell the story of the real-life U.S. Special Forces team first sent into Afghanistan following the events of September 11th. Hemsworth stars as Captain Mitch Nelson who, with his men, must work together with the soldiers of the Northern Alliance — including General Dostum (Navid Negahban) — to fight the Taliban. 
The experience is a culture shock in more ways than one, as American soldiers learn to communicate with, work alongside, and trust their Afghan comrades, but also must adapt their tactics to the more rudimentary ways of the Afghan horse soldiers, which work better in the Afghan mountains.
12 Strong Trailer
Here's the new 12 Strong trailer. While it mostly matches the previous version, content-wise, it's set to more intense music, seemingly focusing more on the film's action elements.
Here's the first trailer for 12 Strong…
12 Strong Story
Per the official synopsis:
Set in the harrowing days following 9/11, a U.S. Special Forces team, led by their new Captain, Mitch Nelson (Chris Hemsworth), is chosen to be the first U.S. troops sent into Afghanistan for an extremely dangerous mission. There, in the rugged mountains, they must convince Northern Alliance General Dostum (Navid Negahban) to join forces with them to fight their common adversary: the Taliban and their Al Qaeda allies. In addition to overcoming mutual distrust and a vast cultural divide, the Americans—accustomed to state-of-the-art warfare—must adopt the rudimentary tactics of the Afghani horse soldiers. But despite their uneasy bond, the new allies face overwhelming odds: outnumbered and outgunned by a ruthless enemy that does not take prisoners.
12 Strong Details
In addition to Hemsworth and Negahban (Homeland, American Sniper), 12 Strong stars Michael Shannon (Nocturnal Animals), Michael Peña (Ant-Man), Trevante Rhodes (Moonlight), Geoff Stults (Only the Brave), Thad Luckinbill (The Young and the Restless), Austin Stowell (Bridge of Spies), Ben O'Toole (Hacksaw Ridge), Austin Hebert (Jack Reacher: Never Go Back), Kenneth Miller (Whiskey Tango Foxtrot), Kenny Sheard (13 Hours), and Jack Kesy (The Strain) as U.S. Special Forces soldiers.
Actors portraying soldiers of the Northern Alliance include: Laith Nakli (24: Legacy), Fahim Fazli (American Sniper) and Yousuf Azami (Lone Survivor), and
Said Taghmaoui (Wonder Woman) will play a Taliban military leader.
Hemsworth's real-life wife Elsa Pataky (Fast & Furious franchise) will play Nelson's wife in the film. Other actors appearing in the film include: William Fichtner (Black Hawk Down) and Rob Riggle (The Daily Show with Jon Stewart) as U.S. Army officers.
12 Strong was directed by Danish director and photojournalist Nicolai Fuglsig and produced by Jerry Bruckheimer. The script was written by Ted Tally (Silence of the Lambs) and Peter Craig (Mockingjay, Part 1 & 2), adapted from the book by Doug Stanton.
12 Strong Release Date
12 Strong will hit theaters January 19, 2018 in the U.S.