Features
11 unforgettable Hayao Miyazaki action moments
With Hayao Miyazaki's The Wind Rises in UK cinemas now, Ryan chooses 11 unforgettable action scenes from the director's feature films...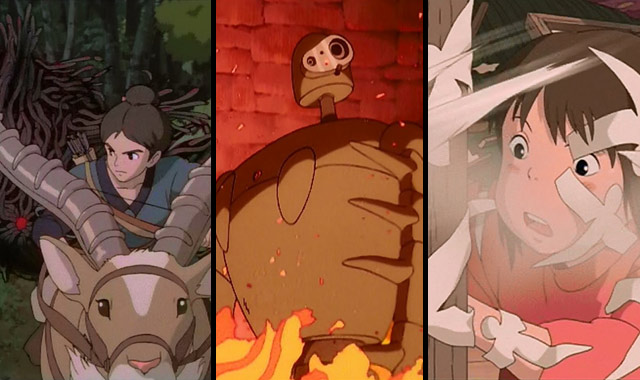 "There's something that Miyazaki-san does better than anybody else in the animation industry. He's great at giving things a sense of scale. It's a hard thing to do, especially in animation. With animation you achieve scale – weight and size – purely through movement." – John Lasseter
Japan's Hayao Miyazaki is many things – a director, an animator, an artist, a storyteller, a master technician – but he isn't regarded as an action filmmaker. Yet while his films are universal in their appeal, and often lack the antagonists and character conflicts normally seen in cinema, Miyazaki still created some remarkable action sequences throughout his career.
Now, it's probably important to establish what we mean by an action sequence before we go any further. We don't necessarily mean scenes of gunplay, violence or bloodshed (though one or two do have some of this). Rather, we're referring to moments of excitement, speed, peril, or, as John Lasseter put it, movement. Miyazaki excelled at movement, and the use of it to create drama and impact, in all his movies.
Here's a selection of 10 moments which, we hope, illustrate his rare talent.
Car chase – The Castle Of Cagliostro (1979)
Miyazaki's genius as a draughtsman as well as a character animator can readily be seen in his debut feature, The Castle Of Cagliostro. Although based on existing characters and stories, Miyazaki puts his own stamp and interests all over this adaptation of Monkey Punch's manga, Lupin III – he even has a character driving a Citroen 2CV, simply because it was the first car he ever owned. In a page from his personal scrapbooks, published in Japan in 1985, Miyazaki expressed his love for the 2CV, a simple yet overwhelmingly successful vehicle which arrived in the wake of the Second World War.
"Once, my seat ripped while I was driving," Miyazaki wrote of his beloved car. "Ever since, I carry a needle, thread and bicycle band with me."
This personal, even visceral connection to machinery partly explains the character and dynamism in Miyazaki's animation. In the sequence captured above, you don't even need to know who the characters are to appreciate the thrill of the chase: there are two good guys, several bad guys, and a princess, all tearing down a mountainside road. Even as the cars defy gravity, Miyazaki gives them tangible inner power.
Crashing flying machine – Nausicaa Of The Valley Of The Wind (1984)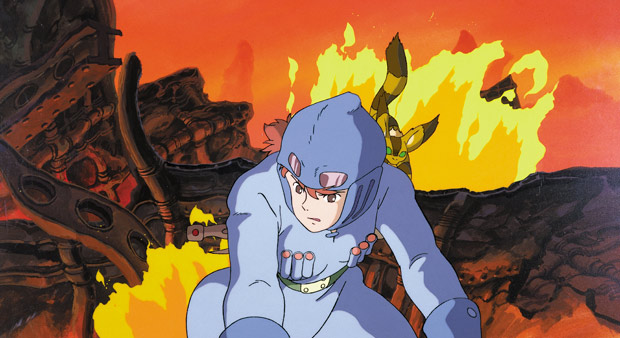 Released in 1984, Nausicaa Of The Valley Of The Wind was box office hit in Japan, and led to the founding of Studio Ghibli one year later. From top to bottom, Nausicaa is pure Miyazaki, based on his own voluminous manga and containing many of the elements we now associate with his work: a resourceful female lead, a fascination with flight and ecology. Miyazaki creates a beautiful apocalypse here; a world tormented by mutant vegetation and creatures. Humanity survives the toxic jungles in windswept valleys, and heroine Princess Nausicaa  explores the landscape on her elegant glider.
Among the many bewitching sequences in Miyazaki's fantasy, one moment in particular stands out. Nausicaa spots a huge flying fortress hovering over her town one night, and flies up to investigate. As John Lasseter observed, Miyazaki is a master of giving objects weight; he makes this flying machine, with its row upon row of portholes glowing in the night sky, an eerie, almost menacing presence. The stricken craft crashes into the valley, before disintegrating into a crimson fireball. It's a brief, early example of Miyazaki's technical skill.
Robot destroying the stronghold – Laputa: Castle In The Sky (1986)
"If Nausicaa Of The Valley Of The Wind was designed to be cool, clear and vivid, Pazu will aim to be a fun, intensely thrilling classic action film."
Miyazaki wrote this in his original outline for what would become Laputa: Castle In The Sky ('Pazu' being its working title, taken from one of its young leading characters), and the resulting film is every bit as intensely thrilling as he'd planned. Set in an alternate world of mining towns and colossal steam-powered airships, Laputa is about two children seeking out the flying island of the title – a place filled with extraordinary technology built by a society long since vanished.
As close as Miyazaki ever got to making his own Tintin adventure, Laputa is pure action from start to finish – and choosing just one stand-out sequence is difficult. Should we opt for the extraordinary chase across a collapsing railway bridge? The aerial pursuit through a lightning storm? If we had to choose just one moment, it would have to be the one where a dormant Laputan robot is suddenly revived, and goes on a fiery rampage through a fortress belonging to the evil Colonel Muska.
Like everything Miyazaki creates, the robot is both a machine and vividly alive; even as he destroys everything in his path, this mechanical man carries with him a sense of melancholy. It's an example of Miyazaki's ability to lace even the most action-filled moment with a delicate thread of emotion.
Catbus run – My Neighbor Totoro (1988)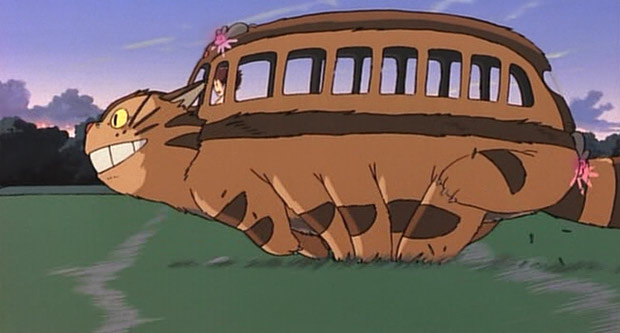 No feature on Studio Ghibli or Hayao Miyazaki would be complete without a mention of My Neighbor Totoro. Still one of the most beloved features to emerge from Miyazaki's imagination, it's a masterpiece of sheer wonderment. A film more about the stillness and tranquillity of childhood than speed or peril, it does still have at least one sublimely animated action moment: the scene where Satsuki gets inside the adorable Catbus and goes for a ride across the Japanese countryside to find her lost sister. Stunningly rendered, it's a scene of pure exhilaration.
Airship crash – Kiki's Delivery Service (1989)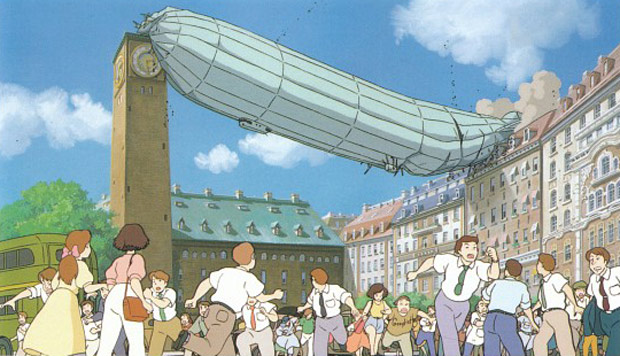 At the end of this wonderfully delicate coming-of-age story, based on the novel by Eiko Kadano, the lighter-than-air mood is interrupted by disaster: an airship becomes untethered, leaving Kiki's friend Tombo dangling perilously from its undercarriage. Kiki watches the event unfold on television, before rushing off to the rescue.
Miyazaki's choice of angles here is fantastic; from an aerial view, we see a car fall from the airship (like Tombo, it was swept up with dirigible as it blew away) and crash into a fountain in the town square below. Little details like the scattering crowd and the wave of water as the car hits the surface sell the sense of scale and danger, and the animator's eye for pace and timing is, as ever, perfect; there's a moment of calm before Kiki flies off on her broom, bouncing off buildings as the airship crashes, Hindenberg-like, into a clock tower. The whole sequence is so exhilarating that it's easy to miss how intricate and keenly observed the animation is.
Miyazaki's work isn't just beautiful, it's modest; to paraphrase Oscar Wilde, Miyazaki uses animation to hide the artist and reveal the power of the moment, and not the reverse.
Climactic aerial duel – Porco Rosso (1992)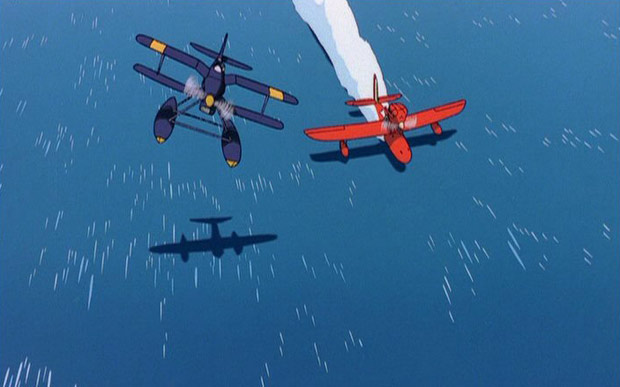 Before The Wind Rises, Miyazaki's love of aviation found its clearest expression in Porco Rosso. The animator once wrote that he made the film – about a porcine flying ace – to revive the spirits of work-weary middle-aged men, but as usual, there's a delicacy to Porco Rosso that makes it utterly universal.
Having a pig flying about in a plane might suggest a whimsical fantasy, but aside from Porco himself, the film's period setting and mechanical detail feels tangibly real. You can almost smell the oil sputtering from the planes' engines, or the strain on their wings as they soar through clear blue skies.
The best action moment? Easily the climactic aerial fight between Porco and Curtis – an unbearably smug American flying ace. It's a balletic dance between two equally talented pilots, and Miyazaki beautifully captures both the graceful movements of the roaring planes and the flesh-and-blood battle of wits going on within.
The boar god pursuit – Princess Mononoke (1997)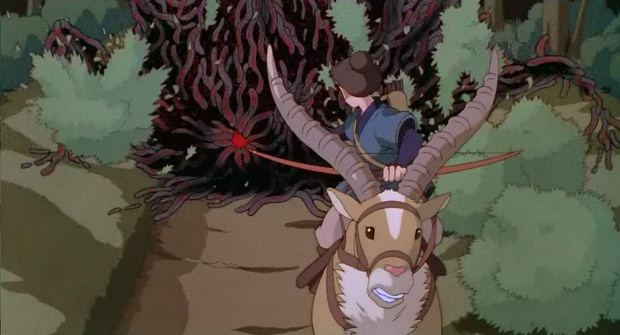 "Nature is both generous and ferocious," Miyazaki said in the superb book about he and his work, Starting Point. The animator's films have always celebrated nature to some degree, but its depiction is at its darkest most fearsome in Princess Mononoke, a period tale which effortlessly blurs the lines between fantasy and keenly-observed historical realism.
In Muromachi-era Japan, nature's delicate balance has already been thrown out by humankind's advancing technology; in the film's opening sequence, we see an otherwise benign forest spirit – the boar god, Nago – corrupted by an iron ball lodged in its flesh. The creature emerges as a corrupted, horrifying morass of limbs and tentacles; from an animator famous for his beautiful films, it's a shockingly unpleasant moment. The forest itself seems to shrink and die from its approach, before the monster bursts forth with its crimson eyes blazing.
Young prince Ashitaka rides into battle with the beast, and the ensuing sequence – which lasts for little more than a minute or two – is as exhilarating as it is grim.  A spectacular pursuit through woodland and across fields, it's a dervish of crisp line work and vibrant colour.
Haku tormented by shikigami – Spirited Away (2001)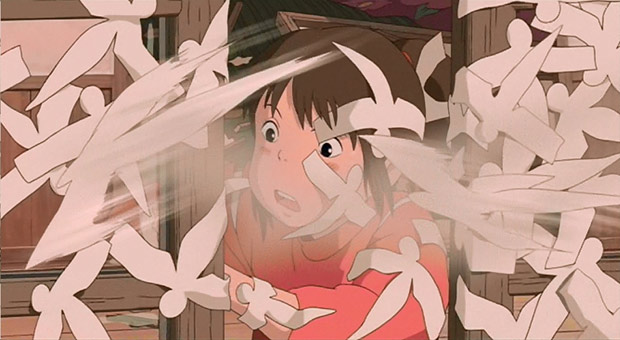 Miyazaki returned to the downright fantastical with Spirited Away, a celebration of childhood imagination versus the greed and folly of adults. Much of the plot unfolds like a dream – ten-year-old heroine Chihiro becomes trapped in a spirit world where almost anything seems possible. There's a traditional Japanese bathhouse populated by strange and wonderful creatures, and every character seems to be capable of transforming into something else – a reflection, perhaps, of Spirited Away's coming-of-age theme.
There aren't necessarily action scenes in Spirited Away, but there are several sequences that are bursting with energy. The opening scene in a forest, where Chihiro's parents rush headlong into the spirit world while driving dangerously fast in an Audi, is a superbly realised moment. Better still is the sequence where Chihiro watches from a balcony as Haku – in the guise of a white dragon – is being tormented by a swarm of tiny flying shikigami (a type of being formed from pieces of parchment).
The dragon plunges into an azure sea, before bursting out of the water and taking refuge with Chihiro. As the heroine slams a pair of sliding doors shut, the paper shikigami crash against the panels like raging locusts. Miyazaki employs an unusual yet supremely effective technique here: cutting to a close-up shot, we see Chihiro struggling to close the doors against the onward rush of the shikigami, and to convey the sense of air rushing around her, Miyazaki has the 'camera' judder. In reality, of course, there is no camera to shake – it's simply a simulation of what can happen during live-action filmmaking. It's the subtle employment of ideas like this which gives the scene so much captivating power.
Aerial battles – Howl's Moving Castle (2004)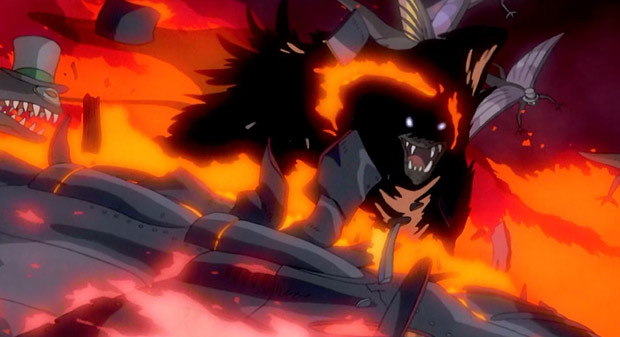 "The film is profoundly affected by the war in Iraq", Miyazaki told Newsweek in 2005. When it comes to a depiction of war, the animator pulls no punches in his adaptation of Diane Wynne Jones' novel. Howl, a powerful wizard who can take on the form of a giant bird, is shown flying over a landscape ravaged by war; exotic flying machines pound the city below into a furnace with their bombs. In all of these scenes – including a spectacular late one where a huge flying fortress lays waste to a once-perfect town – lies a feeling of tragedy and outrage. And as ever, it's the tiny details that bring these scenes to life, like the burning ash hanging thickly in the air.
All of this reaches a crescendo with the film's most stunning action sequence: Howl, anxious to protect heroine Sophie, flies off to intercept the giant war machines. The next shot, of a flying fortress falling through a fiery night sky, is a haunting one. Howl's Moving Castle may be a fantasy, but its battle scenes are as affecting as any live-action war film.
The tsunami – Ponyo (2008)
If you're looking for one shining example of Miyazaki's imagination and technical brilliance, look no further than the tsunami sequence from 2008's Ponyo, captured in part above. The young Sosuke and his mother are driving away from a roiling sea, their tiny car skittering and sliding as the waves batter the coast. Dramatic, poetic and inspired, Miyazaki invests every shot with invention. Even this late in his career, the animator's ability to create captivating and unexpected moments was still undimmed.
The earthquake – The Wind Rises (2013)
Finally, we come to what is certain to be Miyazaki's last feature film. The animator's spoken of retirement in the past – Princess Mononoke was, at one time, set to be his swansong – but The Wind Rises contains all kinds of suggestions that it really is Miyazaki's final movie.
Not only is it arguably Miyazaki's most personal film to date – with meditations on love, loss, creativity, war and, of course, flight – but it's also his most daring. At a time when hand-drawn animation is under serious threat, Miyazaki and Studio Ghibli decided to make a biopic about a World War II aviation designer. From a commercial standpoint, it's a brave and even risky film.
Both artistically and financially, the gamble paid off. The Wind Rises is as intimate dramatically as anything Miyazaki ever made, and just as creative. Leading character Jiro's dreams are full of impossible flying machines and wide vistas; and like Miyazaki, Jiro constantly finds inspiration in his dreams.
The scenes of flight – both in Jiro's everyday reality and in his reveries – are as lyrical and gorgeous as you'd expect. But it's Miyazaki's staging of the Great Kanto Earthquake which stands out as the film's most astonishing set-piece.
What begins as the sigh, as if from a deity deep underground, leads to terrifying destruction on the surface. Jiro views the tragedy from a moving train, as the landscape around him is torn apart. Interestingly, Miyazaki doesn't make the scene a cacophony of destruction and sound. Rather, he goes for a binary contrast of loud and quiet moments, intense motion and abrupt stillness. An aerial shot of a shockwave gives way to a low-level shot of the earth undulating like the back of a snake. The chaos of a train screeching out of control leads to the unexpected observation of a collection of tiny stones, quivering in the aftershock. These are precisely the kinds of things we might notice during a terrifying event, as though our brains are trying to slow the world down and divide what's happening into comprehensible pieces.
More than this, it's an expression of Miyazaki's lifelong fascination with the minutiae of life, from its cars to its flying machines, to the charming foibles of the people around him, to the way the sea behaves in a storm. It's this eye for detail which has made Miyazaki's scenes of action and movement, from his first film to his last, so consistently breathtaking.