Features
10 inspired voice actor castings
Gaye selects ten of the finest voice characterisations to make it to the movies...
Early last month, we reported that the game of chicken between the pocketbooks and vocal chords of TV's Futurama was concluded, with the original cast agreeing to return in further episodes. During the revving and false starts fans were, understandably, waving their remotes in a furore – because Bender's not Bender without Bender's voice. Not after five seasons, he's not.
All that brouhaha made us think about voice casting, and how pivotal those choices are to the success and acceptance of characters. Mike Myers makes a fine Shrek, Michael J Fox an admirable Stuart Little. But, if equally competent actors voiced those characters, would we enjoy them just the same? Eddie Murphy does do a great Donkey, granted. But if it were, say, Chris Rock in the role from the first round, would we have been just as happy to hear him clip clop and quip alongside our favourite ogre?
Here are ten great voice characterisations in films – those that seem inspired beyond the checklist and ticked boxes of casting sheets.
Over The Hedge (2006) William Shatner as Ozzie
William Shatner is responsible for some memorable voice-over work, notably a large part in Osmosis Jones, but it's his characterisation of Ozzie the opossum in Over The Hedge that merits a mention here.
Shatner's style is a matchless pairing with Ozzie's 'playin' possum' death scenes where his overly dramatic and overtly emphatic acting style, established decades earlier, is playfully employed to perfection.
It's a well respected fact that the man can laugh at himself, and that makes it easier for audiences to do the same.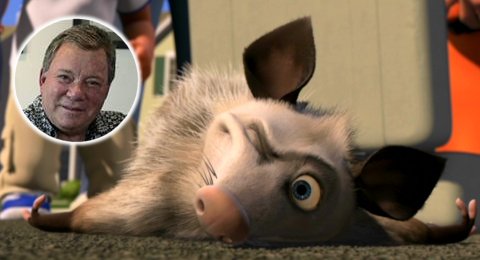 The Iron Giant (1999) Jennifer Aniston as Annie Hughes
This is liable to be a controversial pick, but even non-fans of the former Friend should give Jennifer the kudos due her. The Iron Giant is not only a fantastic animated film for all ages, but it's unusual in that there are no opening credits except the film's title.
For this reason I had no idea who voiced the characters, even after numerous viewings. I only recently learned that Annie was Aniston and, credit to her, there's not a sniff of Friends' Rachel in a single line.
I don't think many celebs as well known would be able to pull off the anonymous Every Mom required of the Annie part, but she did and did it well enough to fool me many times.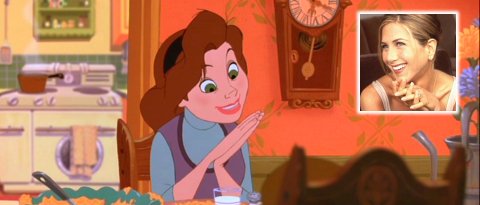 A Bug's Life (1998) Phyllis Diller as Queen
Another film that happened to stump me, I was convinced the evil Hopper, head of the gang of grasshopper robbers, was voiced by James Woods only to later learn it was Kevin Spacey in that fine performance.
I love the movie, too, for including Jonathan "Handsome pretty handsome Dr Smith" Harris from the Lost In Space TV series in the role of Manny the Preying Mantis. But it's the casting of Phyllis Diller that rings genius for me.
With the comedienne's first cackle-y laugh, she immediately infused the Queen with heaps of personality. And that character could have been as dull as… a rock. A measure of brilliance in casting.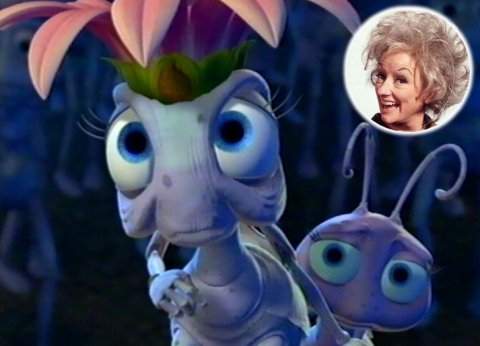 Chicken Little (2005) Don Knotts as Mayor Turkey Lurkey
I feel similarly (and, admittedly, sentimental) about Don Knotts in the small but perfectly tailored role of the nervous Mayor Turkey Lurkey.
The actor's willowy stature and shaky, unsure demeanour was honoured in a cartoon reflection of the man in his previous roles as Barney Fife on The Andy Griffith Show and film appearances as The Incredible Mr. Limpet and in The Ghost And Mr. Chicken.
He doesn't say more than a few words and exclamations, but as Don Knotts passed away the following year, it's a poignant and fitting final big screen effort that will, hopefully, immortalise the great Don Knotts for this generation's children and theirs.
And if it hasn't, seek out his work for a bit of absolute pure fun on film to share with them.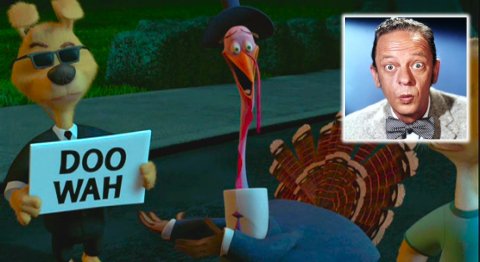 The Jungle Book (1967) Sterling Holloway as Kaa
Sterling Holloway probably isn't a household name in many parts, but you'd most likely know him if you saw him on late night repeats of Gilligan's Island or F Troop.
You will, however, certainly know the voice, as he was Winnie The Pooh for millions of visitors to Hundred Acre Wood. Holloway's voice like a purring motor gave him a distinctive sound that was injected with squeaks and squeals like skidding tires when you least expected it.
These vocal qualities made him the ideal pick for unpredictable and deceptive Kaa the snake, as the raspy lisp sung "Trussst in me, jusssst in me." It was a perfect pairing, far, far apart from Pooh.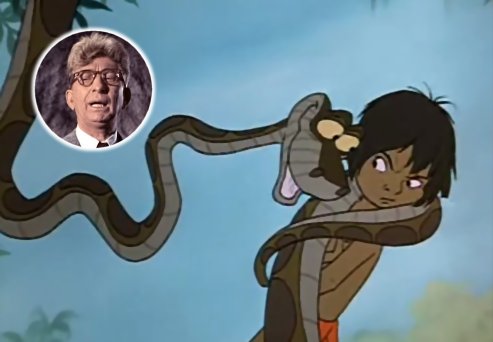 Little Shop Of Horrors (1986) Levi Stubbs as Audrey II
When the 1960 Roger Corman B-for-barmy-movie was remade as a stage musical and later filmed, casting of Audrey II, the Mean Green Mother From Outer Space, must have been a challenge, to say the least.
Once the puny sprout grows to a massive man-eater, an expansive sound was needed and those responsible for finding it went outside the usual casting arena to Motown R&B group, the Four Tops.
Baritone Levi Stubbs belts out the songs and the stinging nettle lines in one of the very few musicals I can watch and enjoy any time. The choice of voice was superb, brought a plant to (larger than) life and is hard to imagine bettered.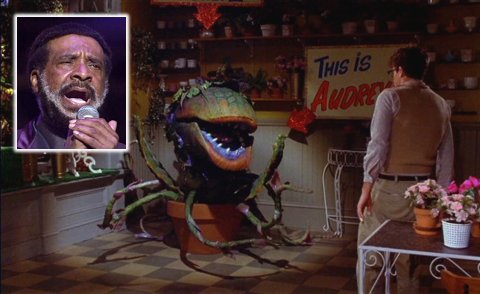 Who Framed Roger Rabbit (1988) Kathleen Turner as Jessica Rabbit
Kathleen Turner had already launched herself as a sex symbol some seven years earlier in her steamy role in Body Heat and upped her likeability factor that much higher with Romancing The Stone after that.
That husky, gravel-y, breathy voice was to work its sultry magic for Jessica Rabbit in an uncredited role speaking through one of the shapeliest cartooned characters to hit mainstream big screens.
Among an impressive cast of voice actors past and present, she held her own. Turner's "I'm not bad. I'm just drawn that way" couldn't have sounded as provocative coming through any other lips and lungs.
Antz (1998) Woody Allen as Z
Almost all of this list's entries are smaller or secondary roles, some made memorable mainly by the performance beyond the character's ink on scripts. With this entry, there simply is no Antz without Woody Allen. He is Z.
From the opening scene on the insect psychiatrist's couch, we know that Z is the same neurotic, self-obsessed worrywart that Allen has portrayed in his early films.
Our kids don't know this, but parents and grandparents do, and it's a sure-footed characterisation based on paved ground that instantly establishes all we need to know about Z, so his adventure can get underway right away.
It must have been a real coup for casting. And he also sings!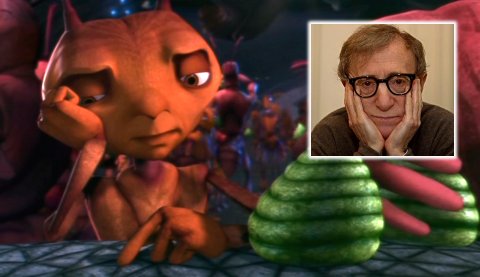 Aladdin (1992) Robin Williams as Genie
In a role that produces what seems like hundreds of impersonations in rapid-fire lines, Robin Williams made the Genie something far beyond what anyone might have planned for – if there was a plan.
It's clear that many lines and entire scenes were improvised in Williams' inimitable style, and with each successive sentence he stole the film as his own.
There's an interesting gossipy story elsewhere about why he didn't return for the first sequel, but the bottom line is Robin Williams can be immensely amusing impersonating other entertainers. But another entertainer can't impersonate Robin Williams impersonating other entertainers. Dan Castellaneta is great as Homer in The Simpsons, but the Genie's shoes were far too big to fill, in spite of the fact he has no feet.
Williams' was an utterly brilliant performance of unscripted uttered words.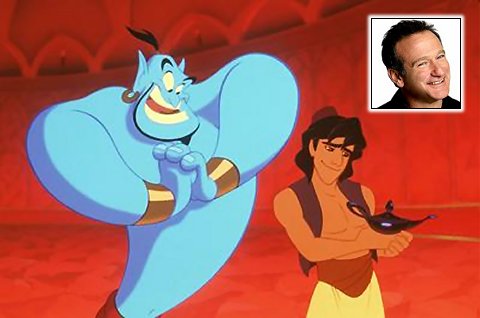 Star Wars (1977-2005) James Earl Jones as Darth Vader
The most famous heavy breather in the galaxy, James Earl Jones was unknown to millions before Star Wars and is now, we'd wager, one of the most often imitated voices of the age.
That deep, commanding timbre conveyed total mastery and control through a helmet, even without the benefit of a face.
Explanations for the voice-over for Vader's bodily bearing, David Prowse, aren't really necessary, but Jones' voice matched Prowse's imposing 6'5″ physical presence to a V. The only other actor of about the same age with as deep a voice that comes to mind is Geoffrey Holder (Baron Samedi in Live And Let Die) but his big, hearty laugh is too well known and the antithesis of an agent of The Dark Side.
Honourable mentions:

Angela Lansbury as Mrs. Potts in Beauty And The Beast (1991) was a polite and correct British granny type and lovely in the character. There may be other ladies of her age and accent, but the role was hers to the brim.
Certain mature aspects to The Cat In The Hat (2003) surely made Dr Suess shudder wherever his spirit has settled, but Mr. Krinklebein the fish was a treat to watch – and hear – as the best half of a dual role for Sean Hayes.
Hoodwinked (2005) was a funny little film. With assorted big ideas, a great cast and dialogue, its small budget and less sophisticated animation style meant it struggled to find even a flicker of fame. But Andy Dick as the first adorable and then deplorable demented bunny, Boingo, is worth watching on a loop.
We mentioned earlier, William Shatner's role in Osmosis Jones (2001). He played conniving Mayor Phlegmming, up for re-election in the self-inflicted unhealthy host body, Frank (Bill Murray). So who to run against him? The only choice was Ron Howard as Tom Colonic, the epitome of the clean cut, do right guy – trustworthy and friendly, surrounded by fevered infections and pustules. It was a miniscule role before his narration of three seasons of Arrested Development, with producing duties on TV shows and movies, including 24 and A Beautiful Mind, around that time, but he was unquestionably the right man for the job. Vote Tom Colonic!
So, those are this film fan's top picks. Add yours to the comments, before Simon gets in with his suggestion for Mr T in Cloudy With A Chance Of Meatballs…