Features
10 terrific stop motion animation feature films
At the end of what's been a great year for classic stop motion animation, Carley brings us her list of all-time great features...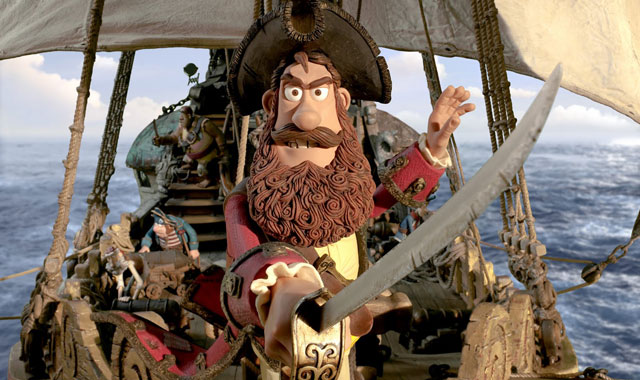 2012 has been a stellar year for stop motion animation, with Aardman's Pirates In An Adventure With Scientists, Universal's ParaNorman and Tim Burton's Frankenweenie all having big screen releases.
There is something pure and majestic about the art of stop motion animation that has kept me enthralled for years, from Bagpuss to Trap Door, and then later onto Wallace & Gromit and beyond, I always have and I always will love watching it, and will never fail to be impressed by the dedication and craftsmanship it takes to bring even a short stop motion piece to life.
With that in mind, I've been having a think about some of the best stop motion animated movies I've seen, both old and new. If you're a fan already, or are looking to get into the genre, here are ten you're not likely to go wrong with.
10. The Pirates! In an Adventure with Scientists! (2012) Dir. Peter Lord & Jeff Newitt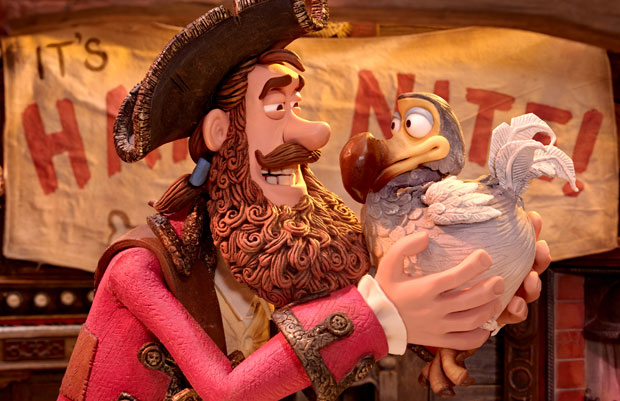 There are some things we Brits do well – royal events, standing in line, drinking tea – but we're also rather good at creating stop motion animation. Just take a look at Aardman's catalogue alone and you will see some of the most beloved characters to grace both large and small screen – and Aardman certainly didn't let us down with its most recent release.
Based on the much-loved children's book by Gideon Defoe, Pirates is a laugh-a-minute, rollicking adventure on both the high seas and streets of Victorian England. Lead by the Pirate Captain (Hugh Grant), the merry band take on foes in the shape of Charles Darwin and Queen Victoria while trying to win the Pirate of the Year award from Black Bellamy (Jeremy Piven).
A love letter to all things British (you lose count of the number of references dotted throughout), Pirates not only looks stunning (am I alone in wanting to touch the Pirate Captain's beard?) it is exceptionally well written and played out, and filled to the brim with voices from some of the most respected and loved national treasures this country has to offer. Pirates would rank in my top ten films of the year.
9. Hansel And Gretel: An Opera Fantasy (1954) Dir. Michael Myerberg & John Paul

There are some films that have to be watched at Christmas, and this one falls firmly in that category for me. I couldn't tell you why,  but this little movie screams Christmas and BBC2.
Based on Engelbert Humperdinck's opera of Hansel Und Gretel, it holds the somewhat impressive feat of being the first American feature-length animated film not made by Disney since 1941. Making opera fun for a younger audience isn't the easiest of tasks, but the filmmakers manage to merge the music beautifully with spoken word, and ensure the audience remains engaged and emerged in the story.
Most notably, Hansel And Gretel makes use of Kineman characters – puppets which had magnets in their feet and hands for a more naturalistic movement on screen. Fifteen years in the making, the aim was to make the puppets look as human as possible, with a top secret production line that used a special blend of chemicals to produce realistic (if slightly creepy) looking hair and skin.
Sadly, no Kinemans survive today; they were destroyed in a studio break-in during the 1960s, but they're sight to behold, and make the movie worth watching all by themselves.
8. Wallace & Gromit: The Curse Of The Were-Rabbit (2005) Dir. Nick Park & Steve Box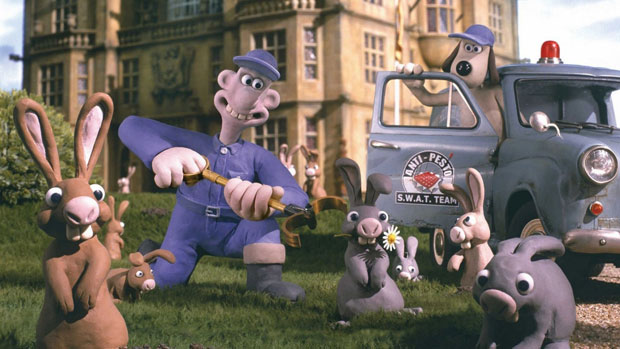 It's hard to put into words how much I truly love Wallace & Gromit. Never does a public bank holiday go by where I don't sit and watch at least one of their specials, and I fully stand by the opinion that Gromit is the greatest stop motion character ever created. Moving such a beloved pair from the small screen to the big screen was going to be no easy task, but then Nick Park isn't your normal run-of-the-mill filmmaker.
With the entire village obsessed with the annual giant vegetable growing competition, our eccentric heroes have a new business as vegetable security men, who capture the pesky crop-eating rabbits of Tottington humanely. But as with all of Wallace's inventions, something doesn't quite stick right, and soon the village is cursed with the Were-Rabbit.
With the usual humour and warmth you would expect from Aardman, as well as that touch of all things British mentioned above with Pirates, Curse Of The Were-Rabbit is a homage to the old monster flicks of the 50s, and a much deserving Oscar winner as well.
7. Fantastic Mr Fox (2009) Dir. Wes Anderson
When I first heard Roald Dahl's book Fantastic Mr Fox was being turned into a movie, I was initially delighted, but then quickly horrified when I discovered that it was being Americanised. That sense of outrage began to ease once I heard it was being made at 3 Mills Studios – a hotbed for stop motion talent – and was totally dispelled after I watched five minutes of the completed movie.
Wes Anderson's signature is all over this piece, from the introverted Cousin Kristofferson to the unmistakable vocal stylings of Bill Murry as the Lawyer Badger, and by gum is it all the better for it. Dahl was such a dark, imaginative yet beautiful writer, you can't help but think he would have loved this version of his work; it speaks to the modern age while still being able to throw itself back in time a bit, which is pretty impressive for any movie, let alone one aimed at children.
6. The Nightmare Before Christmas (1993) Dir. Henry Selick
"This is Halloween, this is Halloween, Halloween, Halloween…" (I'd better stop there or I could go on forever.) 
A firm modern favourite for both the Halloween and Christmas holiday, A Nightmare Before Christmas is arguably like opening up Tim Burton's head (proverbially, of course) to see what is going on inside his brain.
Bringing to the history of cinema such characters as Jack Skellington, Oogie Boogie and Zero the Dog, this musical masterpiece really brought the art of stop motion back into the consciousness of the movie-going public, and dare I say, cemented its longevity as an art form on the big screen.
It also brought to the world's attention the brilliance of Henry Selick – remember, this was a Tim Burton production only. Sellick went on to make some of the greatest stop motion animated features of all time. 
Now a classic of its genre, A Nightmare before Christmas will enchant, scare and be loved by audiences for a very long time to come.
5. The Book Of The Dead (2005) Dir. Kihachirō Kawamoto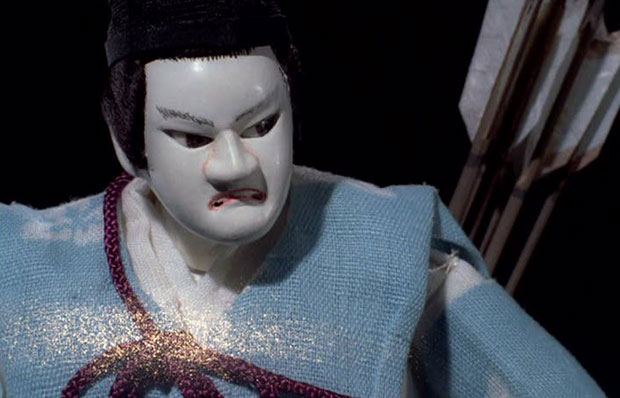 There is a sheer, true, honest beauty that comes out of Japanese cinema. It carries across live action, animation, stop motion animation, Manga and beyond. It is instantly recognisable and although often imitated is never matched.
Kawamoto's The Book of the Dead is one of those films that are so beautiful it is hard to take your eyes off the screen for even a moment. Iratsume, our young heroine is trying to teach herself and understand the teachings of the Buddha and immerses herself in the religion. After viewing a figure she believes to be the Buddha she follows him to a temple where women are forbidden to enter, there she discovers the figure may not be who she thinks and learns a greater lesson in the teaching of Buddhism. If you want a truly visual treat, look no further than this little gem.
4. Frankenweenie (2012) Dir. Tim Burton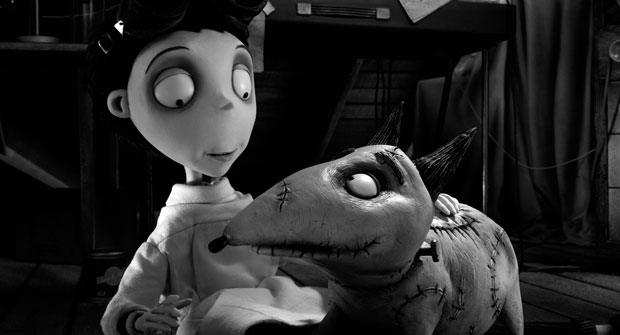 Sticking with the theme of the dead, one of this year's real surprises for me was Tim Burton's Frankenweenie. As a long-time fan of Burton's work, I've been waiting since Ed Wood for one of his films to really get to me in the way his previous ones did, and this worked on so many levels. It went flying straight up my favourite animated films list.
The themes of loss and love and hope are pretty heavy for a kid's movie, but it's all the better for it. Victor and Sparky's relationship hits the audience straight in the heart from the first scene, and Victor's determination to keep Sparky in his life could melt even the coldest of hearts. And with a with a its loving references to the monster movies of old (ensuring it was shot in black and white was crucial, and above all, looks stunning on screen), I'll be more than happy to bet Frankenweenie will be sticking around on these types of lists for a long time.
3. James And The Giant Peach (1996) Dir. Henry Selick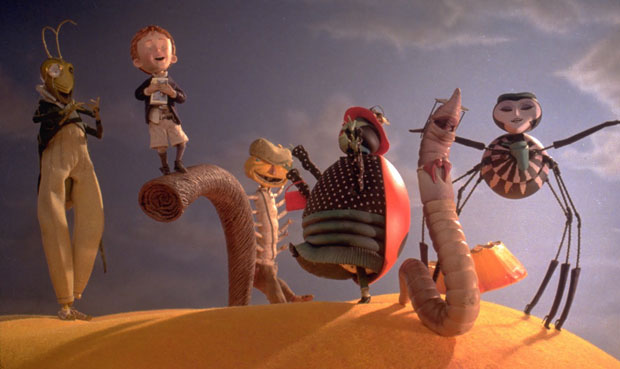 A second charting of Dahl on this list. His books, after all, are amazing, and this time we have the tale of young James, his magic peach and his giant bug friends that live inside it. Shot in live-action and stop motion animation, James And The Giant Peach is a film that should be better remembered that it is. Made just three years after his success with The Nightmare Before Christmas, Selick really spread his wings on this production, establishing his own style which continued to develop over future works.
The mix of live action and stop motion animation really brings this film to life, and makes the magical wonderings of Dahl seem just that bit more plausible – and who doesn't want to live in a world where a little bit of magic exists?
2. The Pied Piper (1986) Dir. Jiří Barta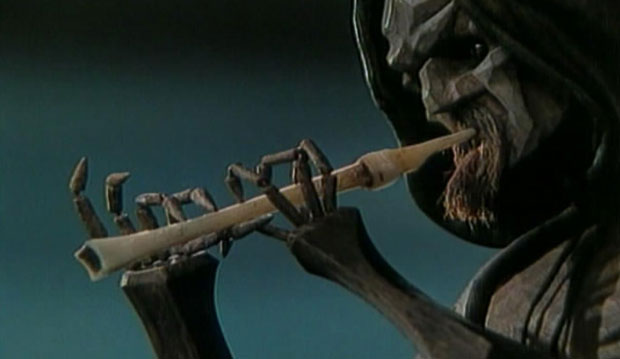 What is it with fairy tales? They're read to us as children to entertain our innocent minds, but scratch the surface, and they're darker and more disturbing than a chapter from the Saw series. Few are as bleak as the tale of The Pied Piper, and this Czechoslovakian version is no exception – though, remarkably, it makes the origin story even more disturbing.
Hired by a greedy, immoral town to free it of its rat problem, the Piper accepts the offer of 100 gold coins for the job. When the townsfolk revoke their offer and make payment as one single black button, the Piper must make a drastic decision.
Throw into that the only young innocent lady in the town, who is gang raped and murdered by a leeching jewellery seller and his friends, and you don't have the most child-friendly version of this story.
What you do have, however, is a gorgeous piece of cinema, couched in the style of German Expressionism, and told with some of the most exquisite but darkly disturbing puppets.
It's very rare to see something on the screen that can truly be described as art, but The Pied Piper has it in spades. If you haven't watched it already, make sure you do.  
1. Coraline (2009) Dir. Henry Selick
Neil Gaiman's novel Coraline was a work of genius – a dark, scary tale for children that is akin to Alice In Wonderland with notes of The Melancholy Death Of Oyster Boy. The film version is just as dark and scary, but is also amazing and wonderful, and gives girls everywhere a new heroine to look up to.
After finding a mysterious hole in the wall of her new home, Coraline finds the other side houses her other mother and father, and that they seemingly live the perfect life she wants. All is well, apart from the fact they have buttons for eyes – oh, and the other mother is a psychopath who kills children once she's bored with them.
Beautifully realised, Selick's direction is pitch perfect throughout this film, moving from dark and creepy to scary and shocking to happy and sad (the ghost children could melt anybody's heart). Coraline made me fall in love all over again with the majesty of stop motion animation, and that's something I'll keep with me forever.