News
10 Surprising Influences on Joseph Gordon-Levitt's Don Jon
We countdown the ten factors, from Spielberg to PornHub, that influenced Joseph Gordon-Levitt's smut comedy Don Jon!
Since starting his acting career at the age of six, Joseph Gordon-Levitt has worked on an expansive amount of sets, successfully transitioned from child actor to adult star, and fully accumulated life experiences that affect who he is as a filmmaking artist. The culmination of his life in front of the camera can now be found with Don Jon, his first feature film that places him behind his own original screenplay, not to mention the camera.
How did Gordon-Levitt's bold romantic comedy about a porn-loving jerk come to be? The influences are numerous, but include everything from his mother to the three directors he worked with in 2011. Here's a list of ten creative influences that shaped Don Jon into one helluva unique debut …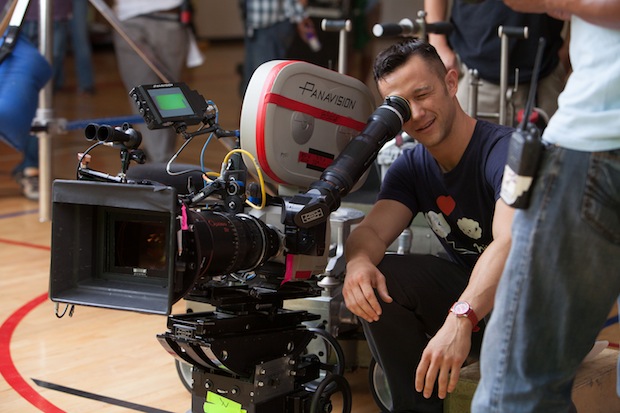 HitRECord and his Directed Shorts
When Gordon-Levitt turned 21, he bought himself a copy of Final Cut and fell in love with film editing—It ultimately urged him to drop out of college two years in and return to Hollywood. Since then, he has been making "tons" of shorts and various other collaborative projects, often under the banner of his storytelling empire hitRECord. Such short films include "Morgan M. Morgansen's Date with Destiny," which can be viewed HERE.
Gordon-Levitt has said on his YouTube page that he hopes to make feature films with his collaborative company in the future, but felt that he had to make a film in the more classic way first. As he says in the Don Jon press notes, "I definitely don't think I would have been able to direct a feature if it hadn't been for all that experience."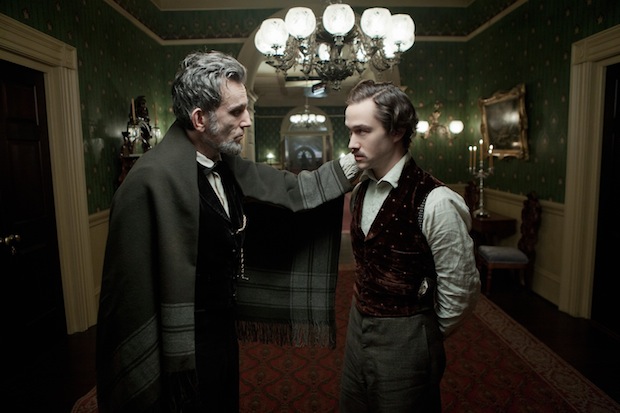 Steven Spielberg
In 2011, Gordon-Levitt worked with Steven Spielberg on the film Lincoln, in which he played opposite Daniel Day-Lewis as Robert Lincoln. From being on set with Spielberg, Gordon-Levitt realized the effectiveness that an upbeat attitude has on a cast and crew. As Gordon-Levitt told The New York Times, "You'd think: 'Oh. Steven Spielberg.' But he has so much fun, all day, every day."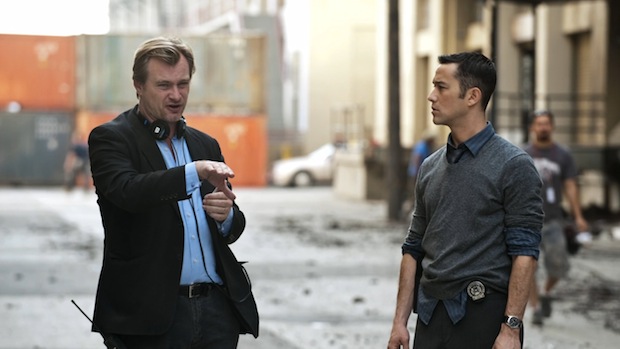 Christopher Nolan
Gordon-Levitt received some very particular advice from The Dark Knight Rises and Inception director Christopher Nolan, whom he also worked with in 2011. Very specifically, he told Gordon-Levitt to avoid using a towing rig for scenes that take place within cars. Nolan warned that such a technical idea just makes the entire image look very phony. And according to The New York Times, once Gordon-Levitt told Nolan about the finished first draft of a film he was going to direct and star in, the billion-dollar director was encouraging, but then asked him about specificities such as, "What are you going to shoot it on?" Gordon-Levitt reflected upon this during his recent AMA on Reddit.
"I told Chris I was planning on directing a movie, and he was super supportive. In his characteristically understated way. He never blows smoke with a bunch of compliments. He just started asking me a bunch of questions. What budget was I thinking? How many days would we need to shoot it? Could we do it all in one city? He's a very detail-oriented director, and having him asking me those questions implied a confidence in me that I found warmly encouraging."
Later on, Nolan would visit the set of Don Jon to see Gordon-Levitt deep into his production. Commenting on it, Nolan said, "There he was, with his trailers and his crew; he seemed at home. It turned out he'd gotten a better deal than we were ever offered. I was amazed by this."
Rian Johnon
In a year of working with Christopher Nolan and Steven Spielberg, Gordon-Levitt was also busy on the set of one of his biggest collaborators, Rian Johnson. The two were shooting Looper, Johnson's masterpiece of original storytelling that required Gordon-Levitt to look and sound like Bruce Willis.
But before Looper, Don Jon was an idea that Gordon-Levitt had been sharing with Johnson throughout its labored genesis. When Gordon-Levitt finished the first draft, it was his Brick director (and neighbor) Johnson who got first look. Johnson gave Gordon-Levitt various notes on his script, and continued to do so while the film was in production. When various cuts were ready, Johnson even saw the film in two different forms.
While I haven't been successful in rummaging through Gordon-Levitt's trash to see what notes were given to him by his Johnson, one can surmise from distinct elements in Don Jon the type of influence Johnson must have had. There is little doubt that while working on Looper that Gordon-Levitt was influenced by the power of repetition that drives Johnson's story, and makes for a strong conclusion when (SPOILER) the cycle is broken. Gordon-Levitt echoes this same idea with his own creation of Don Jon, editing his title character into a creature of habit who achieves his impacting climax when his cycle is broken (similarly as well, it is a woman who ultimately influences the breaking of such a cycle).
Don Jon certainly comes with the same support for a Rian Johnson film. Gordon-Levitt's debut is scored by Rian's brother Nathan (who did the score for Looper), and produced by Johnson's main producer Ram Bergman.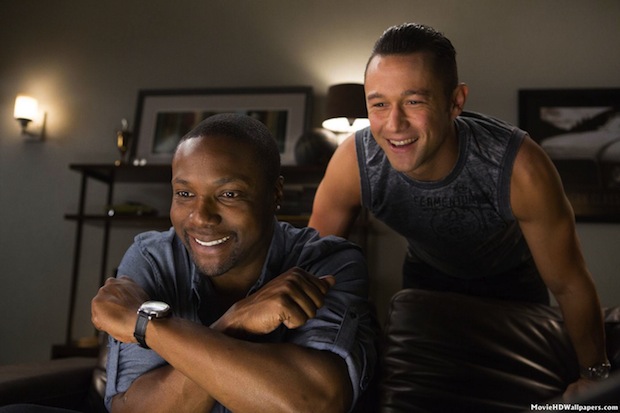 PornHub
The famous porn website is given prominent product placement within the movie, as it represents the library of material for which Jon can peruse for his objectifying affections. With such detail in place, Don Jon even has a "Pornography Consultant" listed at the end of the credits. Similarly, a list of porn stars featured in the film's inserts are given name credits. Gordon-Levitt has said that he himself picked which porn parts to feature in his film.
With PornHub given a producer's credit at the end of the film (a PornHub logo is amongst all the guild and technical mumbo jumbo), Don Jon also marks a rare moment in which a mainstream film is also being marketed on a porn site. Interestingly enough, it is not the first to do so, as this past year's underestimated madhouse Movie 43 holds that distinction.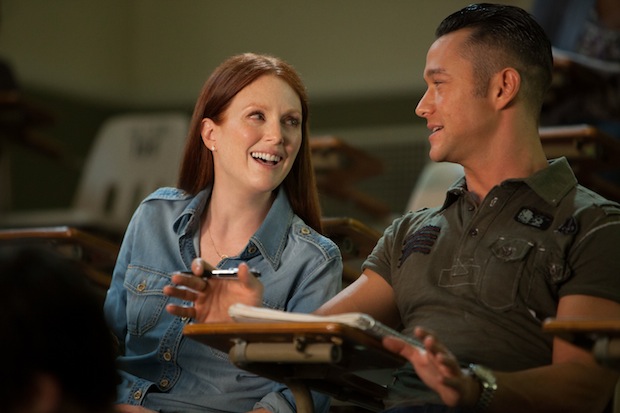 His Brother Daniel & Their Mother
Amidst the many intimate parts of Don Jon, which range from masturbation scenes to hinting at his own livelihood of artistic exploitation, the subject of grief is not one that's expected, and it certainly stands out in the film. However, it does indeed come from a very personal place, as Gordon-Levitt has revealed in interviews that the emotions experienced by Esther (Julianne Moore's character) are inspired by his own feelings about the 2010 passing of his brother, Daniel. The two founded the online artistic community hitRECord.
And while one might expect that making a movie about porn addiction might be an embarrassing thing to share with your mother, such is not the case for Gordon-Levitt's mom, who raised Joseph and his brother with the type of awareness that makes up for the necessary commentary in Don Jon. Speaking in the Reddit AMA, Gordon-Levitt said that his mother "in particular really loves this movie. She brought up my brother and me with a lot of the ideals of the feminist movement(s) of the 60s and 70s."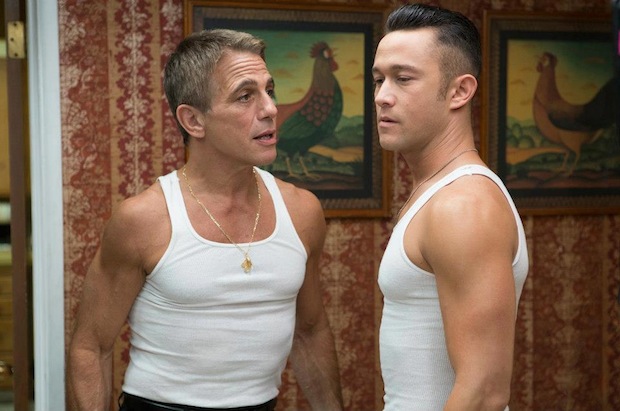 His Own Status as a Hollywood Actor 
As a Hollywood personality who has risen from childhood actor in 3rd Rock from the Sun to movie star, aspects of his onscreen career pop into this tale that are surely divergent from his appearance as "Student #1" in Beethoven, among others. For example, Tony Danza's appearance in Don Jon as the title character's similarly perverted father is no mistake. Anyone who remembers Gordon-Levitt's performance in the Disney baseball film Angels in the Outfield will also remember that he acted alongside Tony Danza then as well.
More directly, Gordon-Levitt has certainly admitted to feeling objectified as an actor, but also has reasoned that it's not just people on the big screen who are victim to such an issue. He states in the film's press notes, "Sure, maybe I want to tell this story because I've felt objectified in my life. But it happens to everyone, to friends of mine outside of Hollywood." No doubt his public friendships with actors like Channing Tatum and Anne Hathaway have dealt with the same issue, which explains why those two are shown in cameo-size roles as two stars in a fake movie within the movie. Their "film" excites the objectifying romance inside Scarlett Johansson's Barbara on the top of this meta-layer star-fest. In another bit of casting for audience awareness, Johansson herself was aggressively objectified in 2011 when her cell phone (including private pictures) was hacked.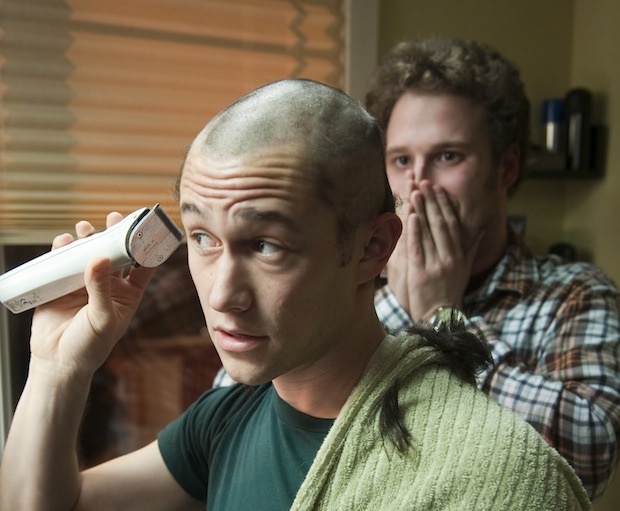 Seth Rogen & Evan Goldberg
According to Gordon-Levitt in numerous interviews, the story of Don Jon clicked when he experienced first-hand the storytelling of creative-comedic duo Seth Rogen and Evan Goldberg in the film 50/50. In that movie, directed by Jonathan Levine and produced by Rogen and Goldberg, Gordon-Levitt plays a young man who has cancer, which inspires a heavy reevaluation of his life as he enters chemotherapy. 
Revealing recently on Late Show with David Letterman that he was high on set during such a realization ("I was smoking some really good British Columbian weed that Seth Rogen had given me"), Gordon-Levitt reasoned how the attitude towards characters in 50/50 unlocked those for Don Jon. He realized that the humor for the film was coming less from gags, but more directly from characters. As he adds in the Don Jon press notes on the issue:
"And because [50/50] was rated R, it could be real, and people could talk how they really talk, and do the things they really do. That's when I first landed on the comedic tone and started picturing Jon as this East Coast guy with the gym body and the shiny hair. The idea of playing a character like that made me laugh, so I kept going with it."
This is also the moment that changed the direction of Don Jon as a story. Originally, while working on the script for two years, he had the title character as a tragic figure, who never understands how to change his womanizing ways. Instead, once Gordon-Levitt had the right tone, he started gravitating towards a more positive ending, reasoning that "I wanted the story to have that light at the end of the tunnel; I wanted it to have hope."
Like us on
Facebook
and follow us on
Twitter
for all news updates related to the world of geek. And
Google+
, if that's your thing!