Features
10 short films currently being made into big-screen features
From fast-paced sci-fi to sneezing pandas, here are 10 short films that are currently being developed into big-screen features...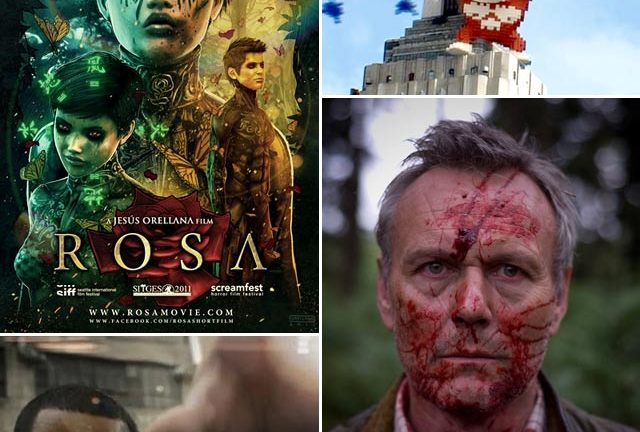 Much has been said, in recent years, about Hollywood's love of sequels, remakes, and adaptations of outlandish properties, such as this year's Battleship. Following the success of Neill Blomkamp's District 9, adapted from the director's own short, Alive In Joburg, producers have been keeping a closer eye on the work of lesser-known filmmakers. And over the past 18 months or so, a number of other short films have caught the eye of various film producers, and currently have a feature-length adaptation in the works.
Whether any of the adapted versions of the films laid out below will have the impact of District 9 is anyone's guess, but the best of them are full of stunning visuals and clever ideas – often on miniscule budgets. And as Hollywood looks for ways of making hit movies on economical budgets, it's little surprise that it's clamouring to contact any filmmaker who can make a science fiction movie, complete with impressive CG effects, for the price of a second-hand car…
Pixels
Unless you managed to avoid the Internet entirely in 2010, you'll almost certainly have already seen French filmmaker's Patrick Jean's clever short, Pixels. Simple in concept, the two-and-a-half minute film saw New York invaded by an army of 8-bit videogame characters. Featuring (unlicensed) cameos from 80s heroes such as Pac-Man and Donkey Kong, and with lots of references to dozens of antique games including Arkanoid and Tetris, it integrated live-action and computer imagery almost seamlessly.
Shortly after the film appeared on YouTube, Adam Sandler's production company Happy Madison announced its intention to make Pixels into a "Ghostbusters-style action comedy" with Tim Herlihy (writer of Adam Sandler comedies such as The Wedding Singer and Little Nicky, among other things) in charge of the script.
Little more was said about Pixels thereafter, until it was announced in November 2011 that Sony would be distributing the feature, and that it even had a release date in mind – May 17th 2013.
Quite how the feature-length Pixels will handle the various videogame cameos isn't yet clear – securing the rights to all those jealously-guarded properties will surely be a licensing nightmare – but with Disney currently working on Wreck-It Ralph, a CG movie based around an 80s videogame hero, maybe the summer of 2013 will be the perfect time for a retro-themed invasion movie.
Panic Attack!
Another short film with an alien invasion theme, Panic Attack! appeared on YouTube in late 2009. The work of Uruguayan filmmaker Fede Álvarez, it was made for a paltry $300 – a quite remarkable achievement, given that it sees giant robots laying waste to Montevideo. Not only are the special effects excellently wrought, but they're also deployed with real artistry – the opening shot, where a little boy stares open-mouthed as the robots come clanking out of an ocean mist is a fantastic one.
It's little surprise that the five-minute film caused such a fuss. As the director put it in a BBC interview, "I uploaded Panic Attack! on a Thursday and on Monday my inbox was totally full of emails from Hollywood studios."
Those emails resulted in a deal with Ghost House Pictures, which will see Panic Attack! adapted into a $30million feature film, with Sam Raimi among the producers. Ghost House has been rather quiet about the project since its announcement, but it's given Álvarez a job to do in the meantime – he's currently writing and directing the controversial Evil Dead remake, scheduled for release next year.
Will an adaptation of his giant robot invasion movie follow? If the world hasn't had enough of such films by the time Guillermo del Toro's thematically similar Pacific Rim comes out next year, it's certainly possible.
Jay And Seth Vs The Apocalypse
It's not just independent filmmakers who've had their shorts snapped up by Hollywood – back in 2007, Seth Rogen and Jay Baruchel made the 90-second comedy, Jay And Seth Vs The Apocalypse, a slight, foul-mouthed sketch about two flatmates slowly going crazy after an unspecified doomsday event.
Only last week, it was announced that the short is set for a feature-length adaptation, called The Apocalypse, in which Rogen and Baruchel will be joined by such stars as James Franco, Jonah Hill, Danny McBride and Craig Robinson. If the writers can come up with some extra ideas to complement the sweary improv, this could make for a fun, anarchic sci-fi comedy. Or if we're really unlucky, it'll end up like a post-apocalyptic Your Highness. Shudder.
The Gift
The director of this sci-fi short, Carl Erik Rinsch, isn't exactly a novice, given that he's a commercials director for Ridley Scott's production company, and was once named as the director for a fifth Alien movie, before Scott himself stepped in to helm what is now called Prometheus.
The Gift, which appeared last year, was originally shot as part of a series of commercials designed to sell Phillips televisions, and depicts a thrilling, effects-heavy chase through a future Moscow, with a shiny white robot on the run from masked Russian police. Like Brad Pitt at the end of Seven, it'll leave you wondering, "What's in the box?"
With any luck, we'll find out the answer to that question in a year or two, since The Gift immediately gained the attention of Hollywood film executives – Warner and Fox were among the studios all clamouring to buy up the rights for The Gift in 2010. It's not yet clear who won the bidding war, but with Rinsch currently putting the finishing touches to his debut feature, 47 Ronin, maybe he'll be making a full-length version of The Gift next.
Sneezing Baby Panda
Little more than a few seconds long, this tiny viral snippet featuring a sneezing baby panda has been a ubiquitous internet fixture for years. Although it's taken from a 13-year-old Chinese documentary made by Lesley Hammond and Jenny Walsh, it still gets around 150,000 hits per day on YouTube.
This enduring popularity may explain why, in June last year, it was announced that the sneezing panda video would be used as the basis for a full-length, big-screen mockumentary called The Life And Times Of Sneezing Baby Panda.
According to the Hollywood Reporter, the film will be about an Australian zoologist, who will, with the sneezing baby panda in tow, "Manage to make it Down Under on a visit to the Gold Coast where viewers will see the bear exhibit particularly Australian aquatic skills."
The makers of the original clip, Hammond and Marsh, will be involved in the making of the feature, which will, they say, make numerous diversions into the panda's past, with the creature cleverly inserted into archive footage, as seen in Forest Gump: "You know the famous photo of Nixon sitting with Mao? Using visual effects, we'll replace the woman interpreter sitting between them with a panda."
It sounds remarkable. The finished Sneezing Panda film's tentatively scheduled for release in 2013. Expect "Fenton! Jesus Christ!": The Movie to follow shortly after.
Ella
Now here's an intriguing change of pace from all the sci-fi special effects and, erm, sneezing pandas of earlier entries. Ella's a short, bleak horror film from director Dan Gitsham that is described as "a seriously sinister reworking of Little Red Riding Hood." Starring Anthony Head as a bloodied, gun-toting man who prowls a woodland for some murderous purpose, the film is going to be made into a full-length feature by Gitsham himself.
After he'd finished his feature script in April last year, co-writer James Driver wrote on his blog, "Its good, its depressing, its pretty horrible and made more so by some beautiful little moments that stick in your head due to the emotions they stir up, and the fact that those moments are then crapped all over by something nasty."
The short film will be shown at the London and Prague Film Festivals that take place this month – to get you in the mood, there's the brief teaser trailer on Gitsham's website. Chilling stuff.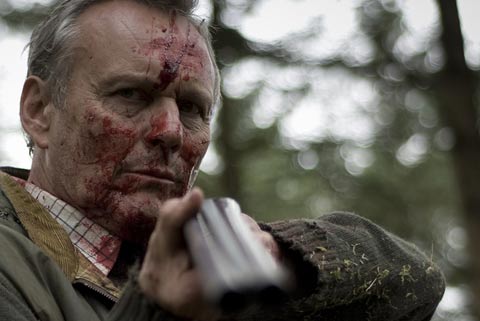 Mortal Kombat: Rebirth
Videogame adaptations seldom fare well financially or critically, but Paul Anderson's 1995 film Mortal Kombat did better than most, and raked in $122million on a $20million investment.
Since then, though, the Mortal Kombat property has lain dormant, at least as far as movies are concerned. Director Kevin Tancharoen's 2010 short, Mortal Kombat: Rebirth, changed all that. Looking for all the world like a trailer for a quite expensive action movie, its eight-minute duration was packed full of intrigue and violence.
If Tancharoen's mission was to show Hollywood how good an imaginative handling of the Mortal Kombat universe could look, he accomplished his mission; the film was an online hit, and last September, New Line hired the director to create a feature based on the scenario he outlined.
"You don't have to squint too hard to see how it might make a good movie," was how New Line's president Toby Emmerich put it, and he's right – correctly handled, Tancharoen's take on the movie could be darkly, brutally entertaining. A web series, Mortal Kombat: Legacy, made its debut last April, and if anything, was even more well-received than the 2010 short. The Mortal Kombat movie is expected to commence shooting this May, and will appear in cinemas next year.
I Love Sarah Jane
Writer and director Spencer Susser's fourteen-minute short I Love Sarah Jane won numerous independent film awards when it appeared in 2008. A low-key, well-shot and acted zombie horror, it featured an early star turn from Mia Wasikowska, before she was brought to wider attention in Tim Burton's Alice In Wonderland.
Having since directed his first feature, the dark indie drama Hesher, starring Joseph Gordon-Levitt, Natalie Portman and Rainn Wilson, Susser's planning to make a full-length version of his earlier film.
Although there's a possibility that we'll all be suffering from zombie fatigue pretty soon, with The Walking Dead on television and World War Z out in cinemas later this year, there's a pleasingly 80s vibe to I Love Sarah Jane, like a less frosty Let The Right One In. 
The Raven
Another exceptionally well-made sci-fi short, this time from director Ricardo De Montreuil. Filmed for $5000 in just 48 hours, The Raven features a brief, lightning-fast chase sequence through a future Los Angeles, as its hero performs all kinds of athletic moves in order to dodge the artillery from security robots. There are some Akira-style moments of telekinesis towards the end, too, brought to life with some niftily handled (though not quite seemless) CGI.
In late 2010, it was announced that Mark Wahlberg had signed up to produce and star in a full-length version of The Raven, which would presumably mean he'd be the one hopping over walls and trash cans to avoid the futuristic law enforcers. Like seemingly every film on this list, The Raven's currently scheduled for a 2013 release, but with Wahlberg currently developing seven other projects, all apparently pencilled in for around the same time, it's not yet clear when he'll have time to actually getting the film made.
Rosa
It's notable just how much of an impact 80s and 90s Japanese manga and anime has had on the work of a new filmmaking generation. Neill Blomkamp's work is clearly inspired by the svelte mecha and heavy weapons of artist Masamune Shirow – the star of his early film, Future Police Robot Warrior, bears more than a passing resemblance to the rabbit-eared cyborg Briareos out of Appleseed, for example. Rosa, a sci-fi short by Spanish filmmaker Jesús Orellana, recalls such anime classics as Battle Angel Alita, Ghost In The Shell and Black Magic M-66, as well as introducing a baroque feel that is all its own.
That Orellana started out as a comic book artist is evident throughout; there's a graphic, robust quality to its character design and composition. It's a creepy, exciting creation, too, with its doll-like protagonist first exploring a post-apocalyptic city, and then getting into an almighty scrap with a pair of fellow cyborgs.
What's most remarkable about Rosa is that Orellana managed to wrest it from an ailing 2003 iMac (which broke mid-way through production) and a copy of freeware 3D package, Blender. 
Orellana's patience and skill were swiftly rewarded. Within days, the film had garnered thousands of viewers, and last December, Orellana signed a deal with Fox to turn Rosa into a live-action feature. Little's known about the production at this early stage, but Rosa is proof that, with lots of talent and a bit of luck, it's possible to gain Hollywood attention, regardless of which country you're from.