Features
10 movies inspired by articles
From dramas to thrillers to trashy racing movies, magazine articles have been inspiring Hollywood movies for years. Here are 10 prime examples…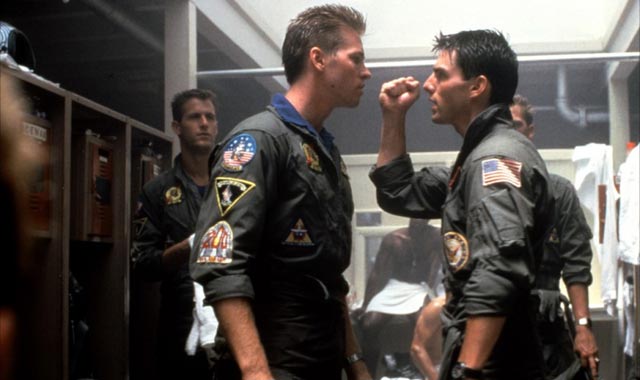 Fresh film ideas are tricky things to find. Of the thousands of pitches, scripts and loglines flooding into movie producers every year, how many of them contain a truly original concept? The answer is very few. This probably why, when a spec script contains even the snifter of a new idea – such as Safe House, which introduced a common CIA practice into a standard thriller format – it's snapped up for a large sum.
It's not entirely unusual, though, for film ideas to come from journalists rather than screenwriters; as this list proves, several well-known (and sometimes excellent) films have been directly inspired by magazine articles…
Dog Day Afternoon (1975)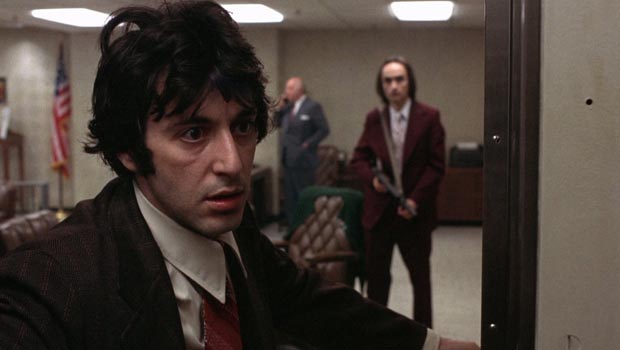 Dog Day Afternoon was Sidney Lumet's take on the true story of John Wojtowicz, who attempted to rob a bank in order to pay for his boyfriend's gender reassignment operation. Al Pacino provides one of the best performances of his career to date as the robber Sonny, and screenwriter Frank Pierson's handling of the unfolding media circus is brisk, funny, but also poignant – it's to Pierson and Lumet's credit that a 125 minute movie shot largely in one location can skip by so quickly, and end with such a raw tug at the emotions.
The screenplay was based on The Boys in the Bank, an article written by PF Kluge and published in a 1972 issue of Life magazine. The filmed version inevitably took some liberties with true events, and Wojtowicz once wrote a lengthy article following its release, stating that the movie was only "30 per cent true". Sonny's accomplice in the film, Sal (John Cazale) was in his late 30s, while Wojtowicz's was in fact only 18 years old – a detail that would have made the film's conclusion more tragic than it already is. Nevertheless, Wojtowicz praised Pacino's acting, as well as Chris Sarandon who played his young lover – both, he said, were worthy of an Oscar for their performances.
Urban Cowboy (1980)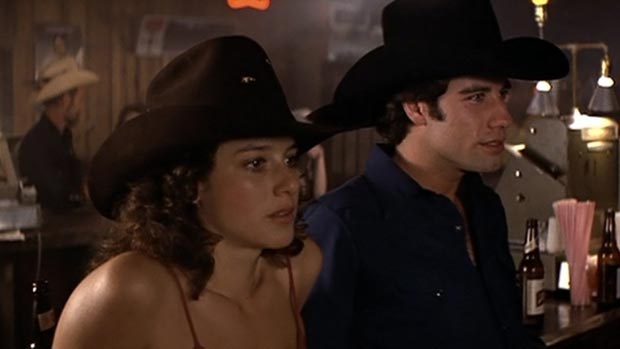 If there's one thing the articles pulled together for this list have in common, it's that they each document a very particular moment in social history. As we'll see in later entries, the article that underpinned Top Gun captured America's Reagan-era military might in all its pomp and swagger, while the one which inspired Die Hard 4.0 encapsulated contemporary fears about technology and terrorism.
Which brings us to Urban Cowboy, a romantic drama that captures a moment in US history where John Travolta was one of the planet's hottest young actors, and Country music was the coolest thing around. Back in the late 70s, a journalist named Aaron Latham had written an article called The Ballad Of The Urban Cowboy And America's Search For True Grit, which captured the hedonistic glory days of Gilleys, a club in Texas that was, according to the Guinness Book Of Records, the largest in the world.
According to an article published in the Austin Chronicle in 1999, punters "showed up every night to drink, dance, fight, flirt, make out, bullshit, shoot pool, and see who got their nuts cracked on El Toro, the club's famed mechanical bull."
As Travolta strutted around under a cowboy hat with his thumbs in his belt loops, rode on the back of one of those mechanical bulls mentioned above, and locked horns of a figurative kind with Debra Winger's feisty Texan gal, Urban Cowboy: The Movie (co-written by Latham and director James Bridges) tapped into the era's appetite for all things Western, and provided a snapshot of industrial Texas at the height of its powers. By the late 80s, an oil bust had devastated the once thriving Houston area, and the Gillies club burned down in 1990.
Top Gun (1986)
A film now more commonly remembered for its guitar-heavy soundtrack and simmering homoeroticism than Tony Scott's impressive aerial displays, 1986's Top Gun's inspiration was found in an article called Top Guns, written by journalist Ehud Yonay and published in a 1983 issue of California magazine.
In hindsight, it's easy to see why producers Jerry Bruckheimer and Don Simpson were so seduced by the notion of a movie based around trainee fighter pilots; like the synopsis of a script or novel, the article's relatively brief and easy to read. Similarly, the story's liberal illustrations of F-14s in flight immediately sent the producers' imaginations soaring.
Of course, any movie that involves fighter planes and aircraft carriers wasn't going to come cheap, so Top Gun's story had to be written around the military hardware and budget available. This would explain why when you strip away the cinematography, music and pretty faces, Top Gun's plot is pretty thin – surprisingly few planes are actually shot down, and of the movie's 110 minute duration, only a few scenes are actually set up in the air.
Nevertheless, Top Gun became the acme of the high-concept Hollywood movie; the lure of fancy planes and Tom Cruise's leering smile were enough to entice audiences worldwide, and Top Gun was the ultimate proof that truly lucrative film premises could as readily be found in magazines and newspapers as they could in novels or spec scripts.
Fear And Loathing In Las Vegas (1998)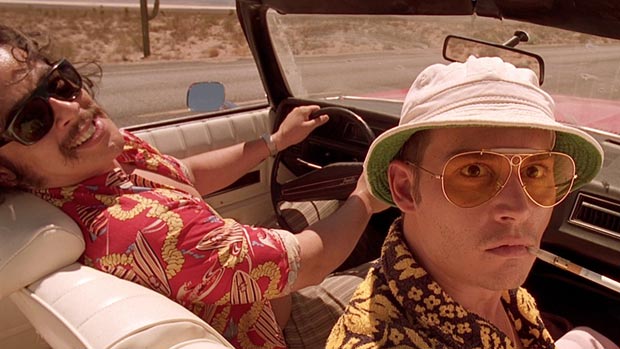 First published in Rolling Stone in 1971, and then in book form a year later, Fear And Loathing In Las Vegas was a truly unique piece of writing from a one-off writer. Like so much of Hunter S Thompson's work, it was difficult to figure out exactly where the reality ended and where the fiction began in Fear And Loathing.
A ranting work of madness, the piece begins with Thompson heading to Vegas with the intention of covering a race in the desert, but quickly takes off on a jet stream of drugs, drink and paranoia.
It shouldn't come as a surprise that the most outlandish and, well, gonzo article on this list would prove to be the most slippery to adapt; various directors made attempts (including Martin Scorsese and Oliver Stone), and several big-name actors expressed their desire to play Hunter and his lugubrious attorney.
It took the tenacity of Terry Gilliam to finally bring Fear And Loathing to the big screen, and after rejecting an 80s script by Ralph Steadman (the illustrator whose crazy images had graced Thompson's novel), the director finally completed his interpretation in 1998.
In many ways, Gilliam's attempt to wrestle Thompson's grizzly bear of a story into a workable film were quite successful; the director's kooky visual style dovetailed nicely with the writer's narcotic visions of bats and the lizard rich, and the script did a good job of externalising some of Thompson's strange musings, including the classic "I was just admiring the shape of your skull" line.
In other, more fundamental ways, Fear And Loathing: The Movie is desperately flawed. It comes alive in individual scenes rather than as a whole, and after an entertaining opening chapter where everyone, from Gilliam to Johnny Depp (who's great as Thompson) seems to be firing on all cylinders, the film seems to settle down into a slow trudge through various episodes in the book.
It's a wonder what Ralph Bakshi, the maverick animator responsible for Fritz The Cat, would have made out of the material. Bakshi had previously attempted to secure the rights to make the book into an animated feature, but couldn't convince Thompson's girlfriend (who held the rights) to let him make it.
"I kept telling her that live action would look like a bad cartoon but an animated version would be a great one," Bakshi once said. "She made the pic with Johnny Depp (who is a great actor), and got the film I told her she would get – it would have been more real in a cartoon using Steadman's drawings."
The Insider (1999)
Anyone who enjoyed the gunfire and machismo of Michael Mann's Heat may have been perplexed to hear that he planned to follow that 1995 hit with a movie about smoking. Nevertheless, the resulting drama was a great one, with a terse script and an Oscar-nominated performance from Russell Crowe.
Michael Mann was drawn to make the movie after watching a documentary about Jeffrey Wigand, a former tobacco industry employee who claimed he received death threats after blowing the whistle on his ex-employer's dodgy practices. Screenwriter Eric Roth, meanwhile, found inspiration for his script in the Vanity Fair magazine article The Man Who Knew Too Much, written by Marie Brenner and first published in May 1996.
Like Dog Day Afternoon years earlier, The Insider's makers were accused of taking certain liberties with the truth; the journalist behind the 60 Minutes CBS documentary which had first interested Mann was particularly critical of the movie's supposed dramatic license.
Accuracy aside, The Insider remains one of Mann's most acclaimed movies, if not his most financially successful; it failed to make back its $90 million budget at the box office, but it earned no fewer than seven Oscar nominations – including Best Writing, Screenplay Based on Material Previously Produced or Published for Eric Roth's polished script.
Proof Of Life (2000)
A year after The Insider gained Academy attention for Russell Crowe, the actor appeared in another movie partly inspired by a magazine article – the drama thriller Proof Of Life. In it, Crowe played a retired soldier who specialises in retrieving kidnap victims from criminals, and in this instance, it's the husband of Alice Bowman (Meg Ryan) who needs rescuing from a group of South American guerrillas.
Writer and producer Tony Gilroy drew inspiration from Adventures In The Ransom Trade, an article written by respected journalist William Prochnau for Vanity Fair. Additional ideas were taken from a novel called The Long March To Freedom, a personal account of kidnapping written by Thomas Hargrove.
Although loosely based on factual incidents (kidnapping was and is a serious problem in South America), large parts of the movie were fictionalised by necessity; production was shifted from Columbia to Ecuador (ironically, because of the dangers posed by the former country's guerrilla forces) while the story was set in a fictional republic called Tecala.
In spite of the potential offered by Proof Of Life's kidnap premise, the film didn't quite work. Crowe was on typically growling form, but critics bemoaned the lack of chemistry between his character and Meg Ryan's – ironic, really, since the pair were reportedly having an affair behind the scenes, a bit of gossip which got tabloid journalists into a lather, but failed to encourage cinemagoers to actually pay to watch the film.
Coyote Ugly (2000)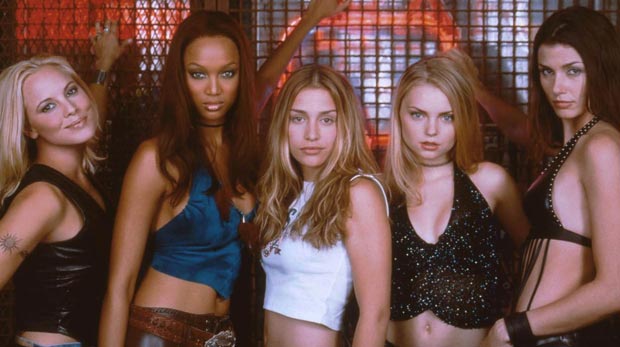 It's not often that a drinking establishment provides the jumping off point for a movie, but that's exactly what happened in the case of 2000's Coyote Ugly. More specifically, the drama was based on an article published in GQ ("The Muse of the Coyote Ugly Saloon") by former barmaid Elizabeth Gilbert. Gilbert's piece recorded the daily goings on at the titular Coyote Ugly Saloon, a chain of table dancing bars which first opened in 1993, and specialised in rowdy evenings of drinking, fire breathing, screaming and singing – a far cry from my local pub, which sells Choc Dips and holds a weekly meat raffle.
At any rate, the resulting movie was essentially an excuse for lots of picturesque looking females to dance around on bars and pour liquid over their shirts, which irked some critics but piqued the interest of some cinemagoers – with a $113 million return on its $45 million budget, the movie wasn't exactly a hit of the same magnitude as Jerry Bruckheimer's other mag article-based flick, Top Gun, but neither was it a disaster.
Quite what Coyote Ugly's makers spent that $45 million on, though, is something of a mystery. The money didn't go on actors, since the biggest name on the poster was John Goodman, and it certainly wasn't spent on the wardrobe department, which comprised jeans and tiny T-shirts at most. Maybe it went to Michael Bay, who makes a brief cameo as a photographer. He probably snuck off with the money and spent it on explosives or something.
The Fast And The Furious (2001)
By now, the Fast And Furious franchise's key elements are all in place: lots of modified cars bathed in neon light, CG-infused driving sequences, scantily-clad ladies and somewhat stiff acting from the leading actors. The first film in the franchise, meanwhile, began life as a strange hodge-podge of ideas both purchased and swiped. The title was bought from Roger Corman, who'd shot a movie called The Fast And The Furious in 1955. The plot, about a cop going undercover to infiltrate a gang of thieves, before undergoing something of an allegiance shift, was inarguably taken from Point Break (a point director Rob Cohen himself admitted in the movie's DVD commentary).
As for the whole illegal street racing premise, this was lifted from an article about the subject in Vibe magazine – this was Racer X, written by Ken Li. According to Cohen, he read the article, and was so impressed by the notion of youngsters tearing down city roads in modified cars that he swung by an illegal street race held in Los Angeles.
Whatever your thoughts on the creative merits of the Fast franchise may be, it's remarkable just how enduring it's been – far from waning as it's gone on, the series has positively blossomed. Fast Five made more than $600 million at the box office last year (that's three times as much as the original made just over a decade ago), and recast as a heist-based action franchise rather than a racing series, a sixth movie is due out in 2013.
Die Hard 4.0 (2007)
We've written before about the strange history of the Die Hard movies on these lovely pages, but to cut a long story short, the forthcoming A Good Day To Die Hard is the first film in the series that won't have started out as another movie entirely. Such was the case with Die Hard 4.0.
Die Hard 4.0 originally began as something called WW3.com, a high-tech thriller written by Mark Bomback, the chap behind the thematically similar Enemy Of The State. Based on a Wired article called A Farewell To Arms by journalist John Carlin, the script dealt with the subject of cyber-terrorism, in which America's computer-assisted infrastructure was brought to its binary knees in an attack dubbed a 'fire sale'.
When the 9/11 attacks saw WW3.com stall in pre-production, the script was revived in 2005 as a Die Hard movie – with 'analogue cop' John McClane now the protagonist, the script went through multiple rewrites before filming began in 2006, and a quick look down Die Hard 4.0's credits reveals that everyone, from director Len Wiseman to Kevin Smith and Bruce Willis, had some hand in its reworking.
As John Carlin himself says on his website, the resulting movie had drifted far from his original magazine piece.
"There was some similarity to my initial article but, as a New York Times reviewer wryly pointed out, what the film patently did not do was honour the spirit of the article's title, Farewell To Arms".
American Gangster (2007)
There's a tendency for gangster pictures to romanticise their brutal protagonists, and that was a particular criticism levelled at Ridley Scott's American Gangster, a stylish drama based on the exploits of career criminal Frank Lucas. While Lucas was impressed with Denzel Washington's confident, swaggering film version of his own persona, others were less complimentary; a federal judge described American Gangster as "one percent reality and ninety-nine percent Hollywood," which was perhaps inevitable, viewed in the light of other movies loosely based on real events.
Writer Steven Zaillian based his script on an article called Return Of The Superfly, first published in New York magazine and written by Mark Jacobson. It's easy to see why its depiction of the rise and fall of a 70s gangster, who exploited the constant back-and-forth transit of Vietnam War soldiers to traffic huge quantities of drugs would be so enticing to everyone involved, and Ridley Scott appears intoxicated by the era's clothes, music and gritty patina.
While the facts of the story are in doubt, there's no denying that American Gangster's snapshot of the era and its swaggering criminals is also supremely seductive to watch.
Follow Den Of Geek on Twitter right here. And be our Facebook chum here.