News
10 actors who tried to bounce back from a flop
When your movie bombs, what you choose to do next is vital. Here's how 10 different actors responded to box office doom…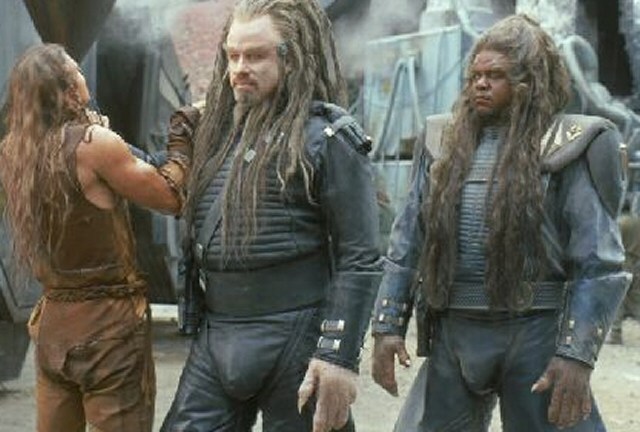 When you've just had a major movie flop, you'll be want to choose your next couple of movie roles really carefully, else you may just find that your career hits the skids in double quick time.
We take a look at how ten different actors responded when one of their big-budget productions hit the doldrums, and assess just what state their career is in now…
BEN AFFLECK The Flop: Gigli
Monsieur Affleck is rarely applauded for the acting gravitas that he lends to a role, and it's fair to say that his union with Jennifer Lopez in this yes-it-really-is-that-bad romantic comedy was not a high point. It didn't help that he was already well into making Kevin Smith's Jersey Girl, co-starring, er, Jennifer Lopez, when it came out, and thus two films were hit – one unfairly – by the whole Bennifer fallout. And, in the midst of it, Gigli rightly died on its arse. Likewise, the tepid John Woo-directed Phillip K Dick adaptation Paycheck was already rolling off the production line too.
So what did Affleck do? A few fairly crappy films at first, with both Surviving Christmas and Man About Town barely registering in terms of box office or critical acclaim. But then the Affleck career rescue plan kicked in, firstly with a really well chosen role as George Reeves in the good-but-not-great Hollywoodland. Nonetheless, it was a strong acting turn for Affleck, and he did himself no harm in Joe Carnahan's bonkers Smoking Aces either.
The masterstroke, though, was to pull his word processor out and co-adapt Dennis LeHane's novel Gone, Baby, Gone. His decision to make his directorial debut with the project was also heavily vindicated, and it turned out to be a very strong film.
Affleck already has this summer's State Of Play in the can, as well as the imminently upcoming ensemble romcom, He's Just Not That Into You.
Career status: live and kicking
KEVIN COSTNER The Flop: The Postman
Contrary to popular belief, Waterworld was in no way a flop, given that it made around a quarter of a billion dollars at the box office, and picked up a few admirers along the way. It's harder to argue that The Postman didn't dent a few bank accounts though, with Costner's sophomore directorial outing hardly a critical darling either. It cost around $80m to make, and barely scraped a quarter of that back at the US box office.
In the wake of The Postman, Costner would never really be a movie star on the scale that we saw in the '90s again, but instead, he simply carried on choosing his roles well. Message In A Bottle wasn't great, but was a modest hit, while For Love Of The Game wasn't a bad way to end his baseball trilogy. However, the pressure of being a movie star relieved from his shoulders, he instead picked films such as Thirteen Days, Open Range and, er, Dragonfly. In short, the commercial peak of his career has long gone, but he can still spot an interesting movie – usually – from 20 paces.
Career status: downsized.
ARNOLD SCHWARZENEGGERThe Flop: Last Action Hero
Again, in some quarters you'd struggle to describe Last Action Hero as a flop. Yet, considering it was Arnie's first action outing since he cleaned up worldwide with Terminator 2: Judgment Day, it was clearly a major commercial disappointment. Trounced at the box office by Jurassic Park, he sought solace by teaming up with the director who has served him best throughout his entire career: James Cameron.
Cameron was keen to get Arnie back to his action roots, with none of the no-guns, no-violence policy that underpinned good chunks of Last Action Hero. And he did, in a film that at one point was believed to have killed off the James Bond franchise as a result (something that Bourne supposedly was supposed to do a decade later). True Lies cleaned up, a sequel was mooted (and eventually shelved in the wake of the September 11th attacks), and all Arnie had to do then was choose his films wisely.
This is where things went back off track. Eraser we might have a soft spot for, but the likes of Junior, Jingle All The Way, Batman & Robin, Collateral Damage and End Of Days (we've a further soft spot for The 6th Day) all took their toll. It took a third Terminator movie to get Arnie back at the top of the box office, but even that franchise is leaving him behind now. In short, it seems Arnie's days as a major movie star are spent. And while he did recover from his first real flop, he's simply been unable to muscle his way back from a string of several disappointments.
Career status as a politician: live and kicking
Career status as a major movie star: terminated
GEENA DAVIS The Flop: Cutthroat Island
Carolco, the production company behind the likes of Total Recall, Terminator 2 and Basic Instinct, was killed off by this money-guzzling pirate action flick. It also pretty much did the same for Geena Davis' lead actress movie career.
Pre-Cutthroat, Davis was building up a clutch of successful high profile movies. Granted, for every Thelma And Louise there was a Speechless, and for every A League Of Their Own you could find a Hero/Accidental Hero (depending on where you live in the world). But her flops to this point were modest.
From the day she took the lead in then-husband Renny Harlin's flick though, she was in trouble. Firstly, the original co-star, Michael Douglas, opted to pass, and Matthew Modine was drafted in. Then, the rumours were that the budget got to a point where Harlin was having to direct second unit as well as first.
Still, the fit hit the shan proper when the box office numbers came in, which totted up to just over $10m in the US. Carolco was done for.
Davis, however, chose smartly for her next film, teaming up with Harlin again for The Long Kiss Goodnight, based on a not-cheap script by Shane Black. Strangely, this underrated gem never really caught box office fire, and since then, Davis has headlined movies that were successful in spite of her (Stuart Little), taken up archery seriously, and had a decent TV show canned (Commander In Chief). She's a fine actress, but television is now her only real chance of delivering a hit.
Career status as a movie star: over
Career status as a TV star: just about hanging in there
EDDIE MURPHY The Flops: Harlem Nights, Beverly Hills Cop 3, Pluto Nash, Meet Dave
The career of Eddie Murphy seems to be on a never-ending loop, where he makes a catastrophic financial disaster of a film, then heads back to safer ground to rebuild his career, before attempting to destroy the finances of another movie studio.
At the start of the 1990s, moviegoers were falling out of love with Murphy when the piss-poor double bill of Harlem Nights and Another 48 Hrs tipped them over the edge. His answer? The wisely chosen Boomerang, and the decent political comedy The Distinguished Gentleman.
Catastrophe was round the corner again when the previously-delayed Beverly Hills Cop 3 finally arrived, and came nowhere near matching the earlier highs of the series. When Vampire In Brooklyn then failed to bring home the bacon, it was straight back to comedy, with the double bill of The Nutty Professor – starring Murphy's oft-visited career trick of playing lots of characters in one film – and Doctor Dolittle. Much money followed, even if the disappointing Metro and Life were slotted in around them (although we have a slight soft spot for Life, but don't tell anyone).
This time, he kept the run going for a bit, with a career-best performance in Bowfinger, sequels to Nutty Professor and Doctor Dolittle, and his superb vocal contribution to Shrek. So what could possibly go wrong?
That'll be The Adventures Of Pluto Nash, a huge financial disaster, that took in less than $6m – yep, that little – at the US box office. That's in spite of having City Slickers director Ron Underwood at the helm, and more importantly for the accountants, a $100m budget. Staggering failure barely covers it.
So what to do? Head back to safe ground was the answer, and with the help of another pair of Shrek movies, the dreadful-but-successful Daddy Day Care, the dreadful-but-successful Norbit and his Oscar-nominated turn in Dreamgirls, Murphy's career was seemingly back once again on the tracks. So what could possibly go wrong?
That'll be last summer's Meet Dave, a huge financial disaster that took in less than $12m yep, that little – at the US box office. This time, the budget was $60m, but that's still got to leave a hole in your pocket.
How is Murphy trying to recover this time? Imagine That, another fantasy comedy, is already in the can, and also in post-production is A Thousand Words, a new comedy from the director of, er, Meet Dave and Norbit. Good luck, Eddie…
MARIAH CAREY The Flop: Glitter
Glitter was to be the film that launched Mariah Carey onto the movie world. She'd previously turned up in the Chris O'Donnell vehicle (and you don't hear those words very often) The Bachelor, and having racked up many, many millions for her music, Glitter was her carefully chosen first major lead role.
As this piece is being written, Glitter sits as the 39th worst film of all time on the Internet Movie Database, with a score of 2.0 out of 10. It's ranked worse than Barney's Great Adventure, Son of the Mask and an earlier failure by a singer to break into the movies, Vanilla Ice in Cool As Ice.
What also didn't help was that Glitter made under $5m at the US box office, admittedly off a modest budget of around $22m. Yet it's fair to say that it quickly placed Carey's movie career in a proverbial coffin, and whacked in twice the amount of necessary nails to ensure it stayed there. She's popped up in one or two further productions, but her emphasis is purely now on her music. And making shedloads of cash out of that Christmas song.
Movie career status: dead.
BRUCE WILLIS The Flops: Bonfire of the Vanities, Hudson Hawk, North, The Color Of Night
Bruce Willis' career has endured because, more than anyone, the guy knows how to come back from a flop movie. It's not the only reason, but it sure has helped.
The first career wobble that Willis has was in the early '90s. In the slipstream of Die Hard, Look Who's Talking (to which he lent his voice) and Die Hard 2, he managed to attach himself to lead roles in two notorious Hollywood flops. Sandwiching in a small role in Mortal Thoughts (with his then-wife, Demi Moore) in between, Willis gave the world the staggering (not in a good way) adaptation of The Bonfire Of The Vanities, and then the underappreciated-but-still-no-masterpiece Hudson Hawk.
When further box office disappointments followed in the shape of Death Becomes Her (again, a film deserving of another chance) and Striking Distance, Willis' career was in real trouble (even the terrific The Last Boy Scout had disappointed at the box office).
He then got the nod from the serial career resurrector Quentin Tarantino. Pulp Fiction appeared to turn Willis' fortunes around – and, as we'll see, they did John Travolta little harm too – and while he had a couple of further pumps in its aftermath (North, Color Of Night), things were turning.
A third Die Hard movie re-established his box office credentials, and then he used the fresh wind in his career and simply chose more carefully. Twelve Monkeys, Last Man Standing and The Fifth Element may not have been box office champions, but they're still films that are being talked about a decade later. And, thanks to him pulling out of a movie that led to him agreeing with Disney to make three films for it, he smacked three hits in a row: The Sixth Sense, Armageddon and The Kid.
While he'll have further box office disappointments in the future, Bruce Willis is one of the actors who you suspect has a better chance than most of riding them out.
Career status: as strong as ever
BRENDAN FRASER The Flop: Monkeybone
Henry Selick is a director who, for this writer's money, rarely gets the credit he deserves. Firstly, he's rarely recognised as the man who actually directed The Nightmare Before Christmas, but also, his film of James And The Giant Peach was something really quite special too. Here's hoping Coraline works out and puts him firmly on the map where he belongs.
That said, he took some flack for the box office disappointment – and that's putting it kindly – of Monkeybone, which in retrospect was a strange kind of film for a studio to spend $75m on. Its US box office take didn't make it to $6m, and it never even made it to the big screen in the UK.
Its star, Brendan Fraser, had been riding high at the time, off the back of The Mummy and the early, quite brilliant George of the Jungle. Monkeybone was his first bona fide bomb, though, but his filmic response was interesting. He was also at work on the Mummy sequel, which hit big, and he also signed up to be part of the Crash ensemble. With a well-chosen role in The Quiet American too, he kept his credentials bubbling along, which left him perfectly placed for a third Mummy adventure and the 3D film Journey To The Center Of The Earth, both of which grossed $100m in the US in 2008. He might not be quite at the level he was at ten years ago, but wise choices have kept Fraser very much in the game.
Career status: ticking along nicely.
WARREN BEATTY The Flops: Ishtar, Town and Country
Warren Beatty has shown an endurance in the movie industry that we suspect many actors will happily aspire to. But right now? His mainstream acting career is dead, and it's not coming back.
The reason for this is the 2001 romantic comedy Town & Country, that for some reason managed to rack up a production bill of a staggering $90-100m. Anyone who has sat through the film will surely question just how much of that money made it onto the screen. At a guess: not much at all.
With due respect to them, it's not even as if the cast was the most expensive, Beatty aside. Diane Keaton, Andie MacDowell, Goldie Hawn and the late Charlton Heston hardly rack up $50m in salaries, and when the final box office take in at under $7m in the US, Beatty's major leading man career was surely over. Tellingly, he's not made a film since.
It's a surprise, because he proved himself adept at bouncing back from a flop before, although he certainly took his time doing it. One of Hollywood's most notorious bombs, 1987's Ishtar had a then-staggering $55m budget. When it brought in under $15m in the US, in the face of scowling reviews, its position as one of Hollywood's most notorious flops was assured.
So what did Beatty do? He waited. This proved a good ploy, as the project he picked certainly put him back on the high profile map. Say what you like about Dick Tracy, and many have, but Beatty delivered an interesting flick, starring and directing in the high profile Disney adaptation of the comic strips. He also embarked on a career-aiding affair with Madonna, and off the back of his reignited star, delivered Bugsy the year after. Bugsy earned lots of Oscar nominations, but won none, yet enhanced Beatty's career once more.
But it'd be his last hit. While he met his now-wife, Annette Bening, on the set of Love Affair – an ill-advised remake of An Affair To Remember – the film flopped, as did his next, Bulworth (a film that some really like, but one that left this writer cold). This then paved the way to Town & Country, which has subsequently paved the way for what looks like retirement from the business for Beatty.
Career status: all but over
JOHN TRAVOLTA The Flop: Battlefield Earth
It's not a widely known fact, but Battlefield Earth, in spite of the way that critics dismantled it, and in spite of the way it dropped down the box office chart like a stone, turned in a profit. That said, considering it was touted as one of 1999's big blockbusters, it still failed to do anything like the business that was hoped for, and given that it was John Travolta's dream project, it was he that took most of the flack for it.
So how did he attempt to recover his career for the second time, this time without the help of Quentin Tarantino (who dug him out of the doldrums first time round with a role of a lifetime in Pulp Fiction)? Not well, really. Lucky Numbers was a tepid flop with Lisa Kudrow, although he was on far safer, and more successful, ground with Swordfish the following year. That should have been a platform to build on, but Travolta failed to choose wisely. Instead, he ended up in the likes of Domestic Disturbance, Basic, The Punisher (2004 vintage) and Ladder 49, continuing his poor choices with the forgettable Get Shorty sequel, Be Cool.
More recently, he's just about clawed back his movie career off the back of ensemble piece Wild Hogs, and dragging up in the musical version of Hairspray. But could his name lead a film single-handedly to a $30-40m opening weekend? Not any more, it seems…
Career status: just about hanging in
See also:Battlefield Earth director Roger Christian interviewIs Battlefield Earth worth a second chance?10 movie stars and the franchises they rely on10 lies told on DVD extras (and what they mean)10 outrageous sequel patch ups
4 February 2009