News
007 director Marc Forster talks Quantum Of Solace
The deleted scene from Quantum of Solace. The car chase. The songs. Why he nearly turned 007 down. Plus the status of World War Z. Marc Forster tells all…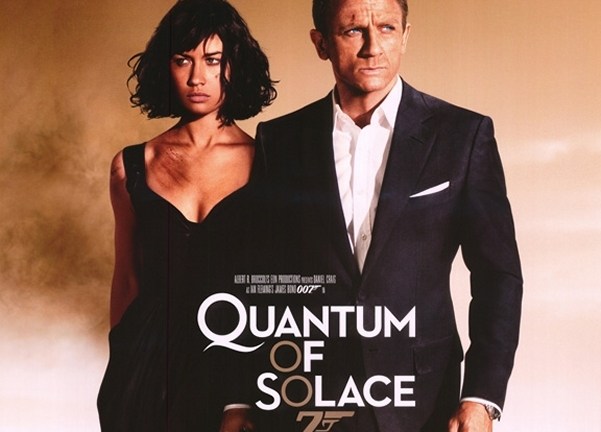 With the upcoming DVD and Blu-Ray release of Quantum Of Solace just around the corner (read our review here) Den of Geek were lucky enough to see a special HD presentation of Bond's latest escapade, followed by a Q&A with the movie's director, Marc Forster.
Regardless of your opinion of the movie (I've sure you've all seen it by now), it looks fantastic on the big screen. The opening shot just feet above the water with the oncoming car chase looks magnificent in HD, the quality is impeccable. It manages to hit a balance between a traditional film look but with stunning detail and clarity. Marc Forster is a surprisingly visual director for someone so grounded in character and emotion.
When Forster takes to the stage the first thing you notice about the guy is his large forehead, but I guess that holds the wealth of information he will talk at length about during the course of the next hour and a half. This guy can talk… and when he does it's instantly apparent that the emotional side of story telling is where his (unsmall) head is at.
Although being a self confessed Bond fan, at first he didn't want to make the movie, he wanted to film something on a smaller scale. "My agent called me and said 'are you interested in the next Bond film?' I said not really."
It was, in fact, his meeting with Daniel Craig that convinced him otherwise "he comes from a similar background that I do, he comes from independent film, we have similar sensibilities".
Eventually Forster decided "this could be interesting, I never made a big commercial movie".
Big and commercial it certainly was.
The director of the last year's biggest action movie is a softly spoken, well educated, good humoured German born Swiss dude. And although his English is fantastic, the quotes below aren't quite perfect. But here are his most interesting comments of the night:
On his history with Bond: "When I was studying in New York I took a week and just watched all the Bond movies. I really loved all the ones from the 60s with Sean Connery like Doctor No and Goldfinger. But I also loved the George Lazenby 'On Her Majesties Secret Service', I though it was an underrated movie"
"When I made this movie (QoS) I wanted to throw in elements of the 60s, reminiscent of nostalgia but at the same time making a movie that is modern."
On the script: "What scared me a little bit when I first signed on was that there wasn't really a script but there was a release date. I can't recommend it."
"It needed more development. I worked on it myself at one point with another uncredited writer. I wanted a realistic portrayal of a secret agent".
On the title: "One day Barbara and Michael bought me into this office and there was this board that said Quantum of Solace, they said what do you think about this as a title? At first I said "Ooh, what am I supposed to do with this!"
But I was also happy it didn't have 'Die' in it or 'Dying'! I went back and read the short story and liked it. I felt the title had meaning, it actually grew on me and I thought it was a good title for the journey that Bond was on"
On directing action movies: "Making an action film is a challenge. A lot of action scenes came out of visiting the locations and being inspired by them."
"I'm pretty organised, I do most of the work in pre-production for all my movies, and I make it very clear to everybody, all my department heads. There are electronic previews and storyboards. I don't story board the movie entirely, I only storyboard action sequences or visual effects sequences"
"I wanted to set the four big action scenes around the elements, earth, fire water and air."
"I haven't ever worked before with a second unit director, it was very hard for me to let control go and say okay, you need to deliver exactly what is in my head. I hired a person I had a lot of trust in, I liked his previous work."
"We only had five weeks to cut the movie"
"Broccoli told me "you know you're the first non-Commonwealth director we've hired and the youngest one" I said thank you for letting me know it just adds to the pressure!"
On the opening car chase: "I'm not really a car man, but I thought if I have to do a car chase I want it very disorientating and confusing. I wanted to set it in a quarry I found on location, I thought I haven't seen it done this way."
"Most of that my second unit director did, that's why I employed him, he's a car specialist. And we just went though it step by step what I had in my mind and when I found the location I said that's where I really want to shoot it".
"It's very hard because you can't drive these cars more than 30mph on the roads because it's so steep there, but you still have to make it look like they're traveling at very intense speeds."
On the opera sequence: "In the script it was written as a kind of UN conference setting and I thought visually it's not that interesting. When I came across the opera location and I saw that eye on the lake I though that screams Bond location! The symbolism of the blue eye is so Bond and the metaphor made it a perfect location".
On the producers: "I was expecting; here is the bible of Bond but it wasn't like that at all. The only thing they asked for was we don't want Bond to kill anybody innocent. I found that to be completely reasonable".
"At one point in one of the story lines there was a car on the road being repaired and I thought it would be interesting if we took the car off the cliff. And they said we shouldn't do that because they're just innocent bystanders. I think it's a good thing".
"We worked together on the script until they signed it off, but on the set, in the execution of Bond I never had them ever tell me one note or say anything, I had a free hand. I showed them scenes as we went along and I felt that they really liked what they saw but you're always nervous every time. They liked the film and embraced it."
On Daniel Craig: "I couldn't have done this movie without Daniel, he was really my partner. He has the true passion of this character, and he's studied all these characters and he watched every mannerism of all the Bonds and he read all the books and he understands Fleming's writing and where he came from. I think his interpretation of Fleming's character is closer than anyone before."
On Judi Dench: "I felt like I wanted to bring Judi Dench in as much as possible, I think she's one of the greatest actresses alive. I've always felt she was a little underused."
Likes and dislikes about QoS: "I like the opera sequence very much. The only scene I had problems with was the sequence when we introduced Camille when she pulls up in the car. I have a little issue with the colour of the car and it's too clean, I'm not happy with my directorial choices."
"I changed the dialogue in that scene like fifty times, it was just never totally smooth and then you have to make these decisions so fast, suddenly the car is there. Then of course later on she pulls up in the Bug in front of the hotel and there I think the car works and her line is funny, the two of them work well together."
On the Bond fans: "I show an audience the film; even if you say, okay one half of the audience don't like the movie and the other half love the movie, that's how it is with every film, you can't please everybody".
"There are millions and millions of fans, I couldn't possibly cater to all of them"
On reviews: "Some people seem to really love it, some seem to hate it, I think discussion is always good. It's not the last Bond film ever made, I think there will be many more."
On the famous line "Bond, James Bond": "There was a scene after the movie ended, it was sort of a hanger on, we had this little hang on between Bond and Mr White, a very short scene. I felt though it was forcing the producers to almost make a trilogy out of it, but now they have a choice of opening it up or starting new, whatever".
"I felt the scene didn't really add anything to the story, unfortunately the famous line was in that scene as well. Everyone said you didn't shoot that line "Bond, James Bond" but I did shoot it. I didn't cut the scene because of the line. I watched the movie with and without the scene, I just liked it better without it so we just decided to leave it out. It's not on the first DVD, I don't know if the scene is going to be on the second."
On the movie's theme: "I had this issue I wanted to bring in. I said to [Paul] Haggis (co-screenwriter) I'm really concerned about the water, oil is a thing of the past. I thought it's going to be a huge issue. Water is timeless, I thought it would be something that would be interesting and current for a while, I thought that theme would not be quickly outdated."
On the song: "The song was a little bit last minute, I actually do like the song. Originally it was Amy Winehouse, I did meet with her as well, I think she's really wonderful. Because I didn't hear anything I eventually had to move on. And then Jake White came out of the blue and said I love Bond, which surprised me. The song sort of emerged. When I heard the song I thought too many people might not be pleased with it. It's not your typical song I agree. I thought it was an interesting song for this movie."
On watching his own movies: "I cant. Once I've seen it at a premiere its too painful, I have to let go!"
"Certain things stick out or I don't like this scene or that scene. For instance I just did the commentary for the Bond DVD the other day and I watched it for the first time again. It was interesting, I was trying to focus on the commentary and not get to engaged in the movie, it's hard for me to watch."
On Yodelling: "Before you actually talk in Switzerland you start to yodel."
On The Kite Runner: "It was emotionally a more difficult experience for me. It sold ten million copies worldwide, everybody told me it's their favourite book, don't ruin it! At first they told me to shoot it in English, I said I can't do it then, it's an immigrant's story, it didn't really make sense to me."
On Monster's Ball: "I was very non judgmental , I was just trying to observe what was going on. I spent three months in files investigating, I realised there's a very powerful racism that I wasn't aware of before, which was highly disturbing so I felt I just tried to observe the culture and make a statement about it."
"I remember with Monster's Ball, me and my First AD we were shooting this sequence where it was sunny and suddenly the next day it was raining, he said to me "What are you doing, we're shooting this and its raining, it was sunny before it's never going go cut." I said it doesn't matter, we don't have a choice, we don't have the money let's just shoot. And he said you're crazy but he agreed with that. It did cut, it went from sun then to rain and it doesn't really matter ultimately you just go along with it."
On previous offers: "I was offered Brokeback Mountain and they offered me one of the Harry Potters. They offered me Juno too."
On World War Z: "It's still a development project, the script still needs work. It's an interesting project and things to offer and I like the book a lot."
On the future: "They did ask me to do another one, but you know, at this point I need to do something smaller, then, you can say never say never again!"
"I would do another Bond because I think Bond has reached his Quantum of Solace, it's time to bring in more women, you know all those things people seem to miss. I created Camille as an alter ego to him, it's interesting that she's the one woman he doesn't sleep with because he sympathised."
"I would hope on the next one more humour can be bought in and the character can be developed further. I think the things people were craving for can be bought back, it's not a lost case but at this point in time I felt this was the Bond film I wanted to make."
"I've been looking to create a franchise of my own, I've been looking for the right material, the right books."
So there you have it. Will Marc Forster one day take the helm of another bit of Bond, or will he head towards pastures new? Either way, Quantum Of Solace can be found on the shelf from March 23rd.