News
Xbox One S All-Digital Edition: Release Date and Price
Microsoft is going all-digital with the release of the Xbox One S All-Digital Edition.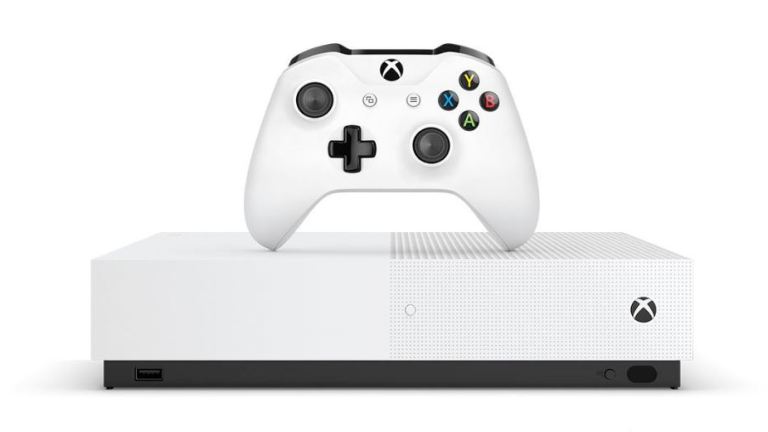 Microsoft has confirmed that it's releasing an all-digital version of the Xbox called the Xbox One S All-Digital Edition. 
The All-Digital Edition will launch on May 7 for $249.99. Interestingly, though, Microsoft says that the price of this device will be flexible as the company intends to always ensure that it's a certain amount cheaper than the standard Xbox One S. 
"We expect to maintain at least a $50 difference between Xbox One S and the all-digital version during sales," Microsoft's Lawrence Hryb said. There have been some arguments over this price point difference, though, as it is possible to get bundle versions of the Xbox One S for $250. It's possible that Hryb misspoke or Microsoft may be working off of different MSRP figures. 
The only real difference between the Xbox One S and the All-Digital edition is that the digital edition obviously lacks a disc drive. It even comes with a 1 TB hard drive, which is going to be an interesting testing point for how much storage an all-digital version of a console requires. Realistically, though, it should prove to be a good starting point. That hard drive will even come loaded with Minecraft, Sea of Thieves, and Forza Horizon 3, free for everyone who purchases the all-digital console. This console will also not be able to play older Xbox titles available through the Xbox backward compatibility program. 
That's all fascinating in and of itself, but what's really got everybody talking is what this release could mean for the next generation of Xbox hardware. It's been rumored for some time that Microsoft intends for at least one version of the next Xbox to be a digital-only console. The fact that it's testing those waters ahead of the release and reveal of the next generation of Xbox hardware certainly lends a little weight to that theory.
Honestly, this all makes a lot of sense. We know this generation of consoles is coming to an end, and that typically means that companies release a cheaper, modified version of their current hardware in order to attract really late adopters. With Microsoft trying to aggressively push Game Pass and its upcoming cloud gaming service, it seems natural that the company would want to get customers used to the idea of gaming without discs.
Regardless, it does seem like Microsoft really is guiding us towards a future where Game Pass and other digital services are the future of the Xbox brand and not just hardware.
Matthew Byrd is a staff writer for Den of Geek. He spends most of his days trying to pitch deep-dive analytical pieces about Killer Klowns From Outer Space to an increasingly perturbed series of editors. You can read more of his work here or find him on Twitter at @SilverTuna014.