News
Xbox One Is Getting a New Home Interface and Cortana Changes
The way you interface with your Xbox One is about to change...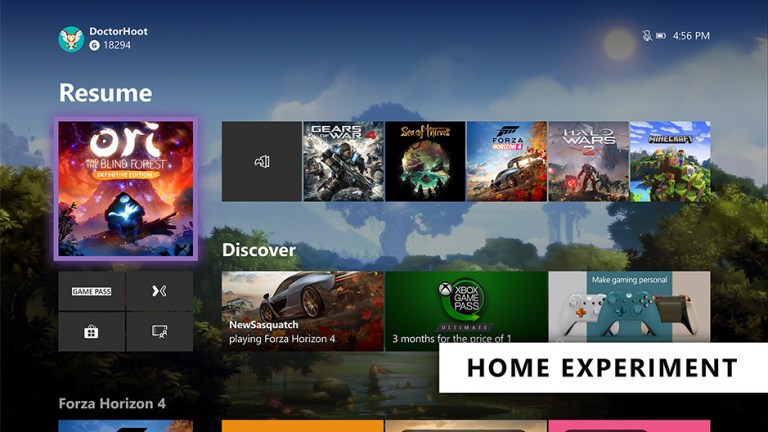 Microsoft is rolling out some changes to the Xbox One, with an altered Home page for the console being trialed among members of the Xbox Insider Program. As well as cosmetic updates, users will also experience an altered relationship between the Xbox One console and Microsoft's virtual assistant Cortana.
Bradley Rossetti, who works for Microsoft as the Xbox Insider Team Lead, explained these changes on the official Xbox Wire blog. With the changes to the Home interface, Rossetti notes that this page "is the first thing you see when you turn on your Xbox One, and we want to deliver an easy and seamless experience for you to navigate your console."
"With this new experimental Home design," Rossetti adds, "the first thing you'll notice is we've removed the Twists from the top of Home in favor of separate buttons that launch your gaming experiences. The goal is to let you jump into Xbox Game Pass, Mixer, Xbox Community, and Microsoft Store quicker than ever. We've also shifted things around to make more room for your recently played titles." The image atop this article was provided as an example of what this new Home will look like.
Further Reading: Everything You Need to Know About Halo Infinite
As for Cortana, Rossetti explains in the blog that Microsoft is "further evolving way we support voice commands on Xbox and are moving away from on-console experiences to cloud-based assistant experiences. This means you can no longer talk to Cortana via your headset. However, you can use the Xbox Skill for Cortana via the Cortana app on iOS, Android, and Windows or via Harmon Kardon Invoke speaker to power your Xbox One, adjust volume, launch games and apps, capture screenshots, and more —just as you can do with Alexa-enabled devices today."
The updated Home has rolled out to Xbox Insider members that are in the Alpha and Alpha Skip Ahead rings, while the Cortana update has rolled out to the Alpha Skip Ahead ring only. The Cortana changes will then reach all users in the fall.
As for when ordinary players will be able to experience the updated Home, the blog does not make any promises. Instead, it calls out for members of the Insider Program to provide feedback on their experiences so that Microsoft can continue to hone its new Home. As we hear more, we'll be sure to let you know.