News
World War Z: Season 2 DLC Roadmap Revealed
World War Z's next batch of DLC content has been revealed. Here's what you can look forward to.
Saber Interactive has revealed the remainder of their 2019 DLC roadmap for World War Z. 
While Saber hasn't revealed the exact release dates for World War Z's second season of DLC, they have teased what kind of content fans can expect. Arguably the most important upcoming update to the game is the highly-anticipated addition of a horde mode to the zombie shooter that already emphasizes the overwhelming power of a zombie horde. 
World War Z's horde mode will be called Horde Mode Z, and that's honestly all that we know about it for sure. As we mentioned, though, the fact that one of World War Z's biggest selling points is the sheer number of zombies that it features on-screen at any given time does bode well for the game's ability to offer an effective and entertaining horde mode. We are curious whether or not it will be an objective-based mode or if the name of the game will simply be seeing how long you can survive in the face of some incredible odds. 
World War Z's second season of DLC will also include new PvE missions set in New York and Moscow, a new type of zombie, crossplay support, a new prestige rank system for weapons and perks, and a suite of new cosmetics. Again, none of these updates currently have a release date, but it looks like you can expect the new weapon, prestige ranks, and PvE levels to arrive before the rest of the planned upcoming content. All of it is expected to be released before the end of Q4 2019, though. 
Even better, everything but the new character and weapon skins will be released for free. It's yet another reason to check out a game that not only joins They Are Billions as one of the most intimidating zombie titles in recent memory but is considered by many to be the true successor to the Left 4 Dead series. 
For more information on World War Z's upcoming DLC, be sure to check out the image below: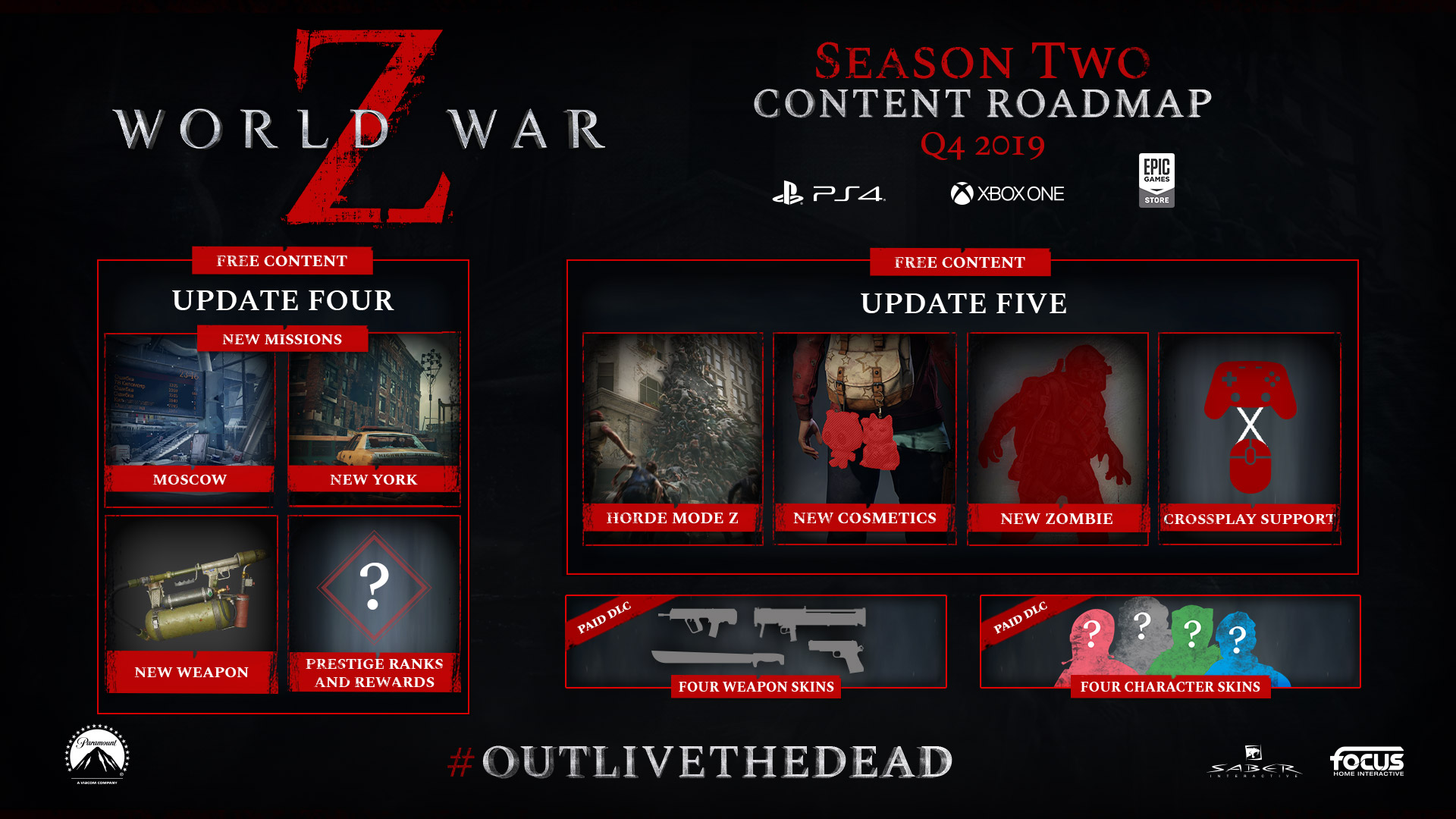 Matthew Byrd is a staff writer for Den of Geek. He spends most of his days trying to pitch deep-dive analytical pieces about Killer Klowns From Outer Space to an increasingly perturbed series of editors. You can read more of his work here or find him on Twitter at @SilverTuna014.