News
World of Warcraft: Battle for Azeroth Release Date, Trailer, Details, and News
World of Warcraft: Battle for Azeroth is the biggest WoW expansion yet. Here's what we know...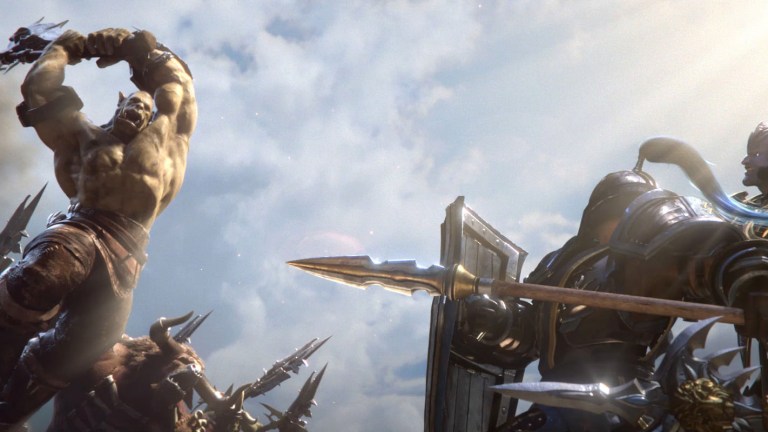 The next World of Warcraft expansion, Battle for Azeroth, takes the game back to its roots a bit by focusing on the battle between the Horde and the Alliance. Each side will be able to explore three new zones. The Horde will have access to the islands of Zandalar while the Alliance will be able to traverse the island of Kul Tiras. These new areas will reportedly contain "allied races" which players will be able to recruit and eventually play as. 
Perhaps the most exciting addition this expansion brings to the table is the inclusion of a new islands system that adds an almost rogue-like element to the game. Basically, players will be able to build parties of three and explore these island areas. The catch here is that these areas change slightly every time that you visit them. You'll also be able to access new areas called Waterfronts that support 20 player fights over locations that are reportedly of strategic importance to both the Horde and the Alliance. 
Battle for Azeroth also includes a new legendary neck piece called the Heart of Azeroth. This neck piece will allow players to unlock new abilities that are directly tied to their armor. This system sounds very similar to the one that Blizzard implemented in Legion that allowed players to build upon existing weapons via in-game artifacts. Finally, Battle for Azeroth will raise the current level cap to 120 and will include a feature that allows players to buy a boost up to level 110 should they wish to do so. We can't wait to see who hits the new cap first. 
Here's everything else we know about the expansion:
World of Warcraft: Battle for Azeroth Preview
We recently had the chance to play Battle for Azeroth's Island Expedition mode. Find out what we think of the expansion here!
World of Warcraft: Battle for Azeroth Release Date
World of Warcraft: Battle for Azeroth arrives on Aug. 14. 
Anyone who pre-orders Battle for Azeroth will be able to access the Allied Races, a tweaked version of existing races within World of Warcraft. Following a bit of a grind with these new variants, you'll be able to properly start a new character at level 20. 
Pre-ordering Battle for Azeroth ($50) will also allow you to access a level 110 boost so you can enjoy all of Legion's late game content. Those that opt for the Deluxe Edition ($70) of the expansion will also be able to access some free goodies in other Blizzard games like Overwatch. 
The full list of pre-order incentives can be found here. 
World of Warcraft: Battle for Azeroth Trailer
Check the new trailer for World of Warcraft: Battle for Azeroth below!
Here is the debut cinematic trailer for Battle for Azeroth:
While that trailer lives up to Blizzard's legacy of creating cinematics worthy of the big screen, it, unfortunately, doesn't tell us much about the game itself. Fortunately, Blizzard has released another preview for the expansion that elaborates on its features a bit more:
World of Warcraft: Battle for Azeroth PvP
The World of Warcraft team hopes to emphasize the game's player vs. player elements once more by changing the way that PvP works. 
Game director Ion Hazzikostas told Kotaku that the team plans on turning every one of the game's servers into PvP servers. However, everyone will need to opt-in to PvP combat if they wish to participate in battle. The catch is that players will only be able to turn PvP on or off inside of major cities. Out in the wild, you'll live with the decision you've made. 
"Doing this gives us a foundation upon which to build," said Hazzikostas. "I think in the past when we talked about ideas for PVP content in the world, we often ran into the question of 'Well, what does this mean for people on PVE servers?' Are there just millions of people who don't get to experience this content at all, even if they want to?"
Hazzikostas also admitted that the WoW team has fallen behind somewhat in terms of expanding the game's PvP battles. While he admits you can't make those battles perfectly balanced, he states that the team is hoping to implement some kind of level-scaling system that might help battles feel a little fairer. 
Hazzikostas previously noted that Battle for Azeroth will incorporate elements of the Warcraft RTS games. Specifically, the expansion's Waterfront battles will play out like a WoW take on the classic strategy titles. 
"In searching for inspiration for how that might unfold, classic RTS roots felt like the perfect place to turn," said Hazzikostas. He later explained that your first job will be to get your team's base fully-functional which will require you to gather resources such as "lumber or gold" to upgrade town halls. You'll also need to clear supply lines of foes in order to allow "peons to do their thing."
The next phase of battle requires teams of players to decide how existing resources will be spent on the battles ahead. This includes the building of certain weapons and other combat resources. Finally, you will actually do battles against other teams with the resources you have accumulated. 
We're curious if the resource gathering elements will grow tedious over time and how deep the base building is, but this certainly sounds like a significant addition to the game that wonderfully touches upon Warcraft's oft-forgotten RTS roots.