News
Wolfenstein 3 Confirmed by Bethesda
Wolfenstein III will happen eventually according to Bethesda's Pete Hines.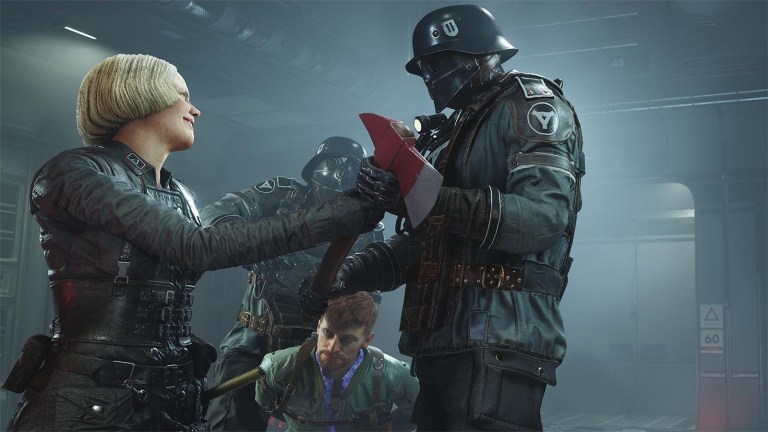 In case you were wondering, there will be a third game in Bethesda and MachineGames Wolfenstein franchise. 
Bethesda's Pete Hines confirmed as much during an interview with GameCentral in which he said that a third game in the Wolfenstein franchise will "absolutely" happen. He mentioned that the team is working on the recently announced YoungBlood as a side project in order to "take a break from the larger story," but that the current plan is for Wolfenstein III to be developed and released at some point. 
For what it's worth, the question that prompted that discussion was in relation to a desire to see the Wolfenstein story end, so it sounds like the third game in the series might just be the final part of the current story arch. 
When asked whether or not fans should worry that the situation with Wolfenstein is similar to what is happening with Arkane and the Dishonored series, Hines clarified that Arkane is just able to work on multiple things at once and that it's similar to what happens when someone like Todd Howard says that they're going to work on Starfield before they continue their work on The Elder Scrolls VI. The message seems to be that Bethesda is confident in the Wolfenstein team's ability to handle a few different projects at once without the work on one conflicting with the other. 
You may be wondering if there was ever any real doubt that we'd get Wolfenstein III, but there was some room for debate on the matter. MachineGames has certainly been implying that they intend to make a third Wolfenstein game, but the reportedly weak sales of Wolfenstein II cast a shadow of doubt over the idea that might get the chance to do so. That doubt was amplified by the reveal of Youngblood which some saw as a roadblock for the development of a Wolfenstein sequel. 
However, it sounds like Wolfenstein fans have nothing to worry about. 
Matthew Byrd is a staff writer for Den of Geek. He spends most of his days trying to pitch deep-dive analytical pieces about Killer Klowns From Outer Space to an increasingly perturbed series of editors. You can read more of his work here or find him on Twitter at @SilverTuna014.