News
Wolfenstein 2 for Nintendo Switch Launches in June
If you never played Wolfenstein II, this might be your best chance to play one of 2017's best games.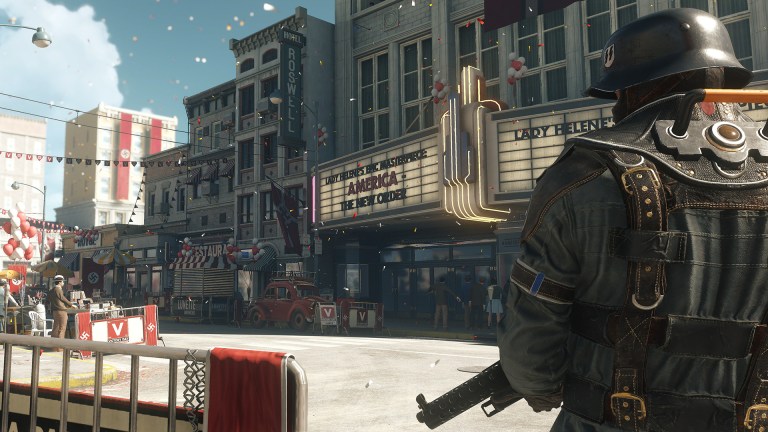 The Switch version of Wolfenstein II: The New Colossus finally has an official gameplay trailer and release date. 
Set to release on June 29th, the Nintendo Switch version of Wolfenstein II aims to do something quite impressive. Considering that Wolfenstein II released for console and PC in 2017, it couldn't have been easy to make the game playable – or enjoyable – on Nintendo's comparatively underpowered console/handheld hybrid. 
Yet, as we see in the footage above, the Nintendo Switch version of Wolfenstein II appears to function largely the same as its console brethren. Granted, you can clearly tell that the game suffers a slight dip in resolution on the Nintendo Switch – and we highly doubt that version of the game will be able to achieve or maintain 60 FPS – but if the final game plays as well as the footage suggests, then we can certainly imagine worse ways of playing Wolfenstein II than wherever you may roam with your Nintendo Switch. 
Actually, there really isn't a bad way to play Wolfenstein II as long as you play it at all. The highly-anticipated sequel to Wolfenstein: The New Order did what many considered to be the impossible by finding ways to one-up the absolute insanity of the Wolfenstein reboot. While Wolfenstein II's level design and gameplay sometimes leave a little to be desired, the sheer number of shocking moments contained in the game's story makes it a must-play experience. 
Perhaps we shouldn't be surprised that Wolfenstein II runs so well on the Switch considering that the Switch port of Doom turned out to be a surprisingly great way to enjoy the game. Again, there's no confusing that version of the game with versions of the game running on more powerful platforms, but it managed to capture the core of what made Doom work while adding the considerable benefit of being able to play it anywhere. 
We fully expect the final version of Wolfenstein II on Switch to be just as impressive and recommend that any Switch owners who haven't yet played the game keep an eye on it.