News
Will Activision charge a subscription for Call Of Duty multiplayer?
Rumours are again circulating that Activision is thinking of charging a subscription fee for Call Of Duty's multiplayer mode. Ryan takes a look at the possibilities…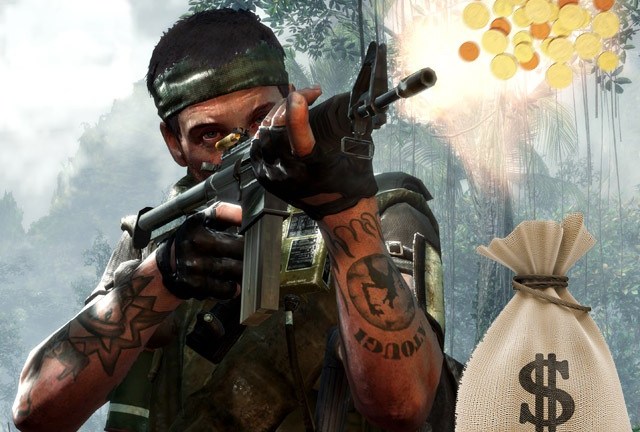 Imagine you're a restaurant proprietor. Your establishment is a massive success, and night after night, the building's full of happy customers, all quietly enjoying their scallops and pea purée.
And yet, somehow, your success isn't quite enough. Sure, the punters are having a pleasant time, paying for their meals and leaving healthy tips, but surely, as they sit at their tables for hour after hour, there's some way of making just a little extra money from them?
So as well as charging them for their meals and their drinks, you begin sneaking other charges in – slowly at first, so they don't notice too much. An additional charge for breadsticks, perhaps, or a couple of pence on the bill for a sachet of horseradish sauce. Then you get really clever, and begin charging extra for tables with cloths and candles on them, and add a ten per cent surcharge for sitting down.
You charge customers for sitting within breathing distance of the air con, or within earshot of a fiddle player. You attach a turnstile to the cloakroom, charging 50p per minute to use the toilet.
This, I'd argue, is Activision's attitude to the glowering success of the Call Of Duty franchise. COD is a series so monumentally popular that, having already released Modern Warfare 2 with an unusually high price tag of £54.99, Activision decided that it could get away with charging £10 for a set of five maps – two of which had already been seen in COD 4.
Meanwhile, industry analysts have warned for some time that Activision may be thinking about charging a subscription fee for playing COD online. In June last year, the company's CEO, Bobby Kotick, told the Wall Street Journal that, if he could snap his fingers, he would "have Call Of Duty be an online subscription service tomorrow."
Further, he suggested that paying a World Of Warcraft-style monthly fee would be a popular move among players.
"When you think about what the audience's interests are and how you could really satisfy bigger audiences with more inspired, creative opportunities, I would love to see us have an online Call Of Duty world," Kotick said. "I think our players would just have so much of a more compelling experience. I think our audiences are clamouring for it. If you look at what they're playing on Xbox Live today, we've had 1.7 billion hours of multiplayer play on Live. I think we could do a lot more to really satisfy the interests of the customers. I think we could create so many things, and make the game even more fun to play. We haven't really had a chance to do that yet."
Kotick's sentiments were underlined by an Activision plan published last March, which stated the company's desire to "further the brand as the leading action entertainment franchise in new geographies, new genres and with new digital business models."
In the wake of the rampaging success of Black Ops – which, against most expectations, outstripped the business of its predecessor by around 2.5 million copies – analysts (this time, a company called Wedbush Securities) have again predicted that some form of monthly subscription for COD is in the offing.
"Activision remains a top pick, primarily due to the company's potential to create and monetize a second tier of multiplayer online gaming for its Call Of Duty franchise," the company wrote in a January 2011 newsletter. "We expect this to occur during the first quarter of 2011."
Considering the corporate glue that holds Activision together with Blizzard, an MMO-style overhaul for the Call Of Duty franchise wouldn't be too tricky to implement from a technical standpoint. The changes elsewhere, however, would be huge.
For one thing, Activision would have to forget about churning out a COD game every 12 months, as it has for all but one year since the original appeared in 2003. Players are unlikely to want to pay out a monthly subscription for a game that will be replaced less than a year after they've purchased it.
Second, Activision will have to make a firm commitment to releasing new content each month – and plenty of it. Dedicated as COD acolytes may be, its creators will have to give players good reasons to pay for the game each month – and that means plenty of new missions, weapons and updates, not just the occasional set of new maps.
There is an argument that a gradual metamorphosis into a persistent online shooter is just what the COD franchise needs – its solo campaigns have become increasingly emaciated in recent entries in any case, and integrating its multiplayer mode into an ongoing narrative that can be undertaken with clans could give the game a much need shot in the arm.
What Wedbush appears to be predicting, however, is rather different, and would entail a premium version of the game's online mode with additional content unlocked for a monthly fee.
At the moment, this is all so much industry crystal ball gazing, but given the comments Activision has made in the past, and COD's ongoing financial success, such a move could be seen as inevitable in the long term.
If a COD subscription does appear (and it's difficult to see one being implemented quite as quickly as Wedbush claims it will), the move will represent a considerable financial gamble, and could cause irreparable damage to Activision's annual cash cow should it fail to succeed.
Any additional charge – whether it is indeed monthly, or to unlock additional items, such as weapons, clothing, or other items – will have to bring tangible benefit to the player, or improve the game in some tangible way.
The Call Of Duty franchise is already the most lucrative videogame series on the planet, and Activision could face a nasty backlash if it starts charging players per bullet.