News
Wii Fit and the Curse of Nintendo Stock Shortages
Wii Fit is out! If you can find it, that is. We take a look at the latest title to be cursed by Nintendo's failure to get enough stock into shops...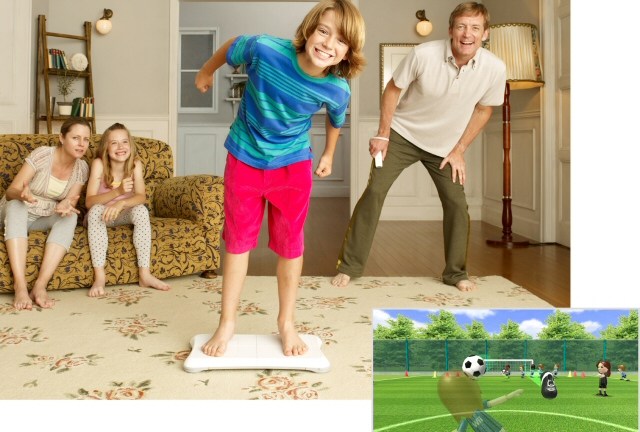 Granted, you could argue that such is the success that Nintendo is enjoying that stock problems are one of the challenges that inevitably arises. But not for the first time, a big release from the firm has led to nationwide stock shortages, and Internet forum members are once again having to knock their heads together on a nationwide search to find a copy of the latest Nintendo phenomenon, Wii Fit.
Selling for £70, Wii Fit is the game where you stand on a board in front of your telly, it tells you that you're fat, scares the bejesus out of you by giving you a Wii Fit age (usually a good decade in excess of your current age) and then practically compels you to stand there and exercise your chubby ass. Can you, er, guess what I've been doing this weekend?
However, surely it can no longer come as a surprise to Nintendo that its titles and hardware are in demand? Appreciating that stock shortages is always a good message – at the least indicating that your games are popular – it's surely now getting beyond a joke.
Last weekend, all the online retailers we scoured had long since sold out of their allocation (although that didn't stop the fine folks of Money Saving Expert from doing their damnedest to a) track a copy down, and b) try and save a few pence on it), so it was left to physical stores to meet the demand. We rang a local Gamestation up on Friday, and were told that they had enough to get through that day, although they'd be sold out by Saturday. And while we still find stock on Saturday morning at another branch, our understanding was that that didn't make the weekend either.
So to salute the fact that Nintendo, much though we love 'em, can't bang out enough copies of its products, here's our top five stock shortages of recent times…
The WiiThe highest profile shortages were reserved for Nintendo's all-conquering console, which seemingly hasn't had a run of three months of being in stock anywhere since it came out. You accept that a stock shortage is part of the launch plan of a modern day console, but when – over a year later – stores still couldn't tell you when they were getting one in, it was getting a bit silly.
The DSAnd here's the other thing. Since the launch of the Wii, how many times have you been able to walk into a shop and find that they have both the Wii and DS in stock? Just a few weeks ago, finding a DS around the fine land of Blighty was akin to survivors of the Marie Celeste landing at Felixstowe complaining of a long journey. Granted, stocks are replenished now, but surely it's only a matter of time…
Wii PlayA great one, this. On Wii launch day, you release a title with a few scrappy minigames, and throw in an extra controller, all for the amount that it'd cost you to, er, buy a controller. This naturally sent the console-to-Wii Play attach rate through the roof, and amidst all the difficulty in finding a Wii just after launch, it became equally hard to find a copy of the Play game.
The NunchukThe supply problems for the Nunchuk are long gone, but again, in the few months after the launch of the Wii, finding one was akin to uncovering a winning Lottery scratchcard in the box with your console.Mario Kart WiiThe last, pre-Wii Fit high profile release, and again, the online sellers had sold out long before launch day. Fortunately, physical stores were there to mop up the demand, and the game is now fairly easy to pick up.
Next up for the Wii is the new Super Smash Bros game. Going on current form, it's probably wise to pre-order now. While you're there, it might be worth banging in a few orders for the next Mario game, for Wii Fit 2 and for anything else you've even heard of that takes your fancy. It might be your only chance of getting them come launch day.