News
What Remains of Edith Finch: Getting Lost in the Finch House
Giant Sparrow's What Remains of Edith Finch is a narrative adventure that will surprise you at every turn.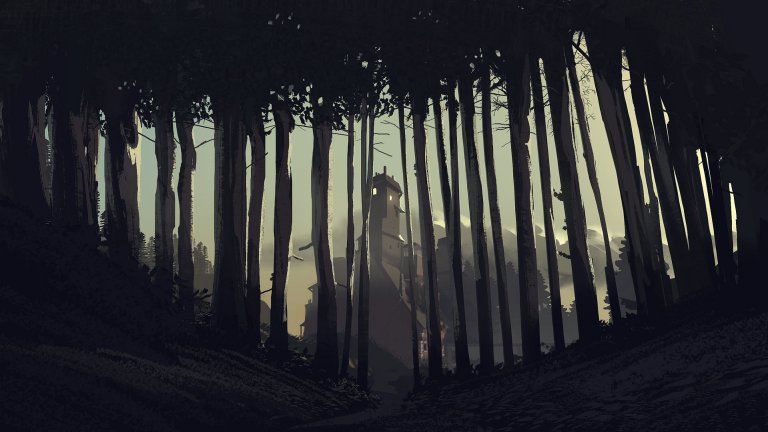 This What Remains of Edith Finch preview contains spoilers.
By the time I turned into a sea monster, I'd already morphed into a cat, an owl, and a shark, hunting down my prey (a bird, a rabbit, a terrified seal), from a tree to a field – and then a ship full of terrified sailors. Before even that I was a little girl in the pages of a dusty diary, feeling very hungry, and at the very beginning I was Edith Finch, the protagonist of Giant Sparrow's follow-up to the excellent indie adventure The Unfinished Swan. 
While What Remains of Edith Finch doesn't bare any narrative connection to The Unfinished Swan, it definitely takes a note from its predecessor's beautiful, minimalist storytelling, as Giant Sparrow unfurls a tale of a woman trying to discover her family's past. The interwoven stories of Edith's house and her ancestors are surreal fantasies that remind one of how wonderfully twisted memories can become from one generation to the next. What was once experience, a life lived, turns into a tall tale. Everything feels magical in the Finch house, and there isn't much concern for fact. Just the truth Edith is trying to find. 
I played a thirty-minute demo of the game at this year's PAX East in an unfortunately loud open area of a Boston convention center. All of the background noise did my time with the game a bit of a disservice. I would've preferred a dark room somewhere, enveloped by Edith's world – the way I plan to play the game when it arrives next month. That said, my surroundings can't take away from the fact that What Remains of Edith Finch is immediately captivating, as I first approached the old Finch house in Washington, an unlikely structure in the middle of an ancient woodland.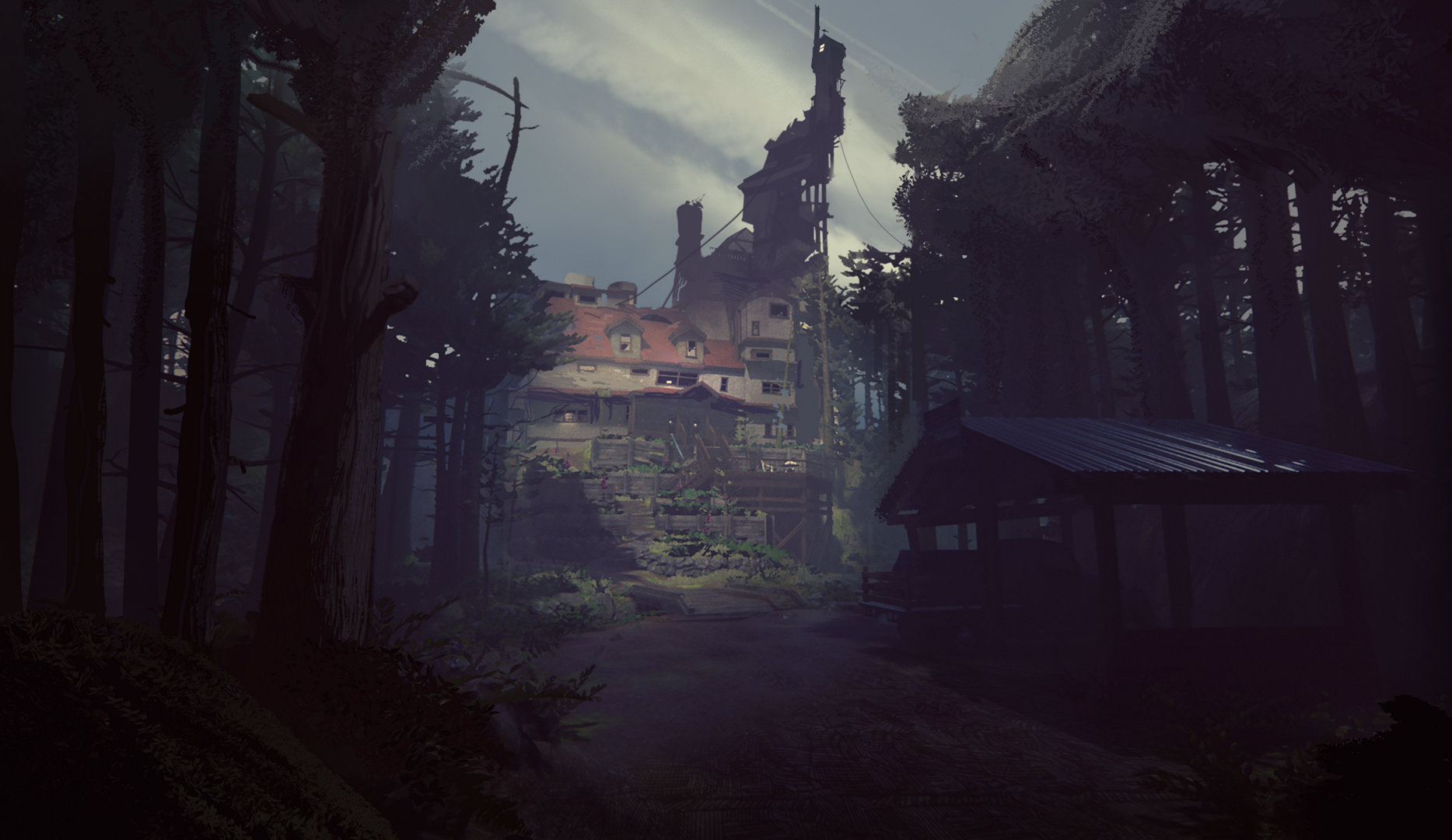 The house itself is a tall tale, a large structure with endless additions and renovations, a gigantic building built on top of itself through generations so that the entire history of a family stands over the woods. The look of the Finch house actually reminds me of the real-life Winchester house, an architectural curiosity without a building plan, a place continually expanded on a whim or perhaps due to madness. And like that famous mansion in California, the Finch house feels haunted, not necessarily by ghosts but by memory. 
Stepping into the house for the first time, I felt that perhaps this could turn into a horror game – a feeling you might remember from another exploration adventure game, Gone Home. The Finch house is just so eerie, full of old Chinese take-out boxes, moldering bills, walls filled with knick knacks, and voices from the past. Edith reveals that she too lived in this house at one point and that she remembers how the Chinese restaurant was the only place that would deliver to the woods. 
"We ate Chinese a lot," says Edith in a moment of reflection. It's narrative flourishes like this that ground the story a little, that set up the game's most important rule: that not every single thing you see, hear, or read for the next few hours is fact. And how could it be? You get the sense as you learn more about Edith's family (and Edith herself) that these characters live inside their own heads, and that, like their unruly house, that place can get a bit messy. 
The demo didn't give away much in terms of the larger narrative, but there were bits and pieces sprinkled throughout that tease what might have happened to the Finch family, which seems to live on only in memory by the time we first meet Edith on a ship off the coast of Washington. Edith is the last surviving Finch after a century's long curse befell her family.
The demise of each member of the Finch family is told in a series of stories that make up a large portion of the game, and through letters, diary passages, and other records Edith gets to relive the death of each family member. 
"There's death but there's also — in each of these stories, you as a player are coming into contact with the unknown because you have no idea what's going to happen," Ian Dallas, the creative director of What Remains of Edith Finch, told Engadget about the game back in December. "Each story is completely different. But they all end in death."
It's grim subject matter to be sure, but Giant Sparrow delivers a heavy dose of magic realism with each story. If you're a fan of short stories, the closest I can get to describing the tone of each section is perhaps something out of the work of William Faulkner or Gabriel Garcia Marquez. Maybe even the romantic singsong of a Sherwood Anderson story. Dallas was unsurprisingly inspired by Jorge Luis Borges and H.P. Lovecraft for the game's more supernatural and creepy aspects, such as one of the sections I played in the demo. 
Fittingly, the only short story in the demo was about the first little girl to die in the house, who is sent to her room without supper. She refuses to go to bed hungry, so she begins to eat the strange things she find in her bedroom, such as hamster food and toothpaste. But that doesn't satisfy her. She spots a bird outside of her window with a hungry eye, a surreal moment that I assumed would lead to her death as she tried to climb out of her very high window.
It seems that What Remains of Edith Finch is very good at veering down unexpected paths, as the little girl suddenly morphs into a cat, jumping from branch to branch in pursuit of the bird. In terms of controls, there's nothing that feels especially cat-like. You simply pad towards the bird and jump after it when it flies away. Yet there is something really riveting about being a cat in this game. Until you morph into an owl in pursuit of a herd of rabbit, and then a shark falling through the woods and into the sea. The shark portion of the little girl's fantasy is especially gruesome, as you slowly devour a poor, bleeding seal with your sharp teeth. Giant Sparrow isn't very shy about showing the gore, either, so if you're very sensitive about animals, this might be a pretty upsetting section for you. 
The little girl devours everything in her path, most notably as a sea monster that eats a ship's crew, a poignant moment narrated by the calculating little girl, who demonstrates a disturbing precision – as if she's done these things over and over in her head – and focus in her gruesome work.
"I think there's something inherently surreal about childhood," Dallas told Engadget. That surrealism really shined through in the demo, and Dallas promised that there would be more sections featuring children. He explained that children were the logical choice for many of the stories, which he described as being infused with "surreal joy and childlike wonder."
I know I haven't discussed the actual gameplay because there really isn't that much there beyond walking and a couple of button prompts. What Remains of Edith Finch is for all intents and purposes a walking simulator that lives or dies by the strength of its storytelling. And as I've already said, what I've experienced of the narrative is just fantastic. 
What Remains of Edith Finch is one of those rare games that really surprises you with the earnestness of its intent. It wants to tell a good story without any gimmicks or convoluted gameplay mechanics. It simply wants to grab you and make you get lost in Edith's head, in the unbelievable memories of her ancestors. I'm hoping to find something meaningful in the rest of the game's story, and like Edith, perhaps start feeling right at home in this very strange house.
What Remains of Edith Finch is out on April 25 for PS4 and PC.