News
What Castlevania Looks Like as a First-Person Shooter
The game nobody asked for actually looks quite fun.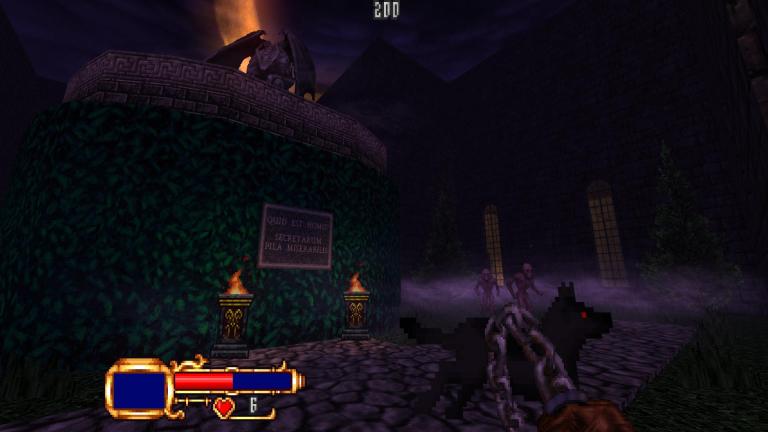 Castlevania has been a great 2D game franchise and a questionable 3D game franchise, but this new fan project imagines what Castlevania might look like as a first-person shooter. 
While we're not sure that anybody has ever really requested a first-person shooter take on the Castlevania franchise, that didn't stop a fan by the name of Batandy from creating Castlevania: Simon's Destiny. 
This project is actually a remake of the original Castlevania for the NES, but you'll be forgiven for not recognizing it as such considering that its first-person perspective essentially turns the NES classic into something else entirely. Indeed, Simon Destiny's most obvious ties to the franchise are all relatively minor. You'll still use a whip, for instance, you'll still rely on holy water, and there are still plenty of skeletons to show what for. 
However, Simon's Destiny is not Metroid Prime. It doesn't aim to preserve and evolve the essence of the Castlevania franchise while utilizing a first-person format. Instead, it imagines what Castlevania might look like as a more action-oriented first-person shooter. In fact, the game really does resemble an old-school Doom mod. 
Having said that, one could make the argument that this fan project does a pretty respectable job of reminding you just how fun those original Castlevania games were while also implementing an unusual change in perspective. If you'll recall, 2D Castlevania games were all about the joy of whipping your way through classic horror environments while occasionally cursing at your own incompetence. While the fluidity of those action experiences doesn't quite translate to the first-person shooter format, there is an odd sense of joy to be found to be found in running through the project's levels and destroying everything that comes your way. 
If you're curious if this idea is worth exploring further in the future – should Konami ever decide to make a fully-fledged Castlevania game again – you can download Simon's Destiny for free right here.