Reviews
We Sing Robbie Williams Nintendo Wii review
Love Robbie Williams? Enjoy singing in your living room? Then We Sing Robbie Williams may well be the game for you. Anthony takes a closer look…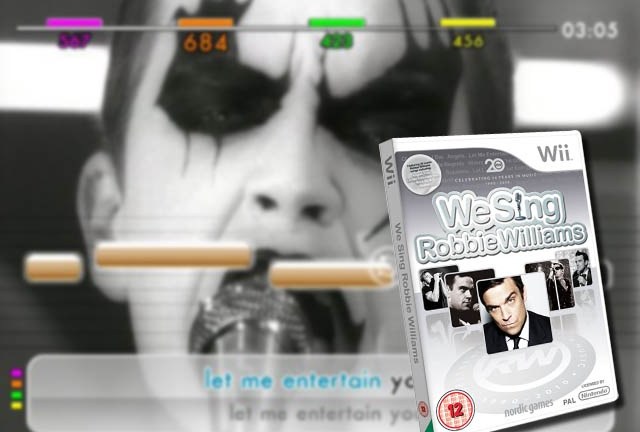 Why Robbie Williams? That surely is the burning question here. After all, he's hardly at his peak right now, having rejoined Take That and failing to really succeed in North America. Of all the multinational rock stars to choose for the basis of a Wii singing gaming, why go for this guy?
Well, apparently, it's to celebrate him being in the music biz for 20 years. Also, I'm guessing titles like this aren't very expensive to produce, so it's still worth bringing this out, in spite of Robbie mania having faded significantly at this point. Not that I'm a Robbie hater, though – in all honesty I'm really quite indifferent to the man. Indeed, I'm at that point in my life where I can listen to a Take That song and hum along without shame or even a sense of irony.
Regardless, I just can't understand why this is coming out now, and why someone more fashionable and up to date hasn't been chosen. I would name an example, but unfortunately the last time I knew what music was fashionable and up to date, downloading an MP3 involved Netscape Navigator and the screeching of a 56k modem.
In fact, I suppose it's quite possible that Robbie Williams went out of fashion, but is now at the point that he's trendy again – like flares and the Tory party. Somehow I doubt it, though. I could check the latest singles charts to find out, but I don't want to, because it'll make me angry, and I'll start moaning like an old man about how music was better in my day (which it was).
At this point, this is starting to read like a review of Robbie Williams rather than a Wii game, and no doubt it'll attract a few negative comments or, even worse, none at all, but I stick by my words. The fact is if you don't like Robbie Williams, you'll hate this version of We Sing. If you do, you'll probably think it's the best thing since choc chip cookies.
If, however, you're the kind of person that will happily drone along with the iconic Angels like you're at a wedding reception in 1997 but who writhes in agony when you hear the ear-bursting awfulness of Somethin' Stupid, then, like me, you'd have to think carefully about buying this game. For every rousing, memorable anthem there seem to be two mediocre or just plain bad pop jingles, and the promise of unlockable concert footage, a photo gallery and one bonus song (Shame) do nothing to help the situation. Again, though, if you're a real fan, you'll no doubt eat this up.
Other than the fact it's a Robbie Williams edition, though, this version of We Sing is pretty much business as usual. That means you get a wide selection of game modes and it supports up to four players at once (two microphones are included with the game).
If you're desperate to sing along with the dancer out of Take That, you're really can't go wrong with We Sing Robbie Williams. If, however, every time you see his face or his hear his voice, you want to make small animals die, then it's unlikely you'd be even reading this review.
For all those of us that occupy the middle ground, check the song listing first to see how many of his tunes you actually know before considering making a purchase.
We Sing Robbie Williams is out now and available from the Den Of Geek Store.
Follow Den Of Geek on Twitter right here.