News
Watch Julian Lytle Draw Mike Haggar From Final Fight!
At New York Comic Con, we asked Julian Lytle to draw us Final Fight's Mike Haggar with ANY object. Here's what he came up with.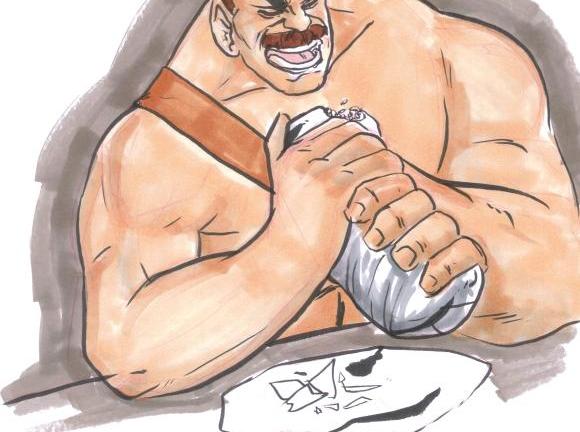 One of the time-tested traditions of Comic Con attendance is strolling around artist's alley and getting sketches from the talented individuals at the tables. We were lucky enough to bump into Julian Lytle, writer and artist of brilliant webcomic, Ants, and he was kind enough to agree to our ridiculous request for a sketch. How ridiculous?
Den of Geek's own Gavin Jasper had a personal sketchbook mission at this year's NYCC: to get as many artists as possible to draw Final Fight's Mayor Mike Haggar with ANY object whatsoever as part of the "Mike Haggar plus prop challenge." While Mike Haggar is the main subject, the object would be of the artist's choosing. Julian Lytle, gentleman that he is, chose to draw a terrific Mike Haggar with…a burrito! 
Here's how it all went down…with appropriate music to set the mood.