Features
Watch an interview with Skyward Sword producers Shigeru Miyamoto and Eiji Aonuma
Two of the creative lights behind Skyward Sword, Shigeru Miyamoto and Eiji Aonuma, talk about the making of the game in a superb video interview…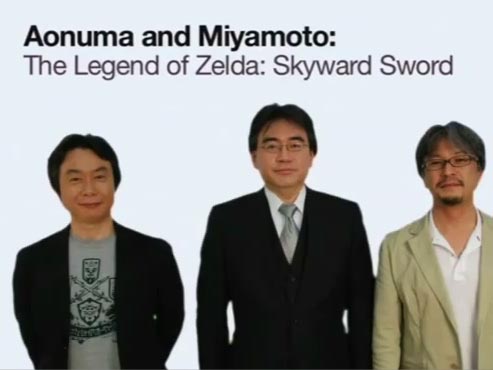 As a companion piece to our look at the making of Skyward Sword, here's a fascinating video interview with producers Shigeru Miyamoto and Eiji Aonuma, chaired by Nintendo president Satoru Iwata. Filmed a year ago at the 2010 E3 expo, while the pair were busily completing the latest in the Zelda series, the interview offers a fascinating insight into the game's design process; from their early attempts to integrate MotionPlus controls into its sword fighting, to improving on the mechanics and layout of Twilight Princess.
It's worth noting, in fact, just how honest the pair are about the previous game's achievements and drawbacks, and how much effort they've put into making Skyward Sword the ultimate Zelda game for the Wii. "By pursuing why the Zelda games are fun, you boil it down and make it denser," Iwata suggests. "That's what this new game is about, right?"
The interview's a great look at the creative thinking behind Nintendo's finest game of the year. You can read our making of Skyward Sword feature here, and, of course, the game itself is out in shops now.
Follow Den Of Geek on Twitter right here. And be our Facebook chum here.