News
Wargroove Is a Medieval Version of Advance Wars
This is likely the closest we'll come to a new Advance Wars, and that is far from a bad thing.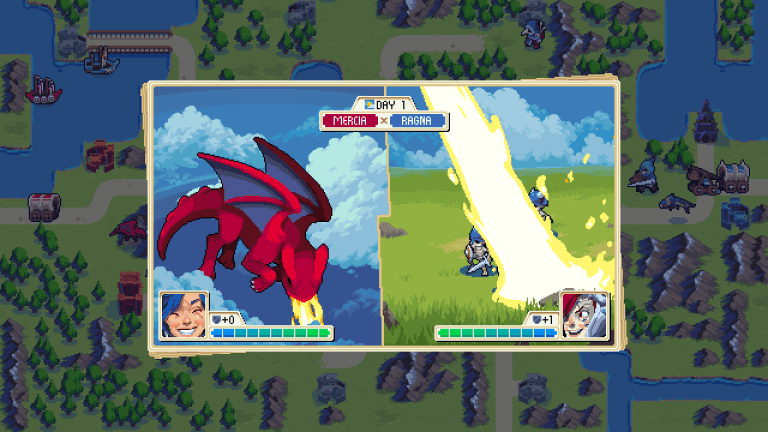 Chucklefish, the studio that published such titles as Stardew Valley and Risk of Rain, revealed a new trailer for Wargroove during the PC Gaming Show at E3 2017. 
To be clear, Wargroove is not officially related to the Advance Wars franchise. The reason that you might have a hard time believing that is the case is because Wargroove is pretty much a medieval version of Advance Wars. The game is a shameless replica of the Advance Wars formula right down the interface and the functionality of certain unit types. 
Of course, since nobody at Nintendo seems to be in a hurry to make a new Advance Wars game anytime soon, we happily accept an alternate take on the series. Besides, Wargroove distinguishes itself from the Advance Wars franchise in several key ways. The most notable of these characteristics is, of course, the game's medieval world which will no doubt remind many of the Fire Emblem franchise. 
A bit of Fire Emblem's influence can also be found in the game's unit system which typically assigns you a key character who must stay alive throughout the battle. It's not quite clear if these units will be present in any battle, but they seem to play a big part in the game's 12 campaigns. Speaking of units, the variety of character types displayed in this latest trailer certainly showcase that unique brand of charm that Chucklefish is known for. 
Members of the Chucklefish team revealed during the PC Gaming Show that Wargroove will also feature both a multiplayer map creator mode and a campaign creation mode. Even better, you can share your custom creations online via a system similar to the one seen in Mario Maker. These maps will be playable via the game's online and local multiplayer options. 
Wargroove is set to be released sometime in 2017 for Xbox One, PC, and Nintendo Switch. There's no word on a PS4 version of the game at this time.