News
Warframe Coming to Nintendo Switch in November
Warframe, one of the best free-to-play games on the market, is about to get a new home on the Nintendo Switch.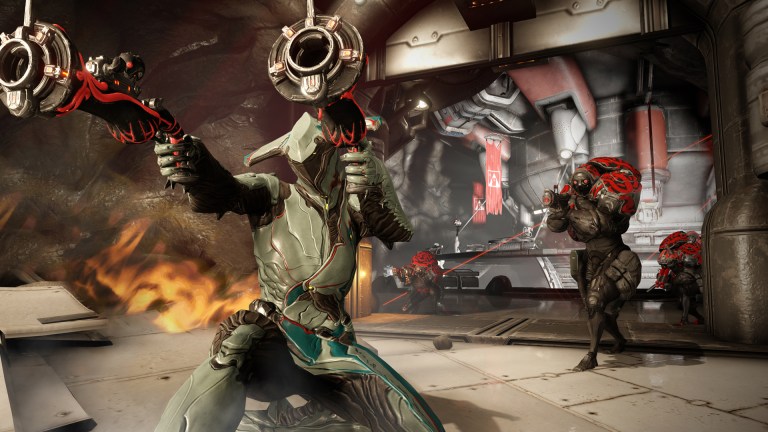 Popular sci-fi shooter Warframe is coming to the Nintendo Switch on Nov. 20, as revealed by September's Nintendo Direct. Check out the trailer for the port:
The port was first announced at TennoCon 2018, the third annual Warframe convention. There, developer Digital Extremes revealed that Panic Button, the team responsible for the exceptional Switch ports of Doom, Rocket League, and Wolfenstein: The New Colossus, will be handling this Switch port of the game.  
If you haven't been following Warframe over the last few years, then you've missed out on the development of one of the most fascinating free-to-play titles on the market. In some ways, Warframe is comparable to a third-person Destiny. Players are thrown into a universe where they have the option of taking on challenges alone or as part of a group. All the while, they are acquiring new skills and increase the effectiveness of their Warframe suits via a variety of customization options. 
Warframe's wealth of content is made all the more impressive by the fact that the game is truly free-to-play. You'll have to grind for levels at the beginning like you will in games like Destiny and Diablo, but Warframe isn't trying to squeeze extra dollars out of you with the promise that you'll get ahead faster if you pay more. 
In fact, the game's content is about to be bolstered further by the addition of a co-op spaceship combat system. More than just an afterthought, this mode looks deep enough to justify being a standalone game. Every member of the ship's crew is assigned a combat station. Much like the revolutionary indie title FTL, crew members will need to cooperate and manage ship resources in order to survive battles. Players are even capable of leaving the larger ship and battling against smaller troops in a personal fighter craft. 
While Digital Extremes didn't reveal much information about how this new mode will be incorporated into the current game, they do plan on ensuring that these ships offer just as many customization options as players are able to access in the rest of the game.
Matthew Byrd is a staff writer for Den of Geek. He spends most of his days trying to pitch deep-dive analytical pieces about Killer Klowns From Outer Space to an increasingly perturbed series of editors. You can read more of his work here or find him on Twitter at @SilverTuna014.