News
Versus: This Week in eSports
Everyone has a plan, until they get punched in the mouth. Here's this week's headlines in the world of eSports...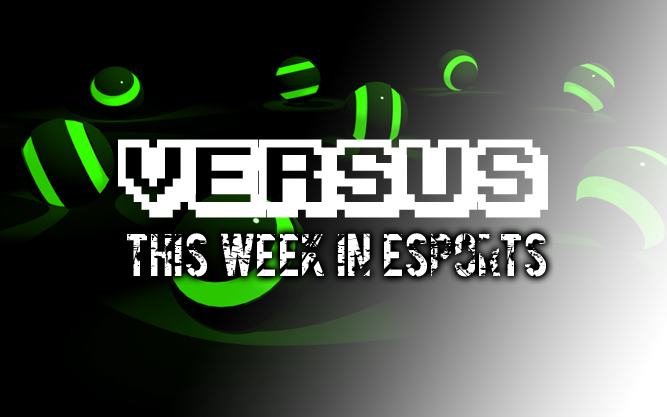 It's been a couple of weeks since the last edition of this column, so let's get right to your competitive gaming fix, stat.

The International 3 and WCS Regional Finals
Much has already been written about The International 3 and the Starcraft II WCS Regional Finals so we won't dwell for too long on those subjects.
Still, congratulations are in order to Alliance for winning the largest grand prize in eSports history of 1.4 million dollars in The International 3 Grand Finals. The Swedes continued their recent DOTA 2 domination by taking out Natus Vincere, runner up for the second year in a row. This was Alliance's ninth DOTA 2 tournament victory. Not bad for a team that only entered their first DOTA 2 competition in April.
The Grand Finals were truly epic as the series went the full five games. More than one million people tuned in to watch at some point during the tournament, doubling 2012's viewership numbers. This number was just short of the 1.1 million that watched League of Legends' Season 2 Finals. It's pretty clear that the rivalry between the two popular MOBAs is heating up.
Starcraft II's 2013 Season 2 Regional Finals also completed the same weekend as The International 3. The final match results:
America: Polt defeated Jaedong
Europe: duckdeok defeated MC
Korea: Maru defeated Rain
The overall standings still show South Korean domination, with the Asian nation holding down 14 of the 16 qualifying spots for the Global Finals this November.

Season 2 Finals
Gamers and eSports fans now turn their attention to the WCS Season 2 Finals, taking place later this week at Gamescom in Germany. The event is slated for August 23 to 25th. The event will feature the top 5 from the American and Korean finals and top 6 from Europe as Germany is the hosting region.
The American region will send Polt, Jaedong, TaeJa, Scarlett and aLive. The European bracket sends duckdeok, MC, Grubby, Welmu, NaNiwa and MMA. Maru, Rain, First, iNnoVation and Bomber qualified out of the Korean region. We should note here that Chinese player Jim actually qualified out of the American bracket but will not be going due to visa issues, which allowed aLive to enter.
The finals will be streamed on Twitch and of course, the official WCS site. The prize pool for the championship round is $150,000, with the winner taking $40,000. 17,000 WCS points are up for grabs to be applied to the global standings.
The standings for the global finals could see a major shakeup depending on the results. Scarlett, Welmu, Grubby, MMA, Rain, First and Bomber are all currently outside of the top 16. The winner of the Finals gets 3,000 points so all of these players still have a chance to position themselves for the Global Finals at Blizzcon.

Call of Duty
Activision's Call of Duty franchise continues to gain momentum in the world of eSports. UMG Atlanta took place to great reviews two weekends ago and UMG Dallas was just announced this past week to be taking place this October. The event will feature a $20,000 purse.
Eight top Black Ops II teams will also compete next week in Seattle at PAX Prime. The Turtle Beach MLG Pax Prime invitational will include $10,000 in prizes.
The size of these pots might be a far cry from the likes of a DOTA 2 or even Starcraft II prize pool, but it's clear that more and more games are taking advantage of eSports recent popularity explosion. The PAX tournament will be broadcast live on MLG's website.
MLG also announced this past week that MLG Columbus will be the first appearance of Call of Duty: Ghosts on the pro circuit. It was announced that the Hardpoint and Capture the Flag game modes would be dropped for Ghosts, there is no word yet on replacements.
Black Ops II has recently gained some traction within the eSports community but gamers are really looking forward to the next edition of the franchise which will eventually release on next-generation consoles. The game releases November 5 for Xbox 360, Playstation 3, PC and Wii U. The Columbus event takes place later that month.

News Roundup
Pro gamers might want to check out a study conducted at North Carolina State University which claims to have come up with a technique that can greatly increase player chances of winning in online team-based strategy games like League of Legends and DOTA 2. The study figures out the precise time to upgrade certain skills or items to guarantee success. As one example, the study found that if a Starcraft II team is made up of Terrans and Zerg, the chances of winning the game is more than 70 percent if the Zerg population has a high growth rate and the Terran population has a low growth rate.
The study doesn't do much to account for adjusting on the fly. As Mike Tyson once said, "everyone has a plan until they get punched in the mouth." Still, it's an interesting look at statistics in video games that perhaps could give the average player an edge.
Nissan just announced a partnership with Team Curse's League of Legends players to advertise its Versa Note automobile. Pro gamers have gotten money from advertisers before, but Nissan doesn't sell gaming keyboards and energy drinks. The massive audience that eSports is now pulling in seems to be attracting some major partners. Could we one day see a McDonald's commercial for The International featuring pro gamers like this old Super Bowl spot featuring Michael Jordan and Larry Bird? It definitely seems like we're heading down that path.
Two games to keep on your watch list for possible future eSports action are coming into view this week. Blizzard put its Hearthstone card game into closed beta in the last few days. The game has been quite popular on Twitch as Blizzard is encouraging live streaming of the beta. It remains to be seen if a card game can find enough players to form a competitive gaming component, but being that this is a Blizzard game, it should definitely be on your radar.
Finally, another curiosity will be releasing August 20 as Divekick hits Playstation 3, Vita and PC. The game features cross-buy and online cross-play between the Sony platforms. Anyone who has played the game at a PAX or another games convention knows that the two button masher has a surprising amount of depth to it. It could be a fun edition to fighting game tournaments in the future.