News
Unreal Tournament: Epic Shuts Down Revival Project
Epic will no longer develop the previously promised new Unreal Tournament game.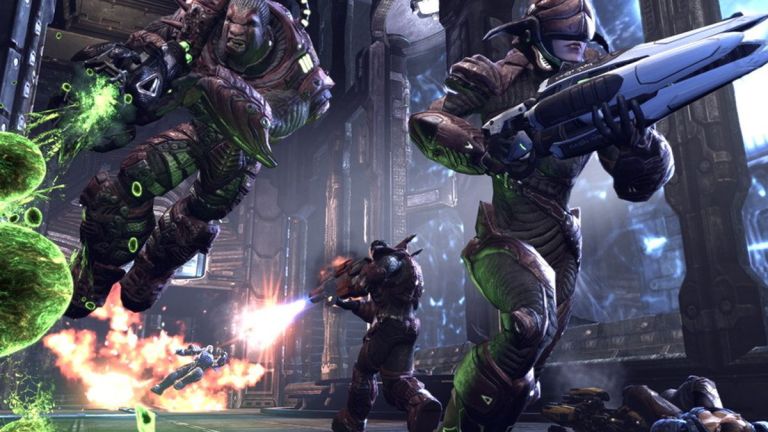 Epic is ending development of its planned Unreal Tournament revival.
"Unreal Tournament remains available in the store but isn't actively developed," said Epic Games CEO Tim Sweeney in an interview with Variety. That statement supports previous statements from Unreal Tournament developers who noted that the company is devoting much more of its focus and resources to Fortnite. That led many familiar with the company's workings to believe that other, smaller projects may take a hit. 
Now, it seems that hit has come in the form of Epic abandoning all plans to continue developing their revitalization of the Unreal Tournament series. Until this point, the game had existed as kind of a pet project that was being constantly (if slowly) updated. As such, we're a little surprised that it's seemingly being outright axed. You'd think that Epic could have kept a skeleton crew on the project. However, it seems that Epic may become the "Fortnite company" for the foreseeable future. 
If it's any consolation, Sweeney did tell Variety that "We've recently worked with GOG on making classic Epic Games titles available and we're planning to bring more of them to the store in their original glory." It's not entirely clear which games he is referring to (Unreal Tournament and Unreal Tournament 2004 are already on GOG), but this may at least mean that Epic is interested in preserving their gaming history in forms other than remakes and remasters.
There are two other factors to consider when understanding Epic's decision to abandon this project. The first is mere speculation, but you have to believe the apparent struggles of Quake Champions may have led Epic to believe that Unreal Tournament's attempt to find any traction may be an uphill battle. The prevailing theory is that the old arena shooter genre just isn't ready for a comeback. 
The much bigger contributor to this decision, though, is likely the recent reveal of Epic's upcoming online games retail store which they hope will be a legitimate contender to Steam. 
Matthew Byrd is a staff writer for Den of Geek. He spends most of his days trying to pitch deep-dive analytical pieces about Killer Klowns From Outer Space to an increasingly perturbed series of editors. You can read more of his work here or find him on Twitter at @SilverTuna014.