News
Ubisoft E3 Press Conference
There may not be any BIG surprises with Ubisoft's E3 announcements, but there's plenty of quality games on display from the manufacturer of the Just Dance series.
Many would have said that this year's E3 conference was Ubisoft's to lose. After all, with so many great next-gen games already announced for the horizon, they would have to focus on the next Just Dance game for the entire hour to really miss the mark. Thankfully, everything in Ubisoft's E3 presentation was wonderfully paced, and did a lot to get everyone excited about what the future has in store. And despite a very noticeable lack of surprises or game announcements that we never knew existed before, Ubisoft still managed to show that they are a very current and dominant force in today's industry and will easily become an important factor in how we end up gaming in the fall, in 2014, and beyond. So here is the complete rundown of Ubisoft's presentation at E3 this afternoon:
One of the bigger questions that everyone seemed to be asking today was, "What would Ubisoft open their conference with?" After all, they have a stellar lineup of upcoming titles including Assassin's Creed IV: Black Flag and the completely mesmerizing stealth open world game Watch Dogs, so they certainly had a lot to choose from, right? Well it turns out that Ubisoft instead opted for a weird and somewhat ridiculous opening with an electric guitar solo from Jerry Cantrell of Alice in Chains. It took a second for me to realize that he was actually demoing Rocksmith 2014, a sort-of-kind-of successor to Guitar Hero, with the main difference being that you actually get to play a real guitar and learn how to play the instrument in the process. But still with that being said, this opening didn't really have the POW! that I was expecting, and Cantrell's solo just seemed to go on for way too long when all I wanted to be seeing was new gameplay footage.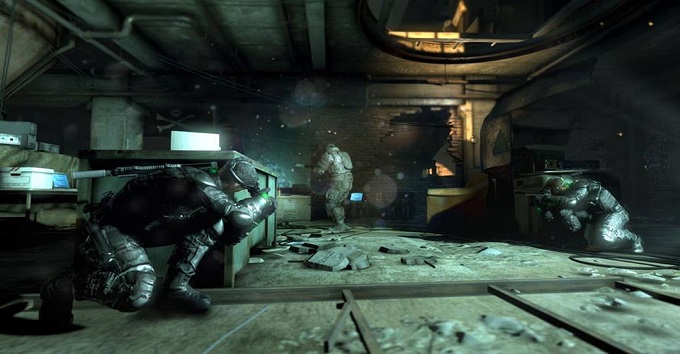 After the bizarre guitar solo-infused opening, comedian Aisha Tyler returned to the Ubisoft stage as the host of the conference, and her high-energy very easily met the excitement you could feel resonating around the room. Without wasting any time, Tyler went right into an upcoming title that was first announced at last year's E3, Splinter Cell: Blacklist. This time around, we get a much more in-depth and cinematic look at Blacklist, with all the smoke, explosions, and high-tech counter intelligence that you would expect from a Splinter Cell game.
Next up was Rayman Legends, a game that was also heavily featured at last year's E3 and received numerous awards. Now don't get me wrong, Rayman Legends still looks incredibly stunning, and as a huge fan of 2011's Rayman Origins, the game will be a no-brainer day-one purchase for me. But I can't help but feel like my excitement for the game was exhausted at last year's E3: back when legends was first supposed to come out in December of 2012 after the Wii U's release, and then again in February of 2013, and now in September 2013 after the whole exclusivity agreement was pulled out from under Nintendo's feet and delayed across all versions. Tyler even mentioned the fact that gamers have been waiting a long time for this one, and we do ultimately get some exclusive new gameplay footage of what promises to be "The Biggest Rayman Ever," and I have to admit that it did manage to make me excited for the highly-delayed release all over again.
Following the old, we finally get something relatively new (or at least something that hasn't been previewed ad nauseam before): a quirky new freemium game called The Mighty Quest for Epic Loot. While we didn't really get a good look at the gameplay footage for this one, we DID get a wonderfully animated cut scene that made me think of a 3D fairytale movie (you know, if Prince Charming had the mouth of a sailor and everyone else in his Royal Court was just as gnarly). But the really cool thing about this one is that the game has actually entered into a closed beta period today, and players who are interested in robbing their friends of their most precious loot can join in on all of the sure-to-be epic fun at www.themightyquest.com (just so long as you don't mind a bit of bleeped-out swearing here and there!).
Another game that's been heavily delayed (thanks to THQ's bankruptcy) came up in the ranks, and I'm sure you know the one: South Park: The Stick of Truth. Even though we only got a very brief new cinematic trailer, the game looks to be just as offensive and hilarious as ever, with veteran South Park character Randy Marker teaching one of the children how to perform a deadly and epic fart. At the end of the clip, Eric Cartman himself even acknowledges the long delays of the game, and tells the audience that The Stick of Truth will be out this holiday season, "or at least some Holiday season – you know how video games are." Cartman's humor was matched by Tyler's throughout the show, with the female comedian constantly ragging on her own "monstrous" height, and spitting out one-liners like "Nothing more fun that a giant black lady screaming at you… in bed." A bit over the top? Perhaps, but it definitely fit the fun and exciting atmosphere of the show.
When moving into the next-gen segment of the show, Tyler tells the crowd that they could either get excited about all of the next-gen content that's coming up on the horizon, or you can just be "pissy like the internet." I, for one, have nothing to be even remotely "pissy" about, because the first completely new next-gen game they showed next was a title called The Crew, a gorgeously realistic racing game that's slated for release sometime in early 2014. Being a fully online game, the world of The Crew is constantly being changed by events that occur online in real-time, and the lines are consistently blurred between which racers you meet are computer A.I. and which ones are real gamer rivals.
Ubisoft is definitely building this one up to be one of the big games they release in 2014, with an expansive live demo that featured a few of the many diverse environments that are set to appear in the game, as well as a small glimpse of the different online perspectives as they all happen concurrently in real-time. There was some really cool stuff going on here, and the demo felt like both a single-player and multiplayer game at the same time: which is certainly something to say of a racing-focused game.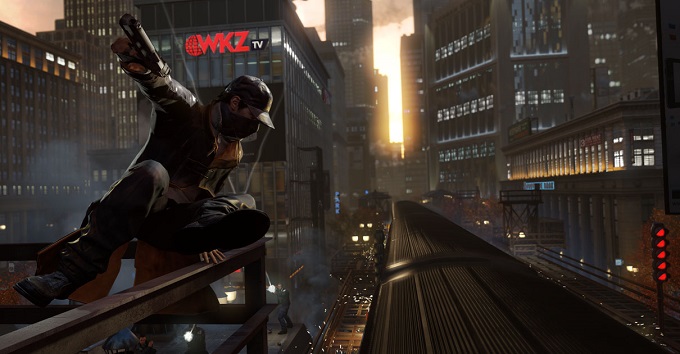 Unfortunately, The Crew demo seemed to stretch on for just a little too long, and after the ten-minute mark I was already itching to see something new. After bringing out Tyler to talk about the game's second screen functionality with a participating tablet device, we finally got the lead in we were looking for with Watch Dogs, one of the most anticipated new games for future console iterations. Tyler claims that Watch Dogs is a game that has "already come to define next-gen," and I couldn't agree with that sentiment more. Watch Dogs is a game that positively screams next-gen: not only because the graphics look completely out of this world, but because the gameplay seems like nothing I've ever seen before. After all, what other video game do you know that lets you literally hack into the moving world around you and alter the course of the gameplay, as well as the different environments?
Shifting gears entirely after the incredible Watch Dogs, Ubisoft decided to next pull out Just Dance 2014, because what kind of Ubisoft press conference would it be without Just Dance 2014? It's not like we all weren't entirely expecting it, but it still surprises me that they always feel the need to keep setting time aside in these presentations to showcase it. But enough about that, because the Rabbids from Rayman Raving Rabbids are back with Rabbids Invasion, a new TV show on Nickelodeon that actually allows you to PLAY the TV show right on your TV screen. I know my mind was blown also. And as you might have imagined, Microsoft is at the crossroads of this new TV show and gaming hybrid, and the experience will be exclusive to the upcoming Xbox One. However, despite the seemingly TV gimmick, the game really doesn't look like anything more beyond another Rabbids-infused collection of mini-games. Still, I've got to give the folks at Ubisoft some props because the graphics look great and the idea is pretty cool.
Almost more inevitable than the next Just Dance game was the showcase on Assassin's Creed IV: Black Flag. Now, I have my own reservations about the Assassin's Creed series, and have opted not to purchase the latest next-gen iteration for reasons that I don't need to get into here. But regardless of my weariness with this now yearly franchise, there's still no denying that the cinematics in an Assassin's Creed game are easily some of the best around, and the whole new pirate theme seems to work extremely well from the looks of things. I'm sure everyone's seen footage of the game and heard all about it already, since Ubisoft was very quick to announce the game merely months after Assassin's Creed III was released, and they didn't really go into too many new details this afternoon that we didn't already know or fully expected before.
Following Assassin's Creed IV: Black Flag were the announcements of two new installments in the popular motorcycle physics-racing franchise Trials, called Trials: Fusion and Trials: Frontier. Trials: Fusion will debut on all of the current and next-generation consoles, as well as PC, while Trials: Frontier will strictly be released on mobile devices. Finally, Ubisoft closed out the show with another new IP for next-generation consoles from Massive Entertainment called The Division, a dark and gritty RPG about a viral infection that begins taking down the world and destroying social order. The debut trailer was incredibly cinematic and told a great narrative tale, and the glimpse of third-person gameplay felt incredibly real and engrossing. My favorite part was the digital map that actually materializes on the floor around your character whenever you activate it (it should be noted that it looked like the developer was demoing the game on PlayStation 4 hardware, judging by the controller).
But in the end, while the total package was certainly strong, what the Ubisoft press conference ultimately seemed to lack was surprises. While the games featured were all impeccable in their own right, everything they showcased were games that we had already seen before in some sort of capacity. While The Crew was a nice change of pace and looked stunningly great, and the Rabbids Invasion TV show was kind of cool, neither was really so much of a "surprise" as it was an impressive new game announcement. However, the real fact of the matter is, surprise or not, these games still exist, and I think they're all going to be completely amazing to play once that time finally comes.
Like us on Facebook and follow us on Twitter for all news updates related to the world of geek. And Google+, if that's your thing!