News
Typing Of The Dead: a forgotten classic?
Zombies. The House of the Dead games. And a typing tutor?! It really happened, and the result was quite brilliant...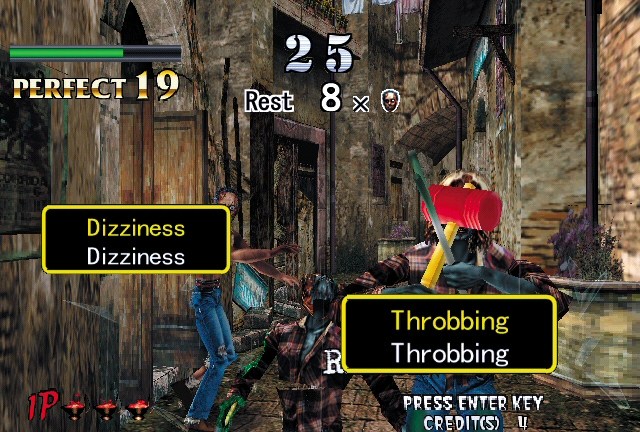 Typing tutors are supposed to be dull, or just have the mush of Mavis Beacon plastered all over them. Or they were the kind of things you may have had at school, where you were expected to robotically repeat phrase after phrase until your speed and accuracy was reported back.
Well humbug to that, because at the start of the decade, the finest typing tutor of all time (a bizarre crown if ever there was one) was invented, in a one-off diversion for the House Of The Dead franchise that would never, to date, be repeated again.
The title was Typing Of The Dead, originally intended for the Sega Dreamcast (a format it was released on overseas) but only released in Blighty on PC. And it was a hoot. It basically took the game of House Of The Dead 2, added a keyboard to the character graphics on screen, and sent you into battle.
This time, though, instead of shooting at the zombies, when they appeared they had a phrase, or collection of letters, plastered on top of them. Once you'd typed whatever was there, they'd be shot down. Each letter typed was a satisfying bullet blast to their rotting zombie flesh, and what seemed like an odd gaming mechanic for me made it even more fun than the light gun version.
A few curveballs were thrown in as well, to add to the delight. Pick-ups could theme the words around a certain subject or turn them into nonsense. A leech or axe flying towards you would require you hit a single letter bleedin' quickly, and the phrases themselves could suddenly get distressingly long.
The same House Of The Dead 2 problems were in place of course, as it didn't take long to get to the end of the game. But here's the thing: Typing Of The Dead is easily one of the ten tensest videogames I've ever played in my life, and it's all to do with the control mechanism. Knowing you have about a second or two to type some long phrase before you're killed brings with it an unexplainable level of compulsion, and as I headed towards the boss battles, I found myself smacking seven shades out of my keyboard to try and get the damn thing killed. Just brilliant.
The problem with the game now, though, is that it's just so difficult to find. It was released on budget over five years ago for around five quid by Xplosiv, but has long since been deleted. A hunt around Amazon found a second hand copy for £30, while an import Dreamcast version is a little cheaper. And while that's a fairly weighty price to pay for quite a short game. That said, there's a fair bet you've never played anything quite like it.
Incidentally, there was talk of a Playstation 2 version, and then a full-on sequel. But to the best of mine and Google's knowledge, neither of these eventually saw the light of day. Let's hope that in the spirit of reviving House Of The Dead 2 & 3 on Wii, that somebody finds a way to bring the strangest zombie shooter ever back to the shelves as well…