News
Trials Rising Live Stream and Beta Code Giveaway
Join Den of Geek on Twitch as we play Ubisoft's Trials Rising and get yourself a code to the closed beta!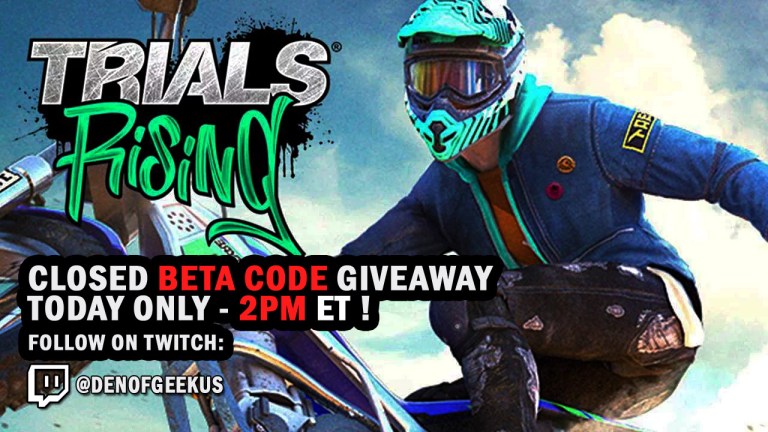 As you know, Den of Geek plays all the latest and greatest games, bringing you reviews, previews, and tons of in-depth features on your favorite franchises, both new and old. There's our review of the excellent God of War and our breakdown of Spidey's new suit in the brilliant Marvel's Spider-Man. If you dig through our lengthy archive of Games coverage, you're bound to find lots nostalgia-laden lists, too. Take this look back at the Underrated Games of the SNES, for example. We've got you covered!
That said, despite all the work we do to bring you the best Games articles possible, there has always been something missing: Den of Geek's very own live stream! Twice a month, we're bringing you playthroughs of the newest games as well as the classics we all know and love.
This week, Den of Geek plays Trials Rising, the hardcore platform racing game from Ubisoft! The live stream is happening on Friday, September 14 at 2:00 pm ET. And we've got a special bonus for viewers who tune in! 
Den of Geek is giving away 30 closed beta codes (10 for each platform) so that you can get your hands on Trials Rising early! Just keep an eye on our Twitch chat for code drops. 
Tune into the live stream here:
Make sure to follow us on Twitch, as we bring you early access streams of the most anticipated games, giveaways, let's plays, and, of course, a few blasts from the pasts (as is the Den of Geek way)! If you like what you see, feel free to comment below. Or if there's anything specific you want us to play or stream in the future, let us know your thoughts.
As always, Den of Geek is happy to serve you!
John Saavedra is Games Editor at Den of Geek. Read more of his work here. Follow him on Twitter @johnsjr9.