News
Top 5 Mobile Games of the Week (May 31 – June 6)
We kill all the clowns at the circus and join some scurvy old pirates on a musical hunt for the ultimate sea shanty…
This week we saw some pretty well-known and accepted genres of mobile games take things to the completely next level: in either the ways they made us use the different tropes of certain gameplay styles, or more specifically, the kind of wacky scenarios they threw our way. For instance, I've played tower defense games before, but I can't say I was ever defending my home base from some evil alien clowns who wanted to steal my child for his drool. I've played match-three games to death before, but never one with a musical and pirate-battling twist, that really got me to say ARG! So be prepared to experience all of this and more, because here are Den of Geek's Top 5 picks in mobile gaming for the week of May 31 to June 6:
5. Kill the Clowns
Developer: OneEyeAnt | Platform: iOS | Price: $2.99
 Now, you know there was absolutely no way I could leave a game called "Kill the Clowns" off of our weekly Top 5 mobile games list, right? I've known a lot of people in my life who were deathly afraid of clowns ever since they were children, and so the sheer direct simplicity of the game's title is almost poetic in a sick kind of way. But the premise of the game is actually even weirder, if you can believe that. Basically, there's this new race of clown aliens who discover one day that human infant drool makes the perfect coating texture for their popular space candies, and so they come down to earth and start stealing our children for their own evil candy-making needs. Naturally, the only ones who can stop the evil clowns are human circus performers, and they're going to do so through some pretty stylish tower defense gameplay. The game describes itself as "Violent enough for adults, but cute enough for kids," and with 36 incredibly wacky levels, tons of hidden secrets to find, and some fascinating circus backgrounds, you very well might want to stay home from the circus next weekend, and simply play Kill the Clowns on your iPad instead!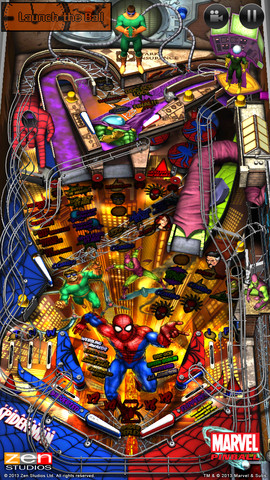 4. Marvel Pinball
Developer: ZEN Studios | Platform: iOS | Price: $0.99
I've never really been a big fan of pinball games. After all, what else is there really to do in them, besides hitting the left and right paddles over and over again, and watching your little silver pinball whiz up and down the same old metal tracks? And a DIGITAL pinball game without the only satisfaction of pressing those real live paddle buttons? Where's the fun in that! Well now ZEN Studios' Marvel Pinball seems to have completely changed my mind about what digital pinball games can really offer, with deep and engrossing gameplay, and a wonderful variety of visuals and special effects across every round. Now this game is great and everything, but does the game have different tables? Oh, you'd better believe the game has different tables! All in all, Marvel Pinball features fourteen unique and challenging pinball tables based on everyone's favorite Marvel super heroes and comic book franchises, including Spider-Man, Wolverine, Iron Man, Ghost Runner, Thor, X-Men, and Captain America. The list goes on and on, and while the details of each table are vast, they are all perfectly proportionate to the gameplay. Marvel Pinball also serves as a nice tie-in to the fantastic and free-to-play Marvel Heroes MMORPG that was also released this week, and which you can respect our full review of very soon!
3. Kyubo
Developer: Chestnut Games | Platform: iOS | Price: $0.99
I'll admit I was a little freaked out by Kyubo at first. After all, who ever heard of a hero that wears a completely black leather outfit with a white stitch down the face before, and who always looks so completely creeped out wherever he goes? But whatever, I'll buy that this guy is some sort of great hero, but mostly because the game he is featured in is so completely mesmerizing. I'm not sure exactly what makes Kyubo so enthralling, but there's just something so inherently captivating about wandering through room after puzzle-laden room, and solving all sorts of environmental block-based puzzles. I guess a lot of the game's allure has to do with the total and utter sense of mystery that surrounds almost every aspect of the gameplay. You start the game by waking up in a locked dungeon, with no recollection of who you are or what you're supposed to be doing. Your only way out and to some form of clarity is by navigating this crazy fun-house of a mansion, with literally hundreds of different ways to solve each of the game's 70 imaginative levels. And who knows, maybe you just happen to be some dude who loves strolling around the neighborhood in a full leather get-up every weekend? We don't judge around here.
Download Kyubo on the iOS App Store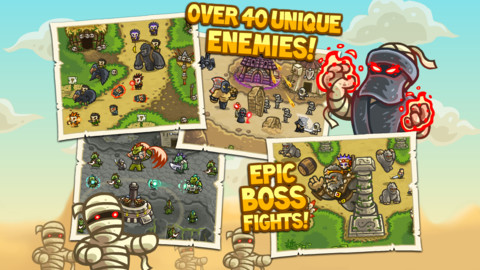 2. Kingdom Rush: Frontiers
Developer: Ironhide Games | Platform: iOS | Price: $2.99 or $4.99 (HD)
If you're someone who's really into mobile gaming, then there's a pretty good chance that you've probably taken Ironhide Games' fantastic tower defense game Kingdom Rush for a spin on your smartphone at one point or another. After all, the thing's been dominating the App Store charts for as long as I can remember, so if you never had the chance to play it yet yourself, then I'm sure you still know very well that the game exists. Well now a massive sequel to all of that peppy and cartoony tower defense action is here, and it boasts all new towers, all new heroes, and of course, all new fun! Officially christened as Kingdom Rush: Frontiers, the next installment in this popular mobile franchise takes your miniature towers beyond the safe and sturdy castle walls, to new and distant lands like deserts and jungles (there's even some pirate-themed defending thrown in there as well!). As long as you can get past the fact that you'll need to spend sometimes up to $7 to purchase a new individual hero to control, there's really a lot to love, and with all of that incredibly rich tower defense gameplay packed in here, you probably still won't have completed it all by the time another Kingdom Rush rolls (or rushes) along!
Download Kingdom Rush: Frontiers on the iOS App Store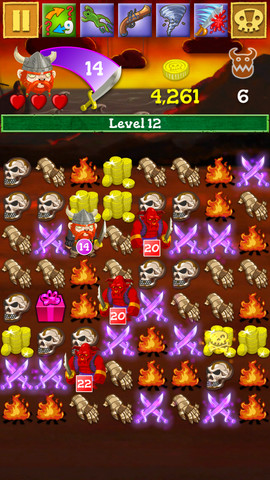 1. Scurvy Scallywags
Developer: Beep Games | Platform: iOS | Price: $0.99
The disease of scurvy is certainly no laughing matter these days, unless you happen to be a fan of pock-marked skin and spongy gums; but when you live the dangerous day-to-day life of an old crusty pirate, well then it all just becomes a part of the job. In Scurvy Scallywags, you assume the role of one of these rum-drinking and swashbuckling old sea dogs, and go on a search across the land for the ultimate sea shanty: where you can then, you know, drink more rum and feed crackers to parrots and do other swashbuckling things in total privacy. The actual gameplay itself is more in line with the match-3 battle system of games like Puzzle Quest, with a unique and peg leg-tapping musical twist (after all, what's a pirate-themed game without a little Yo-Ho-Ho?). The game also comes to us from Ron Gilbert, the creative mastermind behind gaming classics like Maniac Mansion, The Secret of Monkey Island, and The Cave, so I don't really even need to go into that much detail as to why this one easily scored our number one spot this week. I just hope that ultimate sea shanty is near a sink with running water, so those singing rum-drinkers can do something about their scurvy gums and teeth!