News
Top 5 Mobile Games of the Week (May 3 – May 9)
We see what Team Fortress 2 could have been like on our smartphones and tablets, and try not to break something after taking a wrong turn down a particularly unfriendly road…
There once was a time when the world of mobile gaming was completely separated from the more elite industry of console releases. Mobile gamers had simple titles like Angry Birds, while their console brethren were busy enjoying the likes of Gears of War and Uncharted. But if this week's new mobile games are any indication of what's to come for the rest of 2013 and beyond, then I think we are going to see those lines begin to blur: and if you think about it, they already really have. This week we saw a handful of new games that could have easily been full console releases, including an online first-person shooter that gives Team Fortress 2 a run for its money, a 3D hack-and-slash dungeon crawler, and a dogfight in the sky courtesy of Sid Meier. So before you start to get mixed up between your dedicated home consoles and the games on your smartphones, take a look at Den of Geek's Top 5 picks in mobile gaming for the week of May 3 – May 9: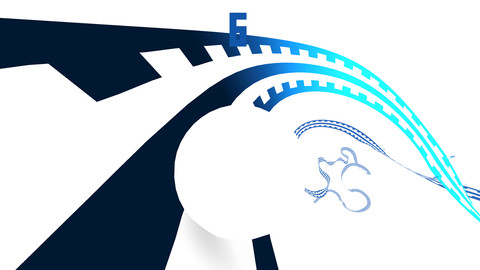 5. Impossible Road
Developer: Gameloft | Platform: iOS | Price: $1.99
 I've played enough mobile games in my life to know that if a game has the word "Impossible" in its title, then the developers have certainly set out with something to prove: in most cases, to make you die repeated unfair deaths, or to make you feel stupid for failing to answer the simplest of brain teasers. As you might have imagined, Impossible Road is another such game, whose extreme difficulty is more than enough to make you put another lovely hole in your living room wall. One part Super Monkey Ball, one part Marble Madness, and all parts absolutely infuriating, Impossible Road is a mind-numbing arcade game that has you trying to balance a large white ball as it careens down a winding spiral track at neck-breaking speeds. To add even more insult to injury, the developer also decided to make the background in the game the exact same shade of white as the ball. So not only is it impossible to stay on the track for more than five seconds at a time, but it's also just as tough to even SEE where your ball is going. Okay, now I know they're clearly just going out of their way to make us mad. But of course, as with any "impossible" labeled game, there's something so sadistically enjoyable about continuing to play it, and to see if it can even be possibly done.
Download Impossible Road on the iOS App Store
4. Sid Meier's Ace Patrol
Developer: 2K Games | Platform: iOS | Price: Free
One of the many rules of thumb in the gaming industry is that if you see a video game with the name "Sid Meier" attached to its title, then you can usually bet your bottom dollar that it's going to be a good one. The strategic WII dogfighting Sid Meier's Ace Patrol proves to be no different, and has players taking to the skies over a battle-fueled Europe, and engaging in fast-paced aerial dogfights in both a lengthy single-player campaign and online multiplayer combat: all of which is brought to life with engrossing 3D visuals and intuitive tilt and motion camera controls. Of course, the actual gameplay is much more slower-paced and strategic than aimlessly flying around and shooting at everything that moves (or flies), but that doesn't mean the total package is any less impressive and completely fun to play. Throughout the main campaign's whopping 120 missions, players can expect to advance in the ranks from Aviator to Ace, and man the cockpits of 30 different authentic aircrafts. You'll also be able to earn special promotions, which come with their own respective upgrades and advanced gameplay maneuvers such as rolls, loops and slips to expand your different options of playing, and to keep those frequent flier miles running high.
Download Sid Meier's Ace Patrol on the iOS App Store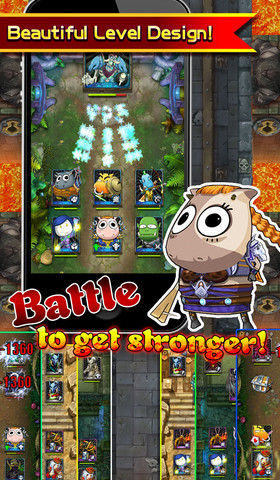 3. I AM MT: Card Battle
Developer: LOCOJOY | Platform: iOS and Android| Price: $0.99
Having never left the good old U.S.A in my life, it's no surprise that I had never heard of the international sensation I AM MT: Card Battle up until a few days ago. I'm not even entirely sure how to correctly pronounce the title of this popular game, but now that all of its addictive card collecting and battling fun has seen an American release this week, I can finally understand what all the fuss was about. To put it simply, this game is awesome. With 9 different card types and over 500 cards to gather in all (each of which can be further leveled-up and upgraded to tackle difficult boss fights), I feel like I've barely scratched the surface of everything this fantastic CCG truly holds. But not only is the core card-battling gameplay a blast to get sucked into, but I AM MT's beautiful polish and design makes the overall experience truly one for the mobile gaming history books. Collecting all of those endearing (and often funny-looking) little monsters gives me that same awe-inspiring feeling that I haven't felt since I was a kid playing Pokemon Red for the very first time, or opening a new pack of Gogo's Crazy Bones to battle with my friends on the playground (does anyone else remember those?!).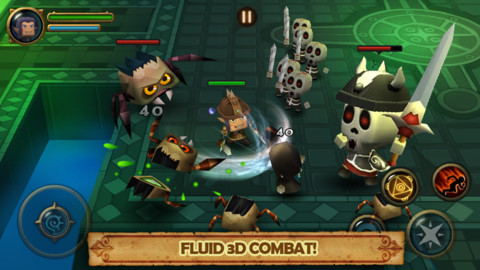 2. TinyLegends: Monster Crasher
Developer: Trinity Interactive | Platform: iOS | Price: $0.99
If you've ever happened to come across one of Den of Geek's past Top 5 mobile game lists before, then you probably know that most of us gamers in the Den of Geek camp are real suckers for a good old fashioned romp through an eerie and monster-filled dungeon. There have been countless mobile developers in recent years who have tried to cash in on that inherent addictiveness of a dungeon crawler game; but for most of them, something always seemed to have gotten lost in the translation to the smaller touchscreen. Luckily, Trinity Interactive's TinyLegends: Monster Crasher seems to exhume that full potential of a high-quality console dungeon game, and the gorgeous art style and quirky character designs add a heightened level of charisma and charm that only a mobile game could find. Seriously, just like the other entries in the TinyLegends franchise, every visual element in Monster Crasher is absolutely spot-on. Who knew that slashing legions of wobbly little skeletons in a skull-ridden dungeon could be so adorable? All in all, the tiny but incredibly ambitious dungeon crawler features 8 main storyline quests, 20 side quests, and heart-stopping boss fights: not to mention 3 unique character classes with their own specific and upgradable skillsets and gear!
Download TinyLegends: Monster Crasher on the iOS App Store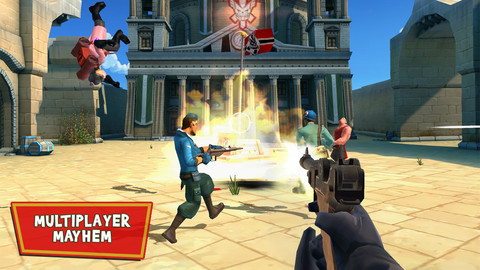 1. Blitz Brigade
Developer: Gameloft | Platform: iOS and Android| Price: Free
Every week when I make these Top 5 mobile games lists, I always continue to be amazed at how far mobile gaming has really come in 2013: especially when playing first-person shooters on my tiny handheld screen. In many ways, Blitz Brigade can be seen as a pinnacle achievement for the future of mobile gaming, but mostly because it makes me wholeheartedly believe that we'll have full-fledged, console-quality FPS titles like Team Fortress 2 on our smartphones and tablets one day. With five different character classes like Gunner, Medic and Sniper, over 100 different weapons to unlock in all, and up to 12 online players duking it out at any one time, I'm surprised that Gameloft was able to fit it all in on a single mobile download! But the entire time that I was playing, I think I was most amazed by the game's slick controls: from running and turning, to jumping and shooting, everything just felt like it was in its proper place on my touchscreen, and I was never at a loss for how to quickly gun down an enemy soldier whenever one would cross my path in the game's rich cartoon-style world. If you're a fan of Team Fortress 2, or just online shooters in general, then Blitz Brigade should be right in your crosshairs!
Download Blitz Brigade on the iOS App Store | Download Blitz Brigade on the Google Play Marketplace