News
Top 5 Mobile Games of the Week (May 17 – May 23)
We get dealt a losing hand from GLaDOS and make sure to feed our zombie goldfish in this week's Top 5 picks in mobile gaming...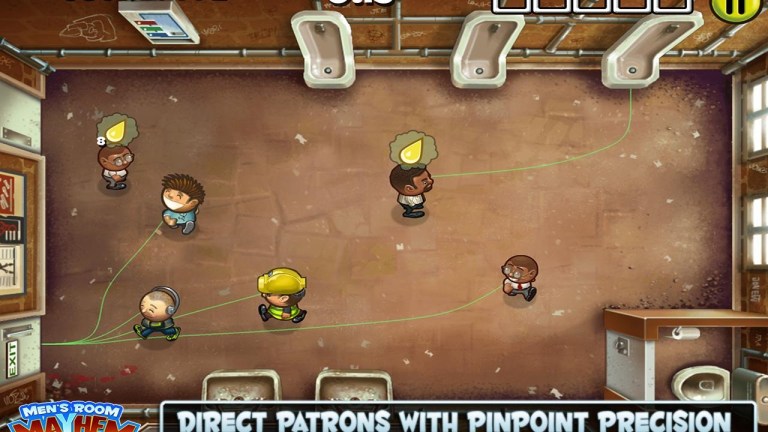 We certainly had some weird new mobile games this week, which all happened to be pretty hilarious just as much as they were fun and addicting to play. You'll go from managing a men's room and collecting cheese on the moon one minute, to chowing down on some zombie fish and playing poker with Claptrap from Borderlands the next! So whether you think you can call Brock Sampson's bluff, or haven't fed your goldfish in the last couple months, you'd better find the best way to prepare yourself for all of the hysterical fun in Den of Geek's Top 5 picks in mobile gaming for the week of May 17 – May 23: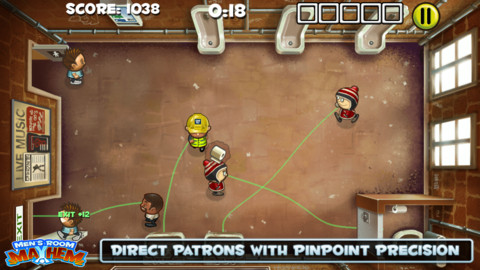 5. Men's Room Mayhem
Developer: Ripstone Ltd. | Platform: iOS | Price: $0.99
I'll be honest: I've always been somewhat of a shy pee-er. Say what you will about my embarrassing problem, but I just never saw the appeal of peeing next to some random dude at the urinals, with only a flimsy divider in between you (if it's a nice bathroom, that is) to give you your privacy. But I'm slowly learning to overcome my bathroom shyness, and now I have games like Men's Room Mayhem to help coax me along in my journey. In this incredibly unique (and slightest questionable) new game, you'll be put in charge of micro-managing an entire series of chaotic men's rooms, and instructing all of the bladder-bursting patrons where they can go to relieve themselves. Because you know, sometimes it's tough to navigate a crowded bathroom and find an empty urinal or stall without someone showing you the way. The game is also being released for PlayStation Vita, just in case you wanted another option to meet every one of your bathroom needs. But do you know the best part about a mobile game of this nature? The fact that you can still do some mobile bathroom managing when you have to take an extra-long trip to the toilet yourself!
Download Men's Room Mayhem on the iOS App Store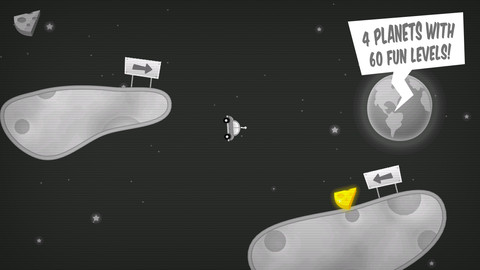 4. 1968
Developer: Attribite AB | Platform: iOS | Price: Free
1968 was such a great year, wasn't it? Everything was always in black and white, and I had my very first kiss with Sally Mae Sue down at the local malt shop. Okay, so maybe I wasn't really born in 1968, or anywhere close to the year for that matter, but that doesn't mean I still wouldn't find a game about that monumental timeframe any less enjoyable! From the creators of Save My Bacon, 1968 is a physics puzzle game that is centered on the U.S.A.'s sending of a car into space in 1968: only to find nothing but cheese on the moon! The game is a great little mobile package in of itself, but those smooth black and white graphics only make it all the more awesome. With over 60 challenging levels set across four different planets, players will be put to the ultimate moon-hopping test as they move their car over massive jumps, endless pits, and of course, tricky crater-filled terrain: all in the name of cheese! So while you go give this atmospheric and fun new puzzler a try, I think I'll lose myself in thoughts of a simpler time, before things like iPads and iPhones were even invented, and before the human race started seeing in color.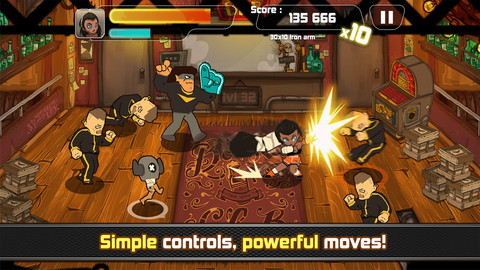 3. Combo Crew
Developer: The Game Bakers | Platform: iOS and Android| Price: $1.99
In Combo Crew, the hated Mr. Boss is trapped on the top floor of his fortified tower, and you want to put an end to his treacherous life the only way you know how: with your fist! The premise of this action-packed brawler sort of reminds me of that one level from Teenage Mutant Ninja Turtles III: The Manhattan Project, where Leonardo and his hard-shelled pals have to fight a bunch of foot soldiers on a moving elevator until they arrive at the top of a skyscraper to take on their arch-nemesis, Shredder. In many ways, Combo Crew can be seen as a throwback to the Saturday morning arcade days of old, when beat-em-up sidescrolling games like Streets of Rage and Final Fight ruled everyone's joysticks. What's cool about this one though is that Combo Crew bypasses the digital control pad, which usually tends to make games of a similar nature end up feeling clunky or weird. Instead, the game ops for a more mobile-friendly system of simply touching on your enemies to pound the living crap out of them. The one-finger swiping to register a swift kick to the jaw actually works surprisingly well in this context, and the shorter mission structure translates great for quick bursts of gaming, or if you want to make some serious progress towards getting to Mr. Boss at the very top floor.
Download Combo Crew on the iOS App Store | Download Combo Crew on the Google Play Marketplace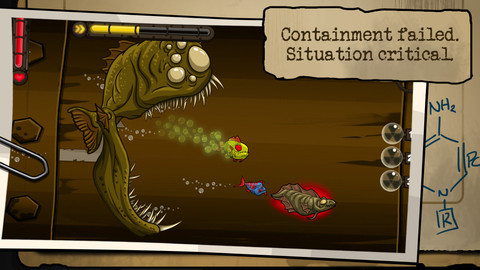 2. Zombie Fish Tank
Developer: Chillingo | Platform: iOS | Price: $0.99
Remember that old casual fishbowl simulator game called Insaniquarium? I'm sure you know the one: where you feed those little fish to make them grow bigger, and then buy decorations like treasure chests or different colored pebbles to turn their fishbowl house into a fishbowl home. Well Zombie Fish Tank is sort of like that. Only here, all of the fish in the game are bloodthirsty zombies, and the gameplay is more centered on tearing all the other grotesquely mutated fish in your sights to bits with your teeth, and swimming around a toxic green ocean where the only thing more apparent than the floating sludge at every turn is the buckets of blood that stain the water red. And okay, maybe you'll still come across the occasional treasure chest or two. But if there's anything I've learned after playing this insanely violent and insanely awesome action game, it's probably that I'm going to think twice before I ever go and buy a goldfish again; or go anywhere near a fish pond for that matter. No thanks! I wonder if you could ever unlock that enormous bloated-headed pus-ridden fish from the screenshot if you ever got far enough in Insaniquarium…
Download Zombie Fish Tank on the iOS App Store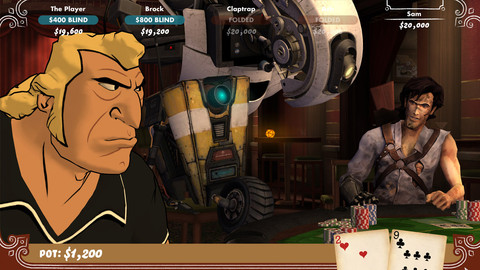 1. Poker Night 2
Developer: Telltale Games | Platform: iOS | Price: $4.99
I could have made a very strong case for Poker Night 2 to earn our number one spot in this week's Top 5 Mobile Games list, just for the fact that it was made by Telltale Games of The Walking Dead fame. But luckily, Poker Night 2 easily stands on its own as such a great game that it earns that coveted designation anyway. I mean, when you have a game that puts Brock Sampson from The Venture Bros. and Claptrap from Borderlands together in the same room with a deck of cards, you just know that some comedy gold is going to happen. It's definitely one of the more interesting and loose poker games that I've ever played, and you don't really even need to be a fan of poker in general to find something to enjoy with this title. But wait, did I even mention that the dealer in the game is none other than GLaDOS from Valve's infamous Portal series? Well it's true, and the self-entitled robotic banter between GLaDOS and Claptrap, who are perhaps two of the funniest personalities in the history of gaming, is so inherently amusing. Whatever you do though, just make sure you don't get caught sneaking an ace up your sleeve, because Brock's muscles sure don't look like they take kind to foul play!