News
Top 5 Mobile Games of the Week (May 10 – May 16)
We search for Bigfoot at summer camp and dig out our old Nikko RC toys for some childhood fun…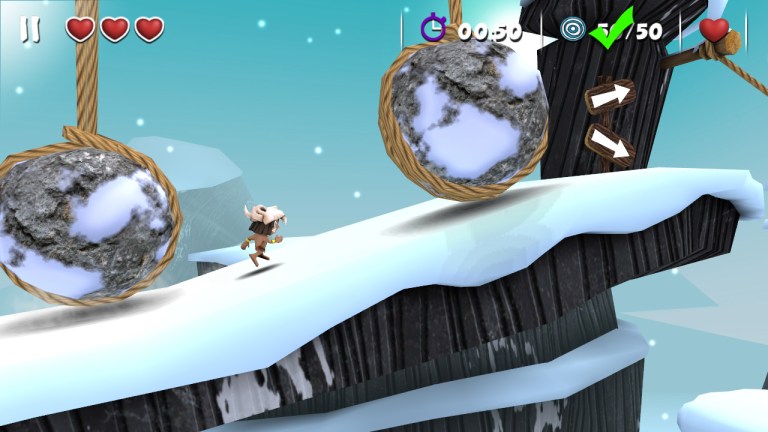 This week's new releases in mobile gaming were dominated by some very elegant and very serious tactical strategy games: but that's not to say that other genres weren't also feeling the love! In addition to the strong turn-based and Tower Defense contenders, we also saw a fun RC-style racer that brought us back to when we were kids; an impressive take on the emerging "platform runner" genre; and a beautiful point-and-click adventure with a rather big and hairy twist. So whether it's holding down the fort or racing across a miniature dirt road, whatever kind of game you like to play, there's sure to be something to catch your mobile eye this week. So here are Den of Geek's Top 5 picks in mobile gaming for the week of May 10 – May 16: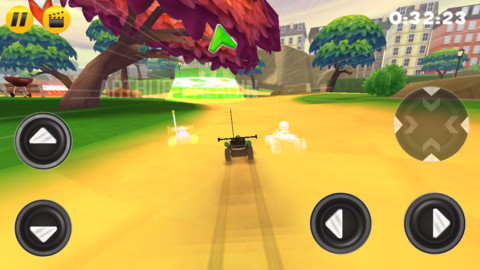 5. Nikko RC Racer
Developer: Paladin Studios | Platform: iOS | Price: Free
In celebration of Nikko's 55th anniversary, Nikko RC Racer is here to remind us of the days when driving a little plastic car around our room with our fingers was much more fun than driving an actual one. The game is from the same makers of the fantastic Momonga Pinball Adventures, which was also featured on one of Den of Geek's Top 5 mobile games lists a few months ago. What can I say? These guys just know how to bring the goods! Nikko RC Racer features 10 actual Nikko vehicles, like the VaporizR and the N-Blaster, all duking it out over 9 miniature off-road tracks in the middle of a big city park. The game also has three different ways to control all of the RC racing action, including tilting and tapping setups, and you can even challenge your fellow Facebook friends in some miniature Nikko races to determine the king of the playground. But what makes this game even cooler, is that each and every week after the game's release, Paladin Studios is offering a chance for you to win a real Nikko RC car by sending in videos of your best stunts and moves in the game. It's like they're trying to make us all feel like kids again and everything!
4. Manuganu
Developer: Alper Sarikaya | Platform: iOS and Android | Price: $0.99
I'm going to start sounding like a broken record one of these weeks, but I don't think I'll ever be able to get enough of platform-adventure games. Sadly, the genre is still somewhat on the outs of the gaming community at large, with many mobile gamers favoring the simplicity of endless runners over full-blown 3D adventures. But with the innovation of endless runners also came the creation of the "platform runner" genre, which was made popular by recent success stories like Rayman Jungle Run. I guess if you really think about it, in regular platform games you're always just holding the control stick to the right in order to move anyway, so in this light platform runner games are actually saving you one step in the overall platforming process! Manuganu is one such example of these fresh platform runners, with just enough collectables and depth to give some actual platformer games a run for their money. With 30 different platforming stages set across a lush and colorful tribal world, in many ways Manuganu is ahead of the pack. What's interesting about this one is that you can actually make Manuganu stop running at times, in order to switch to a climbing action, or even stop short before a falling rock puts that bone helmet on your head to good use!
Download Manuganu on the iOS App Store | Download Manuganu on the Google Play Marketplace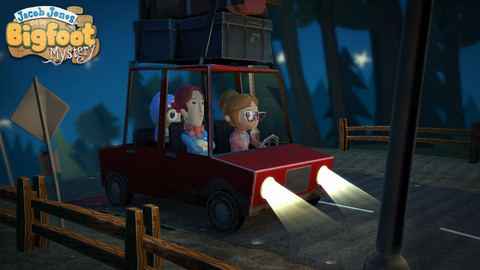 3. Jacob Jones and the Bigfoot Mystery: Episode 1
Developer: Lucid Games | Platform: iOS | Price: $2.99
For as many camping-themed games that I've played in my life, it may come as somewhat of a surprise to know that I've never actually been camping before myself. But I have a good reason: I don't want some big and hairy Bigfoot sneaking around and stealing my toasted marshmallows! The first of five planned episodes, Jacob Jones and the Bigfoot Mystery is sort of like a cross between the brain-teasing puzzles of the Professor Layton series, and the cute and quirky camp life of the infamous Psychonauts. Be warned though: as some of the puzzles in Episode 1 are so head-scratching difficult that I don't think even Bigfoot himself would be able to figure them out! What sets this game apart from other episodic point-and-click adventures is the game's unique and eye-popping cardboard-cutout style of artwork, not to mention some fantastic voice acting on behalf of the entire Jacob Jones cast. Sure Jacob himself can get a little annoying and whiny at times, but what would you expect from a kid who wears a blue teddy bear hoodie? Jacob Jones and the Bigfoot Mystery also saw a cross-release on the PlayStation Vita this week, where I'm sure it will make full use of the touchscreen capabilities of Sony's latest portable hardware.
2. Frozen Synapse
Developer: Mode 7 | Platform: iOS | Price: $6.99
Is it starting to get a little cold in here? In some ways, Frozen Synapse is a difficult beast of a game to describe, but the odds are that you've probably heard of the critically acclaimed, tactical strategy title before when it blew up on the Steam store in 2011. The good news now is that the iPad port of Frozen Synapse supports full cross-platform multiplayer bouts with its PC and Mac brethren, so you can take part in the game's quality turn-based asynchronous gameplay wherever you go. The way it works is that both players input their moves at the same time, though unbeknownst to each other. Then both moves are enacted at the same time, which introduces a whole different level of strategy entirely. For instance, I might have bet all my cards on blasting one of your soldiers completely to bits with my machinegun, but if you also decided to move that same soldier behind cover in the very same turn, well then I'm already pretty much out of luck without even knowing it. While the game may not look like much from those simple (and decidedly blue) screenshots, don't let that fool you: Frozen Synapse is one slick and polished single-touch experience.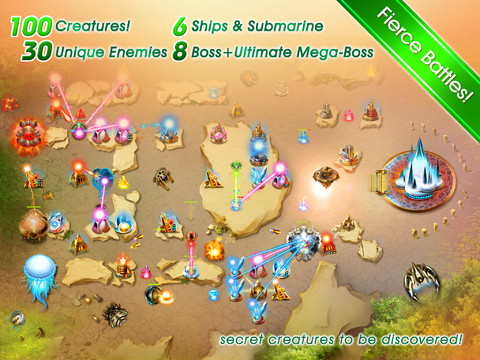 1. ERA Deluxe
Developer: Forest Moon Games | Platform: iOS | Price: Free
ERA Deluxe is a gorgeous sci-fi themed Tower Defense game that boasts an epic 40-level single-player campaign, and a bonus 45-level challenge mode to suit every last one of your possible TD needs. To put it simply, ERA Deluxe earned our top prize this week because the game's visuals are so bright and unique that how could it NOT have earned our top prize this week? There's also a reason why the game earned that impressive "Deluxe" designation in its title: this one is massive. All in all, ERA Deluxe will pit you against 100 different and varied enemy types, 6 mega boss fights, and 10 upgradable forces for you to mow them all down with. There are also a few simple RPG elements thrown into the mix as well, like having you choose between 4 playable heroes, each of which will earn more powerful abilities as you progress through the campaign. But oh, those shining, beautiful graphics! Did I mention those already? Sorry, sometimes my visual-amazement drool likes to drip onto my keyboard and retype things that I've already talked about. So now I'm going to go get a paper towel, and you should go get your iPad or iPhone and start playing some ERA Deluxe already!
Download ERA Deluxe on the iOS App Store
Like us on Facebook and follow us on Twitter for all news updates related to the world of geek. And Google+, if that's your thing!