Features
Top 5 Mobile Games of the Week (Mar 8 – Mar 14)
We fed a little vampire some delicious Blood Pigs, polish off our putting irons for another round of Stickman Golf, and load up our shotguns for the weekend fishing trip...
This week's new releases in mobile games seem to have been dedicated to mankind's most relaxing weekend pastimes: fishing and golf. And what better way to skip all the inherently boring parts about fishing and golf than by playing some fast-paced action games about them where shotguns and chainsaws are involved! In keeping with this theme, we cover all sorts of mobile genres this week: from endless runners, to platform adventures, and to fishing and golf of course. So fasten your life vest, put some more gas in your chainsaw, and tell your caddy to go clean those sticky obstacles off the putting green, because here are Den of Geek's Top 5 picks in mobile games for the week of March 8 – March 14:
5. Le Vamp
Platform: iOS | Price: $1.99
Le Vamp is a fun new take on the endless runner genre from High Voltage Software, the folks who brought us The Conduit and Conduit 2 on the Wii; and the gorgeous presentation of their latest title will make you wonder why they haven't gone mobile a long time ago! Instead of assuming control of Le Vamp himself, players will actually manipulate the environment around the little vampire, and help him outrun an angry, torch-wielding mob. For instance, swipe up on the screen to pull up these little turnip enemies from the ground and get them out of Le Vamp's way; swipe across a tree trunk to chop it down and make a bridge for Le Vamp to cross over water; or tap on the screen to stop a beam of sunlight from shining down on our vampire pal. Your blood intake serves as fuel in the game, and you will constantly need to tap on Blood Pigs to feed Le Vamp and keep him from running out of steam. The Blood Pigs are easily my favorite part of the game, as they just look so damn cool, with their fat transparent bodies and their beating red hearts that you can see pumping through their skin.
Download Le Vamp on the iOS App Store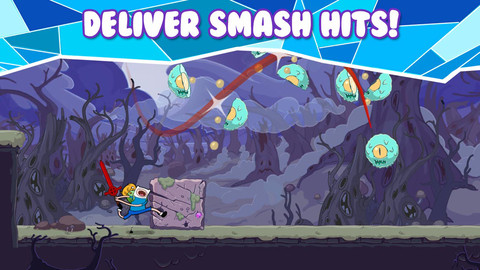 4. Rock Bandits – Adventure Time
Platform: iOS | Price: $1.99
WHAT TIME IS IT? Sorry, I had to. We've seen a whole slew of half-baked mobile games pop up on the App Store that are based on the popular Cartoon Network show Adventure Time, like Fionna Fights and Jumping Finn Turbo. But the latest in line of Adventure Time iOS games, Rock Bandits, is easily the closest thing you will get to a full-on adventure (it IS in the name of the show after all!), and seems more in line with the fantastic sidescroller "Hey Ice King! Why'd you steal our garbage?!!" on the Nintendo 3DS. In Rock Bandits, the Ice King has kidnapped Marceline's music fans, so it's up to Finn and Jake to follow her tour across 20 big levels in the Land of Ooo and rescue them all! The gameplay sort of reminds me of Rayman Jungle Run, but with a little more freedom in movement, and the ability to stop running and even turn around at times. The same mechanics are there though, like using Jake as a helicopter to hover in the air, punching through obstacles, or slicing up baddies with your big red sword. And for mega fans of the TV show, a free digital comic by Adventure Time comic series writer Ryan North is also included. Algebraic!
Download Rock Bandits – Adventure Time on the iOS App Store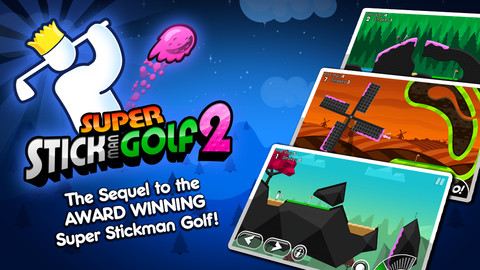 3. Super Stickman Golf 2
Platform: iOS and Android | Price: $0.99
When I was a little kid, if my family ever happened to drive by a miniature golf course on the side of the road, I would scream and cry until my exasperated parents were forced to pull the car over and play a game of mini-golf with me right there on the spot. It got so bad that sometimes they would even try and distract me when a mini-golf place came into view so I wouldn't see, but I always knew. As you can imagine, the crazy bite-sized golfing obstacles in Super Stickman Golf were right up my alley. It's hard to say what made the first Super Stickman Golf so incredibly addictive, but odds are you've probably played it at one point or another, and experienced the pitch-perfect 2D physics gameplay for yourself. Super Stickman Golf 2 improves upon the original game in almost every way, with over 20 different courses, tons of crazy new obstacles like portals and magnets, and a series first: turn-based multiplayer, so you can challenge all of your fellow stickfriends to a rousing game of 9. Your sticky golf adventure will take you across all sorts of beautiful locations and challenging holes that test your skill with everything from underground flags, to giant windmills, and deadly laser beams.
Download Super Stickman Golf 2 on the iOS App Store | Download Super Stickman Golf 2 on the Google Play Marketplace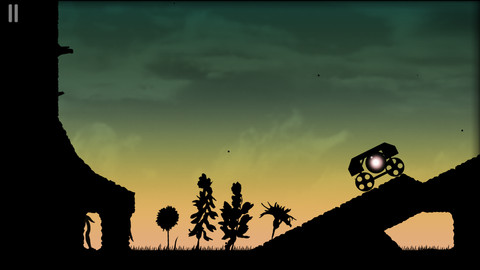 2. NightSky
Platform: iOS | Price: $1.99
I'm always on the lookout for that next indie gem that will take me back to the way I felt when I first played games like Limbo and Braid. So it's a pleasant surprise when one pops up right under my nose on the iTunes App Store. First released in 2011 on the Wii, 3DS, and Steam, the incredible physics-platform adventure NightSky has finally made its way to iOS devices, and if you've never played this one before, I highly suggest you let yourself get immersed in the game's dark and moving little world. NightSky is sort of like Limbo with vehicles; but if you ask me, a hundred times more beautiful, with the silhouetted foregrounds accentuated by a gorgeous range of vibrant background colors. Puzzling and cryptic to the core, and with tons of secrets to find around every bend, the graphics and atmosphere of NightSky are truly mesmerizing, and Nicalis Inc. captured the mobile port and touchscreen controls flawlessly. What's more, the game also features over an hour's worth of ambient sounds across its custom soundtrack, composed by international musician Chris Schlarb. And if you're thinking about picking this one up, NightSky is currently enjoying a special launch sale, where you can snag the fantastic game at 60% off for this weekend only!
Download NightSky on the iOS App Store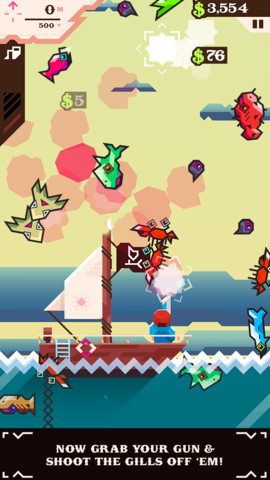 1. Ridiculous Fishing – A Tale of Redemption
Platform: iOS | Price: $2.99
 Ridiculous Fishing has had a long and strenuous developmental history that almost makes it the Duke Nukem Forever of mobile games. Vlambeer of Super Crate Box fame started working on Ridiculous Fishing way back in 2010. But when another developer essentially cloned their idea and put out a Ridiculous Fishing-style game first (which went on to become an App Store powerhouse with over millions of downloads), no one could blame Vlambeer for being a little discouraged. Production on the game stopped for over a year, and sometimes it seemed like the project was going to be abandoned altogether. Luckily for us, something kept drawing the developers back to Ridiculous Fishing: that underlying need to finish the game, and show the world how the REAL sport of violent fishing should be. Well, I don't think I'm the only one who will be glad they did, because Ridiculous Fishing is finally here, and the game is everything I hoped for and more. Taken from the iTunes description page, Ridiculous Fishing is a "handcrafted game about fishing with guns, chainsaws and toasters." Need I even say more? This game is so much fun I can hardly stand it, and all those perfect 5-star ratings I've been reading just go to show that good things really are worth the wait.