Features
Top 5 Mobile Games of the Week (Mar 29 – Apr 4)
We help two platforming brothers steal the spotlight from Mario and Luigi, and tag team with Batman and The Flash for a round of superhero fighting in this week's Top 5 picks in mobile gaming…
This week in new mobile releases we take a look at some of the many heroes in mobile gaming, and see how they can come in all shapes and sizes. While you still have your more traditional superheroes like Batman and Catwoman, this week has also taught us that the hero of a mobile game can be anyone from a little orange cat named Mittens, to an 8-bit knight on a quest to slay an 8-bit dragon. But then you also have more obscure heroes thrown into the mix, like a weird shadowy ball-like creature with flippers, and two brothers who bear a striking resemblance to these two plumbers I used to know. So get your iPad or iPhone out, and get ready to meet some fun and far-out heroes in Den of Geek's Top 5 picks in mobile gaming for the week of March 29 – April 4:
5. Mittens
Developer: Disney | Platform: iOS | Price: $0.99 or $2.99 (HD)
Coming from the folks at Disney, who brought us the addictive physics-based "Where's My Water?" series, Mittens follows the exploits of a suave orange cat, whose longing for a purple-furred feline takes him on a wild adventure all across the city. The gameplay is somewhat difficult to describe, because Mittens takes the best parts of casual powerhouse franchises like Cut the Rope, Angry Birds, and Where's My Water?, and rolls them all up into one big yarn ball of fun. You'll help Mittens reach his goal in every stage by cutting through boards to drop him down at just the right angle; using slingshot mechanics to fling him from rooftop antennas; and hanging on to the feet of these squat little birds. The goals vary depending on each set of levels, with Mittens leaping towards all sorts of kitten essentials, like bottles of milk, red balloons, and tiny cave mice; and there's a really nice variety in the different kinds of settings and level themes, like city rooftops and the circus. While it may not quite reach the ranks of Angry Birds or Cut the Rope, Mittens is still an impressive offering in the casual genre, and the sharp presentation and cartoony visuals are exactly what you'd expect from a Disney-produced game.
Download Mittens on the iOS App Store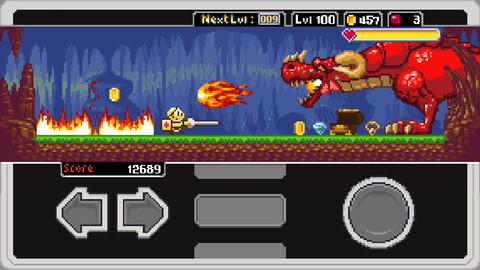 4. Slayin'
Developer: FDG Entertainment | Platform: iOS | Price: $0.99
There's a reason why so many games on the App Store today try to emulate that classic retro feel of old 8-bit NES games: because those NES games were unbelievably awesome! This is why it's always cool to see a game take those old school visuals, but mix them together with modern gameplay elements, like endless running and rich RPG leveling up. Slayin' is being touted as "The world's first endless action RPG," and with a Chiptune soundtrack composed by none other than Retro City Rampage's Matt Creamer, you'd better believe that you're in for a quality experience with this one. In Slayin', you play as one of three heroes (a knight, wizard, or knave) and go on a slaying spree throughout the forest and a number of other enchanting locations, all in your quest to bring down the legendary red dragon. For me, the coolest thing about the game is how the screen is divided. On the top half of the screen, you have the game itself; and on the bottom you have an old school keypad, that's even more simplified than the classic NES controller. This setup also gives the game a neat widescreen effect, and dare I say a cinematic presentation. Hey, 8-bit graphics can be movielike too!
Download Slayin' on the iOS App Store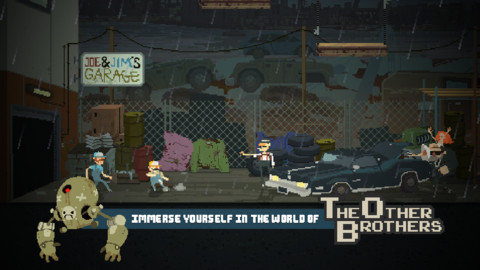 3. The Other Brothers
Developer: 3D Attack Interactive | Platform: iOS | Price: $0.99
Life is hard these days for overalls-wearing, mustache-toting brother duos in gaming whose names aren't Mario and Luigi. But who's to say that Mario and his baby bro will stay in the spotlight forever? The Other Brothers follows the misadventures of Jim and Joe, two underappreciated mechanics and brothers who are trying to save their "lady friend" Tavy by running and jumping through a non-linear world of junkyards, cities, and sewers. An obvious nod to the world of Super Mario and the Mushroom Kingdom, The Other Brothers is meant to be a throwback to the days of classic platformers on the Super Nintendo, and it utilizes a beautiful 16-bit retro aesthetic: but with that unmistakable polish and shine of a mobile release in 2013. There is a ton of adventure to be had from this game: and despite a rather wonky control scheme (which the developer is already tweaking for an upcoming update), The Other Brothers accomplishes the many goals it has set out to achieve. Complete with hand crafted cut scenes, epic boss fights, and that staple three-star ranking system that boosts the replay value of any casual game, the fantastic platformer The Other Brothers will always keep you coming back for more!
Download The Other Brothers on the iOS App Store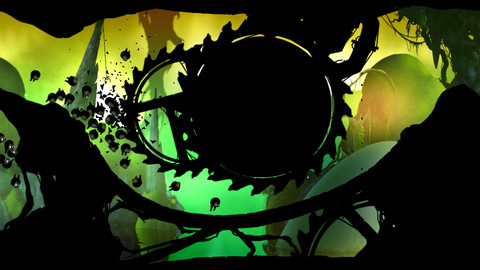 2. Badland
Developer: Frogmind | Platform: iOS | Price: $3.99
 If games like World of Goo and NightSky have taught us anything, it's that the App Store has become the perfect home for more experimental titles that really push the boundaries of gaming and send us exploring through all sorts of rich and mysterious worlds. Case in point: Badland, a dark and moody sidescrolling action adventure platformer with a neat physics twist. I'm not really even sure how to describe Badland to you, but if you took the sleepy-eyed illustrations of Braid, and put them behind the shadowy foregrounds of Limbo, then you might have some idea of where to start. In Badland, you play as this weird ball-like creature that has these little flipper things which enable him to fly through 40 forested levels and uncover what has gone wrong in the Badland. But of course, as with any sidescrolling adventure game, your weird ball-like creature will be faced with tons of imaginative traps and environmental obstacles for you to overcome. There's an incredible sense of movement to the game, and if that beautiful screenshot over there wasn't enough to entice you to check this one out, how about I mention Badland's 4-player multiplayer mode that utilizes a single iPad screen? Yeah, I thought that might get your attention!
Download Badland on the iOS App Store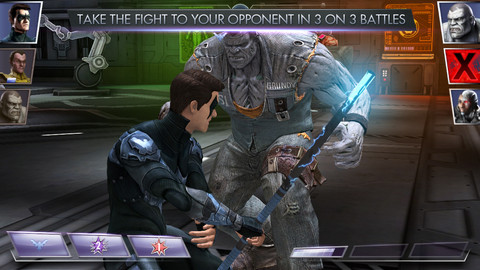 1. Injustice: Gods Among Us
Developer: Warner Bros. | Platform: iOS | Price: Free
Have you ever wanted to play as The Joker and tag team with Wonder Woman and The Flash to beat the hell out of Batman? What am I talking about, of course you have! Well now your wildest dreams are about to come true. With the hugely anticipated console release of the superhero-themed fighter Injustice: Gods Among Us right around the corner, Warner Bros. has surprised everyone this week by releasing an impressive mobile version of the game: and the best part is that Injustice iOS is entirely free to play! Each battle lets you choose a team of three superheroes and villains from a huge roster of DC comic book characters, similar to the Marvel vs. Capcom classic fighting series, with touchscreen controls that are perfectly fine-tuned for the mobile platform. There's also a very loose card collecting aspect to the game as well, in which you earn new character and assist cards just from winning more battles; and for an added layer of depth, each individual character can be leveled up the more you use them in combat, which really comes in handy on some of those later battles. Be sure to look out for Den of Geek's full iOS review of Injustice: Gods Among Us over the next couple of days!
Download Injustice: Gods Among Us on the iOS App Store
Like us on Facebook and follow us on Twitter for all news updates related to the world of geek. And Google+, if that's your thing!