News
Top 5 Mobile Games of the Week (Mar 22 – Mar 28)
We team up with our best wizard pals for some elemental spell-casting, make sure we're limber for a retro Nimble Quest, and search every nook of a 3D castle in this week's Top 5 picks in mobile gaming…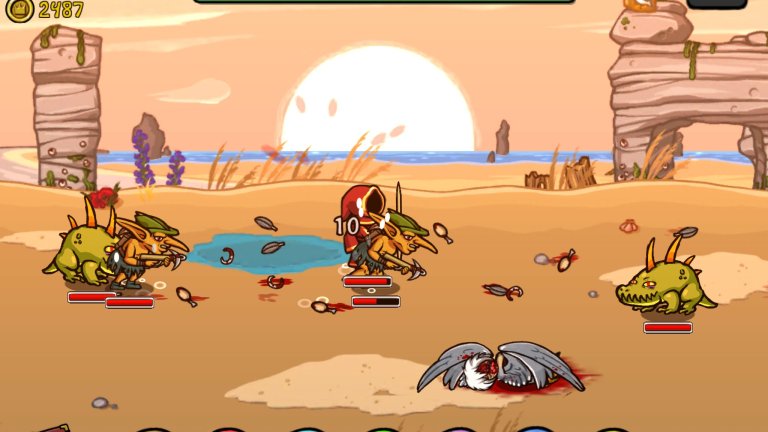 There weren't a whole lot of new releases on the App Store this week, but that's probably for the best, because the small handful of games that did manage to find their way onto our handheld devices in the last few days was absolutely massive. From two hugely anticipated adventures that will have you questing until your thumbs turn blue, to some very tiny troopers fighting a very large-scale war, everything we played packed one serious punch! There were also some awesome innovations in this week's games as well, from a hidden object game with a 3D effect, to an interesting and fast-paced take on the match-three genre. So prepare yourself for some big and hearty adventures, because here is Den of Geek's Top 5 mobile picks for the week of March 22 – March 28:
5. Secret Castle
Developer: Platronic Games | Platform: iOS | Price: Free ($2.99 IAP unlock)
Hidden object games are usually hit or miss these days: especially the ones built for mobile devices. You either have a half-baked adventure that's over in an hour or two, or a fast-paced blitz version with repetitive objects that keep popping up in the same old locations. But the reason why Secret Castle is such a cool hidden object game is because it features a unique 3D dynamic, which lets you manipulate your iPhone or iPad to change the perspective of the room you're searching through. Expect to look under tables, search behind dressers, and peer above chandeliers to fully interact with each room and solve a variety of engaging 3D puzzles. It's sort of like the gyroscopic features that are built into the Nintendo 3DS, and they work awesomely here in this hidden object context. The storyline follows a little blue-haired boy named Jonas, as he explores a mysterious castle with his pink-haired playmate, Ava. With over a hundred hidden objects to find, and dozens of environmental puzzles that utilize the game's innovative 3D effect, I'm probably going to have a difficult time playing any other hidden object game after this, because all the different settings will just seem so flat and lifeless now compared to those of Secret Castle.
Download Secret Castle on the iOS App Store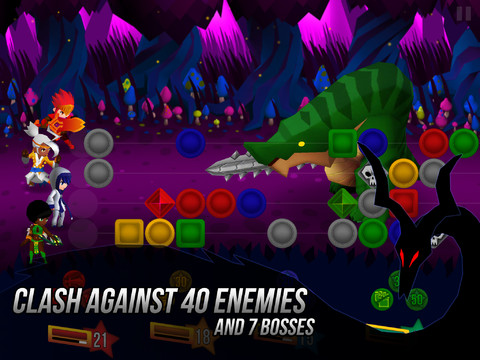 4. Dungeon Hearts
Developer: Developer Digital | Platform: iOS | Price: $2.99
I love match-three games just as much as the next guy, but you have to admit there comes a point when it feels like they've run out of things to do with the genre. That's why it's great to have match-three hybrid games like Puzzle Quest on the market, and most recently, Dungeon Hearts by Developer Digital. Dungeon Hearts is a breath of fresh air for the increasingly stale world of match-three combat games, and the flowing animations and bold visuals let the total package really shine. From the game's iTunes description page, "Dungeon Hearts fuses the strategy and pattern matching of puzzle games with the kinetic pace of action games." But what's neat about this one is that all the runes you'll be matching will slide across the screen horizontally, as opposed to the more traditional vertical setup of most match-three games. Each rune color (red, white, blue, green and yellow) directly corresponds to one of your heroes' attacks, and so you'll need to be crafty about which runes you want to match and when, in order to master the game's 40 creatures and 7 boss fights. For instance, if you find yourself running low on health, combining 3 green runes will allow your green-colored hero to unleash a powerful healing spell. Let's see you do that, Jewel Match!
Download Dungeon Hearts on the iOS App Store
3. Tiny Troopers 2: Special Ops
Developer: Chillingo | Platform: iOS | Price: $0.99
You might remember a little game called Tiny Troopers that blasted its way onto the mobile battlefield last summer. Well now Chillingo has restocked its miniature arsenal for an action-packed sequel to the game called Tiny Troopers 2: Special Ops, and this second outing improves upon its predecessor in almost every way. The intuitive one-touch control scheme basically allows you to tap anywhere on the screen, and have your squadron of Tiny Troopers follow your every command. This same simple tap mechanic will also let you fire on an enemy squadron of troops, and even man the mounted gun on an impressive mini-tank. The only real downside to the game is that the little soldiers and their funny waddling animations are so adorable that I actually started to feel bad every time one of them took a bullet to the face. But the game has an impeccable polish to its design, and players can customize their troopers with tons of new uniforms and weapons, and utilize specialist soldiers like medics and Humvee machine gunners. And of course, as with any war-based game released in the 2010's, Tiny Troopers 2 also features a zombie mode, where players will have to survive against endless hoards of the undead across three exciting and brain-filled maps.
Download Tiny Troopers 2: Special Ops on the iOS App Store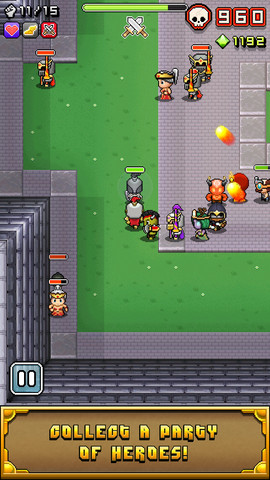 2. Nimble Quest
Developer: NimbleBit | Platform: iOS | Price: Free
Nimble Quest may play like a glorified version of the old arcade game "Snake," but there is so much depth packed into this little indie gem, that any comparison between the two would seem hardly warranted. From unlocking up to 15 new heroes, to upgrading your skills, and even battling with every creature and foe that gets in the way of your snake of heroes, Nimble Quest is a massive adventure on a small-scale screen. There are many different environments of bright and sunny cartoon visuals to fight through, and the soundtrack has an extraordinary nostalgic vibe to it that's reminiscent of old NES adventure games. But best of all, the game is completely free to try, and it's actually one of those rare freemium models that lets you play and progress in it without having to shell out tons of the digital green stuff. Imagine that! I do feel like I have to warn you though: you see, Nimble Quest was made by the same development team who brought us the incredibly addictive Tiny Tower (which I lost my own girlfriend to for an entire week last month), so if you're thinking about picking this one up, make sure you clear your inevitable leave of absence to your friends and loved ones first.
Download Nimble Quest on the iOS App Store
1. Magicka: Wizards of the Square Tablet
Developer: Paradox Interactive | Platform: iOS and Android | Price: $1.99
 There was no contest this week for Den of Geek's number one pick in mobile gaming. That's right, after an excruciating two-week delay, Magicka: Wizards of the Square Tablet has finally cast its way onto the iOS App Store and Google Play Marketplace in all of its robe-wearing glory: and the game is everything you could ever hope for in a mobile release. In case you're new to the Magicka universe, the game plays as a sidescrolling platform adventure, where 4-player co-op and friendly spell-fire run rampant. This game has everything: humor, adventuring, side quests, and larger-than-life boss fights, not to mention tons of levels, spells, and new wizard robes to find. You cast spells in the game by tapping on a number of different elemental icons that are located on the bottom of the screen, like fire, ice, or lightning. Perhaps the only thing better than the slick gameplay mechanics in Wizards of the Square Tablet is the gorgeous cartoon art style, which would seem right at home in any PSN or XBLA release. The amount of variety in environments and enemy designs is simply astounding, and there's no question that we'll be playing this one for some time to come.
Download Magicka: Wizards of the Square Tablet on the iOS App Store | Download Magicka: Wizards of the Square Tablet on the Google Play Marketplace
Like us on Facebook and follow us on Twitter for all news updates related to the world of geek. And Google+, if that's your thing!