Features
Top 5 Mobile Games of the Week (Mar 15 – Mar 21)
We take out our work-related frustration in a virtual office setting; put on our Unreal 3D engine bowling shoes; and venture halfway across the galaxy to rescue our dog in this week's Top 5 picks in mobile gaming…
I have to admit, it was a pretty slow couple of days for new releases in the world of mobile gaming this week. As such, the pickings for this week's list were pretty slim, but that's not to say we didn't manage to find a few diamonds in the shovelware rough. Most of the top new and noteworthy mobile games we found this week are pretty expansive: from a colossal action RPG in the style of Skyrim and Dark Souls; to a much-needed point-and-click adventure with a wildly endearing art style; and the closest thing to a bowling/adventure hybrid you can get. So don't let the overall lack of new releases get you down, because here are Den of Geek's Top 5 picks in mobile gaming for the week of March 15 – March 21: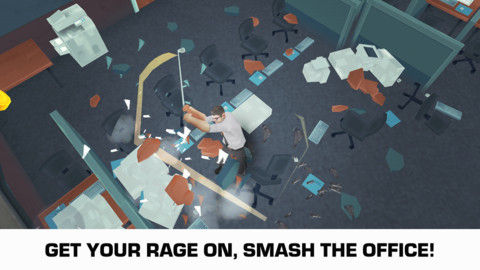 5. Smash the Office
 Developer: Tuokio | Platform: iOS | Price: $0.99
One of the biggest disadvantages about working from home is that after a long day of writing reviews of mediocre games, I can never grab a golf club or sledgehammer and take out my frustrations on all the office equipment around me, or my coworker's cubicle. Okay, so maybe that's actually a good thing. But either way, you can't deny the allure of being able to go on such a dreamed-about rampage with little real world consequences. Well now it looks like Smash the Office from Tuokio will be the perfect outlet we need to release all of that pent-up, work-related frustration in a virtual workforce setting. In the game, you play as Steve Snaps, an exasperated programmer who's pulling another all-nighter at a company called Slavetech. As the hours drone on and Steve gets more and more irritated, the game invites you to "unleash your inner rage with guerrilla weapons and the '90s music!" Because destroying a whole line of fax machines just isn't as much fun unless you're doing it to the soundtrack of 'N Sync's "Bye, Bye, Bye." However, despite the awesome premise, the game is still a simple timewaster at its heart, and the lack of any progression goals or different workplace environments ultimately prevented Smash the Office from ranking higher on this week's mobile games list.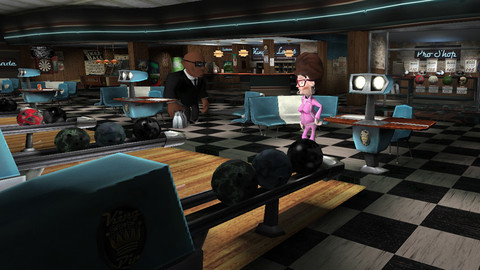 4. Kingpin Lanes
Developer: Speedbump | Platform: iOS | Price: $1.99
I'm a huge fan of bowling: after all, my Den of Geek author profile pic is one of me about to nail another strike down at the local lanes. So when I heard that a new hardcore bowling game had rolled out onto the app store this week, you can imagine how quickly I pulled out the old bowling shoes from my virtual closet. The basic bowling gameplay of Kingpin Lanes feels very fluid and smooth, and powered by the Unreal 3D engine, you don't need me to tell you that the graphics look great. In the game, you can play as one of five fully voiced and animated characters, with their own respective stories and objectives as you compete in tournaments, upgrade your stats, and buy new bowling balls in the Pro Shop. But Kingpin Lanes is so much more than a simple bowling game, with a full-fledged environment you can explore; collectable and interactive objects to find; and an awesome arcade with four playable mini-games! The game also features five exciting Challenge Lanes, which put wild and crazy obstacles between you and the pins, and have you bowling in a number of amusing locations like the Junkyard, Casino, and Rooftop Penthouse. Maybe now I can finally score that 3-strike turkey I've been dying to get.
Download Kingpin Lanes on the iOS App Store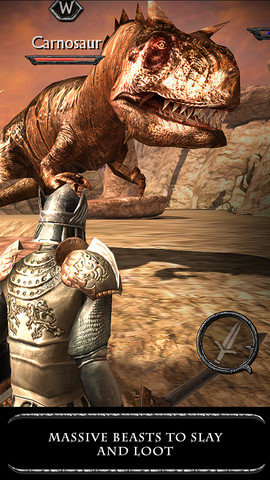 3. Ravensword: Shadowlands
Developer: Crescent Moon Games | Platform: iOS and Android | Price: $6.99
Ravensword: Shadowlands is probably the closest thing we have right now to a full console experience like Dark Souls or The Elder Scrolls V: Skyrim on mobile devices; and even those games didn't let you battle up close and personal with roaming and flesh-hungry dinosaurs! The game's lengthy campaign spans a number of breathtaking environments, from lush cliffs and waterfalls, to shimmering ice caves; and the wild beasts and creatures you encounter are also wonderfully varied. Similar to Skyrim, Ravensword: Shadowlands lets you seamlessly switch between first-person and third-person views on the fly, and each different playing style feels flawless in execution. Seriously, I can't decide which one I prefer (although there's just something so inherently awesome about staring down a Tyrannosaurus Rex through the scope of your bow and arrow in a first-person perspective). You can also ride horses, pick locks, and gather tons of loot and armor upgrades throughout your adventure. The massive RPG-action epic actually first had a quiet release on the iOS App Store a few weeks back, but alongside a week of other huge releases, fell under a lot of people's radars. See? This is why it's sometimes a good thing to have a slow week of App Store releases: to leave room for those rare mobile giants like Ravensword: Shadowlands that might have slipped through the cracks somehow. 
Download Ravensword: Shadowlands on the iOS App Store | Download Ravensword: Shadowlands on the Google Play Marketplace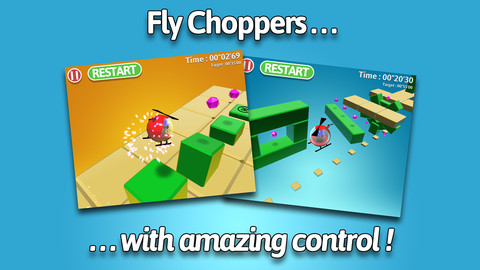 2. Chopper Mike
Developer: VAMflax LTD | Platform: iOS | Price: $1.99
I've always been a bit disappointed in the lack of platform-adventure games that allow you to pilot a helicopter and fly over all those tricky gaps with significant ease, haven't you? The levels in Chopper Mike bear a striking resemblance to those whimsical and infuriating bonus stages from Super Mario Sunshine on the Nintendo Gamecube, and bring with them all sorts of fantastic nostalgia (not to mention the purple gems you have to collect are reminiscent of the gems in the PS1 classic, Croc). One of the game's biggest selling points is the "amazing controls," which try to capture that console responsiveness on a mobile touchscreen format. Chopper Mike actually pulls this off pretty well, with a virtual joystick that players control using their left thumb, and two simple buttons that make their helicopter ascend or descend using their right. This is a good thing too, as some of those later levels on the higher difficulties will call for the utmost precision of movement to snag every last one of those gems, while dodging every kind of robust and blocky obstacle the developer could imagine. Each of Chopper Mike's 48 levels offers 3 challenging stars to earn for basic completion, collecting every gem, and landing your chopper on the helipad in the fastest time.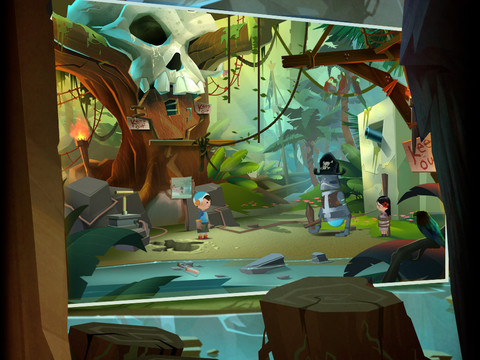 1. Fetch
Developer: Big Fish Games | Platform: iOS | Price: $4.99
Fetch is an iPad exclusive point-and-click adventure from Big Fish Games, about a little boy who sets out on a quest to save his dog, Bear, when the loveable canine is captured by an alien fire hydrant. While a fairly simple concept, Fetch is presented with impeccable polish and shine, and the visuals in the game are just so insanely good. At its core, Fetch is a 2D sidescrolling adventure with a ton of puzzle elements, akin to games like Machinarium. The game's humorous story will take you to all sorts of inventive and wonderfully-designed locations, and players will find other captured dogs along the way that they can help and collect each one's respective dog tag. But my favorite part about Fetch is that in the midst of all this adventuring, you will also take part in a number of fun mini-games that change up the art style and flow of the gameplay in fresh and engaging new ways. The mini-games are represented by different arcade machines you find throughout your quest, and have you doing everything from tapping on cardboard aliens to shoot them with lasers, to guiding a giant rainbow alien snake thing to help him gobble up some fish. For a fantastic new point-and-click adventure, mobile gamers won't need to search far for something to love in Fetch.
Download Fetch on the iOS App Store
Like us on Facebook and follow us on Twitter for all news updates related to the world of geek. And Google+, if that's your thing!