Features
Top 5 Mobile Games of the Week (Mar 1 – Mar 7)
We helped two star-crossed lovers reunite in space and went for a run through the Green Hill Zone during this week in mobile gaming…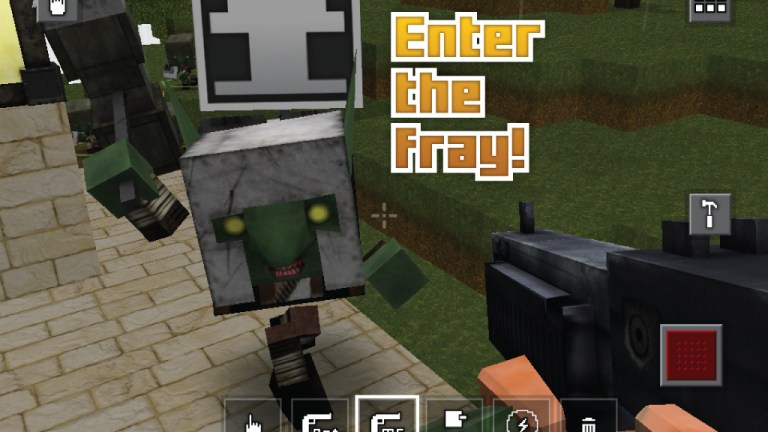 This week's new releases in mobile gaming were all about action, and plenty of it. From piloting a mechanized warrior over the frantic skies of New Japan, to gunning down hoards of demons on a journey into Hell, our fingers could barely keep up with all the blistering arcade goodness to sprint onto the App Store this week. And that's without even mentioning the triumphant mobile return of gaming's fastest character, Sonic the Hedgehog. None of the games could wait up for Android users this week, so if you don't want to get left in the dust along with them, you should keep scrolling down to see Den of Geek's Top 5 mobile picks for the week of Mar 1 – Mar 7: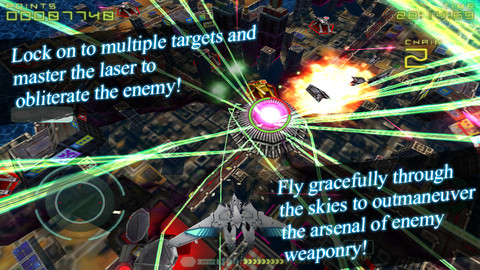 5. Liberation Maiden
Platform: iOS | Price: $4.99
First up this week we have an iOS port of a Nintendo 3DS game, which is certainly something you don't see every day. Liberation Maiden is a wild futuristic action shooter from those brilliant minds at Grasshopper Manufactures SUDA51, who brought us the ever-endearing Lollipop Chainsaw last summer; and it's been ported onto tablets and smartphones by Level 5 of Professor Layton fame. The result is nothing short of awesome, with frantic mech-based aerial gameplay, and a whole armada of enemy Conduit Spikes to destroy. The story is told through gorgeous anime-styled cut scenes, and it has a pretty captivating concept; from the game's description page: "100 years in the future, players take the role of Shoko Ozora, a high school student who steps into the role of President of New Japan after her father's assassination." Everything about the game's presentation, from the sound effects to the sprightly voiceover work screams an Eastern arcade game, and the exhilarating gameplay rarely ever drops in intensity. Liberation Maiden seems to be continuing the welcomed trend of bringing AAA console quality titles to the mobile screen, and if this is how the industry will begin to liberate great titles from restricted dedicated hardware going forward, then I am definitely on board.
Download Liberation Maiden on the iOS App Store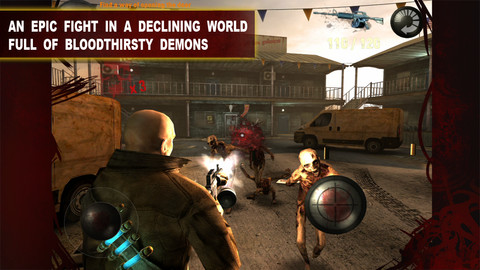 4. Journey to Hell
Platform: iOS | Price: $3.99  
We've seen BulkyPix provide us with some quirky mobile gems in the past, including last week's mesmerizing Penumbear, and one of February's number 1 picks, Redneck Revenge: Zombie Roadtrip. But this week, BulkyPix has taken a trip to the dark side with Journey to Hell, a gritty game that begs the question: are these the same guys who published cutesy titles like Animal Park Tycoon? Journey to Hell is a dark and twisted third-person shooter that's set in a crumbling dystopian world, where players assume the role of demon hunters in The Holy Shield, and blast hoards of ugly demons back to whatever fiery pit they crawled out from. The game features an epic campaign that spans across 7 different environments and a bonus Survival and Treasure Hunt mode; not to mention a customized soundtrack by heavy metal band The Slaughters. Journey to Hell also boasts 15 different demon types to butcher, and over 30 upgradable weapons for all your demon-hunting needs, like flamethrowers, machineguns, and my personal favorite, holy pistols. The game is an absolute blast to play, and if you are in the mood for slaying some demons, you'd better act fast, because Journey to Hell is currently offering a special introductory price of $3.99 for the first few days following its release. Happy hunting!
Download Journey to Hell on the iOS App Store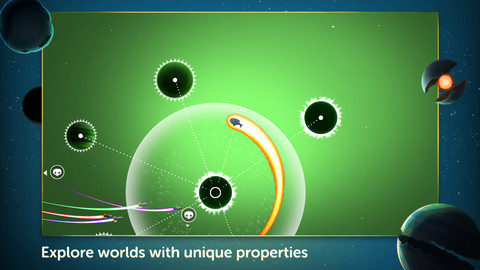 3. Astro Shark
Platform: iOS | Price: $0.99
Ah, the things that whale sharks do for love. At its core, Astro Shark is an orbital physics puzzler set in the throes of space, but with a peculiar love story between a whale shark and a Russian space dog that serves as the driving force behind the player motivation. One part action, one part adventure, you pilot your whale shark around the stars by latching onto different planets or space objects and taking advantage of each one's respective orbital pull. The longer you hold down your finger on a planet, the more you build up your speed, and letting go at the right moment will determine which direction your shark will float in. The painted visuals in Astro Shark are serene and gorgeous, and the calming soundtrack does wonders to paint the mood and establish the game's atmosphere (Atmosphere, get it? The game takes place in space?). But things won't stay peaceful for long, as you will soon be met with flurries of homing missiles to outswim, and dangerous fields of space mines to avoid. I've heard about animal poachers and all, but never like this before! This one is just all sorts of fun, and has a wonderful sense of imagination, and it should definitely be placed on your mobile space radar.
Download Astro Shark on the iOS App Store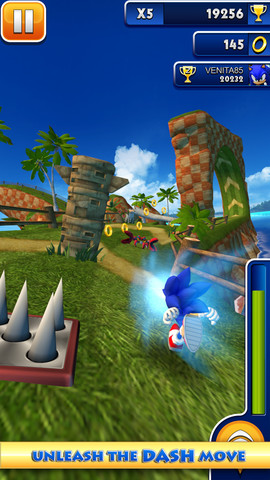 2. Sonic Dash Platform: iOS | Price: $1.99
If there's one thing that Sonic the Hedgehog is good at besides running fast and storing hundreds of rings in his pocket at once, it's being persistent. SEGA's blue mascot has seen more than his fair share of ups and downs in the past decade, and has tried all sorts of formats to keep his spirit alive and remain relevant in today's gaming community. While most of his efforts were lukewarmly received, like last year's confusing Sonic Jump, that didn't stop gaming's favorite hedgehog from continuing to pop up in new titles every way we looked. So it's a good thing that every once in a while, the Sonic team absolutely Tails it- I mean NAILS it, and gives us Sonic-lovers a reminder of why we've continued to stick by the franchise even after all these years. This is certainly the case with Sonic Dash, a 3D behind-the-back endless runner that's set in the Sonic the Hedgehog universe, and that will make you wonder why no one ever thought of making a game like this before. The endless runner genre is the perfect fit for Sonic the Hedgehog, and all of the core mechanics of a classic Sonic game remain intact: from collecting rings, to dashing through bad guys, and even playing as some of Sonic's friends like Tails, Knuckles, and Amy.
Download Sonic Dash on the iOS App Store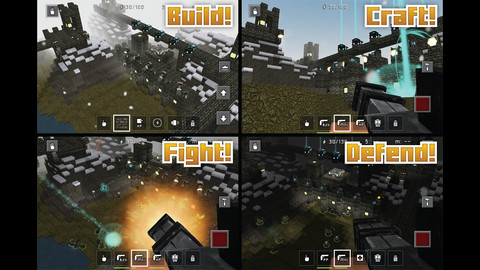 1. Block Fortress Platform: iOS | Price: $1.99 I love playing Minecraft just as much as the next block-headed guy I meet, but sometimes I wish I could just take a powerful bazooka and blow up huge chunks of the pixelated countryside, or at the very least, take out a few hundred of those blocky pigs in one fell swoop; which brings me to Block Fortress, Den of Geek's number 1 pick in mobile gaming this week. Block Fortress combines three gaming elements that I can't say I've ever seen brought together in a video game before: the block-based creation of a Minecraft-like world; the careful strategy of a tower defense game; and the up-close-and-personal thrill of a first-person shooter. And let me tell you, the culmination of these three things when fused together like this is absolutely astounding. You'll go from crafting turrets and fortifying your towers one minute, to getting in on the action and gunning down goblin-looking Goblocks in a FPS setting the next. With over 30 different building blocks, tons of turret and support blocks, and 6 different types of terrain to conquer, Block Fortress is a massive adventure that might even rival the scope of Minecraft itself! Now if only I could figure out a way to bring back some of those devastating weapons into my Minecraft world…
Download Block Fortress on the iOS App Store
Like us on Facebook and follow us on Twitter for all news updates related to the world of geek. And Google+, if that's your thing!