News
Top 5 Mobile Games of the Week (June 28 – July 4)
We get stuck in limbo, and help a greedy dwarf escape a fiery inferno...
In case you haven't heard all the fireworks going off around the clock lately, this week happened to house the Fourth of July, and as such, we were all busy having barbeques and celebrating this grand old place we call America. However, it seems that EVERYONE was out celebrating this week, and as a result, the amount of actual new games on the App Store was at a shocking new low. But never fear, because we here at Den of Geek still managed to put together a full list of all the new games you'll want to be checking out this weekend, in between all those fireworks and barbeques of course! God bless the U.S.A., because here are Den of Geek's Top 5 picks in mobile gaming for the week of June 28 to July 4: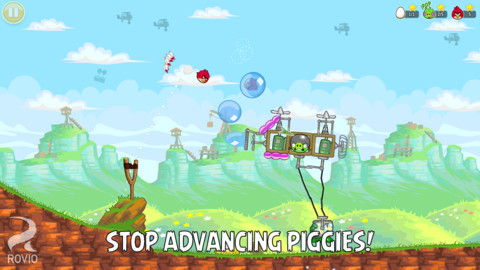 5. Angry Birds: Red's Mighty Feathers Update
Developer: Rovio | Platform: iOS and Android | Price: $0.99
Okay, now I know what you're thinking: this isn't exactly a NEW mobile game in the sense of the word. In fact, Red's Mighty Feathers is part of a very old mobile game called Angry Birds, that has since gone on to see some moderate success. I don't know, maybe you've heard of it. But the reason I decided to include the Red's Mighty Feathers level update in this week's Top 5 mobile games list is because (1) there REALLY wasn't all that much that was released this week, and (2) because the new level pack actually brings some completely new mechanics to the table that Angry Birds fans have never encountered before. All of the new levels in Red's Mighty Feathers are sort of like a cross between traditional Angry Birds gameplay and Rovio's other smash hit, Bad Piggies: the primary difference being now you'll have MOVING pig targets to hit with your birds! That's right, every pig in the Red's Mighty Feathers update will be horsing around on one of the wacky contraptions made famous in Bad Piggies, and so now you'll not only need to worry about physics, but timing as well. Luckily, you'll have a new powerful version of the classic red bird to help you out, as he can stop flight in mid-air and completely change directions for a line-drive homing attack.
Download Angry Birds on the iOS App Store | Download Angry Birds on the Google Play Marketplace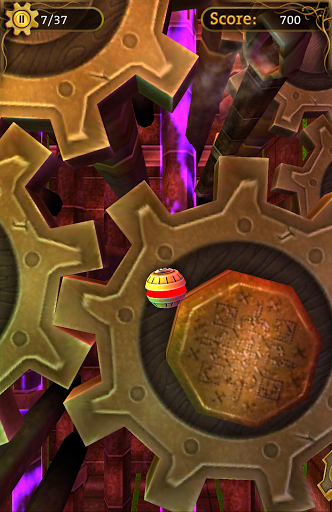 4. Gears
Developer: Unity Games | Platform: Android | Price: $1.99
Have you ever heard the phrase, "it's an oldie but a goodie"? Well I'd say those words couldn't apply more to Gears, the 3D physics-based platforming game by the newly christened Unity Games. Gears was actually released a while back on iOS devices, but now that the game has FINALLY rolled its way into Android territory, I think it's only fair to reintroduce everyone to one of the most quality mobile games that money can buy. At its core, Gears is sort of like a more serious, abstract version of Super Monkey Ball, where players will need to guide a rolling sphere through all sorts of obstacle-laden levels, and make use of the many titular gears to open up new pathways. All in all, Gears features 27 challenging levels set across three distinct environments, including The Brass Menagerie and the Rivers of Magma, and everything is controlled by an intuitive one-touch control scheme. And if you're REALLY up for a challenge, you can always test yourself in trying to snag every last hidden cog collectable in each of the levels, as well as roll your way to the finish line under blisteringly fast par times.
Download Gears on the Google Play Marketplace
3. Pocket League Story 2
Developer: Kairosoft | Platform: Android| Price: Free
In a time when Android exclusive games seem to be going the way of the buffalo, it's nice to know that Kairosoft is still almost single-handedly guiding the reins of high-quality RPG experiences on Google's mobile platform. Whether it's racing horses, developing video games, or serving as a big tycoon in the adult entertainment industry (okay, maybe I made that last one up, but if we wind up seeing something like that one day in the future, it certainly wouldn't surprise me), Kairosoft seems to have done it all, and lets us experience these little slices of life in their signature, pixelated art style. Pocket League Story 2 builds off of everything that made the first game so great, as players will be able to recruit and manage their very own little soccer team and work their way to the championship cup! Like all good sequels, Pocket League Story 2 throws some interesting new mechanics into the mix, such as random weather elements that affect the outcomes of your soccer games, as well as a full-fledged multiplayer mode that lets you challenge all your pixelated friends to a match! Better yet, Pocket League Story 2 is completely free to play, with an optional in-app purchase to remove those pesky banner ads. But really, what's a soccer game without all sorts of ads plastered around the stadium?
Download Pocket League Story 2 on the Google Play Marketplace
2. Greedy Dwarf
Developer: Crescent Moon Games | Platform: iOS | Price: $0.99
 What do you think it is that makes dwarves so darn greedy all the time? Well I can't say I really know the answer to that, but what I DO know, is that after playing Crescent Moon Games' new level-based runner Greedy Dwarf, I'm going to become very greedy now myself in only wanting to play mobile games that match its sheer awesomeness. If I had to choose, I'd say that Greedy Dwarf probably reminds me most of the incredible Rayman Jungle Run: in that the game can loosely pass off as an endless runner, but puts so much emphasis on collection and precise platforming and jumping mechanics, that it could be more fully viewed as a console platforming experience instead. Perhaps taking things one step further than Rayman Jungle Run, Greedy Dwarf offers completely rich 3D visuals, and an ever-changing visual perspective, that takes you from a sidescrolling view, to an exhilarating behind-the-back approach all in an instant, without missing a beat. The primary setting of the game takes place in a fiery inferno, where you'll need to help your greedy dwarf navigate through the flames, and use everything at your disposal, from boulders to mine carts, so he can make it out unscathed. Man, the kinds of things those little guys will do for gold!
Download Greedy Dwarf on the iOS App Store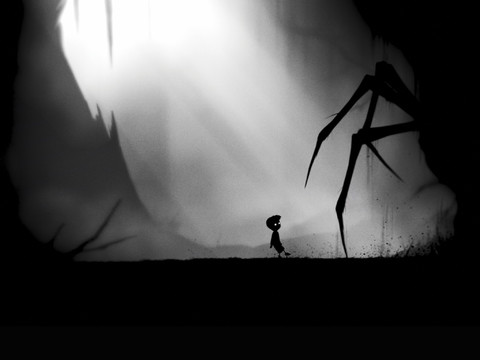 1. Limbo
Developer: Playdead | Platform: iOS | Price: $4.99
If you've even been REMOTELY a fan of indie games over the last couple years, then I hope I don't need to tell you what an awesome game Limbo is. The incredibly dark and shadowy puzzle-platform adventure from Playdead helped define the world of indie games and really put them on the map, and it still stands the test of time even today as one of the best indie experiences you'll likely to ever have played. But now that Limbo has seen a surprise release on iOS platforms this week, complete with invisible touchscreen controls that keep up that sheer awesome minimalist veneer of the game's interface, this one easily skyrockets into that category of "the best games available on iOS." In the game, players are put in control of a silent little boy who is cast entirely in shadows, as he wakes up in a strange and foreign place with only the image of a fleeing shadow girl to urge him onwards. Along your journey, you'll encounter deadly hazards, a terrifying spider, and countless other ways to die gruesome and horrible, horrible deaths. Now that I mention it, if we're supposed to be caught in this place between Heaven and Hell, is it actually even POSSIBLE for us to die so many times like that?
Download Limbo on the iOS App Store
Like us on Facebook and follow us on Twitter for all news updates related to the world of geek. And Google+, if that's your thing!