News
Top 5 Mobile Games of the Week (June 14 – June 20)
We break some ice for our Viking pals, and help Mickey Mouse quench his thirst…
 At first glance, it initially seemed to me that this week's theme for the top new mobile games on the App Store was leaning more towards a "gold plundering" variety. After all, we had a game about pirates, and another game about snagging treasure. But in addition to another new release that opened the horizons for what can really be accomplished on the mobile platform these days, it soon dawned on me that this was, in fact, really a week of releases that showed the strengths of those mobile gaming staples we know as cutesy physics-puzzlers. So get your thinking caps on, because here are Den of Geek's Top 5 picks in mobile gaming for the week of June 14 – June 20:
5. Puzzle Pirates
Developer: SEGA | Platform: iOS | Price: Free
Puzzle Pirates is a surprise mobile release of SEGA's 2009 pirate-themed MMO Yohoho! Puzzle Pirates. And while the new iOS iteration of the game may have dropped that hearty "Yohoho!" from its name, that sure doesn't mean there's any less pirate fun to be had in this release. I'm not sure exactly what it is that makes Puzzle Pirates such an addicting experience, but nonetheless, this game will very quickly suck away all of your spare time and put up quite the sea-struggle if you even so much as try to get some of it back. All in all, Puzzle Pirates features 22 unique single and multiplayer puzzle games, which you can play online with your very own swashbuckling crew of pirate friends. You'll even be able to customize your pirate character in the game, as you rise up through the ranks to Pirate Captain, and purchase shops or govern tropical islands along the way. The vast MMO world is exactly what you would expect from a crusty land of old sea dogs, and contains everything from frightening sea monsters to the tamer jungle monkeys that horse around on the land. Better yet, the iOS version even supports cross-platform play with people who own the PC version of the game, and who are forced to go on their virtual pirate adventure while remaining firmly locked on the land.
Developer: Sava Transmedia | Platform: iOS | Price: $0.99
I'm a big fan of towers. I'm also a big fan of sprinting (as long as I don't have to do it in person), and I'm an even bigger fan of treasure, so it comes as no surprise that Sava Transmedia's Treasure Tower Sprint is right up my alley: not to mention the perfect fit for any mobile gamer who is looking for a quick burst of non-stop, maze-running action. All you have to do in the game is collect coins throughout a number of winding and obstacle-ridden pathways in a grand and glimmering tower. If you manage to fight your way to the top of all 70 tower floors, then the great Djinn will grant you your most wanted wish. Did I also mention I love having magic genies grant my wishes as well? The "adventure-puzzle-runner" gameplay of Treasure Tower Sprint is certainly a unique twist, and it works wonderfully well in this kind of context, with the almost halfway top-down visual approach to the camera perspective. It reminds me of some obscure game I would have bought and played on a whim way back on my PlayStation 1, but with the slick and polished graphics of a 2013 mobile release. Oh yeah, and tons and tons of treasure!
Download Treasure Tower Sprint on the iOS App Store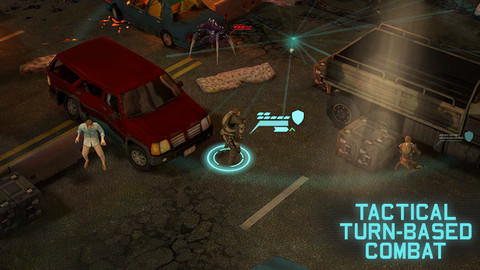 3. XCOM: Enemy Unknown
Developer: Firaxis Games | Platform: iOS | Price: $19.99
In last week's Top 5 mobile games list, we got a pretty good glimpse of how bigger and more console-quality games have begun to make the shift towards appearing on mobile platforms, completely intact and sporting slick new touchscreen controls. Well if last week was any indication of this new emerging trend, then this week is certainly the nail in the coffin, as Firaxis Games has unleashed their hugely in-depth, real-time strategy game about killing aliens called XCOM: Enemy Unknown onto the App Store. Now don't let that $19.99 price tag scare you: XCOM: Enemy Unknown is the real deal here, the complete version of the PC and console game, which is currently listed for $39.99 on Steam, so when you think about it that way, this purchase is really a steal. What's more, Firaxis also already announced that the mobile version of XCOM: Enemy Unknown will come completely void of any in-app purchases, which seems to be like music to any gamer's ears these days. While the lengthy single player campaign should be more than enough to get your fill of alien-blasting goodness in, the game's critically acclaimed multiplayer mode will also be coming somewhere down the road in a free update, just in case you find it hard to stop scoring those real-time headshots (which something tells us you certainly might!).
Download XCOM: Enemy Unknown on the iOS App Store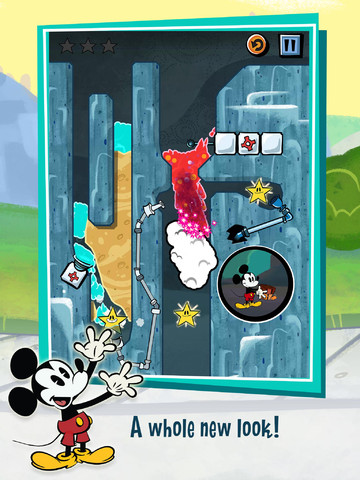 2. Where's My Mickey?
Developer: Disney | Platform: iOS and Android | Price: $1.99
First we had a game called Where's My Water?, which featured a stinky alligator named Swampy who just wanted to take a bath. Then Disney expanded on that same winning water-based physics formula to bring us Where's My Perry?, a game that took a similar concept, but redressed it to feature Secret Agent Perry the platypus from the popular Disney cartoon show, Phineas and Ferb. But now Disney has really pulled out the big water guns, and introduced their biggest and most well-known character into the Where's My…? universe: Mickey Mouse. Now based on the name alone, you might quickly think that Where's My Mickey? is just another rehash of the same game with different characters, but you couldn't be more wrong in that assumption. Where's My Mickey? manages to successfully expand upon the gameplay of Where's My Water? in fresh and interesting new ways, where the advent of certain weather elements like rain clouds and wind play a huge role in mastering each of the game's challenging stages. And of course, this is all without even mentioning the completely redesigned art style in the game, which mimics the latest line of "Mickey Mouse" cartoon shorts that are slated to premiere on the Disney Channel at the end of the month.
Download Where's My Mickey? on the iOS App Store | Download Where's My Mickey? on the Google Play Marketplace
1. Icebreaker: A Viking Voyage
Developer: Nitrome | Platform: iOS | Price: $2.99
I said earlier during the introduction to this article that it was certainly a week for cutesy physics games on the iOS App Store, and here as our number one pick, we have a brand-spanking new game that could quite possibly rival some of those mobile giants like Angry Birds and Cut the Rope. Now first of all, Icebreaker: A Viking Voyage is based on the award-winning flash game by Nitrome Ltd., and this expanded mobile release was produced by none other than Rovio of Angry Birds fame. So if Rovio felt the need to stamp their bird-prints on this game, then you already know it's going to be something pretty special: and pretty special is exactly what Icebreaker: A Viking Voyage turns out to be. One part Cut the Rope, and another part Slice It, the game has you using your finger to swipe across giant glaciers and blocks of ice to solve over 95 action-based puzzles. But don't let that whole physics-puzzler setup fool you: there is an incredible sense of movement throughout the entire experience, and the game's presentation and Viking-themed graphics are so spot-on and fluid that they're simply to die for (only if, you know, that method of death doesn't involve freezing in sub-temperature waters!).