News
Top 5 Mobile Games of the Week (July 5 – July 11)
We make vegetable soup out of some zombies, and unleash some volatile turds on the people below…
I was certainly another weird week around Den of Geek's mobile gaming department, as most of the notable new releases we played had to do with things like spraying water on a giant purple octopus whose mouth was overflowing with fire, massacring a legion of zombies who look suspiciously like those green things you'd see in the vegetable aisle, and yes, even dropping some goopy white bird turds on the unsuspecting civilians below. But however weird or not you might think these games are, there's still no denying that they're all pretty darn awesome in their own respective right. So get ready to tilt you head in confusion, because here are Den of Geek's Top 5 picks in mobile gaming for the week of July 5 – July 11: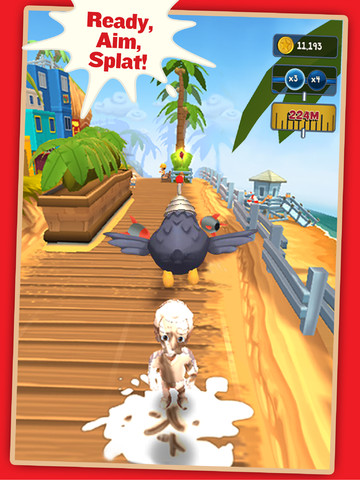 5. Turd Birds
Developer: 2K Play | Platform: Android and iOS | Price: $Free
I've seen some pretty ridiculous ideas for endless runners in my day, but I think that Turd Birds by 2K games easily takes the cake, or I guess in this instance, the urinal cake. The game plays out exactly as it sounds: you take control of a big white bird (I think it's a seagull), and as you run and fly along down each environment, you're tasked with dropping big goopy white turds on anyone and anything that happens to be passing by underneath you for some extra bonus points. I know, I can't believe this is a game either, let alone one from a pretty well-established and big-name publisher. The first thing you'll notice about this one, is that the title of the game itself is even censored on the iOS App Store, with the name simply appearing as the mysterious and tantalizingly alluring T**d Birds. I guess Apple just doesn't play nice with turds and everything they stand for. But the game actually has some pretty nice looking graphics to it, all things considering, with some especially nice detail and visual shine given to the turds themselves. I'm sorry, I know that was gross, but I just had to say it. Now let's get to pooping!
Download Turd Birds on the iOS App Store | Download Turd Birds on the Google Play Marketplace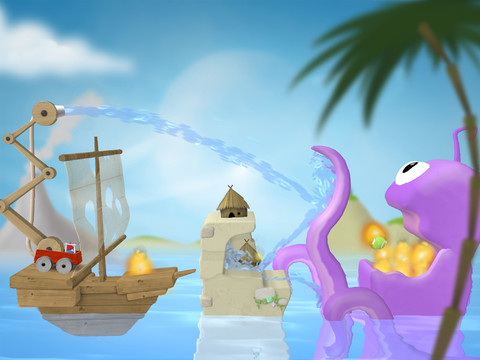 4. Sprinkle Islands
Developer: Mediocre AB | Platform: Android and iOS | Price: $1.99
I feel like the Sprinkle franchise from Mediocre AB has consistently been one of those cutesy physics-based puzzle games that always WANTED to join the ranks of Angry Birds and Where's My Water?, but somehow just never quite made it there. Hopefully, the new sequel released this week, Sprinkle Islands, can see the Sprinkle name splashing to bigger and better heights. Like its predecessor, Sprinkle Islands finds you taking control of a little blue alien firefighter named Ouie, as he's tasked with putting out all the fires around him with his trusty fire truck and water hose. The sequel also takes place on one of Saturn's moons, Titan to be exact, and as it turns out, even things like distant moons can have sunny, luxurious beaches, and a giant purple octopus that spits flames out of its mouth. What's cool about this game, though, is that Ouie's fire truck will actually move along down the level after all of the on-screen fires are put out, so it sort of gives Sprinkle Islands the illusion of having a progressive sidescrolling element, which not only sounds cool on paper, but proves to be pretty cool too in execution, just like a big old bucket of ice water.
Download Sprinkle Islands on the iOS App Store | Download Sprinkle Islands on the Google Play Marketplace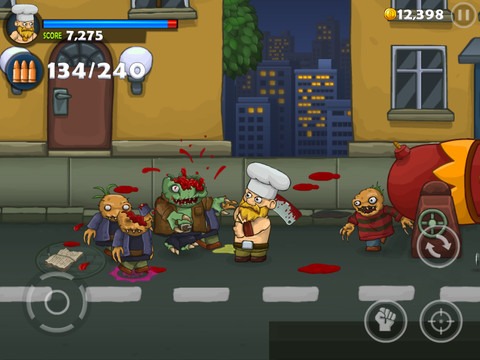 3. Bloody Harry
Developer: FDG Entertainment | Platform: iOS | Price: $0.99
Remember when you were a kid, and you would have given just about ANYTHING not to finish all of your vegetables before you had dessert? I sure know I do. But as it turns out, there are some kids who actually like eating vegetables, and those kids eventually grow up into ADULTS who like eating vegetables. Bloody Harry, the eponymous star of his own sidescrolling action game, is a ruthless chef who just so happens to be one of these adults who have a soft spot for vegetables. In fact, the official App Store description page tells us that Bloody Harry is quite "bloody serious about his organic food recipes." When the world is taken over by legions of freaky vegetable zombies, it's up to Bloody Harry to wander around and brutally massacre them with all sorts of lethal weapons, and then I guess make some fancy entrees with their bloody and steaming vegetable-y remains. It's a pretty fun and funny premise, but even without it, the excellent gameplay and smooth cartoony animations would more than allow for this game to stand on its own. With 15 powerful weapons, and dozens of freaky, but still somehow adorable, vegetable-based zombies to take on, this game is sure to make you think differently the next time you order a hot bowl of vegetable soup!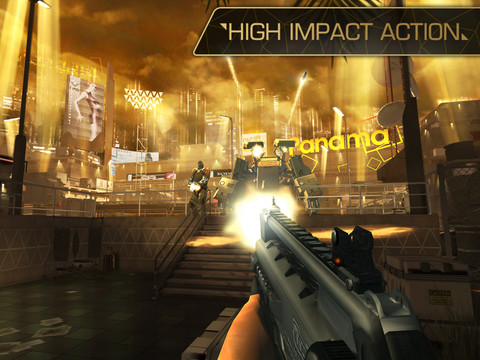 2. Deus Ex: The Fall
Developer: Square Enix | Platform: iOS | Price: $6.99
I've talked a bit over the last few weeks about how great it is to see more and more console worthy titles coming to smartphones and tablets. First there was XCOM: Enemy Unknown, and now we have Deus Ex: The Fall, a franchise that should sound familiar to you around this neck of the gaming woods. In this brand new mobile adventure set in the Deus Ex universe, players will take control of former British SAS Mercenary Ben Saxon, as he desperately tries to uncover the truth behind a global conspiracy that threatens his life. Like its big brother console brethren, The Fall also gives players the option of stealthily making their way through the game, or in my case, just rushing in with guns blazing. Of course, considering the amount of graphical power in this beast of a mobile game, it should also be noted that Deus Ex: The Fall will only run on higher-end iDevices (think iPad 3 and above), and that you'll need a whopping 1.6GB of free space just to install the sucker. But if you've got the goods, and the free space to get it all on there, then you really won't find a finer console experience on a mobile device than this.
Download Deus Ex: The Fall on the iOS App Store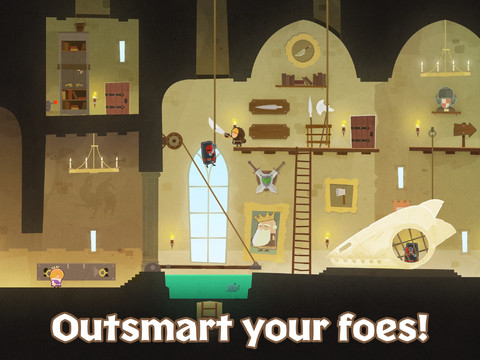 1. Tiny Thief
Developer: 5 Ants and Rovio Stars | Platform: Android and iOS | Price: $2.99
Rovio Stars, the new off-branch publisher of Rovio has already made quite the name for themselves after bringing their first game, Icebreaker: A Viking Voyage, up from the frozen depths and onto the App Store last month. But their second published game, and the first developed by 5 Ants, might just go down as one of the greatest mobile games ever invented. One part point-and-click adventure, and one part stealth and reminiscent of the Thief series, Tiny Thief brings one of the most unique and satisfying mobile experiences I've ever had the pleasure to encounter, and it's all brought to life in the sharp and stylized cartoony graphics that one would only expect from an Angry Birds game. The game is absolutely perfect for the mobile screen, with incredibly bright and detailed environments, tons of quirky details to find and tap on in each, and just the right amount of challenge and progression to take you through the game's several episodes of thievery and Robin Hood-esque swindling. The amount of tender, love, and care in Tiny Thief is readily apparent from the moment you first load up the app, and besides all of that, the game is just an absolute joy to play and behold, and it will set the bar high for all future mobile releases down the road.
Download Tiny Thief on the iOS App Store | Download Tiny Thief on the Google Play Marketplace