News
Top 5 Mobile Games of the Week (July 26 – August 1)
We take a big magnet for a ride through the cosmos, and bounce on some heads to reach the top of a tower…
 One thing that really makes my job here a whole hell of a lot easier is when the new mobile releases of the week are so unique and interesting, that my paragraph descriptions basically write themselves. I'll be honest, after a few months of doing this, it can sometimes get a little bit draining trying to find different ways to write about the next great war-based strategy game. Luckily, all of the new games this week were wonderfully fun to write about, and even better, they were all way more fun to actually PLAY. So get ready for a rocking good time this weekend, because here are Den of Geek's Top 5 picks in mobile gaming for the week of July 26 – August 1:
5. Kid Tripp
Developer: Michael Burns | Platform: iOS | Price: $0.99
Is there such a thing as being considered TOO retro? Because if there is, then I think Kid Tripp would earn that designation single-handedly: which is A-OK as far as I'm concerned. As we've grown to learn more and more with each new old-school-inspired adventure that dashes onto mobile platforms today, there are primarily two main factors that define a video game as being "nostalgic" or "retro." Those two factors are wonderfully pixelated 8-bit graphics, and a notorious difficulty setting that will have you banging your head against the wall before you even make it out of level one: both of which are things that Kid Tripp has in spades. Being billed as a "tough-as-nails platformer," Kid Tripp will have players running, jumping, and throwing rocks for their lives, through a dangerous assortment of environmental obstacles that include, but certainly aren't limited to, crazed wildlife, abandoned mines, bottomless chasms, and erupting volcanos. It all sounds much more challenging than those lame kinds of chasms that have bottoms to them, am I right? After downloading this excellent retro adventure, you might even catch yourself trying to blow on your iPad or iPhone like a cartridge before booting up the game for the first time!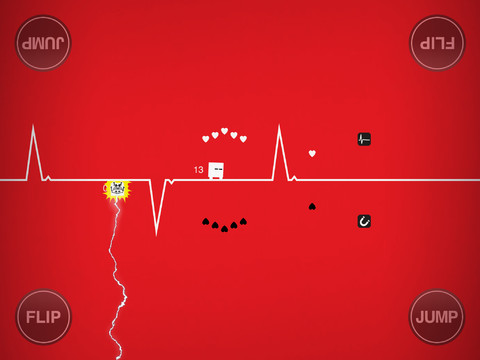 Developer: Jon McKellan | Platform: iOS | Price: $0.99
Don't worry; you didn't just mistakenly click on the lyrics page for a popular dubstep song with plenty of wubs to be heard: you're reading my paragraph summary of the new 2-player platforming duel game by Jon McKellan called Lub vs Dub. Lub, and his apparent rival, Dub, are two little black and white square creatures, who love nothing more than running and jumping along all sorts of platforming stages that are synched up to the constant ticks and fluctuating waves of a heartbeat monitor. Now if that sounds just the slightest bit weird to you, then that's probably because Lub vs Dub is quite indeed a very weird game. However, if there's anything I've learned from picking out the best new mobile games each and every week, it's that "weird" is usually a good thing as far as video games are concerned, and in that regard, Lub vs Dub manages to impress even more than it manages to make us scratch our heads. While the game is primarily a multiplayer experience, here's the coolest part: you and your opponent can play against each other on the very same iPad, with one contender running on the top half of the screen, and the other directly upside-down and underneath him, with the on-screen controls corresponding perfectly to each different perspective. Just go easy on the wubs, please!
Download Lub vs Dub on the iOS App Store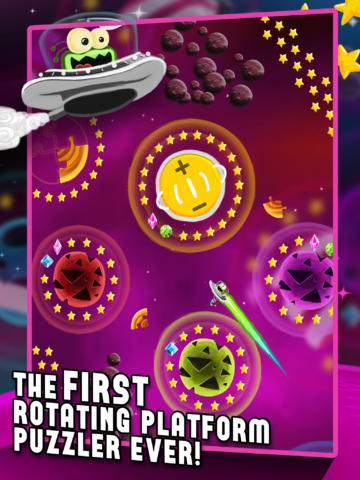 3. An Alien with a Magnet
Developer: Rejected | Platform: iOS | Price: $0.99
Another strong contender in the ever-growing category of "Games Whose Titles Bluntly Describe What the Game is About," An Alien with a Magnet puts players in control of a little green alien who flies around the universe in a circular spaceship, and picks up glittering gold stars with, you guessed it, a magnet. I guess I missed the science class where everybody learned that stardust is heavily magnetized. But I digress: An Alien with a Magnet is actually an incredibly fun adventure through all sorts of colorful galaxies, where the gravitational and orbital pulls of things like planets and asteroids play a huge role in how you'll get your alien to move around the cosmos, and call to mind the same kinds of mechanics that we saw in Angry Birds Space and even a select few levels in Angry Birds Star Wars. All in all, you'll get 45 handcrafted puzzle-based action levels to fly through, and even if that wasn't enough to spark some attraction, you'll also be able to play the whole thing all over again in a vigorous time attack mode, which completely changes up the mindset that you use when taking on this gem of a space game. And as Jesse Pinkman from Breaking Bad would say: "Yeah! Magnets!"
Download An Alien with a Magnet on the iOS App Store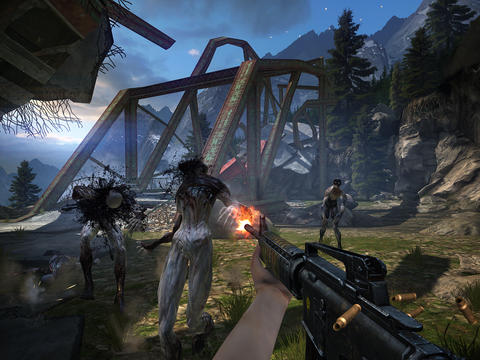 2. The Drowning
Developer: Scattered Entertainment | Platform: iOS | Price: Free
Now before you even say it, I know exactly what you're thinking: "not another poor attempt at a first-person shooter on mobile with god-awful controls and a camera that must be possessed by whatever thing took hold of that girl in The Exorcist!" Most people wouldn't blame you for thinking such thoughts, as the track record of FPS experiences on mobile devices has certainly been far below stellar. But the new horror-themed shooter The Drowning set out to tackle those problems with an innovative new control scheme that will make seasoned mobile gamers feel right at home without the need of a trigger or a joystick: and for what it sets out to do, The Drowning manages to pull things off surprisingly well. But even with control issues aside, there's certainly no denying that The Drowning is easily one of the best looking mobile games I've seen to date, and it's always nice to see another true horror game get released in an age of gaming where horror is often very quickly traded in for action. Of course, that's not to say that The Drowning comes short of any action itself. You'll still be blowing ugly zombies and monsters to bloody bits every chance that you get: you're just going to be absolutely terrified the entire time you're doing it!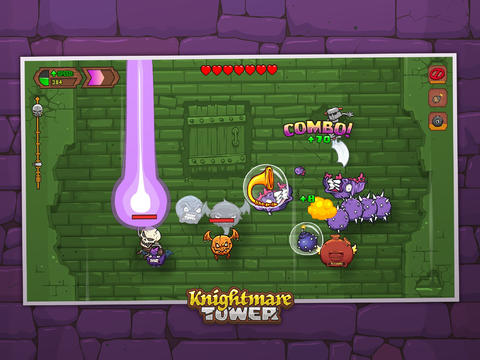 Developer: Juicy Beast Studio | Platform: iOS | Price: $2.99
At first glance, it might seem like Knightmare Tower was developed by the talented folks over at The Behemoth, as the game's beautiful cartoon visuals and quirky cast of characters look like something straight out of Castle Crashers or BattleBlock Theater. But alas, the absolutely incredible Knightmare Tower was instead developed by Juicy Beast Studio, and that comparison to those colossal indie greats should only serve as testament to what a high-quality game this really is. In the medieval-themed Knightmare Tower, players will have to steadily rise to the top of a dangerous and cavernous tower: all by jumping on the heads of floating enemies who are trying to swat you back down! Now while first impressions might give Knightmare Tower the look and feel of those always tentative endless runner games, fear not, because the game features a wonderfully engrossing sense of progression; and SPOILER ALERT, you're actually able to reach the top of the tower, which I certainly can't say for most other "endless" running or climbing games that continue to tease me. Just be warned though: this is definitely one of those games that will come out of nowhere and immediately take over your life from the moment you get to climbing. Now if you'll excuse me, my significant other, Knightmare Tower, needs me again.