News
Top 5 Mobile Games of the Week (July 19 – July 25)
We take a tour of the sky, and go for a ride into the mountains...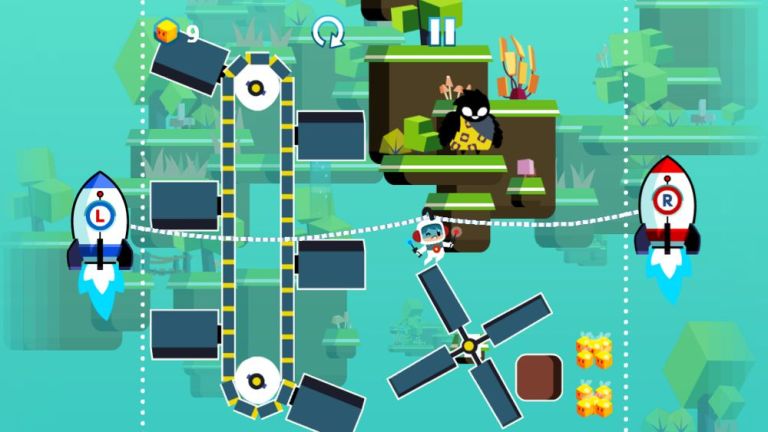 I've been hunting for a new apartment over the last several weeks now, and if there's one thing I've really learned from all those long-burning days of searching, it's that location truly is everything! Luckily, every one of the best new mobile games that came out this week feature wonderful locations that you'll really want to lose yourself in. From sunny vertical platforms that stretch up into the sky, to a pixelated mountain range that's crawling with shadow creatures, to an eye-popping realm that's overrun with half-vampires, you'll never be in need of someplace new to go this week. So pack a suitcase or two, and get ready to hit the road, because here are Den of Geek's Top 5 picks in mobile gaming for the week of July 19 – July 25: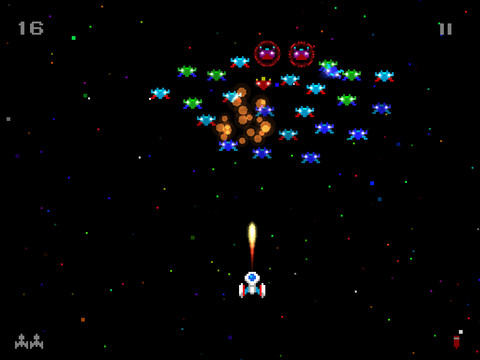 5. Chillaxian
Developer: Madgarden | Platform: iOS | Price: $1.99
Is it just me, or are video games these days getting so overly complicated and intense that they wind up causing more anxiety and stress than any actual relaxation and enjoyment? Maybe I just need to buy a stress ball sometime. Or maybe I just need to throw in a more calming and simpler game every now and again, which is where the 80s throwback Chillaxian comes into play this week. With graphics and gameplay that instantly call to mind the classic arcade game Galaga, Chillaxian presents us with a glimpse of gaming at its finest, and most fundamental: before character upgrades, nonlinear progression, and intricate firefights came along to put a lot more complication into the young gamer's life. The App Store description page tells us to just "chillax and shoot some aliens for a while," and nothing sounds like a better way to wind down at the end of a long and busy day to me than doing exactly just that. All of the baddies in the game move at a calming and nonchalant pace, and you'll even encounter the occasional boss fight after every ten waves or so: not that these instances will be anything but fun and relaxing either!
4. Lums
Developer: Vladimir Hrincar | Platform: iOS | Price: $1.99
The first thing I think about when I hear the word "Lums" is those smiling little yellow balls of light that populate Rayman Origins, and which were always such a blast trying to collect them all. The second thing I think about is the fantastic new physics-based puzzler called Lums, which has players helping out the peaceful community of Lums (who also bear a striking and quite luminous resemblance to the same yellow Lums of Rayman fame) after an evil band of vampires has overrun their town. However, these Lums are actually much more resourceful than the ones that simply just float around waiting for someone with detachable hands and feet to come along and collect them. These Lums have unique special powers that you'll need to learn and master in order to complete the game's 48 initial stages, with loads more on the way. My personal favorites in the game so far are the Cannonball Lums, which can be used to destroy nearly everything in their laser-focused paths, and the Antigravity Lums, which quickly turn everything in the game world on its head! Throw this all together with some wonderfully dark and gloomy environments, and you have what just might very well be the next great physics-based puzzler to float its way onto the App Store today.
Download Lums on the iOS App Store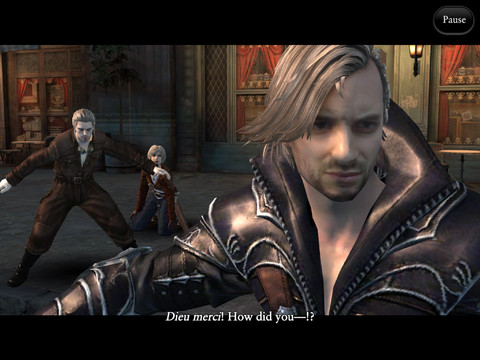 Developer: Square Enix | Platform: iOS | Price: $6.99
When a game's title appears on the App Store with its Caps Lock button pressed to the extreme, then it's usually a pretty safe bet that mobile gamers will be in for a loud and boisterous good time. BLOODMASQUE from Square Enix is no different, as the epic RPG action adventure not only promises to be massive in scope, but equally gargantuan in gameplay and depth. But while it's still a very solid action experience in its own right, the vampire-hunting BLOODMASQUE features one unique gimmick that truly sets the game apart from the rest, or if anything, makes it a lot more unintentionally hilarious than most other titles in the genre: the fact that you can take a photo of yourself, and have your own face morphed onto the face of your 3D rendered character. Yes, seeing it in action is exactly as awesome and as weird as you would probably imagine, and the game even encourages you to take some additional pics of "surprised" or "angry" expressions on your face, just in case you wanted to give those gorgeous cinematics a more emotive presentation. I haven't tried taking a picture of my dog for use in the game yet, but it's definitely high on my priority list of unnecessary things to do this week.
Download BLOODMASQUE on the iOS App Store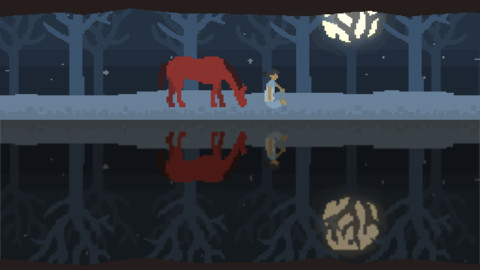 2. A Ride into the Mountains
Developer: Lee-Kuo Chen | Platform: iOS and Android | Price: $0.99
I'm not sure if it's because you ride on top of a fearless brown horse for the entirety of the game, or because you have to take down floating shadow creatures with your trusty bow and arrow, but in many ways, Lee-Kuo Chen's A Ride into the Mountains feels exactly like what Shadow of the Colossus would have been like, had the game been released way back on the NES. Okay, it's probably a little bit of both. But beneath its strikingly bold minimalist presentation, and just the slightest hint of a storyline, A Ride into the Mountains is an excellent take on a mobile adventure, and one that actually FEELS like an adventure at that, and not adhering to the mobile norm of arcade-style stages. In the game, players will use a variety of intuitive touchscreen controls to rid the land of invading shadow creatures, from tapping and dragging to fire an arrow, to holding down on the screen with a second finger to enter into a focused bullet-time shot, and to tilting the device to move your horse up and down the sprawling valley. But if there's one thing I DO know for sure about A Ride into the Mountains, it's that you won't be able to help yourself in screaming "AGROOOOO!" every time your majestic steed falls during battle.
Download A Ride into the Mountains on the iOS App Store | Download A Ride into the Mountains on the Google Play Marketplace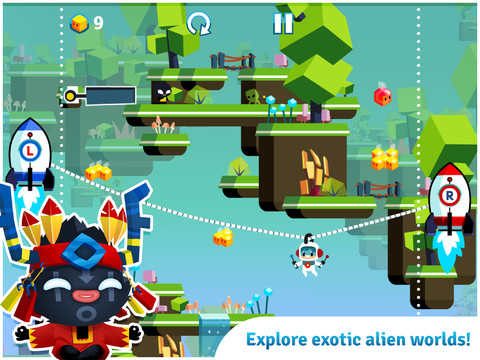 Developer: Alexander Lading | Platform: iOS | Price: $4.99
Even though I've never left my home for long enough to ever be considered an actual tourist anywhere, that's certainly not to say I don't understand the allure that visiting a fun and exotic new place can truly hold. Luckily, now I can just play Sky Tourist from Alexander Lading and be transported to all sorts of exciting open-eyed locations right from the comfort of my very own couch! In the game, players will take on the role of a little tourist named Petey, as he takes in all the sights and sounds of a number of beautiful, vertical tourist locations. But being a big fan of all things involving the sky, Petey wants to take in these attractions from the air itself: by suspending himself on a dangling rope that's stretched in between two constantly rising rocket ships. Players will need to strategically maneuver both of these rockets in accordance with one another, in order to get Petey to the end of a number of bright and colorful 3D platforming stages. This is certainly one of the more unique-looking mobile platforming games that we've seen in quite some time, and with a healthy blend of environmental puzzles, not to mention tons of enticing collectables to scoop up along the way, this is certainly one tourist attraction that you won't want to miss this week!
Download Sky Tourist on the iOS App Store
Like us on Facebook and follow us on Twitter for all news updates related to the world of geek. And Google+, if that's your thing!